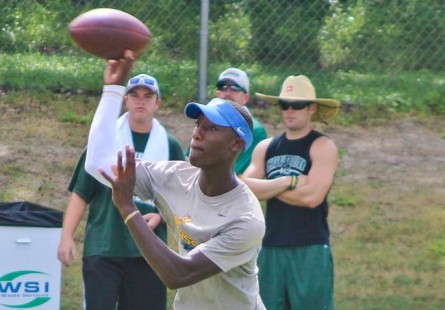 When quarterbacks Tyler Murphy and Max Staver both decided to transfer from Florida last month, it created a huge need for a second quarterback prospect in the 2014 class.
True, the Gators already have five-star prospect Will Grier on board for 2014, and Jeff Driskel is back for his senior year, but depth is an issue–and Grier told Saturday Down South in December the program would be adding a quarterback/athlete type of commitment to the class. Florida has tried to wrestle athletic QB Treon Harris away from Florida State, but it also chased a relatively new name in SEC recruiting.
Introducing Deiondre Porter, a super-quick prospect out of Tampa (Fla.) who only picked up his Florida offer last week. He looked like a Rutgers/UCF type of guy as late as December, and he was briefly committed to South Florida in the middle of last year, but on Monday night he made it official–he is Florida's 21st commitment of the 2014 class. He made the decision public following his official visit to the campus over the weekend. Porter is rated a three-star prospect.
"Man, it was wild," Porter told BayNews9.com after announcing his decision on local cable. "You watch them on TV all the time and I think everybody knows, when you say the University of Florida, they are like '[wow] you're going there'? It was an honor for the head coach, not a position coach, but the head coach to call me and offer me a full ride. It was an honor for me and I'm just glad to have the opportunity to go play football there."
Murphy is heading to Boston College, and Staver has decided to go the junior college route.
This button delivers the best SEC football stories to you on Facebook