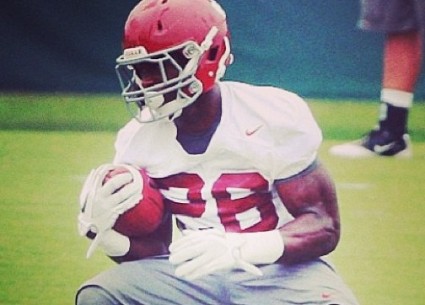 When scanning through the junior college recruit rankings just released last week, there were a lot of familiar names. That's often how it goes.
Some players who end up in the JUCO ranks are unhappy with playing time or the scheme of their chosen BCS school and transfer to a junior college for a year to be eligible to move back into the BCS. Others have grade issues before college, others have them during college, and others have off-the-field issues.
RELATED–Five top realistic recruiting targets for Alabama
When I saw Alvin Kamara's name as No. 4 overall in the 247Sports.com national composite ranking, it reminded me of his prep recruitment–which was intense to say the least. Kamara was out of talent-hotbed Norcross (Ga.), a top 50 player nationally, a Georgia Mr. Football award winner. How could you forget when you saw he received 105 recruiting letters in one day? But one thing sticks out now about Kamara, who will play at Hutchinson Community College in Kansas this fall. He doesn't have a stack of big-time scholarship offers to go along with his enormous talent–at least not yet. Unlike the No. 1 JUCO player, huge Alabama RB target Jovon Robinson, Kamara isn't loaded down with options already. Kamara's JUCO teammate Marquavius Lewis is No. 2 overall and D.J. Jones is No. 3–and their original home-state SEC school, South Carolina, would take the two of them in a heartbeat. So would lots of other SEC schools.
RELATED: Nick Saban once sent Kamara 105 recruiting letters in a day
But so far, things seem a bit more touch-and-go for Kamara, almost like his reputation has been bruised a bit. Granted it is early, but this is a busy period for recruiting and the offers are flying around the SEC.
Kamara of course went on to sign in Feb. 2013 with Alabama and redshirted last fall. He was enamored with the program and bypassed nearby Georgia to go with the Crimson Tide. It was down to really just those two schools.
But things were rocky from the start in Tuscaloosa. He didn't get along well with his position coach, he was injured and Nick Saban suspended him for what he called "behavior reasons". Kamara admitted in a recent interview with 247Sports.com that people were calling him a 'cancer' and a 'crybaby' and eventually he and the 'Tide parted ways. He also had a minor brush with the law earlier this year when he was stopped for a minor violation and it turned out he didn't have a driver's license, which eventually landed him in jail for a few hours. He said the whole experience has strengthened him.
When he decided to transfer it looked like Clemson or Oklahoma State or maybe UCLA could be the destination, but none of that would materialize. He could have just sit out a season and come back as a sophomore at one of those schools.
So, he begins the process again. The guy who had dozens of big-time offers just two years ago will now have to start over and prove himself. Georgia is checking him out, so that's something to watch … but keep in mind the talent and depth the Bulldogs already have at running back. Could another SEC team jump into the fray soon? Time will tell.
This button delivers the best SEC football stories to you on Facebook