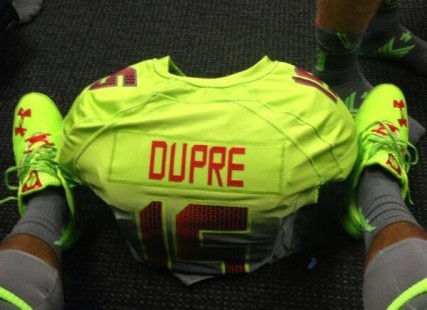 SDS will rank the SEC's potential instant impact freshmen–using the month of March–by ranking them No. 31 down to No. 1. This gives our readers an idea of which 2014 signees we believe will step up in the fall and possibly contribute in a big way. Junior college prospects are always players to keep an eye on, obviously, as they've already played college ball … and high school prospects at certain positions sometimes flourish early.

Here's a look at who we think has the ability to step into a good situation and be in for key snaps, and be sure and check out the SEC countdown of impact newcomers at the bottom.
No. 7 – Malachi Dupre, LSU, WR
HOMETOWN: New Orleans (La.)
SIZE: 6-3/190
RANK: Five-star prospect; No. 17 overall prospect in America.
THE SKINNY: Two weeks before national signing day, Dupre checked out Alabama on an official visit–and he checked out Florida State, Ole Miss and UCLA in a whirlwind of last-second visits. He wasn't a rock solid guy to his home-state school like some guys were–he wanted to be sure. But in the end he came back to the Tigers, where everybody had him going all along, an indicator of the kind of job this staff did recruiting him.
WHERE HE'LL MAKE AN IMPACT: Any 6-foot-3 receiver with this kind of talent is going to be tough to keep off the field–even at the BCS level. It'll be interesting to see just how many balls are thrown Dupre's way.
DUPRE SAYS: "We've all got a lot of hard work to do to if we're going to live up to our rankings. But the three of us (Dupre, Fournette, Harris) can help LSU do some very big things"
COACH SAYS: "I (hope) I could've gotten Malachi on the field … We would've thrown him a ball or two I promise you." — LSU coach Les Miles said recently
Editor's note: Saturday Down South's references to ratings follow the 247Sports.com composite rankings for high school prospects.
Other impact newcomers:
This button delivers the best SEC football stories to you on Facebook