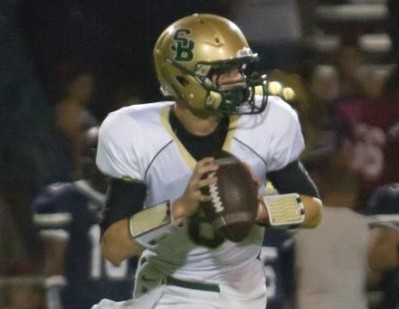 In last year's recruiting cycle, we saw more than 80 players drop SEC programs in the class of 2014. If that doesn't remind one of how crazy the recruiting process, we don't know what will.
RELATED: Arden Key is back with the Gamecocks after a 9-month hiatus
We are about nine months away from national signing day 2015 and already we have 13 players in the 2015 class who have decommitted and 4 more in the 2016 class already. This week, there was some news on the decommitment front when former Mississippi State DT recruit T.D. Moton (who dropped the Bulldogs in January) came aboard with Alabama. Also, after a nearly 9 month hiatus from the South Carolina recruiting class, defensive end Arden Key came back aboard with the Gamecocks.
RELATED: Former Mississippi State commit T.D. Moton is on board with 'Bama
Here is a list of the 17 members of the 2015 and 2016 classes who have decommitted from SEC schools.
| | | | | |
| --- | --- | --- | --- | --- |
| CLASS | PLAYER | OLD SCHOOL | DECOMMIT DATE | WHERE NOW? |
| 2016 | Conner O'Donnell | Mississippi St. | Jul-13 | UNCOMMITTED |
| 2016 | Robert Washington | Mississippi St. | Jul-13 | UNCOMMITTED |
| 2015 | Arden Key | South Carolina | Sep-13 | Back with South Carolina |
| 2015 | Eli Brown | Vanderbilt | Oct-13 | Kentucky |
| 2015 | DaVante Phillips | Florida | Dec-13 | UNCOMMITTED |
| 2015 | T.D. Moton | Mississippi St. | Jan-14 | Alabama |
| 2015 | Donovan Sheffield | Vanderbilt | Jan-14 | Back with Vandy |
| 2015 | Ricky Town | Alabama | Jan-14 | NON-SEC: Southern Cal |
| 2015 | Marquell Harrell | Ole Miss | Feb-14 | Auburn |
| 2015 | Xavier Lewis | LSU | Feb-14 | UNCOMMITTED |
| 2015 | Chauncey Rivers | South Carolina | Feb-14 | Georgia |
| 2015 | Jaylon Lane | Ole Miss | Mar-14 | NON-SEC: Oklahoma State |
| 2016 | Edwin Alexander | LSU | Apr-14 | UNCOMMITTED |
| 2015 | Rodney Anderson | Texas A&M | Apr-14 | UNCOMMITTED |
| 2015 | Montrell Custis | Kentucky | Apr-14 | Alabama |
| 2016 | Emmit Gooden | Tennessee | Apr-14 | UNCOMMITTED |
| 2015 | Marcus Walker | Kentucky | Apr-14 | UNCOMMITTED |
This button delivers the best SEC football stories to you on Facebook