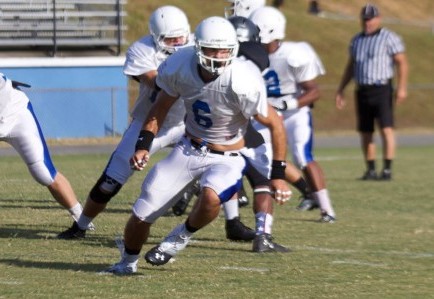 The tight end position in this SEC class is loaded with talent, and they could be on the field quickly. Here are five incoming SEC signees who look like they'll fit comfortably into the conference. All seem to have the build and talent to succeed at this level—and probably beyond.
Related: NCAA trying to slow down hurry-up offenses
Editor's note: Saturday Down South's references to ratings follow the 247Sports.com composite rankings.
1. Jeb Blazevich—Georgia

Charlotte Christian (Charlotte, N.C.), 6-5/230
The skinny: The No. 1 tight end prospect in the SEC, Blazevich just fits Georgia's persona. One can tell when you talk to him that he and Georgia and Mark Richt are going to click. He'll flourish, and he's built to compete at the SEC level. He had a solid high school senior year on both sides of the ball, also finishing with 60-plus tackles on defense.
2. Jacory Washington—LSU

Westlake (Westlake, La.), 6-4/220
The skinny: Washington is a talented receiver and he's huge—a nice combination at the tight end position. He has been on board with the Tigers for nearly a year—and he was on hand for several games this fall to try to persuade recruits to join the Tigers class.
3. Daniel Helm–Tennessee

Clenwood (Chatham, Ill.), 6-4/230

The skinny: Helm won't just be coming to Tennessee to block, he can catch–just about as well as any wide receiver, to be honest. He has good hands but he's also a big guy. Like Ethan Wolf (another Vols TE recruit), Helm is another Vols TE recruit from Big Ten country.
4. Kevin Crosby—South Carolina

Bamberg Ehrhart (Bamberg, S.C.), 6-0/235
The skinny: Crosby and Kalan Ritchie are both classified as tight ends in this Gamecocks class, and both are very good. Consider them the dynamic duo at this position. It's almost unfair that one school gets both of them.
5. Sammie Epps–Ole Miss

Greenwood (Miss.), 6-3/210
The skinny: Epps was on-again-off-again in recent weeks with the Rebels, but in the end he signed on and is a valuable part of this impressive Ole Miss class.
Top 5 signees broken down by position:
Offense
Defense
Athletes & Specialists
This button delivers the best SEC football stories to you on Facebook