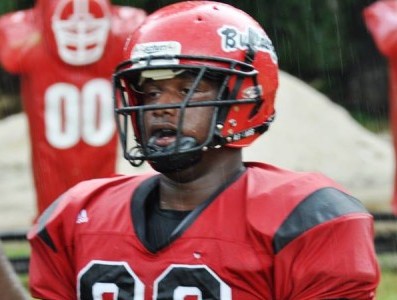 There have been 17 decommitments involving SEC recruits since Dec. 1, and three since New Years. Auburn has been the recent big winners–not surprisingly, as it was a national title game participant. Things like this happen every year.
RELATED: Non-SEC fans hate on the SEC for losing national championship
The Tigers have taken two DBs from Alabama in Stephen Roberts and Kalvaraz Bessent, JUCO DE DaVonte Lambert from Tennessee, and Dontavius Russell from Georgia. This has all happened in a matter of weeks.
One can tell that recruiting is heating up, eh?
RELATED: Final USA Today Coaches' Poll
Here's a look at the 52 SEC decommitments, and the schools they left and where they are now. 
| | | | | |
| --- | --- | --- | --- | --- |
| PLAYER | POS | OLD SCHOOL | DECOMMIT DATE | WHERE NOW? |
| Andy Bauer | OL | Ole Miss | Nov-13 | Mizzou |
| Kalvaraz Bessent | DB | Alabama | Dec-13 | Auburn |
| Dominique Booth | WR | Tennessee | Dec-13 | UNCOMMITTED |
| Ryeshene Bronson | WR | Florida | May-13 | NON-SEC: USF |
| Kweishi Brown (JUCO) | DB | Arkansas | Nov-13 | UNCOMMITTED |
| Eli Brown (2015) | RB/LB | Vanderbilt | Oct-13 | UNCOMMITTED |
| Josh Casher | OL | Auburn | Jul-13 | Alabama |
| Dalvin Cook | RB | Florida | Dec-13 | Florida State |
| Jared Cornelius | WR | Arkansas | Dec-13 | TCU then back to Arkansas |
| Kain Daub | LB | LSU | Nov-12 | NON-SEC: Florida State |
| Jermaine Eluemunor (JUCO) | OL | Arkansas | Oct-13 | Texas A&M |
| Sammie Epps | TE | Ole Miss | Dec-13 | UNCOMMITTED |
| Nick Glass | DB | Georgia | Aug-13 | UNCOMMITTED |
| Wesley Green | DB | South Carolina | Sep-13 | UNCOMMITTED |
| C.J. Hampton | DB | Ole Miss | Dec-13 | Back with Ole Miss |
| Chris Hardeman | DB | LSU | Aug-13 | NON-SEC: Oklahoma State |
| Keith Holcombe | LB | Mississippi State | July-13 | Alabama |
| Kameel Jackson (JUCO) | WR | Tennessee | Nov-13 | UNCOMMITTED |
| Laurence 'Hootie' Jones | DB | Alabama | Dec-13 | Back with Alabama |
| Tyler Jones | OL | Mississippi St. | Oct-13 | NON-SEC: N.C. State |
| Derrick Kelly | OL | Kentucky | Dec-13 | UNCOMMITTED |
| Arden Key (2015) | DE | South Carolina | Sep-13 | UNCOMMITTED |
| Demarre Kitt | WR | Georgia | Oct-12 | NON-SEC: Clemson |
| Quintavious Knight (JUCO) | DB | Ole Miss | Oct-13 | UNCOMMITTED |
| Benjamin Knox | OL | Florida | Sep-13 | UNCOMMITTED |
| DaVonte Lambert (JUCO) | DE | Tennessee | Dec-13 | Auburn |
| Eric Lauderdale (JUCO) | WR | Tennessee | Oct-13 | UNCOMMITTED |
| Lawrence Lee | WR | Tennessee | Jun-13 | Mizzou |
| Christian Miller | LB | Florida | May-13 | Alabama |
| Dimarya Mixon | DL | Mizzou | Feb-13 | Tennessee |
| Anthony Moten | DL | Florida | Jul-13 | NON-SEC: Miami |
| Conner O'Donnell (2016) | WR | Mississippi St. | Jul-13 | UNCOMMITTED |
| Sione Palelei | RB | LSU | Dec-13 | NON-SEC: Oklahoma State |
| Joseph Paul | OL | Florida | Jul-13 | UNCOMMITTED |
| DaVante Phillips (2015) | WR | Florida | Dec-13 | UNCOMMITTED |
| Jamiyus Pittman | DT | Ole Miss | Jan-14 | NON-SEC: UCF |
| Brandon Powell | ATH | Tennessee | Aug-13 | NON-SEC: Miami |
| Norman Price (JUCO) | OL | Mississippi St. | Dec-13 | NON-SEC: Southern Miss |
| Shyquawn Pullium (JUCO) | DB | Kentucky | Dec-13 | UNCOMMITTED |
| Stephen Roberts | DB | Alabama | Nov-13 | Auburn |
| Dontavius Russell | DL | Georgia | Dec-13 | Auburn |
| Krenwick Sanders | WR | Georgia | Jul-13 | NON-SEC: Wisconsin |
| Markel Smith | RB | Mizzou | Mar-13 | NON-SEC: Iowa |
| Elijah Staley | ATH | Vanderbilt | May-13 | Mississippi State |
| Dylan Sumner-Gardner | DB | Texas A&M | Jan-14 | NON-SEC: Boise State |
| Viane Talamaivao | OL | Alabama | Nov-13 | NON-SEC: Southern Cal |
| Travonte Valentine | DT | Florida | Feb-13 | NON-SEC: Miami |
| Denzel Ware | DE | Kentucky | Apr-13 | Back at Kentucky |
| Robert Washington (2016) | RB | Mississippi St. | Jul-13 | UNCOMMITTED |
| Zach Whitley | LB | Alabama | Jan-14 | NON-SEC: UCLA |
| D'haquille Williams (JUCO) | WR | LSU | May-13 | Auburn |
| Jhonny Williams | LB | Mizzou | Nov-13 | NON-SEC: Notre Dame |
| Stanley Williams | RB | Georgia | Apr-13 | Kentucky |
This button delivers the best SEC football stories to you on Facebook