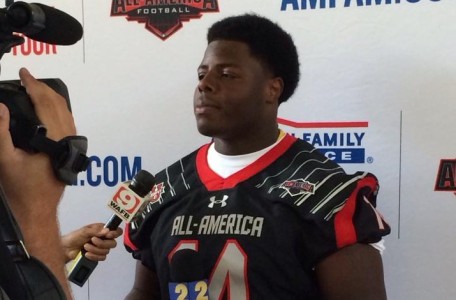 The offensive guard position in this SEC class has some truly special talent. Here are five SEC signees who look like they'll fit comfortably into the conference–led by Ole Miss signee Rod Taylor, who is a beast at the guard position. All seem to have the build and talent to succeed at this level—and probably beyond. They'll need to be good to go against the dominant defensive lines of the SEC.
Related: 10 impact freshmen in 2014
Editor's note: Saturday Down South's references to ratings follow the 247Sports.com composite rankings for high school prospects.
1. Roderick Taylor–Ole Miss

Callaway (Jackson, Miss.), 6-4/305

The skinny: The physical attributes are all there. Taylor is a beast at the guard position and he's quick if he needs to pull. He'll be another one of those great linemen Huge Freeze and his staff has been landing. Some people consider him the best player in Mississippi, period–regardless of the fact he's not a flashy skill player. That's quite a compliment.

2. Braden Smith–Auburn

Olathe South (Olathe, Kan.), 6-6/290

The skinny: Truly one of the biggest gets for the national runners up. Smith looks destined to stay in his neck of the woods, college wise, but in the last month of the recruiting cycle, Auburn made its pitch and now he's a Tiger.
3. Garrett Brumfield–LSU commit

University Lab (Baton Rouge, La.), 6-4/270

The skinny: Brumfield isn't the biggest lineman ever, but it hardly matters. He's just the kind of dirt dauber an O-line coach dreams about, and he'd rather get a root canal than let a defender get past him to the quarterback–a description he endorses, by the way. Good luck getting past this guy. "All good guards need to be mobile," Brumfield told Saturday Down South. "Exceptional athleticism is a must."
4. Isaiah Wynn–Georgia commit

Lakewood (St. Petersburg, Fla.), 6-2/270

The skinny: Like Brumfield, Wynn is not the biggest dude at 6-foot-2, 270 pounds, but what he lacks in height he makes up for in tenacity–which makes him the perfect guard for the SEC. He's more stout than many other offensive lineman, and has a lower center of gravity to get up and under with.

5. Donell Stanley–South Carolina commit

Latta (Latta, S.C.), 6-4/330

The skinny: Stanley has tackle-type size and athleticism too. He's one of the Gamecocks top commitments–he's big, he's strong, he can move and he has a sparkling personality to go with it. He'll be one of those road grinders over the next several years, and don't be surprised if he gets a good chunk of early playing time.
Top 5 signees broken down by position:
Offense
Defense
Athletes & Specialists
This button delivers the best SEC football stories to you on Facebook