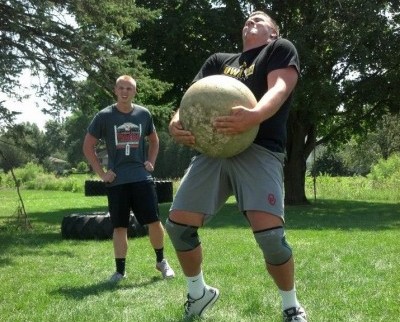 The offensive tackle position in this SEC class is loaded with talent. Here are five high school players who are SEC signees who look like they'll fit comfortably into the conference. All of them seem to have the build and talent to succeed at this level—and probably beyond.
Related: 10 impact freshmen in 2014
Editor's note: Saturday Down South's references to ratings follow the 247Sports.com composite rankings.

1. Cameron Robinson–Alabama

West Monroe (West Monroe, La.), 6-5/330
The skinny: It figured Alabama would get the best two offensive tackles in the SEC, right? LSU really, really wanted to keep Robinson home, but he went with Alabama early in the fall. Robinson hopes to one day slide into that offensive tackle position that Cyrus Kouandjio occupied. We all know the blindside tackles make good money in the NFL.
2. Ross Pierschbacher–Alabama

Cedar Falls (Cedar Falls, Iowa), 6-4/290
The skinny: This is the guy who can and will play any position on the line that is asked of him. Pierschbacher, a former Iowa commitment who switched when the Crimson Tide came after him relentlessly, is one of those "road grader" types. He is a big, strong lineman who would have fit well into the run-dominated Big Ten. Pierschbacher has told Saturday Down South that he respects the play of Barrett Jones, who could get it done at any position on the line.
3. Brian Wallace–Arkansas

Christian Brothers (St. Louis, Mo.), 6-6/305

The skinny: Arkansas really needed this pickup. It came during live national television, and the Razorbacks held off Alabama to land him (not that the Tide didn't already have some good talent at tackle). This was huge for Arkansas.
4. David Sharpe—Florida

Providence (Jacksonville, Fla.), 6-6/290
The skinny: Sharpe is a basketball player in an offensive tackle's body, and he can move his feet when he needs to. He's one of the more recent Florida commitments and shrugged off interest from Georgia, Tennessee and Florida State to go with the Gators. He's a critical pickup for coach Will Muschamp, who needs to rebuild.
5. Andy Bauer—Missouri

DeSmet (St. Louis, Mo.), 6-6/305
The skinny: Bauer was with Ole Miss earlier this fall, but decided to stay closer to home and play for his much improved in-state school—Mizzou. He's a grinder up front, and will fit well into a the run game the Tigers are excelling at. He is clearly one of the top high school players the Tigers signed.
Top 5 signees broken down by position:
Offense
Defense
Athletes & Specialists
This button delivers the best SEC football stories to you on Facebook