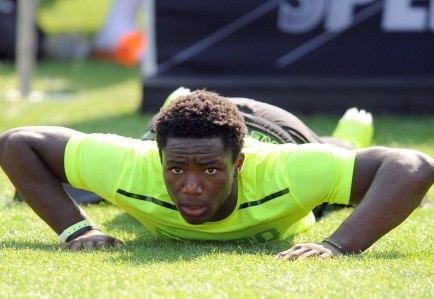 Here's a look at the top five rated high school wide receivers who signed with SEC schools. While the SEC isn't always a place where receivers go wild, statistically (like the Big 12), it is the home of several of the nation's all-time best. Receivers here will go against the best DBs in the game, both in practice and on game-day, prepping them for the next level. That's what every kid wants, a chance to shine early—and this is one of those positions where the gems will shine early if they're good enough.
So who will be the true freshman … after two or three games this fall … we're talking about as a possible freshman of the year? Like A.J. Green and Julio Jones were in 2008?
Editor's note: All rankings used by Saturday Down South, individual and team-wise, refer to the 247Sports.com composite ranking. Also, keep in mind, some players who usually play wide receiver are categorized as "overall athletes".
Related: Rating the SEC's top five 'athletes' (which includes some players who will play RB and WR) to sign with SEC schools in Feb. 2014
Related: Rating the SEC's top five all-purpose backs signees for 2014
1. Speedy Noil—Texas A&M

Edna Karr (New Orleans, La.), 5-11/175

The skinny: There's a reason his nickname is Speedy, folks. With the way Kevin Sumlin likes to toss the ball around, one can envision what Noil is about to become in an Aggies' uniform. Hang on to your hats.
2. Malachi Dupre–LSU

John Curtis (New Orleans, La.), 6-3/190

The skinny: It wasn't really surprising that Dupre eventually came aboard with the Tigers. He was an in-state target and was leaning that way for some time. He provides a huge pass target for LSU.
3. Josh Malone–Tennessee

Station Camp (Gallatin, Tenn.), 6-3/190
The skinny: Malone opted to stay in-state instead of going to Georgia or Clemson or many other locations. He's smart, he's athletic, and his future looks very bright at Rocky Top. He was on campus early, and signed an early scholarship agreement with the school.
4. Trey Quinn—LSU commit
Barbe (Lake Charles, La.), 6-1/200
The skinny: Quinn is the nation's all-time leading receiver in career receiving yardage, beating out current Mizzou WR Dorial Green-Beckham's old record. He has been timed as low as 4.39 seconds in the 40-yard dash. So speed won't be an issue here, even in the SEC.
5. Cameron Sims–Alabama

Ouachita Parish (Monroe, La.), 6-4/200

The skinny: Just another example of the amazing wide receiver talent the state of Louisiana produced this year. Sims is a huge target for whoever becomes the next great Alabama target.
Top 5 signees broken down by position:
Offense
Defense
Athletes & Specialists
This button delivers the best SEC football stories to you on Facebook