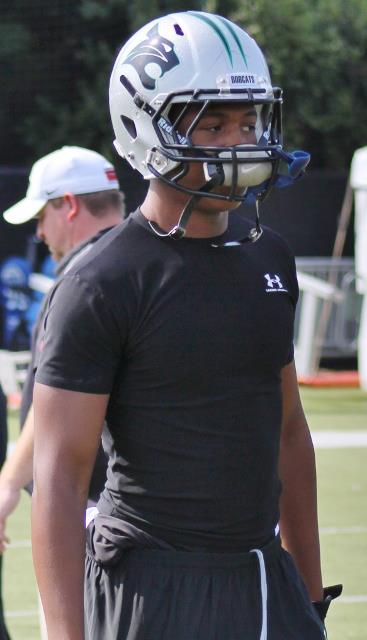 The defensive line is the backbone of what makes the SEC great, that's the way we see it at Saturday Down South. Here's a look at the top 5 weakside defensive ends that have a realistic chance of ending up on SEC rosters.
RELATED: The D-line is the essence of SEC football
Editor's note: Saturday Down South's references to ratings follow the 247Sports.com composite rankings. Also, for more in-depth SDS written stories about these top prospects, click on the blue links.

1. Shameik Blackshear, Bluffton (S.C.), 6-5/240

SEC schools: Committed to South Carolina.
The skinny: Blackshear is a beast at the defensive end position, just another elite talent who has made the Gamecocks his chosen school. Once again, South Carolina owns the No. 1 player in its talent-rich state. Clemson and others? Eat your heart out.
2. Mekhi Brown, Columbus (Ga.), 6-6/230

SEC schools: Committed to Alabama
The skinny: There's nothing like a 6-foot-6 defensive end, so from the get go the Crimson Tide are getting a monster rush end. He's been on board with Alabama for nearly a year, but he did take an unofficial visit to Florida last weekend. So stay tuned?
3. Natrez Patrick, Atlanta (Ga.), 6-3/220

SEC schools: Georgia, Auburn, Alabama, Florida,, LSU
The skinny: This seems to boil down to a battle between the in-state Bulldogs and Auburn. The Tigers are trying very hard to wrestle him loose from Georgia, but that's going to be a tall order for this D-end who can also play some mean linebacker.
4. Arden Key, Atlanta (Ga.), 6-5/200

SEC schools: Georgia, South Carolina
The skinny: This former South Carolina commitment is hearing from a bunch of SEC programs, and the college choice is going to be a tough one. He tells Saturday Down South he's well aware of the D-end legacy at Carolina, but he's also from Georgia and loves the Bulldogs. Should be interesting.
5. D'Andre Walker, Fairburn (Ga.), 6-2/215

SEC schools: Georgia, Auburn, Alabama, Florida
The skinny: So are you getting sick of hearing about how great the defensive ends in Georgia are? I mean, it seems like they're all from the Peach State. This is another Georgia-Auburn battle and you can bet all of these talented D-ends are watching what the others are doing.
This button delivers the best SEC football stories to you on Facebook