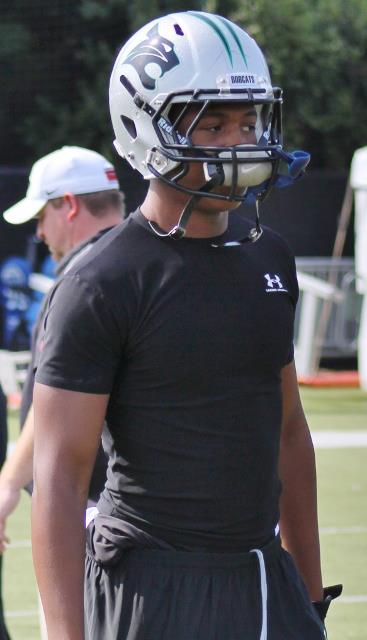 South Carolina has some great prospects on board, and South Carolina has some great prospects on the way.
That's the best way to sum things up when talking about the 2015 Gamecocks class. Four of the six players on board are four-star prospects or better–and one (Shameik Blackshear) is a five-star kid prospect. Blackshear is a 6-foot-5, 240-pound defensive end with all kinds of upside and talent. He's the No. 23 prospect in the nation.
The four-star train won't end there though. JUCO studs like DT D.J. Jones and DE Dante Sawyer would love to come back and play SEC ball at South Carolina, and there's a very good chance that'll happen. They both play together at East Mississippi Community College and are ranked the No. 3 and No. 5 players in the nation, respectively, as well as the top JUCO players at their positions. Super stud four-star athlete Jalen Christian is another distinct possibility, as is four-star OL Zack Bailey. And several stud QBs are currently talking to the Gamecocks.
Fans have already said that in the many years they've been following South Carolina football, the groundwork for future great teams has never been laid down this well with recruiting. The Gamecocks just continue to attract outstanding talent, especially on defense.
| | | | | | | |
| --- | --- | --- | --- | --- | --- | --- |
| RANK | ATHLETE | SCHOOL/CITY | STAR | POS | HGT | WGT |
| 23 | Shameik Blackshear | Bluffton (Bluffton, SC) | 5 | DE | 6'5" | 240 |
| 113 | Mark Fields | William Amos Hough (Cornelius, NC) | 4 | DB | 5'10" | 183 |
| 203 | Sherrod Pittman | First Coast (Jacksonville, FL) | 4 | LB | 6'1" | 215 |
| 429 | Micheal Bowman | Havelock (Havelock, NC) | 3 | WR | 6'0" | 195 |
| 438 | Dexter Neal | Stephenson (Stone Mountain, GA) | 3 | WR | 6'2" | 195 |
| 11* | Paris Palmer | Lackawanna C.C. (Scranton, PA) | 4 | OL | 6'8″ | 305 |
*- Junior college national ranking
This button delivers the best SEC football stories to you on Facebook