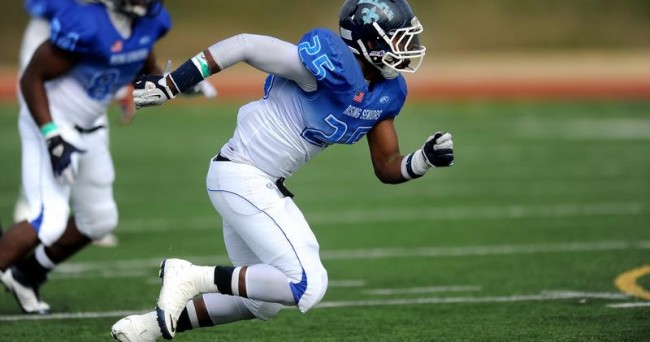 There's two ways to look at how South Carolina has performed this year: Either you see the tremendous potential, or you reach for a bottle of Tums.
Gamecocks recruits see the tremendous potential, and they loved the comeback overtime road win over top 10 Mizzou. That fourth quarter comeback and overtime victory salvaged an entire season and actually puts the Gamecocks in a rather strong position to win the SEC East, whereas in the third quarter it looked like South Carolina may be heading to a rogue bowl game.
"The comeback was exactly the definition of South Carolina football–fight and grinding it out until the end," commit Abu Lamin told Saturday Down South. "They just hung in there until they saw the light and the light was the victory. I thought the win was great though. They really had me hyped."
Michael Scarnecchia is South Carolina's newest commit, and in his first interview with SDS, he praised the play of current quarterback Connor Shaw. Scarnecchia is Steve Spurrier's most recent diamond-in-the-rough quarterback find, and the head ball coach has quite a track record.
"I thought it was a great comeback," Scarnecchia told SDS. "The team held on the whole game and never let go. "Connor Shaw came in and made some huge throws to bring them back in. And the defense made stops when they had to. And now if they win these next two division games they could win the SEC East."
Darin Smalls, another of South Carolina's commitments for 2014, experienced just as much of a roller coaster ride as the fans did. In fact, he's one of the Gamecocks biggest fans out there.
"I was upset at how we started out playing, but we turned it on the second half and great plays by Connor got us into the OTs," Smalls told SDS. "When Missouri lined up for that field goal, I yelled 'They better miss it!' and they did, so all in all it was a great win for the Gamecocks."
Four-star linebacker Bryson Allen-Williams was even more to the point.
"It was a great comeback, man," Allen-Williams told SDS. "I was so proud of those boys that I'll call my brothers next year."
This button delivers the best SEC football stories to you on Facebook