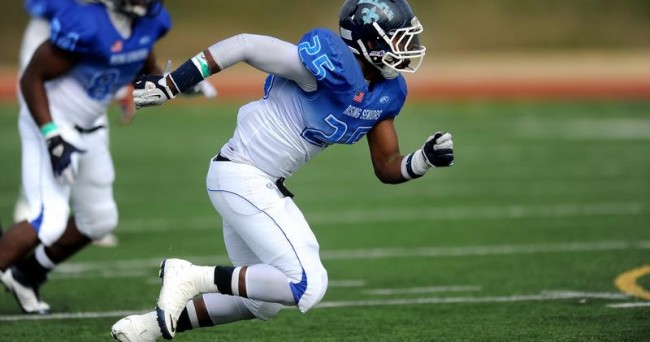 South Carolina Gamecocks
SEC TEAM RANK: No. 8
NATIONAL TEAM RANK: No. 15
LAST YEAR'S FINISH: No. 8 in SEC; No. 20 in nation.
NO. 1 CURRENT RECRUIT: LB Bryson Allen-Williams (No. 102)
SDS 3-STAR 'SLEEPER' STAR: DB Darin Smalls is a high-end three-star prospect. He has the makings of a leader. Very mature.
SUM THE DAY UP: It was a monster day for South Carolina. The Gamecocks kept Bryson Allen-Williams aboard after weeks of him wavering, they got Wesley Green back after a several-month hiatus, they swayed Dexter Wideman to stay closer to home instead of play for Florida State and they charmed a former Florida Gator DB commit, Chris Lammons, into coming aboard. Oh, and they swayed Blake McClain away from Nebraska. It's almost like Steve Spurrier had a magic potion on Wednesday. The Gamecocks had just as good a day as LSU and Florida.
OVERALL: South Carolina jumped up eight spots in the national rankings thanks to Wednesday, so signing day can be thanks for some major positive vibe coming from Columbia. The Gamecocks are loaded with four-star prospects and are especially impressive on defense. It was a great recruiting year.
Editor's note: All team and individual ratings referenced by Saturday Down South are according to 247Sports.com's composite ranking, which averages all services. Team rankings are as of 5 p.m. Wednesday.
Here's a look at the current commitments, with ranking and early enrollment details:
| | | | | | | |
| --- | --- | --- | --- | --- | --- | --- |
| PLAYER | POS | HOMETOWN | HGT | WGT | RANK | ENROLLED? |
| Bryson Allen-Williams | LB | Ellenwood, GA | 6'1″ | 214 | 4 | |
| Joe Blue | RB | Dillon, SC | 6'0″ | 235 | 3 | |
| Kevin Crosby | TE | Bamberg, SC | 6'0″ | 239 | 4 | |
| Shaq Davidson | WR | Gaffney, SC | 6'0″ | 170 | 4 | |
| Terry Googer | WR | Atlanta, GA | 6'4″ | 210 | 3 | |
| Wesley Green | DB | Lithonia, GA | 5'11" | 170 | 4 | |
| Al Harris Jr. | DB | Fort Lauderdale, FL | 5'10″ | 155 | 3 | |
| Abu Lamin | DT | Fort Scott, KS | 6'5″ | 315 | 4 | YES |
| Chris Lammons | DB | Fort Lauderdale, FL | 5'10" | 170 | 4 | |
| Blake McClain | DE | Jacksonville, FL | 6'4" | 280 | 3 | |
| Kalan Ritchie | TE | Goose Creek, SC | 6'5″ | 215 | 3 | |
| Tyshun Samuel | WR | Inman, SC | 5'11″ | 180 | 3 | |
| Dante Sawyer | DE | Suwanee, GA | 6'3″ | 240 | 4 | |
| Michael Scarnecchia | QB | Orange Park, FL | 6'3″ | 185 | 3 | |
| Darin Smalls | DB | Summerville, SC | 5'11″ | 182 | 3 | |
| D.J. Smith | DB | Marietta, GA | 6'0″ | 190 | 4 | |
| Taylor Stallworth | DT | Mobile, AL | 6'2″ | 290 | 3 | |
| Donell Stanley | OL | Latta, SC | 6'4″ | 330 | 4 | |
| Jhaustin Thomas | DE | Athens, TX | 6'6″ | 240 | 3 | |
| Dexter Wideman | DT | Saluda, SC | 6'4" | 255 | 4 | |
| Malik Young | OL | Piedmont, SC | 6'4″ | 290 | 3 | |
This button delivers the best SEC football stories to you on Facebook