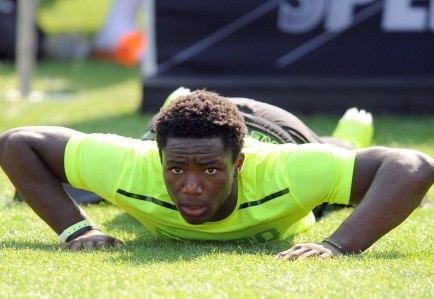 SDS will rank the SEC's potential instant impact freshmen–using the month of March–by ranking them No. 31 down to No. 1. This gives our readers an idea of which 2014 signees we believe will step up in the fall and possibly contribute in a big way. Junior college prospects are always players to keep an eye on, obviously, as they've already played college ball … and high school prospects at certain positions sometimes flourish early.

Here's a look at who we think has the ability to step into a good situation and be in for key snaps, and be sure and check out the SEC countdown of impact newcomers at the bottom.
No. 5 – Speedy Noil, Texas A&M, WR
HOMETOWN: New Orleans (La.)
SIZE: 5-11/175
RANK: Five-star prospect; No. 8 overall prospect in America.
THE SKINNY: Noil had a monster senior season, but it was at quarterback–showing how good an athlete he is. He passed for 2,200 yards, rushing for 1,300 and accounted for 45 touchdowns–even managing to catch 18 passes. Now he'll move on to a more complex offense and will play receiver. He surprised a lot of people when he left his home state of Louisiana, shunning LSU for the Aggies.
WHERE HE'LL MAKE AN IMPACT: Already there is talk that Noil could be in the starting lineup for the season opener. He's extremely quick, extremely fast and extremely elusive. He could be slicing and dicing SEC opponents less than six months from today.
NOIL SAYS: "It felt like home when I went on my official visit and by having Noel Ellis as a football player last year, he's been a brother to me in this process and I've been looking forward to playing since I was small and I'm taking my talents to A&M."
COACH SAYS: "We have an excellent overall group of recruits and these five will get a jump on getting acclimated to school and learning our system as well as the chance to work with Coach Jackson in the weight room." — Texas A&M coach Kevin Sumlin
Editor's note: Saturday Down South's references to ratings follow the 247Sports.com composite rankings for high school prospects.
Other impact newcomers:
This button delivers the best SEC football stories to you on Facebook