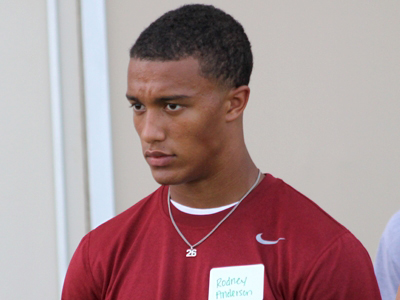 It's early. It happens.
Rodney Anderson had been on board with Texas A&M since early August of last year, but this week he decided to step back from his commitment and explore other options. He is the SEC's 13th decommitment of the 2015 class, and there have been a flurry of them in April. Anderson, a four-star recruit rated the No. 126 prospect in America, also holds offers from Auburn, Baylor, Michigan State, Texas and Texas Tech, and Oklahoma may be coming on strong also after he visited the campus earlier this month. He is a 6-foot-1, 205 pound prospect out of hotbed Katy (Texas). Anderson told numerous media outlets that he thinks other programs may suit his running style better, and he will check others out–but also not totally ruling out a return to the Aggies.
Anderson rushed for nearly 2,000 yards and 34 touchdowns as a junior, and surpassed the 1,000-yard mark as a freshman. He also had more of a receiving role in Katy's offense as a sophomore–so he proved he can do it all well.
The Aggies now drop down to 8 commitments for 2015 and the loss drops them to No. 6 in the nation after being No. 1 at one point several weeks ago.
The SEC's 2014 class finished with more than 80 decommitments.
EDITOR'S NOTE: All references to team or individual ratings are to the 247Sports.com composite rankings.
This button delivers the best SEC football stories to you on Facebook