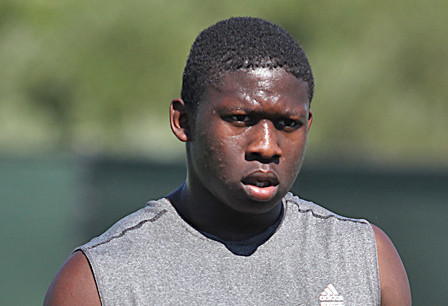 It's the time of the year where top-flight athletes begin paring down their long lists of schools into a more manageable list of finalists–and Tennessee and Missouri just made one of those lists.
Defensive end Takkarist McKinley is a 6-foot-3, 240-pound defensive end out of Contra Costa College in California. He's rated the No. 16 junior college prospect in America and the No. 2 prospect in California. Not too shabby a resume … and his top 10 had two SEC schools lists. The Vols and Tigers made the cut.
McKinley originally signed with Cal out of John F. Kennedy H.S. in Richmond (Calif.), so there's a strong chance he stays closer to home. Texas and Oklahoma are two other schools to keep an eye on.
Editor's note: Saturday Down South's references to ratings follow the 247Sports.com composite rankings.
This button delivers the best SEC football stories to you on Facebook