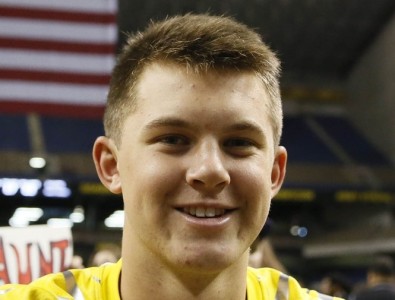 The U.S. Army Game wasn't dominated by SEC recruits quite like the Under Armour Game, but the league still left some impressions on fans.
First of all, the SEC landed two more top commitments when OT Brian Wallace chose Arkansas and up-and-coming WR Frank Iheanacho did what everybody expected and went with in-state Texas A&M. Both are key pickups for their respective schools, as Wallace is one of Bret Bielema's top 2014 pickups, and Iheanacho is the second big-time passing target the Aggies have added.
SEC QUARTERBACKS LOOK GOOD: Iheanacho must have loved how future Aggies QB teammate Kyle Allen played. Allen, the No. 1 pro-style signal caller in the nation, started the game red hot—going 8-for-8 for the West Team. He finished 12 of 18 passing with 114 total yards in the game. Florida QB commit Will Grier threw for 109 yards in the game and had the game's longest play from scrimmage—hitting a 51-yard pass. Kentucky QB Drew Barker (4-of-6, 54 yards) played decently and Georgia QB commit Jacob Park probably had the toughest day among the SEC QB commitments. Barker drew praise from Kentucky head coach Mark Stoops, who–thanks to Barker already being signed–can comment publicly about his future quarterback. "Congratulations Drew on the Win today. You represented the #BBN well!!! See you in a week!!," Stoops Tweeted.
GEORGIA RB TANDEM: Well, it never really got off the ground, did it? Nick Chubb and Sony Michel were on the same team, but the East Team got behind so early that they threw considerably more than they ran the ball. Michel did manage to score a touchdown on a 1-yard run, but Chubb really didn't get too many opportunities with the ball and mostly settled for short gains. It was another example of how these national all-star games really aren't indicative of what a player can do. Just like Leonard Fournette (the nation's collective No. 1 player overall) in the Under Armour game, they weren't able to do much in the ground game.
CHANGE OF MIND: Big-time Kentucky target Matt Elam decided not to announce his school choice on Saturday at the U.S. Army Game. He'd been expected to choose the Wildcats over Alabama in the fourth quarter, making one wonder if the Crimson Tide have given him more to think about? Also, Georgia target Elisha Shaw had considered announcing this week, but he'll take some more time, too.
BAMA SWAP: After the Under Armour Game, highly rated DB Laurence 'Hootie' Jones rejoined the Alabama recruiting class after a short hiatus. A switcheroo happened at the U.S. Army Game too, as four-star LB Zach Whitley dropped the 'Tide the night before the game and decided to go with UCLA. Whitley is a Houston native, and had planned to enroll early at the school of his choice. Whitley is a four-star prospect.
This button delivers the best SEC football stories to you on Facebook