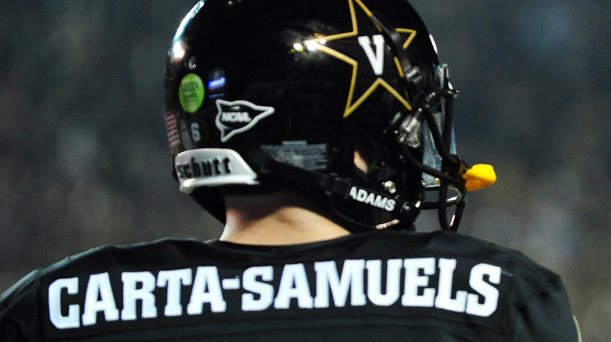 Vanderbilt recruits are fired up–as are alumni from the 40s, 50s, 60s, 70s, 80s, 90s, 00s and even this decade.
Why? Because the Commodores hadn't beaten the Gators in Gainesville since Harry Truman was President of the United States. It was a big reason to celebrate, whether the Gators were wounded or not.
Lloyd Tubman, the Commodores' 2nd highest rated recruit behind QB K.J. Carta-Samuels, was stoked.
"Watching the game, the whole game, and seeing Vanderbilt execute every play to win a game–it meant a lot," Tubman told Saturday Down South this week. "We are on the rise to bigger and better things. We have a vision and we are just pursuing it. Under Coach (James) Franklin, we can win it all."
Several other Vandy commits also chimed in:
Cole Hardin–"I don't worry about the past. I am just incredibly proud of where this program is headed. I think last Saturday showed how good this team is. They played a complete game, and it was a great team win. I can't wait to be a part of more wins like this in the near future."
Paul Granier–"That says Vanderbilt is a growing program that continues getting better and will continue over the years to get better," Granier told SDS.
Trace McSorley–"I think it's a huge step for the program as a whole. It shows how much Coach Franklin and the other coaches have changed entire culture there and are looking forward to more big wins like that and to be competing for the SEC championship and National Championships in the years to come."
Brendan Brosnan–"Vandy is a program on the rise and Coach Franklin has done great things to the program and continues to make a huge impact. It's so cool seeing a football program change so drastically year by year."
Kyle Gibson–"That win just shows my whole reason for committing to Vandy."
This button delivers the best SEC football stories to you on Facebook