SEC
2015 Tennessee Nike uniform, helmet concepts
Tennessee's moving to the swoosh next season.
In January, the Vols ditched long-time apparel supplier Adidas for a multi-year deal with the Nike, the world's largest and most lucrative footwear and athletic apparel company.
RELATED: Ranking the SEC's concept uniforms
The eight-year contract worth $3 million per season begins in July 2015, meaning Tennessee will don updated uniforms on the gridiron next fall.
Here's an idea of how we think the Vols' threads could look:
Home, away, alternate jerseys
Determining Nike's color template at Tennessee six months out is next to impossible and the swoosh has made no guarantees that it will continue to incorporate the Vols' grey alternate, but it's a good idea. Orange contrasts well with the new-look and gives Tennessee an edge aesthetically.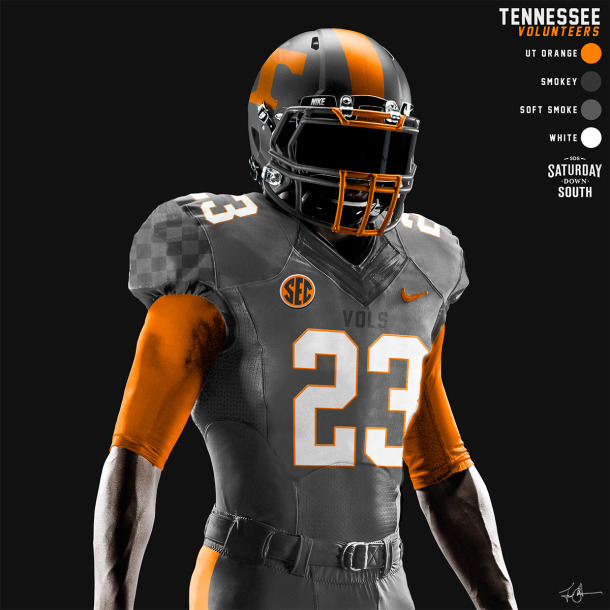 Cleat update
Nike's the annual trendsetter for on-field footwear, innovative ideas you're sure to see during bowl season in the SEC kicking off this week.
Using a Zoom Vapor template, we've splashed Tennessee's color scheme onto a couple pairs.
Helmet options
Keep tradition and add spice. Several college football powerhouses have taken this approach in recent years and it has worked beautifully. Adding a 'soft smoke' shell with the recognizable 'Power T' and a two-toned facemask is an ideal look.