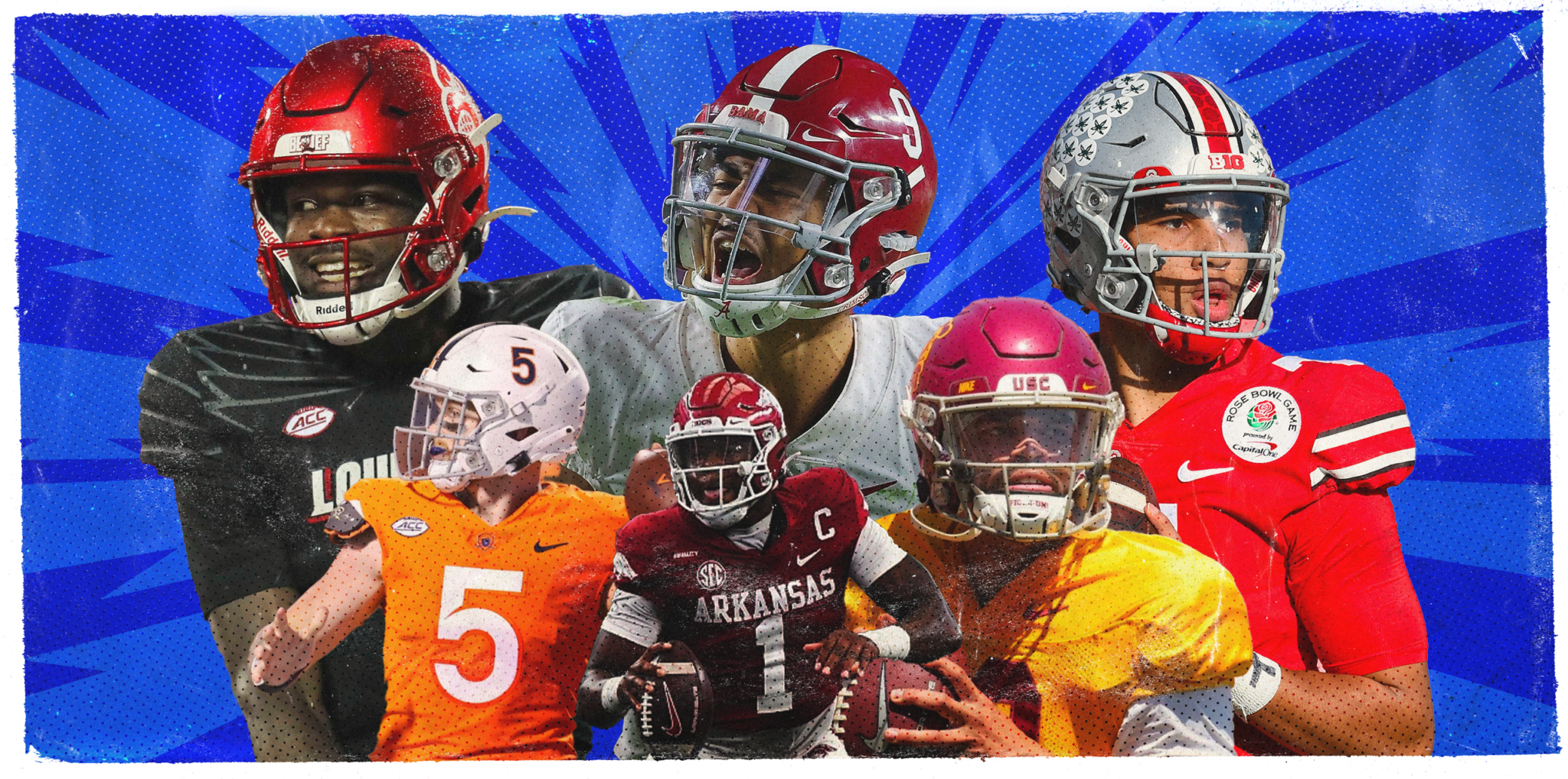 SEC
Ranking the Top 25 QBs in college football in 2022
The 2022 season will unfold with roughly 600 quarterbacks on FBS rosters. Here's our countdown of the best of the best.
– – –
25. Quinn Ewers, Texas
Working out where a player like Ewers deserves to land on a list like this is a problem. A massively hyped talent who has yet to take a meaningful college snap, he's the season's biggest wild card – an unproven rookie on one hand, a plausible Heisman candidate on the other. Dropping him here is mainly our way of saying his presence can't be ignored.
Not that being overlooked has ever been an issue. As a prospect, Ewers was so coveted by the end of his junior year of high school in the Dallas-Fort Worth area that he decided to skip his senior year, reclassify as a member of the 2021 recruiting class, and enroll early at Ohio State in order to cash in on NIL opportunities that the governing body overseeing Texas high schools still forbids. (In the process, his defection from a commitment to UT was at least a minor factor in getting coach Tom Herman fired.) After serving what amounted to a gap year in Columbus, he transferred home to find the table in Austin all set and an empty seat waiting. Steve Sarkisian is a highly respected offensive mind, the skill positions are fully stocked, and last year's 5-7 debacle is (for now) in the rearview.
Technically, Ewers still has to win the starting job over redshirt sophomore Hudson Card, a former blue-chip recruit in his own right; given Card's obvious struggles last year and the implicit promises that come with landing a franchise QB like Ewers, the outcome there is a formality. Beyond that, TBD. If he's the real deal, a monster year awaits. If not, this spot on next year's list will be Arch Manning's to lose.
24. Anthony Richardson, Florida
Based strictly on his athletic traits, Richardson might be the most intriguing name on this list. He made a big splash last September in a couple of early nonconference cameos, and looked like a star in a midseason shootout at LSU. But fleeting glimpses of his potential over the first half of the season were offset by injuries and inconsistency over the second half, and his second-banana status behind the equally mercurial Emory Jones was an ongoing source of frustration as the Gators unraveled. Richardson's only start, a blowout loss against Georgia, went badly, and he barely saw the field again over the last 5 games.
He's raw, inconsistent, turnover-prone, and … and …
This throw by Anthony Richardson is just stupid good pic.twitter.com/H50FKm7Mit

— Cam Mellor (@CamMellor) September 11, 2021
… and well, yeah, he can do that. When he was on, Richardson was a big-play machine with his arm and his legs, accounting for 15 plays of 20+ yards (9 passing, 6 rushing) on 192 snaps and generally inspiring visions of a young Cam Newton. He's outlasted Jones, who moved on to Arizona State, and Dan Mullen, who's reportedly resurfacing at ESPN. Like Ewers, his boom-or-bust rating in a brand-new system is off the charts. At this point, all we can say for sure is that we've seen enough to know if he comes anywhere near his ceiling full-time the hesitancy to go all-in here will wind up looking foolish.
23. JT Daniels, West Virginia
The JT Daniels saga at Georgia ended with Daniels on the bench, watching the part he was supposed to play in the Dawgs' national championship run played by Stetson Bennett IV instead, while everyone else abruptly forgot why the question ever seemed so urgent in the first place. With Bennett's decision to return for a victory lap this fall, Daniels was the odd man out for the second time in his career, his tenure at USC having also ended with him being usurped by a former backup following an early-season injury. In both cases, his demotion had almost nothing to do with his performance and everything to do with his inability to stay on the field.
So even as a 5th-year senior, Daniels is another guy who comes with more potential than proof. Given the chance, he's looked the part. At USC, he started every game as a true freshman in 2018 and had high expectations in Year 2 before suffering a torn ACL in the 2019 opener. At Georgia, he was 7-0 as a starter while flashing glimpses of the gifts that made him a 5-star recruit in between injuries.
This was dropped, but how was JT Daniels not starting earlier? This play is incredible. pic.twitter.com/7GEPOGIw4G

— Chris Hummer (@chris_hummer) November 22, 2020
At West Virginia, at least there's no doubt about his status as QB1. The starter the past 2 years, Jarret Doege, transferred to Western Kentucky, leaving a flashing red vacancy sign and no other immediately viable candidates to fill it. Daniels will also be reunited with his old offensive coordinator at USC, Graham Harrell, who's in a similarly sideways phase of his career. Morgantown is a long way from LA, but in a wide-open year in the Big 12 it's a perfectly fine place to get back on course.
22. Kedon Slovis, Pittsburgh
Another cross-country refugee from USC, Slovis also finds himself in career rehab mode following a doomed trajectory as a Trojan. The best of his 3 seasons there was his first, when he put Daniels out of a job by throwing for 3,500 yards and 30 touchdowns as a true freshman. From there, his follow-up in 2020 was a wash due to the pandemic, which limited USC to just 6 games, and the '21 campaign went directly into the spam folder with the decision to fire coach Clay Helton after 2 games. Slovis was never 100% following a neck injury in Week 3, and never really had the option of sticking around after Lincoln Riley's arrival in December.
Nevertheless: After all that, presumably the man can still throw the heck out of a football, which made him a predictably high-priority target in the portal. At Pitt, Slovis will have the thankless task of replacing Heisman finalist turned first-rounder Kenny Pickett, without the benefit of Pickett's play-caller (OC Mark Whipple took the same job at Nebraska) or go-to receiver (Biletnikoff Award winner Jordan Addison transferred, ironically, to USC). Besides serving as one of the more compelling subplots of Week 1, his opening-day duel with Daniels in the Backyard Brawl will be a significant tone-setter for both of their seasons.
21. Dorian Thompson-Robinson, UCLA
He's still here! Thought to be on his way out last winter, either DTR himself or coach Chip Kelly – or both – had a change of heart when free-agent transfer Dillon Gabriel backed out of his commitment to UCLA in favor of Oklahoma, leaving the position to the incumbent. Just how strongly Bruins fans feel about that, and in which direction, is in the eye of the beholder.
Thompson-Robinson undeniably falls into a category of QB who's always ripe for scorn: The long-tenured starter who's never quite lived up to the advance hype. But he's undeniably improved along the way, too, presiding over an 8-3 record as a starter in 2021 and finishing as the Pac-12's highest-rated passer. November was the best month of his career, highlighted by a 395-yard, 6-TD performance against USC in which he hurdled a dude en route to the end zone and capped another TD run by autographing a fan's hat.
DTR TAKES FLIGHT
pic.twitter.com/WUh9gYbHSC

— The Den (@uclatheden) November 21, 2021
It says something about something that a split was on the table just as it seemed like the program was finally moving in the right direction. But there should always be space in the sport for guys who have taken their lumps to hang around long enough to see the light at the end of the tunnel.
20. Will Rogers, Mississippi State
Rogers looks and plays like the stereotypical Mike Leach quarterback and had a very Leach-ian sophomore campaign – occasionally brilliant, occasionally dreadful, ultimately leveling out at just a tick or two above average. The good: A 408-yard, 3-TD outing in an upset win at Texas A&M; a near-perfect game against Kentucky; and historic comebacks against Louisiana Tech and Auburn. All of which contributed to breaking single-season school records for yards (4,739) and TD passes (36). The not-so-good: A 3-INT flop against Alabama; a Thanksgiving no-show against Ole Miss; and a lame-duck, blowout loss vs. Texas Tech in the Independence Bowl. The average: Rogers finished 7th among SEC starters in both pass efficiency and Total QBR; Mississippi State as a team finished seventh in total offense; and the Bulldogs finished 7-6.
Like most Leach quarterbacks, Rogers doesn't project as a high-upside pro prospect, so the guy MSU fans saw last year was probably close to the finished product. This year, he's the SEC's most seasoned returning passer, with 20 career starts under his belt in the same high-volume system. As long as he's upright, you can go ahead and mark him down for 4,500 yards and 35 touchdowns just by virtue of playing in an offense that puts the ball in the air 50 times per game. The key to taking another step forward in Year 3 is week-in, week-out consistency.
19. Stetson Bennett IV, Georgia
Bennett's physical limitations are what they are. He's not getting any taller. His arm's not getting any bigger. He's not about to turn into Johnny Manziel under pressure. As an NFL prospect, he projects as a fine lawyer. It's impossible to separate his success from the fact that he's surrounded by arguably the most talented roster in the country, or imagine how he'd fare if he wasn't.
But the focus on Bennett's Rudy-esque backstory and stature tends to obscure the fact that, adjusted for volume, he was easily one of the most productive passers in the country. The numbers are legit: He ended the season ranked No. 4 nationally in pass efficiency, No. 3 in yards per attempt and No. 3 in Total QBR, behind only CJ Stroud and Bryce Young. His overall passer rating (176.7) set the UGA record. He threw for multiple touchdowns in 9 of his 11 starts, including all 3 games in the postseason. And while he had quite a few conservative outings that limited his attempts, he didn't have anything approaching a truly bad one. His worst rating of the season per QBR came in a 56-7 romp over Charleston Southern. Against everyone else, he came in well above the Mendoza line, week-in, week-out, despite dealing with a depleted wide receiver rotation that remained in flux all year.
More importantly for Georgia's championship-or-bust goals, he didn't regress into a shell in the biggest games. On the contrary: Factoring in the competition and the stakes, Bennett's 313-yard, 3-touchdown performance in the Bulldogs' Orange Bowl Playoff semifinal win over Michigan was the best of his career — the first time he'd looked convincingly up to the task against a championship-caliber defense. And the go-ahead touchdown drive in the fourth quarter of the CFP Championship Game against Alabama was another answer to a longstanding question: What happens when the scoreboard forces Bennett to make plays with his arm and the defense knows it?
IT'S AMAZON. IT'S FEDEX. NO!!

IT'S THE MAILMAN STETSON BENNETT ?? pic.twitter.com/e1hA1FsDnh

— PFF College (@PFF_College) January 11, 2022
It might be an exaggeration to insist that you must have a first-round, Heisman-caliber quarterback to win it all in the spread-passing era. But you do still need a guy who can step up and hit the mark when the situation demands it. If nothing else, no one can ever argue that Bennett isn't capable of being that guy again.
18. Aidan O'Connell, Purdue
Championship heroics notwithstanding, Bennett is not our highest-rated walk-on. Instead, that title goes to O'Connell, who didn't take over as the Boilermakers' starter until the first weekend of October and proceeded to quietly ambush Big Ten defenses on a weekly basis. In his 9 starts, O'Connell threw for 25 touchdowns, led a couple of decisive upsets over then-No. 2 Iowa and then-No. 3 Michigan State, and went out on a high note in a wildly entertaining, 48-45 overtime win over Tennessee in Music City Bowl — Purdue's 5th win in its last 6. He ranked No. 5 nationally in QBR and posted the best passer rating in school history.
At 6-3/210, O'Connell has a chance to generate more interest at the next level than he did out of high school, when he had zero scholarship offers and was initially committed to a D-III school before opting for the walk-on route at Purdue. For a guy who hadn't played much prior to last year, that depends largely on whether he has any potential left to tap as a 6th-year senior. Losing all three of his starting wideouts, most notably All-American David Bell, raises the degree of difficulty on that front considerably.
17. Spencer Sanders, Oklahoma State
After a decade-plus run of pocket passers, Sanders' promotion to QB1 in 2019 marked an abrupt shift for Oklahoma State's offense. To account for a dual-threat, the past 3 seasons have been some of the most run-oriented of Mike Gundy's 17-year tenure, with Sanders running for 1,995 yards (excluding negative yardage on sacks) and attempting fewer than 30 passes per game – a far cry from the high-flying OK State attacks that helped define the Big 12's pass-happy reputation.
Spencer Sanders got 'em! #OKState pic.twitter.com/89kDp43Yii

— Cowboys Ride For Free (@CowboysRFF) October 31, 2020
If it hadn't already, that reputation died a long overdue death in 2021, when Sanders led the Cowboys to within 1 yard of a conference championship and came in for first-team All-Big 12 honors despite averaging barely 200 ypg passing in the regular season. Losing workhorse RB Jaylen Warren might put some more onus on Sanders' arm if there's a drop-off from Warren (and Chuba Hubbard before him) to whoever comes next. But as long as the defense holds up its end of the bargain, the mission again is to remain as balanced as possible.
16. Jaren Hall, BYU
As a rule, replacing the No. 2 overall pick is a no-win proposition. In Hall's case, though, he came to the full-time job last year with some previous starting experience already under his belt in 2019, when he became the first Black quarterback to start a game at BYU, and looked right at home in it, going 8-2 as a starter with 6 wins over Power 5 opponents. (In addition to hanging 66 points on Virginia in one of the season's most entertaining games, the Cougars' 5-0 record vs. the Pac-12, including an early win over eventual champion Utah, set off a mock Twitter campaign to anoint them as the true conference champs.) He ended the regular season on a tear, accounting for 1,337 yards and 13 TDs in the last 4 games before sitting out the bowl with a foot injury.
A good athlete with a next-level arm and a knack for avoiding negative plays – just 12 sacks and 5 INTs on 317 dropbacks – Hall is a good candidate to leave after this season, before he gets his chance to add all-conference flourishes to his rèsumè when BYU joins the Big 12 in 2023. Given the opportunity this year, he'd have a strong case as the league's best returning starter.
15. Cameron Rising, Utah
Rising, a transfer from Texas with no meaningful college experience, didn't crack the starting lineup last year until the fourth game, when he took over for a struggling 1-2 outfit coming off back-to-back nonconference losses to BYU and San Diego State. (The starter in those games, former Baylor and current Liberty QB Charlie Brewer, abruptly left the team after getting the hook.) If he'd been the starter from Day 1, Utah might have been squarely in the Playoff conversation. Once installed, Rising was an immediate upgrade, presiding over a 9-2 record as a starter and the Utes' first Pac-12 championship since joining the league. He led the Pac in Total QBR, earned a first-team all-conference nod from opposing coaches, and broke out nationally with a 316-yard, 3-touchdown afternoon in the highest-scoring Rose Bowl ever.
Cameron Rising really just did that. pic.twitter.com/JzvqUI3rJR

— Dean Straka (@DWStraka49) January 1, 2022
Although there was no particular weakness in Rising's game, there was one area where he legitimately excelled: Avoiding sacks. He was dropped just 8 times on 94 pressured dropbacks, per PFF, the best rate among all Power 5 passers.
14. Hendon Hooker, Tennessee
From the outside, Tennessee's offensive turnaround in 2021 was easy to miss — the Vols finished 7-6, didn't crack the Top 25 at any point, and were soundly beaten in their most high-profile games against Alabama, Georgia and Florida, extending their losing streaks in all three rivalries. Hooker, a 5th-year transfer from Virginia Tech, opened the season as a backup and was rarely singled out as an emerging star or future pro. After coming off the bench in Week 2, however, he quietly delivered one of the most productive seasons in UT history, setting school records for completion percentage (68.0) and overall passer rating (181.4) while posting the best TD-to-INT ratio (31-3) of any full-time FBS passer. As a team, Tennessee scored 45+ points in 6 of its last 9 games and improved its ppg average vs. Power 5 opponents by two full touchdowns over 2020.
At 24, Hooker is unlikely to emerge in Year 6 as the elite talent who gets the Vols all the way back to where they expect to be. For now, those kinds of expectations are reserved for 2023 commit Nico Iamaleava, who's poised to become Tennessee's first 5-star QB in more than 20 years. But Hooker's return along with WR Cedric Tillman is reason enough for optimism in 2022, a word that hasn't been associated with Tennessee football in a long time. And to the extent that he's played a role in making Knoxville a viable destination again for blue-chip recruits with no memory of the Vols' heyday, he's already done what he was brought aboard to do.
13. Dillon Gabriel, Oklahoma
Obviously, losing two blue-chip quarterbacks to the portal in the span of a few weeks is not ideal, especially ones with the established wattage of Caleb Williams and Spencer Rattler. Other than the guys who skipped town, though, the Sooners landed arguably the best available QB on the market to replace them in Gabriel, a deep-ball specialist who threw for 70 touchdowns in 26 games at UCF and led the nation in 40-yard completions in 2020 before missing nearly all of '21 to a broken collarbone.
Me: Alexa, show me the best college quarterback when throwing deep, outside the hashes.

Alexa: Here's Dillon Gabriel of @UCF_Football pic.twitter.com/FybSwQDXsP

— Cam Mellor (@CamMellor) October 1, 2020
In Orlando, Gabriel always suffered a bit in comparison to his UCF predecessor, fellow Hawaiian McKenzie Milton, who set an impossible bar over the course of a 24-game winning streak in 2017-18. In Norman, that bar will be set even higher. But Gabriel will also be reunited with his old UCF coordinator, Jeff Lebby, who joined Brent Venables' staff after two highly productive seasons at Ole Miss calling plays for a QB with very similar traits, Matt Corral, and he'll have the luxury of throwing to one of the nation's most electric deep threats, Marvin Mims. Lebby was largely responsible for convincing Gabriel to back out of a commitment to transfer to UCLA. Assuming Gabriel's injury issues are behind him (he was 100% in the spring), the reunion stands to pay off for both of them.
12. Will Levis, Kentucky
Levis has been widely touted as a top-10 pick in the "Way Too Early" mock draft cycle for 2023, and if you're inclined to buy that stock this position probably seems like short shrift. Maybe it is. He certainly checks the boxes in terms of size and mobility. And with all due respect to the immortal Lynn Bowden Jr., Levis' first season in Lexington was the best by a Kentucky QB in a long time, going back to Andre' Woodson in 2007, at least. If you squint hard enough, it's possible to look at his situation — former transfer from the Big Ten, intriguing physical profile, encouraging turn in his first season as a starter — and conjure up the outline of a Joe Burrow-like leap as a 5th-year senior.
In other ways, though, Levis remains a work in progress. He was still relatively raw as a passer in 2021, serving up 13 interceptions, and half of his 24 touchdown passes came at the expense of UL-Monroe, Chattanooga, Vanderbilt, and New Mexico State. In fact, the less often he put the ball in the air in the Wildcats' run-first attack, the better – in 6 regular-season wins vs. Power 5 opponents he maxed out at just 22 attempts. He finished in the middle of the pack among SEC starters in pass efficiency and QBR, and lost a pair of wideouts (Wan'dale Robinson and Josh Ali) who accounted for two-thirds of the team's receiving yards.
Anyway, mock drafts on the Internet are free to read and you should take them for what they're worth. For a former 3-star recruit who arrived from Penn State as a wild card just to win the starting job, Levis' tenure in Lexington is shaping up as a success. For a future franchise QB, he still has a lot to prove.
11. Tyler Van Dyke, Miami
The U's reputation as a quarterback factory is ancient history, along with the U's national reputation in general. But while Van Dyke certainly isn't the first candidate over the years to restore some of the old luster to the position, early returns suggest he might be the best. As a redshirt freshman, he replaced an injured D'Eriq King in the fourth game and oversaw an attack that averaged 35.6 ppg over the last 8. Miami closed on a 5-1 run, and Van Dyke's final passer rating (160.1) was good for the second-best mark in school history behind only Vinny Testaverde's (165.8) in his Heisman-winning campaign in 1986.
Tyler Van Dyke to freshman Brashard Smith. Who is ready to see these 2 connect more in 2022? pic.twitter.com/KpcRKo6uaX

— Cane Clips (@cane_clips) February 6, 2022
The midseason turnaround wasn't enough to save his head coach's job from a bunch of boosters tired of mediocrity, but it did get the attention of draftniks, who quickly anointed the 6-4, 224-pound Van Dyke as a potential first-rounder in 2023. If so, he'd be the first Miami QB to go higher than the 6th round since 1992.
10. Devin Leary, NC State
Leary flew under the radar nationally in 2021, overshadowed by more familiar and more prolific names in the suddenly high-flying ACC. Locally, though, he's a made man. Coming off a broken leg in 2020, Leary broke Philip Rivers' school record with 35 touchdown passes to just 5 interceptions, good for the third-best TD:INT ratio in the country; in the process, he led N.C. State to its best finish in the AP poll (20th) since Rivers' junior year in 2002. With most of that team back, the Wolfpack are enjoying their highest expectations in ages with Leary as the headliner. If they make good, rest assured his star will rise accordingly.
9. Sam Hartman, Wake Forest
Wake Forest has been playing football for 115 years, and 2021 was right up there with the best. The Deacs won the ACC Atlantic, matched the school record for wins (11), and turned in their best finish in the AP poll (15th) – all more or less out of nowhere after league media picked them to finish 5th in the division in the preseason, as usual. More than anything else, that was a testament to Hartman, who made an abrupt leap in Year 4 from random beardo to big-play machine at the helm of an offense that obliterated Wake records and ranked No. 4 nationally at 41.0 points per game.
Most Pass TDs on 20+ yard throws:

1. Sam Hartman – 19
2. Kenny Pickett – 17
3. CJ Stroud – 14
4. Bryce Young – 13pic.twitter.com/5YKaLDEpTV

— PFF College (@PFF_College) December 30, 2021
His connection with returning receiver AT Perry, in particular, was a revelation. While hardly a blazer at 6-5 (see above), Perry accounted for 15 of Hartman's 39 touchdowns and was 1 of only 6 Power 5 receivers to average 15+ yards on 70+ receptions. The other 5: First-rounders Jameson Williams and Garrett Wilson; future first-rounders Jordan Addison and Jaxon Smith-Njigba; and departed teammate Jaquarii Roberson. As pro prospects, Hartman's size, Perry's speed, and suspicions that their success is as much a product of Wake's "slow mesh" scheme as the other way around will limit their appeal. On the scoreboard, it won't make any difference.
8. KJ Jefferson, Arkansas
The scouting report on Jefferson begins with his imposing size, followed closely by his mobility: At 6-3/242, he was the Razorbacks' leading rusher in 2021 and led the nation in average yards per carry after contact, per PFF — a combination that can lead to some ambitious comparisons. Beyond his raw potential, though, he doesn't get nearly enough credit for his efficiency. Jefferson's 164.7 passer rating in 2021 ranked No. 2 in Arkansas history and 10th nationally, casting his reputation as a work in progress as a severe underestimation. In his best games, shootout losses at Ole Miss and Alabama, he went blow-for-blow with Matt Corral and Bryce Young, accounting for 9 total touchdowns in two of the season's most memorable thrillers. If that was just the beta test, the finished product is going to be a sight to behold.
7. Brennan Armstrong, Virginia
Virginia football isn't exactly renowned for high-octane offense – shoot, Virginia basketball isn't, either – but the 2021 edition generally and Armstrong specifically blew that assumption out of the water. As a team, UVA finished in the top five nationally in total offense and yards per play, best in the ACC on both counts. Individually, Armstrong set school records for total touchdowns (40) and total offense, shattering the latter mark by more than 1,000 yards. He connected on 73 passes of 20+ yards in 11 games, most in the nation on a per-game basis. And he made plays with his legs.
Yet for all of that, Armstrong's value may have been most obvious in the one game he missed, a 28-3 loss to Notre Dame in mid-November, when his absence due to a broken rib confirmed just how central his presence was to the offense's success. Draft-wise, he's a polarizing prospect due to concerns over his accuracy, his interception total (21 over the last two years), and the unmistakable Tebow vibes conveyed by his skill set — Armstrong even throws lefty, for good measure. But as the face of the program, he's the most exciting player to come through Charlottesville in ages.
6. Malik Cunningham, Louisville
Ever since he put on a Louisville uniform, Cunningham has had the misfortune of vaguely reminding people of Lamar Jackson without actually being Lamar Jackson, lending an off-brand quality to his reputation as a result. Unfair comparisons aside, though, his production speaks for itself. A true dual threat, Cunningham enters the season as the only active FBS player who has accounted for 100 career touchdowns (62 passing, 38 rushing) and 1 of only 4 with more than 10,000 yards of total offense. He ranks No. 2 on UL's career lists in both columns behind only Jackson, whom he'll likely pass in both this year. And compared to just about anyone other than Lamar, he's clearly one of the nation's most electrifying threats with the ball in his hands.
What a run by Malik Cunningham ??

(via @UofLFootball) pic.twitter.com/I6yQPMCjKh

— Yahoo Sports (@YahooSports) November 19, 2021
Cunningham led all quarterbacks nationally in rushing yards and TDs in 2021, and looked so effortless doing it that some locals complained the offense wasn't exploiting his option skills enough. In another era, he might have been a wishbone legend ignored by the NFL. In this one, he has one more shot to prove he can do it all.
5. Grayson McCall, Coastal Carolina
He's not exactly a household name, but considering the part he's played in putting Coastal Carolina football on the map over the past 2 years, you can make a compelling case that McCall is the most valuable player in America. In that span, he's gone 20-2 as a starter, accounted for 64 touchdowns to 6 INTs, and overseen an offense that's averaged 39 points per game – all for a program that 18 months ago most college football fans were barely aware even existed.
In 2021, McCall was PFF's highest-graded passer nationally and broke the FBS record for pass efficiency, the 6th consecutive season that mark has fallen. The names on the list just below his: Baker Mayfield, Tua Tagovailoa, Kyler Murray, Joe Burrow and Mac Jones.
The entire country just saw this throw and catch from Grayson McCall to Jaivon Heiligh.

My goodness. pic.twitter.com/QbazdZksyS

— Scott Watkins (@scottwatkinsTU) October 20, 2021
Heading into Year 4, McCall is probably maxed out athletically and unlikely to add any new statistical feats to an already stellar résumé, which puts a ceiling on his stock as a potential Heisman candidate or first-rounder. PFF grades and slick ball-handling don't go viral. It can also be tempting to write him off as a system QB, the product of Coastal's unique spin on the spread option and marginal strength of schedule. Still, there may not be another college quarterback this fall operating his system more effectively, whether anybody other than the most diehard Xs-and-Os freaks are tuning in or not.
4. Spencer Rattler, South Carolina
At Oklahoma, Rattler's stock sank like a rock over the first half of 2021, culminating in a permanent midseason benching in favor of supernova freshman Caleb Williams. For a guy who opened the season as a literal Heisman favorite, there's no way to spin that as anything but a massive disappointment. (For the record, on last year's version of this list Rattler came in at No. 2.) But make no mistake: Blue-chip QBs with a 15-2 record as a starter don't grow on trees, and for South Carolina – a program that hasn't had a quarterback drafted in any round since 1990 – he's the kind of player who stands to singlehandedly legitimize Shane Beamer's rebuilding project.
No introduction needed. pic.twitter.com/1KEL6dCIl1

— Gamecock Football (@GamecockFB) July 26, 2022
Regression notwithstanding, the hype exists for a reason. As a redshirt freshman in 2020, Rattler easily led the Big 12 in yards per attempt (9.6), touchdowns (28), overall passer rating (172.6), and Total QBR (81.2), at the head of an OU attack that averaged 43.0 points per game. He won all 5 starts last year before getting the hook against Texas, and likely never would have been in danger of losing his job to a lesser talent than Williams. He's not nearly as sure a thing as he seemed to be at this time last year, obviously. But as reclamation projects go, Rattler is a coup.
3. Caleb Williams, USC
In ye olden days, conventional wisdom dictated that losing record + new head coach = automatic rebuilding year, with expectations on hold until further notice. But there was nothing conventional about USC poaching Lincoln Riley from Oklahoma, and with the NCAA declaring open season on proven commodities like Williams and Pitt transfer Jordan Addison, the honeymoon phase of the process is on the verge of being phased out. Of the roughly 2,000 players who passed through the transfer portal this offseason, the 5-star phenom QB and reigning Biletnikoff Award winner ranked 1) and 1a).
Riley is an acclaimed quarterback guru, and we already know what Williams can do in his system: After taking over at midseason last year at OU, he accounted for 27 TDs and ranked No. 5 nationally in pass efficiency as a true freshman. Addison, a former 4-star recruit in his own right, is coming off a 1,600-yard, 18-touchdown campaign surpassed at Pitt only by Larry freakin' Fitzgerald. (As a sign of how highly he was prized, USC is unretiring the No. 3 jersey worn by Keyshawn Johnson and Carson Palmer on Addison's behalf.) Their convergence in the same offense immediately makes the Trojans Pac-12 contenders with a chance in every game, and that's without even getting into how Riley addressed the rest of the lineup. At $10 million a year, patience is a luxury he can't afford.
2. CJ Stroud, Ohio State
The old cliché about "momentum" carrying over from the bowl game has always been more useful as a preseason hype line than an accurate gauge on reality. (Momentum is not real.) But in the Buckeyes' case, their 683-yard, 48-point Rose Bowl bonanza against Utah with a pair of soon-to-be first-round wideouts in street clothes was less a revelation than a statement confirming what they already knew: Stroud's success as a first-year starter was never dependent on Garrett Wilson and Chris Olave's presence on the receiving end, and Jaxon Smith-Njigba may have already eclipsed them both.
Tied ballgame.
4th Quarter.
4 minutes left.

CJ Stroud drops a dime to Jaxon Smith-Njigba pic.twitter.com/6gYhedBc4F

— Mr. Ohio (@MrOH1O) March 22, 2022
That was par for the course for Stroud, who led all Power 5 quarterbacks in yards per attempt, overall efficiency and Total QBR, and became Ohio State's third Heisman-finalist QB in the past 4 years. With Smith-Njigba's promotion from the "wait till next year" role to the spotlight, there was never any question that the nation's most explosive offense is not about to descend from orbit anytime soon. The finale was just making it as clear as possible to as wide an audience as possible exactly what that looks like.
1. Bryce Young, Alabama
Under the circumstances, there was almost nothing Young could have realistically done in his first year as a starter to exceed the hype, up to and including winning the Heisman. He merely was who he was supposed to be: Dynamic, efficient and poised beyond his years, packaging his precocious skill set into one of the most prolific passing seasons in Alabama history. He started the year touted as the next Russell Wilson, and ended it as a can't-miss pro prospect in his own right.
The only box he didn't check is the big one. Five quarterbacks have led the Tide to national championships under Nick Saban – six if you count Tua Tagovailoa's dramatic turn off the bench in the 2018 title game – none of whom seemed as obviously destined to add their name to the list when they arrived on campus as Young. His bid for a second Heisman will be one of the season's major subplots. But his bid for Rushmore status will come down to closing the deal in January.