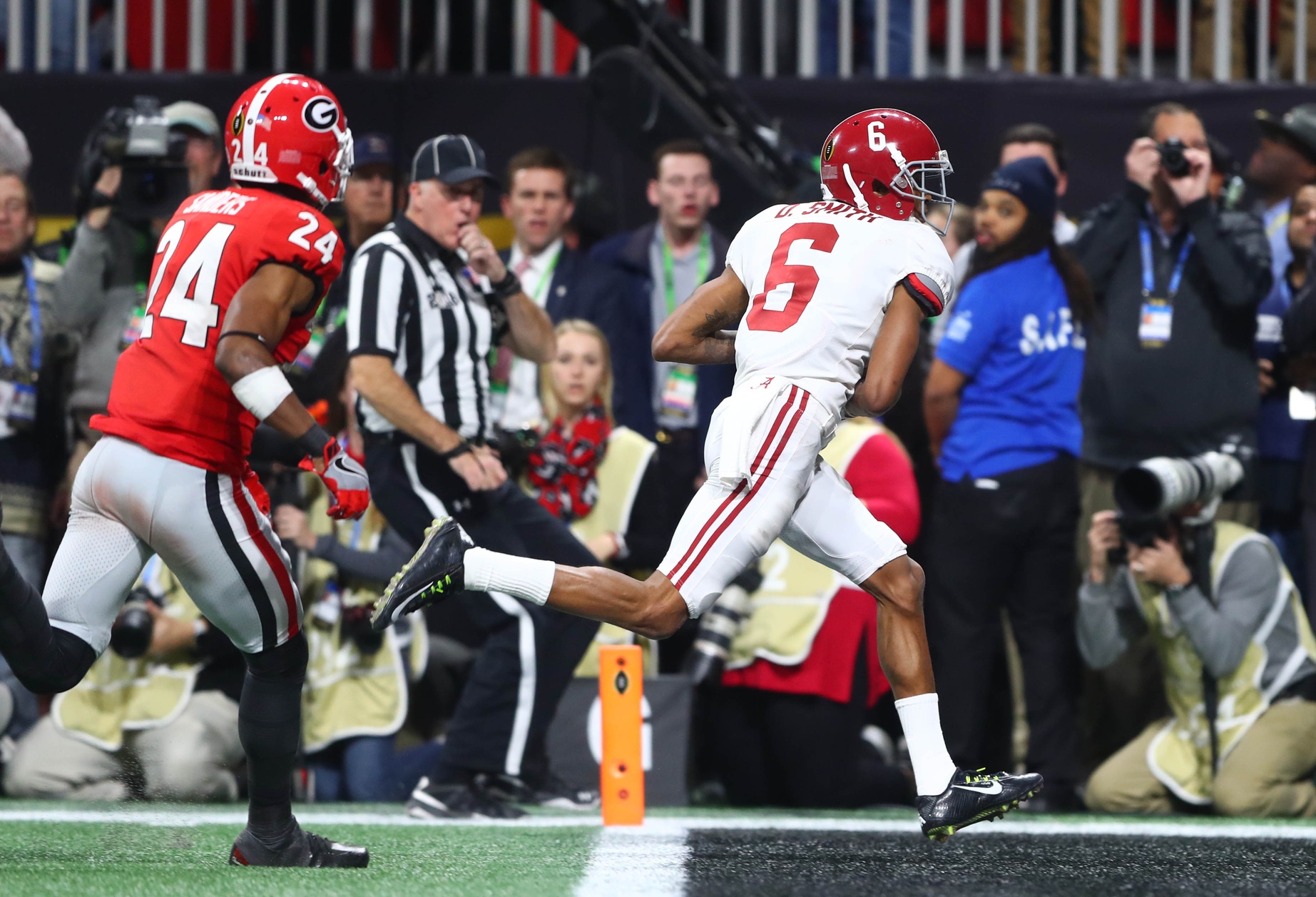 SEC
Reliving the 10 best SEC game-winning plays from the 2017 season
The 2017 college football season was far from disappointing.
It was filled with dynamite non-conference games, phenomenal conference games, and thrilling postseason play. Some of the best games of the season involved one or more SEC teams. Surprised?
There were numerous game-winning plays this season. We shrunk the criteria defining a game-winning play as a score in the final minute or a stop/score in overtime. There were 14 total, but only 10 made the list.
Here are the 10 most exciting winning plays from SEC teams in the 2017 season.
10. Mississippi State's Deddrick Thomas receiving TD
Opponent: at Arkansas
Final Score: 28-21
Dan Mullen took a risk, but trusted his veteran quarterback to make the right play. Nick Fitzgerald rolled to his right and found Deddrick Thomas on a 6-yard out route with 17 seconds left to win it. Mississippi State played poorly for most of the game, but managed to steal a win on the road.
9. Texas A&M's Armani Watts interception
Opponent: vs. Arkansas
Final Score: 50-43 (OT)
Texas A&M scored in overtime first with a Kellen Mond strike to Christian Kirk on a fade route in the back left of the end zone. When the Razorbacks got their chance, senior safety Armani Watts sniffed out a throw from Austin Allen. He broke on the ball on a 3rd-and-7 play and picked it off, sealing the victory for the Aggies.
8. Tennessee's goal line stand
Opponent: vs. Georgia Tech
Final Score: 42-41 (2 OT)
Paul Johnson and the "Rambling Wreck of Georgia Tech" decided to go for 2 when the Yellow Jackets scored in the second overtime. TaQuon Marshall chose to keep the ball instead of pitching it, but was denied by the Tennessee defense. It was one of the few bright spots from the Volunteers' season.
7. Kentucky's Stephen Johnson rushing TD
Opponent: vs. Tennessee
Final Score: 29-26
Tennessee had beaten the Wildcats consecutive straight times, but Kentucky would not be denied in 2017. Stephen Johnson ran the read-option to perfection. His 11-yard TD with 33 seconds left gave the Wildcats a one-point lead. Kentucky would add on the 2-point conversion for good measure.
6. Alabama's DeVonta Smith receiving TD
Opponent: at Mississippi State
Final Score: 31-24
Mississippi State controlled the game with a masterful game plan from Dan Mullen. It wasn't enough to derail visiting Alabama, which erased two second-half deficits. Jalen Hurts rifled a pass to DeVonta Smith, who took it 26 yards for the game-winning TD with 25 seconds left.
5. Florida's Freddie Swain receiving TD
Opponent: at Kentucky
Final Score: 28-27
Tyrie Cleveland was unguarded earlier in the game which led to a 45-yard touchdown. Mark Stoops went ballistic when a similar situation happened again, this time on the final play. Freddie Swain caught a 5-yard TD pass with 43 seconds left after terrible communication from the Wildcats.
4. Ole Miss' D.K. Metcalf receiving TD
Opponent: at Kentucky
Final Score: 37-34
Ole Miss didn't have too many bright spots, but beating Kentucky was one of them. Down 34-30, Jordan Ta'amu called on D.K. Metcalf. Metcalf came through with a spectacular 7-yard touchdown catch with 5 seconds left, giving Ole Miss a hard-earned conference victory.
3. Florida's Tyrie Cleveland receiving TD
Opponent: vs. Tennessee
Final Score: 26-20
Florida and Tennessee heading to overtime looked almost inevitable until one of the best college football plays of 2017 occurred. Feleipe Franks rolled around for what seemed like ages in Gators territory. He then launched a 63-yard miracle into the outstretched hands of Tyrie Cleveland for the winning points as time expired. Butch Jones still has nightmares about this play.
2. Georgia's Sony Michel rushing TD
Opponent: Oklahoma
Final Score: 54-48 (2 OT)
In one of the most compelling games of the season, senior Sony Michel delivered for the Bulldogs time and again. Georgia ran for 317 yards against Oklahoma. The final 27 came from Michel, who took the direct snap out of the "Wild Dawg" formation and raced around the left end to score the winning points. His run sent Georgia to the National Championship Game.
1. Alabama's DeVonta Smith receiving TD
Opponent: vs. Georgia
Final Score: 26-23 (OT)
Tua Tagovailoa has some moxie. Alabama trailed Georgia by 3 in overtime and had to score. After getting sacked and costing the Crimson Tide valuable field position, the true freshman came right back and delivered the throw of his life. Tagovailoa did a masterful job of looking off the safety before throwing the 41-yard, walk-off, championship-winner. It was a work of art that SEC opponents should fear the next few seasons.
It was the final play of the year. And it was the play of the year.