SEC
Sweet 16 bracket: SEC's all-time stars whittled to eight
Welcome to the third round of SEC Madness! You, the SEC football fan, get to decide the top SEC star of all-time. View the entire bracket below. Scroll down to read about each matchup and cast your vote on the eight matchups in the Sweet Sixteen. You can view Round 1 here and Round 2 here.
The Full Bracket
(Click the image below to expand the bracket)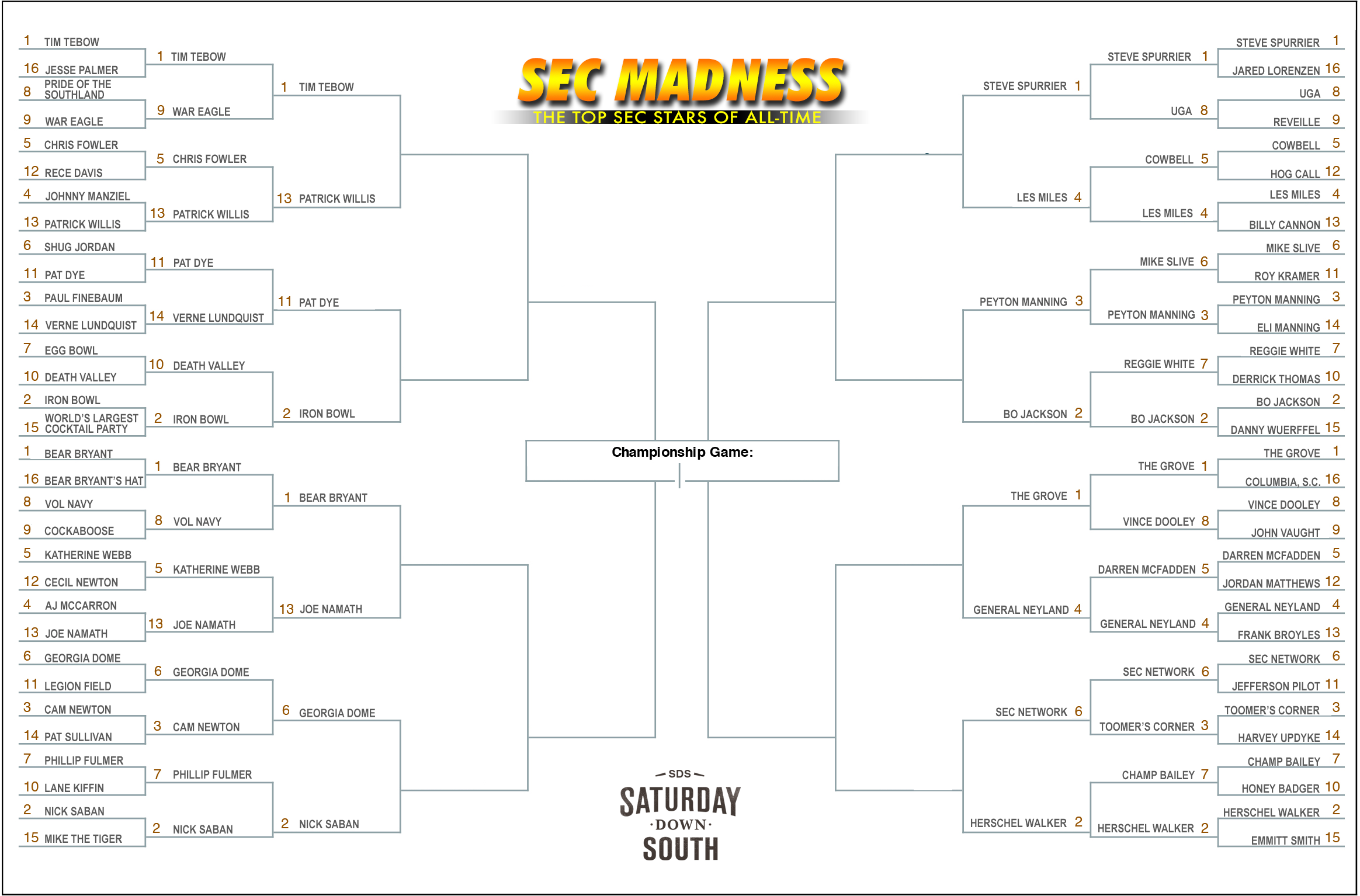 No. 1 Tim Tebow vs. No. 13 Patrick Willis
How Tebow Got Here: Def. No. 16 Jesse Palmer (85.7%), Def. No. 9 War Eagle (57.4%)
How Willis Got Here: Def. No. 4 Johnny Manziel (59.1%), Def. No. 5 Chris Fowler (54.7%)
Perhaps bolstered by his recent, unexpected retirement, Patrick Willis launched himself into our Sweet Sixteen with a surprisingly easy win ahead of Johnny Football, then bested Chris Fowler, who claims the loosest affiliation with the SEC of any bracket entry. Despite a remarkable college career — we recently ranked Willis as the sixth-best linebacker in SEC history — and a much better NFL resume, the former Ole Miss Rebel and San Francisco 49er is handicapped by his position.
In addition to winning a Heisman Trophy and two national championships in four very productive seasons at Florida, Tebow was arguably the most visible player in the NFL for a brief window in 2011. Despite such little playing time with the New York Jets, the media chronicled his every move. If you take NFL careers into account, Willis has an edge solely based on on-field play, but is that enough to push past Tebow, one of the biggest personas in SEC history?
No. 11 Pat Dye vs. No. 2 Iron Bowl
How Dye Got Here: Def. No. 6 Shug Jordan (56.1%), Def. No. 14 Verne Lundquist (59.2%)
How Iron Bowl Got Here: Def. No. 15 World's Largest Cocktail Party (70.3%), Def. No. 10 Death Valley (65.3%)
Pat Dye has ousted a pair of big names, pulling off a first-round upset against fellow Auburn coaching great Shug Jordan before ridding the bracket of its final broadcaster.
Dye was a two-time All-American as a player at Georgia, won five conference championships coaching East Carolina and Auburn and also coached Bear Bryant's defense from 1965 through 1973. But Dye is just one of many famous names that have participated in the Iron Bowl. Not surprisingly, the Alabama-Auburn game rolled into the Sweet Sixteen without any trouble and should be a heavy favorite in this matchup, particularly with such high-stakes contests in the last five Iron Bowls. Are we looking at a Tebow-Iron Bowl regional final?
No. 1 Bear Bryant vs. No. 13 Joe Namath
How Bryant Got Here: Def. No. 16 Bear Bryant's Hat (69.2%), Def. No. 8 Vol Navy (58.5%)
How Namath Got Here: Def. No. 4 AJ McCarron (79.2%), Def. No. 5 Katherine Webb (55.6%)
Bryant's margin of victory wasn't as large as one would think against the Vol Navy, as Tennessee fans voted in force. But he's still the favorite to emerge in what we tentatively dubbed the Crimson Tide regional. The biggest coaching star ever in the SEC, Bryant once recruited a quarterback to Tuscaloosa by the name of Joe Namath, who led the Tide to a national title in 1964. He guaranteed a win in Super Bowl III, a brash move as an underdog with the New York Jets, and then delivered. Namath has remained an iconic figure in the SEC and also pro football since his retirement.
So did the coach make the player or did the player make the coach? And can Namath pull off yet another huge victory as an underdog?
Ironically, Namath, a well-known tomcat and a predecessor to AJ McCarron, knocked out Katherine Webb in the Round of 32 after falling her quarterback husband in his opening matchup.


No. 6 Georgia Dome vs. No. 2 Nick Saban
How Georgia Dome Got Here: Def. No. 11 Legion Field (61.6%), Def. No. 3 Cam Newton (50.8%)
How Saban Got Here: Def. No. 15 Mike The Tiger (62.2%), Def. No. 7 Phillip Fulmer (52.3%)
In the closest vote of our bracket thus far, the Georgia Dome somehow pushed former Auburn quarterback Cam Newton out of the bracket prior to the Sweet Sixteen. (I guess Newton got penalized for playing just one season at Auburn, but he won the Heisman and a national title as a brash playmaker, got drafted No. 1 overall and since has made the Pro Bowl. I digress.) Interestingly, Tebow is the only recent quarterback to win his first two matchups, as Manziel, McCarron and Newton all bounced early.
Meanwhile, Saban is 5-1 in SEC championship games at the Georgia Dome for LSU and Alabama — not to mention some non-conference wins, like last fall against West Virginia. The current Tide coach more or less has owned the Georgia Dome in the last decade. Will scorned LSU fans and forlorn opponents conspire to defeat Saban, or will he get credit as one of the eight biggest football stars in SEC history?
If Saban wins, it'll set up an interesting comparison with Bryant in our Elite Eight that in reality won't be decided for another few years.
No. 1 Steve Spurrier vs. No. 4 Les Miles
How Spurrier Got Here: Def. No. 16 Jared Lorenzen (65.4%), Def. No. 8 Uga (68.0%)
How Miles Got Here: Def. No. 13 Billy Cannon (63.0%), Def. No. 5 Cowbell (61.0%)
In the battle of current SEC head coaches, Les Miles probably has a slight advantage for his LSU career compared to Steve Spurrier's South Carolina career.
But Spurrier also has his college career as a Heisman Trophy quarterback for the Gators, and then his run as one of the most dominant coaches in college football, also at Florida. Normally, Miles can overcome coaches with an even better track record with his star quotient, because it's tough to match the force of The Mad Hatter's personality, but Spurrier is one of the few who can do it and then some.
No. 3 Peyton Manning vs. No. 2 Bo Jackson
How Manning Got Here: Def. No. 14 Eli Manning (79.6%), Def. No. 6 Mike Slive (83.0%)
How Jackson Got Here: Def. No. 15 Danny Wuerffel (87.6%), Def. No. 7 Reggie White (68.2%)
Talk about a powerhouse matchup. Neither Peyton Manning or Bo Jackson ran into any trouble in the previous rounds, but one has to emerge from this royal rumble.
Manning is one of the bigger stars in NFL history. His family name is worth its weight in gold in SEC country. If he just won another Super Bowl or two, he'd have a terrific argument for best quarterback in pro football history, and he's been the most visible player in commercials and in pop culture for many years. He was a star's star at Tennessee, gracing the cover of Sports Illustrated, nearly winning the Heisman Trophy and eventually getting drafted No. 1 overall.
But will all of that be enough to overcome the sheer force of Jackson's athleticism? The Auburn running back had that undefinable quality that captivates us all and goes beyond pure talent. He was a bigger star in the SEC when he played college ball, and was a transcendent athlete in the NFL and MLB before a knee injury ended his football career. He wasn't nearly as accomplished as a pro, but he was fairly visible.
This could be the most difficult decision of the Sweet Sixteen: Manning or Jackson?
No. 1 The Grove vs. No. 4 General Neyland
How The Grove Got Here: Def. No. 16 Columbia, S.C. (80.5%), Def. No. 8 Vince Dooley (58.0%)
How Neyland Got Here: Def. No. 13 Frank Broyles (65.6%), Def. No. 5 Darren McFadden (57.9%)
Tennessee legend General Neyland proved his defense was strong enough to stop a modern legend in Darren McFadden. The Vols faithful have proven to "travel well" in this tournament. Neyland introduced the "Seven Maxims of Football" and won 173 games against just 31 losses as a head coach, but last left the field with a Cotton Bowl loss following the 1952 season.
Meanwhile, The Grove hosted one of the most iconic Saturdays in recent college football history in 2014, as the Rebels took down No. 1 Alabama with Katy Perry on hand along with the College GameDay crew. The Grove just dispatched of another big coaching name in Vince Dooley, and has its eyes — or Magnolia limbs — set on No. 2 seed Herschel Walker in the regional final. Can the most famous tailgating spot in the country overcome one of the SEC's legendary, but still underrated, coaches?
No. 6 SEC Network vs. No. 2 Herschel Walker
How SEC Network Got Here: Def. No. 11 Jefferson Pilot (75.6%), Def. No. 3 Toomer's Corner (45.9%)
How Walker Got Here: Def. No. 15 Emmitt Smith (74.8%), Def. No. 7 Champ Bailey (90.6%)
I thought the SEC Network was one of the weakest prominent seeds in the bracket, but less than a year into its existence, the ESPN subsidiary embarrassed Jefferson Pilot and then shocked Toomer's Corner. I figured Auburn's iconic oaks would get the sentimental vote as a part of SEC history long before the SEC Network was a Uncle Scrooge-style money-bags twinkle in the eyes of TV and conference executives.
Instead, the Network gets the unenviable task of lining up face-to-face with Herschel Walker, the football and track star turned bobsledder and mixed martial artist. Walker's path as an athlete is one of the most intriguing you'll ever come across. A three-time consensus All-American at Georgia, then a huge star in the USFL and later the NFL, Walker burned brighter and for longer than the Network. Something tells me he'll be busy cranking out sit-ups and pushups while he awaits his Elite Eight opponent.


Get your votes in on the round now! The Elite Eight will begin on next week.