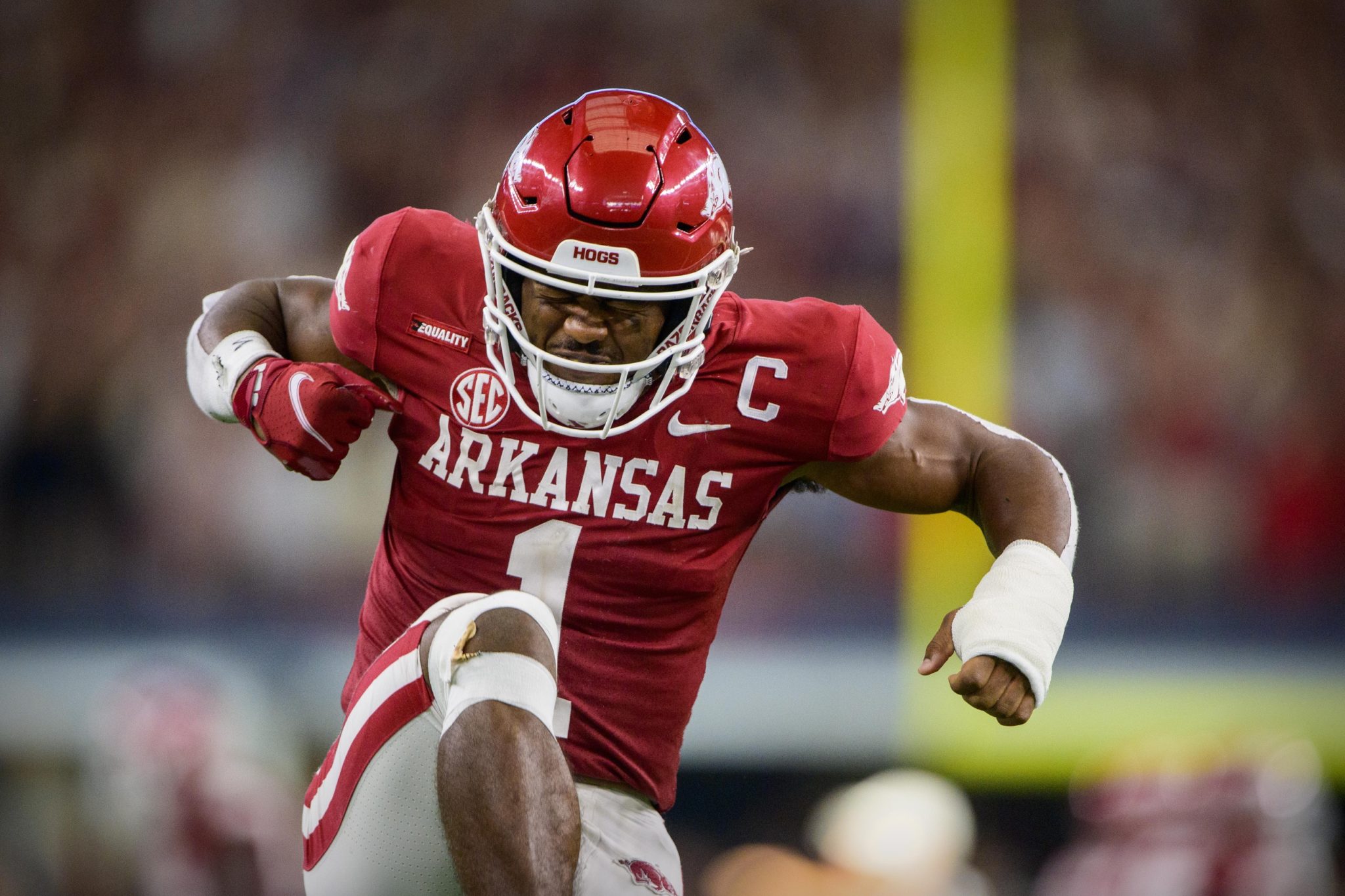 SEC
The 10 best SEC players who turned down the 2022 NFL Draft for another year in college
Jordan Davis will forever be a Georgia legend. I don't have to convince anyone of that. He returned to school for his senior year and was a monumental — both in size and in spirit — piece in winning Georgia its first national championship since 1980.
At this time last year, Davis' announcement that he was returning to school was among the most important in the sport. He could've been an early-round NFL Draft pick, but instead, he came back and did exactly what he set out to do.
Will someone take a page out of Davis' book in 2022? It's possible.
The SEC is loaded with talented players who opted to return for another year instead of declaring for the 2022 NFL Draft.
These are the 10 best SEC players who elected to run it back:
10. Bumper Pool, Arkansas LB
This spot was going to Pool or Henry To'o To'o. In my opinion, the latter has been a bit overrated throughout his career and I'm not convinced someone who struggles immensely in coverage is worth the buzz he gets. Advantage, Pool. As we saw in the Outback Bowl, Pool can drop the hammer on ball-carriers.
BUMPER POOL 😤💥 @RazorbackFB pic.twitter.com/m5uCfbbnmA

— SEC Network (@SECNetwork) January 1, 2022
After a 2020 season in which he sometimes looked a bit lost in Barry Odom's defense, Pool emerged as a playmaker with a ridiculous 125 tackles, 7.5 of which were TFLs. He has consecutive seasons with 100-plus tackles and 3 consecutive seasons with 90-plus stops. Pool is much more than an all-name team captain.
9. Demani Richardson, Texas A&M S
Yes, somehow Richardson is still in College Station. He'll enter Year 4 as a starter after turning down a possible mid-round NFL Draft selection. Alongside the underrated Antonio Johnson, Richardson will be one of the few key contributors returning to Texas A&M's defense. That secondary, which will return 4 of 5 starters, is the foundation of the first year of the post-Mike Elko era. Richardson had that massive interception in the Alabama win, and he had 6 tackles for loss in the final 5 games. Elko moved the versatile defensive back all over the field, and his willingness to accept that role was why the Aggies had a top-3 defense in America.
8. Ainias Smith, Texas A&M WR/KR
Speaking of multi-year, versatile Aggie starters who made game-changing plays in the Alabama win, Smith is such a unique weapon. He returns kicks, he lines up in the slot, he can make plays as an outside receiver and he can be a change-of-pace tailback. It's a shame that quarterback play limited him at times in 2021. Still, Smith's ability to make people miss in the open field is second to none. He always seems to step up in the biggest moments, as well. Jimbo Fisher needs to continue to find more ways to scheme looks for Smith. With a new quarterback, Smith is an obvious choice for the first-team all-purpose slot when the preseason SEC awards come out.
7. KJ Jefferson, Arkansas QB
Let's start with the numbers. In his first season as a starter, Jefferson:
A) Completed 67.3% of his passes
B) Averaged 9.1 yards per attempt
C) Had 4 interceptions on 294 attempts
D) Ran for over 600 yards
E) All the above
It's "E." It's always "E." Jefferson was a huge reason Arkansas had its best season in a decade. He finished No. 10 in FBS in quarterback rating, and in addition to having a special connection with Treylon Burks, the 245-pound signal-caller was a load to bring down. He hit 50 rushing yards in more than half of Arkansas games, including his 110-yard performance in the Outback Bowl victory. So why isn't Jefferson even higher on this list? We need to see what Jefferson looks like in a post-Burks world. Can he trust his other options? Or will he struggle with his decision-making and watch Arkansas take a slight step back? That certainly seems possible, but Jefferson is still a tremendous player with a ton of potential.
6. Tykee Smith, Georgia DB
Some might question why Smith is on this list after he missed all but 1 game of 2021 with injuries. Well, the guy was an All-American in 2020. He was targeted in coverage 38 times, and he allowed just 10 catches for 110 yards (via PFF). It's scary to think of how dominant Georgia could've been if the former West Virginia transfer was healthy. But he's coming back in 2022, and he'll shift back into the "Star" position covering the slot. That was huge news for Kirby Smart, who will be loaded with new faces in 2022. The only reason Smith isn't even higher on this list is because we need to see if he's healthy after an injury-plagued 2021, and it wouldn't hurt to see how his skill set translates against SEC competition.
5. Chris Rodriguez, Kentucky RB
Do me a favor. Just give Rodriguez one of those preseason first-team All-SEC running back slots now. Barring some drastic change, Rodriguez deserves that despite the fumble issues he dealt with in 2021. In his first season as starter, Rodriguez was No. 8 in rushing among Power 5 backs with 1,379 yards. He managed over 6 yards per carry in Liam Coen's revamped offense. Rodriguez earned second-team All-SEC honors after finishing second in the conference in rushing. The guy who used to be called "Mini Benny" in his earlier days will enter 2022 in prime position to take all of Benny Snell's career rushing records at Kentucky. C-Rod could've sailed off into the sunset after his Citrus Bowl heroics. Instead, he'll return is one of the premier backs in the country.
Chris Rodriguez runs it in to cap off another bowl win for Kentucky
pic.twitter.com/d94okIrJzt

— Cats Coverage 😼 (@CatsCoverage_) January 1, 2022
4. Nolan Smith, Georgia LB
Smith is a throwback guy in so many ways. He's an edge rusher who excels against the run. He's a former No. 1 overall recruit who stuck it out at his home-state school when he wasn't a starter. He was the third-year player who elected to return for his senior year even though his legacy was already cemented having played a pivotal role in winning the program's first national title in 41 years. With all the pieces gone from Georgia's defense, we don't need to ask the question "who's the alpha dog of that group?" It's Smith. I'd bet good money he'll be representing UGA at SEC Media Days and he'll show up on a bunch of preseason All-America teams after his breakout junior season in which he had 9 tackles for loss and 27 pressures. Smith is the real deal.
3. Jalen Catalon, Arkansas S
Catalon didn't have the 2021 that he was hoping for with a season-ending shoulder injury, but few return announcements were as crucial as his. Catalon's presence was missed in the latter half of the season. The All-SEC safety will be all over the preseason awards list and with good reason. In just 6 games, he had 46 tackles, 6 passes defended and 2 interceptions. He's everything you want a modern safety to be. Catalon can enforce — without getting targeting calls — and he can cover exceptionally well in space. PFF had him for a 21.7 passer rating allowed in coverage in his injury-shortened season. Fingers crossed that Catalon can stay healthy and finish his career with a bang.
2. Hendon Hooker, Tennessee QB
If Hooker were a quarterback in the 1980s, they'd probably have statues of him in Knoxville being built. Of course, he's playing the quarterback position in a passer-friendly era in a high-powered offense that wouldn't have existed in the 1980s. Still, though. Hooker's floor is incredibly high with Josh Heupel. This 2-play sequence is peak-Hooker at Tennessee. He made a man miss with his legs — that head fake is elite — and then ran the hurry-up, where he's faced pressure but still stepped into a deep throw that's slightly behind his wideout but still on target for 6.
Hendon Hooker DIME 🎯 pic.twitter.com/y0pF9spcyH

— SEC Network (@SECNetwork) December 30, 2021
The guy had a 31-3 TD-INT ratio, he was No. 3 in FBS in quarterback rating and he finished with 620 rushing yards. Not bad for a guy who wasn't even the opening day starter. Now, Hooker will get an entire offseason mastering Heupel's offense. He'll have to improve with his accuracy and take fewer sacks, but man, there's a lot to like with the signal-caller on Rocky Top.
1. Jordan Battle, Alabama S
Battle's return was a major surprise. He was a first-team All-SEC selection after being a key part of Alabama's runner-up season. PFF had the smash-mouth safety graded No. 3 in coverage among FBS safeties. That's a remarkable feat for someone who played 584 snaps in coverage (nobody else among the top 10 graded FBS safeties played 500 coverage snaps). He graded out better in coverage than Alabama greats Eddie Jackson and Landon Collins. There was talk of Battle possibly being a first-round pick. He instead elected to return to try and win another national championship. Not many draft-eligible guys earn All-America honors at Alabama and then elect to run it back for another season.
There's no doubt that Battle is worthy of this No. 1 spot.