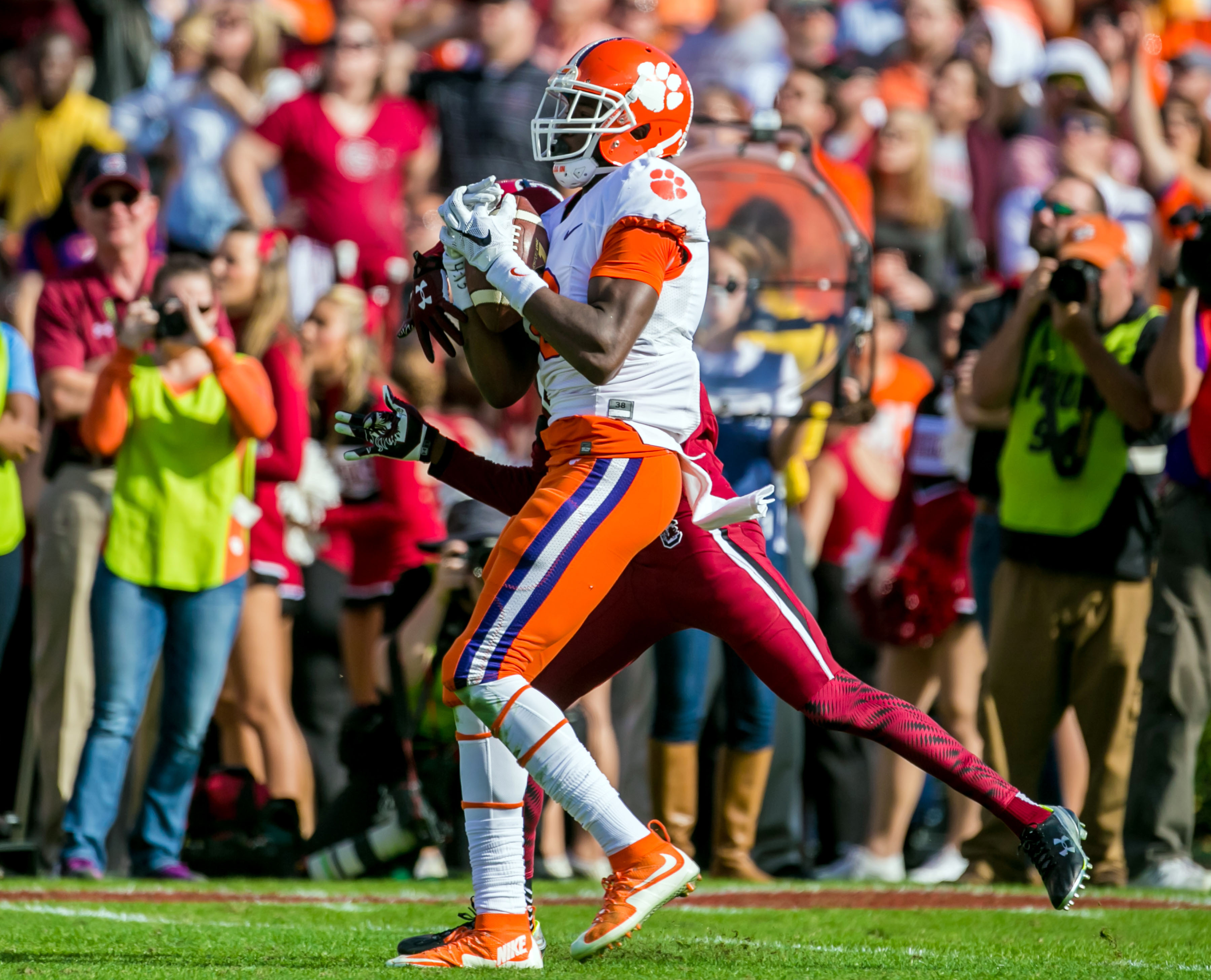 SOUTH CAROLINA
Better/Worse in 2016: South Carolina pass defense
Since arriving at South Carolina, new coach Will Muschamp has been relentlessly positive. He's pumped up the fan base, sold the school to recruits and is even making noise about competing for an East title.
The one area of his team he's not praising is the secondary.
After an early scrimmage, he declared the unit "light years away" from where it needed to be. Later, when asked at a Gamecock Club speech about playing more press coverage, he said, "the way we're playing, we need to play farther off receivers."
The words got softer as the spring progressed, but only a little.
"Ain't nothing we tell you guys (in the media) we don't tell them," he told the Charleston Post and Courier. "They've heard that every single day. That's one thing we tell our kids, 'Just know who you are. Right now, this is the standard that we have for you guys, and you ain't meeting it.'"
Last year's stats were nothing to write home about, and with largely the same cast in 2016, coaxing improvement out of the secondary will be a testament to Muschamp and his staff's ability.
2015 STATS
Passing yards allowed per game (SEC rank): 212.4 (9th)
Touchdown passes allowed: 12 (7th)
Opposing passer rating: 134.8 (13th)
Most yards allowed, opponent: 330, Georgia
300-yard passers allowed: 1
PASS RUSH
South Carolina registered just 20 sacks last season. Only Auburn and Kentucky had fewer.
The defensive line was a sore spot in 2015, and adding talent to that group was a priority for the coaching staff in its first recruiting class. Eight incoming players are listed as defensive linemen, and a few will get slotted immediately into the two-deep.
The post-spring depth chart is for a 4-3 formation, but Muschamp and his defensive coordinator Travaris Robinson are going to use the scheme Muschamp's units used at Auburn and Florida. That means 4-3 looks mixed with 3-4 formations and the use of a "Buck," or a end/linebacker hybrid.
SACK ARTIST
Marquavius Lewis was the nation's top-rated JUCO defensive lineman last fall, and was immediately inserted into the starting lineup. He held his own with 45 tackles, 4.5 tackles for loss and 3.0 sacks, but never really looked like the dominating player some were expecting.
He'll move around more this fall, and should get the chance to boost his sack total.
"I think he's versatile in the standpoint based on situations, he could play both ends," defensive line coach Lance Thompson told The State newspaper. "He could play the open side and the tight end side. But I think on third downs certainly, you can use him as an inside guy on pass-rush situations when the matchup is favorable."
BALL IN THE AIR
The Gamecocks' secondary did a nice job of keeping the ball in front of them and limiting big plays last season. They allowed just nine passes of 30 or more yards. Only Missouri, with seven, was better.
Three of the four players who started the season finale against Clemson in 2015 are back in the Gamecock secondary. That includes corners Rico McWilliams and Chris Lammons, who sit atop the most recent depth chart.
There's a hole at free safety after Isaiah Johnson's graduation, and Lammons is actually listed as the starter there, too. Jordan Diggs missed the spring, but he will get the chance to slot back into the starting lineup at strong safety.
If Lammons ends up at safety, JUCO transfer Jamarcus King will likely get the nod at corner. He was one of one the nation's best recruits at the position.
Chaz Elder, Chris Moody and D.J. Smith are in the mix at safety, while Rashad Fenton and Chris Smith add depth at corner.
PICKOFF ARTIST
Injured linebacker Skai Moore, who will miss the 2016 season, led the Gamecocks with four interceptions last season. His impact, versatility and presence will be missed in many ways.
In terms of available players, if a guy is holding down two starting spots on the depth chart, it safe to assume the coaches have big plans for him. Lammons will likely line up all over the formation, looking to make plays in the secondary.
He was a four-star recruit out of high school, so he could be primed for a big junior season.
GREATEST CONCERN
There's a lot of new in Columbia this fall. New coaches, new scheme and a horde of new players — particularly on the defensive front.
It takes time to install a scheme, and more time for the players to learn how to compete in it as a unit. Gamecock fans will be hoping that process is wrapped up before the season starts, rather than in the heat of SEC games later this fall.
ONE STAT THAT MUST CHANGE IN 2016
The great equalizer for a so-so secondary is a pass rush that forces opposing quarterbacks into quicker throws and poor decisions. With only 20 sacks last season, South Carolina needs far more pressure on the quarterback in 2016.
Ideally, this will be done with just the line, leaving the linebackers to provide support against the pass. But however they manage it, the Gamecocks need to get after passers better in order to be successful.
BETTER OR WORSE?
When a team's pass defense stats are poor, the bright side is that there really is only one place for those numbers to go.
Expecting a jump into the top half of the SEC rankings against the pass may not be attainable this season, but a couple of the freshmen on the defensive front will likely add some juice to the pass rush. This would help the secondary and make the final totals slightly better than they were in 2015.