SOUTH CAROLINA
Uniform update South Carolina: Will Gamecocks' black helmet make its return?
Leading up to gameday on Aug. 28, our in-house uniform expert Brad Crawford will look at every SEC team's apparel plans this season. Some programs are incorporating new alternates while others have made subtle alterations to helmets. We have our favorite looks and we're sure you do as well.
Here's a team-by-team glance at what you'll see this fall:
SOUTH CAROLINA GAMECOCKS (UNDER ARMOUR)

2014 HOME: White helmet + garnet jersey + garnet pants OR White helmet + garnet jersey + white pants
2014 ROAD: White helmet + white jersey + white pants OR White helmet + white jersey + garnet pants
2014 ALTERNATE: White helmet + white jersey + blacks pants — This combination isn't worn often due in large part to the Gamecocks playing at opposite ends of the spectrum in the set. During the 2007 season at Arkansas, fans mainly saw the backs of jerseys and pants after Darren McFadden set a SEC single-game record with 323 yards rushing during a 48-36 win. Another memorable game in the look was a 24-17 win at Kentucky in 2006 when quarterback Syvelle Newton was on the receiving end of a 22-yard touchdown pass from wideout Kenny McKinley.
WHAT WE WOULD LIKE TO SEE: Seldom have the Gamecocks donned their second primary color — black — as the dominant base during the Spurrier era. In fact, South Carolina hasn't worn black jerseys since its last home loss on Oct. 1, 2011 when the Gamecocks had to make a pre-game switch against Auburn since numerals on an all-black Wounded Warrior setup were too difficult to read. A matte black helmet + black jerseys and pants with garnet trim would be ideal in a nationally-televised night-game scenario. The chances of South Carolina finally bringing out a long-rumored chrome lid are slim.
'BIG-GAME GARNET' (Since the start of its Under Armour contract, most of South Carolina's home wins against ranked teams (and all bowl wins) have come in the monochromatic look)
2012-2013 ROAD WHITES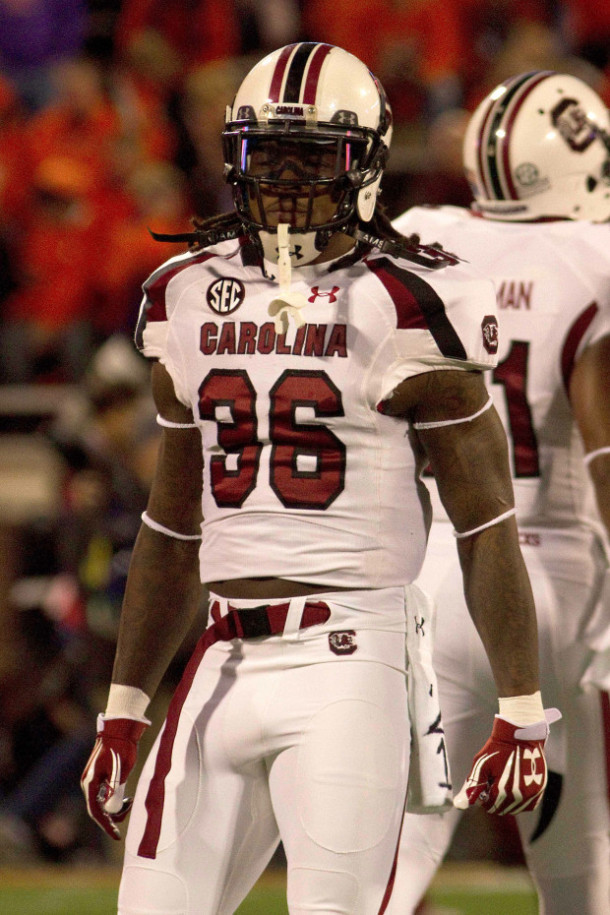 2013-2014 ROAD WHITES (updated shoulder stripes to more symmetrical look)