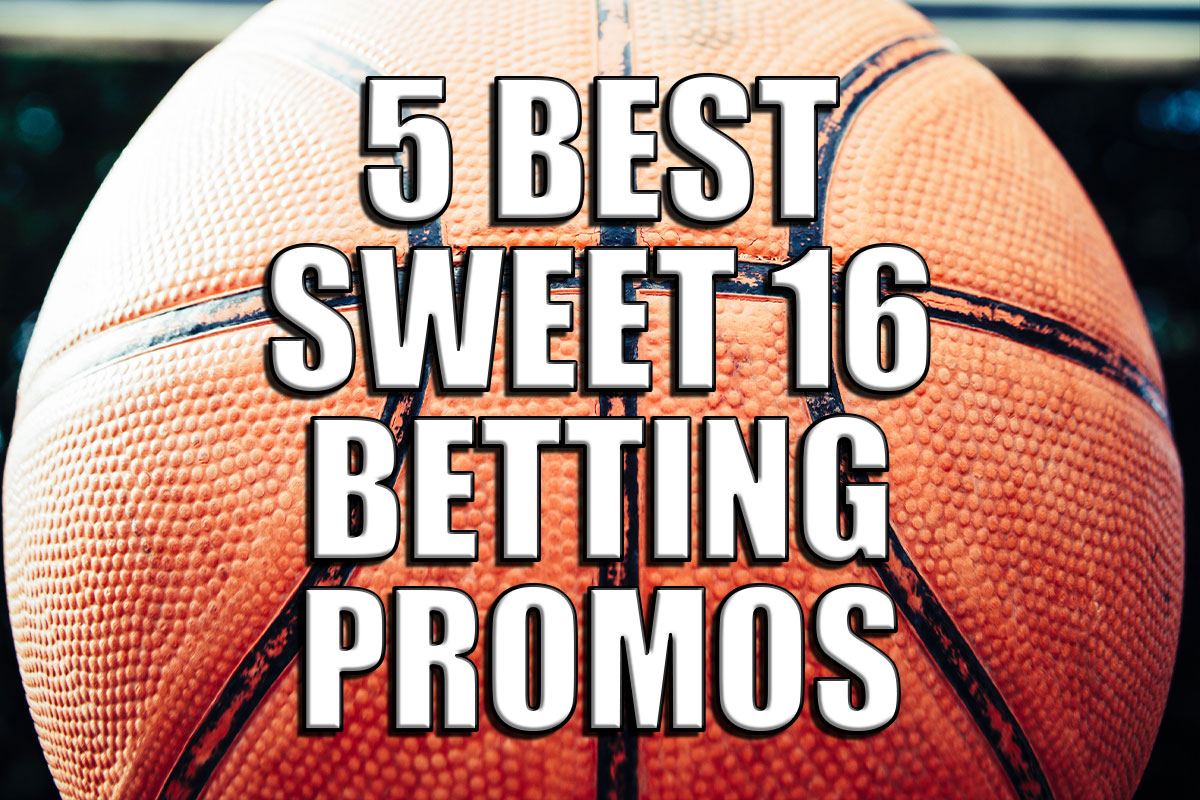 The 5 Best Sweet 16 Betting Promos as NCAA Tournament Continues
The 5 best Sweet 16 betting promos available this week offer a ton of value. From risk-free bets to odds boosts to bonuses, these promos give prospective bettors a tremendous opportunity to earn a sizable win.
Below you will find our picks for The 5 Best Sweet 16 Betting Promos. These promos include a risk-free bet, odds boosts, and bonuses.
The 5 Best Sweet 16 Betting Promos
The first two rounds of the 2022 NCAA Tournament lived up to the monicker of March Madness. Now all eyes turn to the final 16 teams remaining as they take the floor on Thursday and Friday. Who will advance to the Elite Eight? Before we find out, bettors can get in on the action with any of these incredible new user offers. Many of these offers are available in states where online sports betting is legal, including Arizona, Louisiana, Tennessee, New York, Illinois, Michigan, New Jersey, Pennsylvania, and more.
Bet $20, Get a $200 Bonus from Caesars Sportsbook
Caesars Sportsbook has a pair of incredible offers ahead of the Sweet 16. The newest offer the sportsbook has includes a $200 bonus that will convey as long as a user's team scores a point in its game. Bettors who use our promo code SOUTHMAR2 can Bet $20, Get a $200 bonus if their Sweet 16 team scores a point. Plus, if the $20 wager wins, the bettor will earn winnings on that moneyline bet.
Any bettor looking for a chance to earn an even larger victory can sign up for a risk-free bet of up to $1,100. This offer from Caesars Sportsbook is the largest risk-free bet promo in the legal online sports betting industry. Bettors can wager on any game or team in the app with a real-money wager of up to $1,100. If the bet loses, Caesars will issue a Free Bet at the value of the original stake for a bettor to use on another game.
Click here and use promo code SOUTHMAR2 to Bet $20, Get a $200 bonus if your team scores a point. Click here and use Caesars Sportsbook promo code SOUTHCZR to get a $1,100 risk-free first bet.
$1,000 Risk-Free Bet or Bet $10, Win $100 Free Throw Bonus from Barstool Sportsbook
Barstool Sportsbook has a pair of exceptional promos of their own for March Madness. Bettors can get started with a $1,000 risk-free bet. This bet will provide a second chance to any new user whose first bet loses. For example, if a bettor wagers $400 on Miami to beat Iowa State, but Iowa State wins, Barstool Sportsbook would issue a $400 site credit refund.
The other promo for new users is a no-brainer odds boost. Players who wager $10 on any Sweet 16 team's moneyline will earn a $100 bonus if their team makes a free throw in its game. This is a virtual lock to hit. As such, bettors looking for an easy win should consider this offer.
Click here and use promo code SOUTH1000 to get a $1,000 risk-free bet. Click here and use Barstool Sportsbook promo code SOUTHCBB100 to Bet $10, Win $100.
FanDuel Sportsbook Offers $150 Instant Bonus and Bracket Parlay Insurance
The easiest way to earn a 30x multiplier on their initial wager is with FanDuel Sportsbook's Sweet 16 promo. Any bettor who signs up for this offer can turn a $5 moneyline wager on any college basketball team into an instant $150 bonus. In fact, the result of the moneyline wager has no bearing on this bonus conveying. Once the bet processes, FanDuel will issue the bonus.
All FanDuel Sportsbook users can also opt-into a bracket parlay insurance promo. This promo offers up to $25 back in site credit if a user's qualifying March Madness parlay bet loses. Qualifying bets must have final odds of +400 or longer and consist of 3+ legs with odds of -200 or longer.
Click here to get a $150 instant bonus from FanDuel Sportsbook.
Bet $5, Win $200 If Your Sweet 16 Team Wins with DraftKings Sportsbook
DraftKings Sportsbook has an enormous 40-1 odds boost available to use on any team playing in the Sweet 16. New users can use this 40-1 0dds boost to replace any team's moneyline odds with boosted +4000 odds. If the user's team wins, the bettor will turn a $5 moneyline bet into a $200 bonus.
The best part of this DraftKings promo is that bettors can use the 40-1 odds boost on any team. That means a player can wager on a heavy favorite, a huge, underdog, or any team in between. Obviously the safest play is betting on a favorite, but new users are not obligated to do so.
Bet $5, Win $200 with DraftKings Sportsbook if you Sweet 16 team wins when you click here.
BetMGM's Bet $10, Win $200 Three-Pointer Bonus
The final offer on our list of The 5 Best Sweet 16 betting promos is an unbelievable Bet $10, Win $200 three-pointer bonus from BetMGM. Simply put, this is as close to a no-brainer as it gets. Each of the 16 remaining teams in the NCAA Tournament will hit a three-pointer in their respective game. As long as any team happens to do so, BetMGM will issue a $200 bonus.
There's an added wrinkle to this BetMGM promo. Since a bettor must first place a $10 wager on any team's moneyline, there is a chance that the bet could also win. That means a bettor could wager on a favorite for a better chance of a return. It also means a bettor could go the other way by betting on an underdog. Doing so would secure a larger payout if the team pulls off an upset.
Click here to Bet $10, Win $200 if any team makes a three-pointer in the NCAA Tournament with BetMGM.