TENNESSEE
FanDuel Tennessee Sportsbook: Spread the Love for Tennessee-Auburn
After a successful debut last Saturday, FanDuel Tennessee Sportsbook is running back its wildly popular "Spread the Love" campaign ahead Tennessee-Auburn.
Spread the Love is a no-brainer odds boost promo from FanDuel that rockets the point spread of select games to absurd levels, creating easy wins for bettors, and it's here for Tennessee-Auburn.
FanDuel Sportsbook
States: TN, NJ, PA, IN, IA IL, WV, MI, CO, VA, AZ, CT
Best of all, it's a community-driven promo, meaning the more who participate, the better the spread for the Tennessee online sports betting market.
Click here to get FanDuel Tennessee Sportsbook, a $1,000 risk-free first bet, and this huge Tennessee-Auburn offer.
FanDuel will raise the opening spread of +10.5 by one point for every 250 bettors who back Tennessee over No. 23 Auburn on Saturday night.
Note: As of Saturday afternoon, the spread has jumped to make Tennessee a 105.5-point underdog.
FanDuel Tennessee Spreads Love For Volunteers
Following a successful first run a week ago, FanDuel is spreading the love once again this weekend — this time on a marquee matchup.
Last week, FanDuel Tennessee ran the very same promo with the same threshold for the Vanderbilt-Kentucky game. Users rallied together to inflate the spread from +17.5 all the way up to +86.5 — and that was for a noon kickoff. Bettors never had to sweat the result in a 38-35 Vanderbilt loss — one in which it covered the spread by 83.5 points.
This week, with the University of Tennessee returning to action, the spread has already eclipsed the 100-point mark with ease. The high-profile prime time component has created big interest. Moreover, the immense popularity of Tennessee football are powder keg ingredients that have created a can't-lose spread.
Tennessee faces a tall task in attempting to win its first game in over a month against No. 23 Auburn. However, bettors who back the Vols this week are set up to win as the 10.5-point spread has already soared into the triple digits.
How to Register for FanDuel Tennessee Sportsbook
Here is how to sign up for FanDuel Tennessee and start spreading the love:
Click this link to get the registration process started.
Deposit at least $10 (though a larger deposit maximizes the value of the risk-free first bet).
Place a first bet up to $1,000 risk-free on any FanDuel betting market.
Finally, make a Spread the Love Bet on Tennessee to cover against Auburn and get crazy odds.
This promotional bet maxes out at $50 and is available exclusively to those located in Tennessee.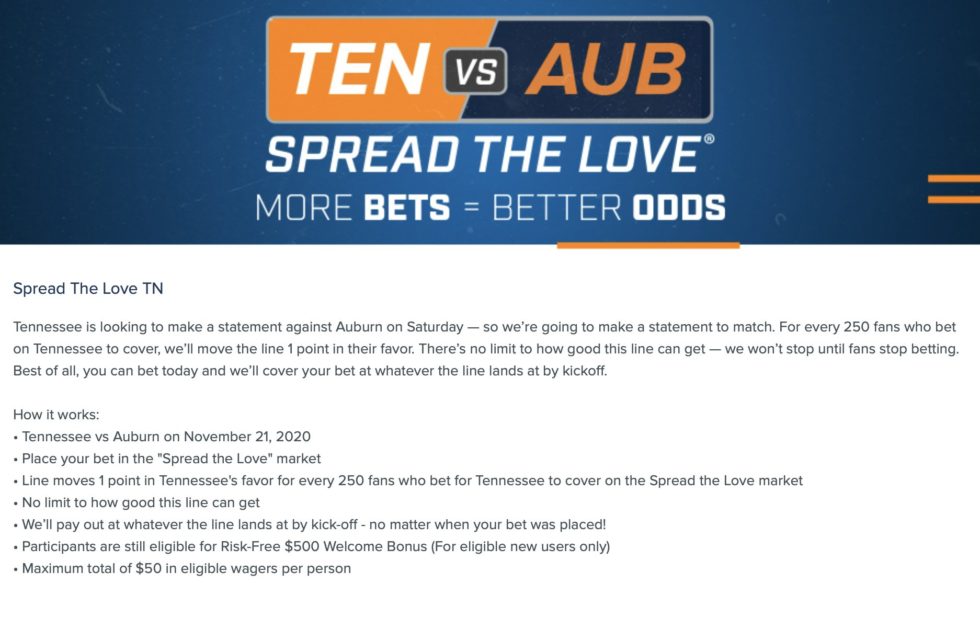 Spread the Love Explained
Spread the Love is arguably the most popular promo at any legal online sportsbook. There are a few reasons for this, and at the top of the list is that it's a winner. Bettors love value and the ability to bet on teams with absurd lines that almost under any circumstance cannot lose.
In the past, bettors have been able to grab teams such as the 76ers as a 59.5 point underdog, the Indiana Hoosiers as a +118 point underdog, and the Lakers as a +124 point underdog. Such spreads make for great headlines and also for sure-fire wagers.
This week, for every 250 FanDuel Tennessee users who bet on the Volunteers to cover against Auburn, FanDuel will move the spread. Given the final spread of last week's Vanderbilt game shifted nearly 70 points, this week's special has already surpassed that movement.
Simplifying the process, bettors don't need to wait for the best odds. FanDuel will give Tennessee players the final (and best) odds on the game.
Click here to get FanDuel Sportsbook, grab a $1,000 risk-free first bet, and "Spread the Love" on Tennessee for no-brainer odds.
FanDuel Sportsbook
States: TN, NJ, PA, IN, IA IL, WV, MI, CO, VA, AZ, CT