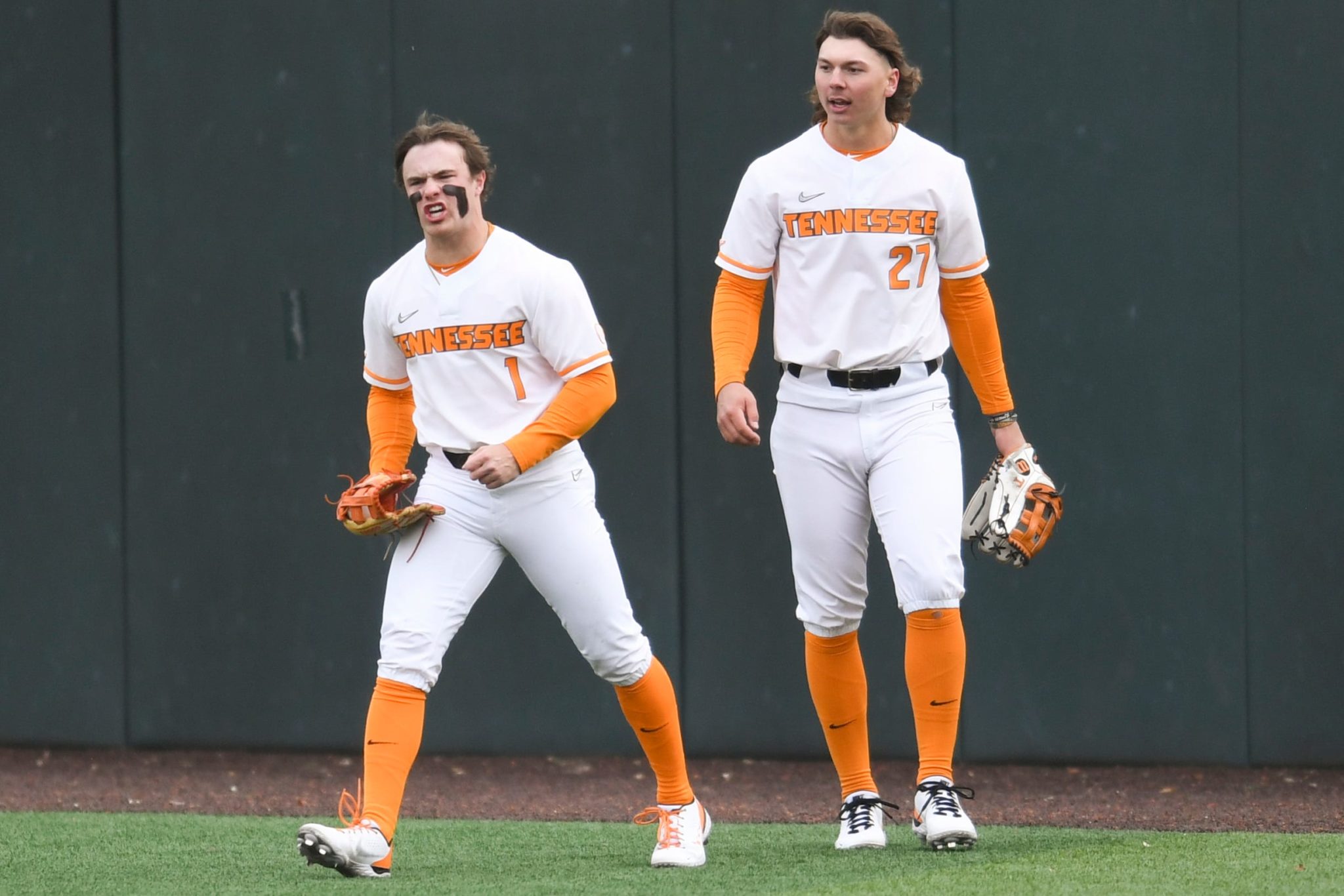 TENNESSEE
Ranked No. 1, Tennessee baseball is the perfect ending to a resurgent athletic program
Tennessee's baseball team is poised to be an emphatic exclamation point on one of the best academic years of sports that the Vols have had in recent memory.
The Vols don't have a championship in 2021-22 from a major sport yet, but they're looking to change that on the diamond this season. National analysts believe that's a realistic goal. The Vols are ranked No. 1 by most any service that tracks college baseball. They climbed to No. 1 in Baseball America's poll for the first time.
That seems appropriate. Tennessee is 23-1 and 6-0 in the SEC after sweeping Ole Miss last weekend. That's their best record within the conference since the Vols went 8-0 in 1966.
Just in time, too, for a weekend showdown at baseball powerhouse and rival Vanderbilt.
Tennessee's rise in baseball isn't new. In 2018 and '19, the first 2 full seasons under manager Tony Vitello, the Vols finished 29-27 and 40-21, respectively. Still, the Vols were just a combined 26-34 in the rough-and-tumble SEC during those seasons. Everyone in Tennessee's athletic department knew that the Vols would have to overcome one of the toughest set of conference opponents in the nation in order to be considered national title contenders. Think ACC basketball.
The Vols showed they could more than match up with the SEC elite last season following a 2020 season that was stopped due to COVID. In 2021, the Vols finished 50-18 and 20-10 in the SEC. Tennessee reached the College World Series for the first time since 2005. Critics can scoff at their quick exit in Omaha, but it was an important step in the growth process for the Vols.
Now, the Vols are poised to return to Omaha for the College World Series with the intent of winning their first CWS crown.
That would be an incredible, albeit long, turnaround for Tennessee's athletic department, which has been in turmoil for over a decade. Beginning with the most important sport on campus, the Vols were 7-6 in football last season while showcasing an exciting new offense. Recruiting has followed suit. The Vols recently received a commitment from 5-star quarterback Nico Iamaleava from Long Beach, Calif., earlier this month.
Tennessee basketball has been great before. No one needs to be reminded of the career that Pat Summit had as the head coach with the Lady Vols. Eight championships and 18 Final Four appearances say it all. On the men's side, the Vols have frequently flirted with the Final Four — as they did this season. Under head coach Rick Barnes, the Vols finished the season 27-8 before being bounced unexpectedly in the second round of the NCAA Tournament. The Lady Vols finished 25-9 and reached the Sweet 16.
Now, the onus is on Tennessee baseball. The Vols have never won the College World Series. They finished second in 1951. That was their first of 5 appearances in Omaha. They've finished 4th, 3rd, 8th and 7th after that runner-up run in 1951.
Tennessee has always had a strong core following of fans, but it hasn't been widespread and, frankly, quite small. That appears to be changing. The Vols are regularly selling out Lindsey Nelson Stadium, which was renovated with added seats during the offseason. Social media is full of fans who take pride in a program that hasn't proven consistent enough over the years to pull out a camera — or nowadays — a phone to snap a pic.
Some, even Tennessee managers when asked off the record, thought the Vols had an impossible mountain to climb. Why? Geography. The Vols were just too far north to compete with teams that could train year-round, like Florida or LSU. Vanderbilt's recent run of success in baseball proved that was a fallacy. Tennessee's upgrades in all facilities allow the Vols to play ball inside even if there is 2 feet of snow on the ground in Knoxville.
It's worth noting that Vitello was hired by John Currie in 2017. It's a good thing that Vitello was hired quickly. Currie was shown the exit after a bizarre sequence of events in which he tried to hire a football coach that either the fans or the administration couldn't agree upon.
The Vols are newsworthy — and interesting — no matter what their win-loss record might be. The Vols have the type of player who gets under opponents' skin with outfielder Drew Gilbert. The junior is well known for bat-flipping and becoming a social media darling. He's also well known for being a dependable player in the clutch. He leads the Vols with a .469 batting average and is 2nd with 25 RBIs. So, opposing fans hate him while Tennessee fans love him.
Trey Lipscomb shares the SEC lead with 10 home runs and tops the league with 44 RBIs. He is the epitome of a guy who has waited his time. A reserve his first 3 years on campus, the senior has the biggest bat in a lineup that leads the SEC with 64 home runs. Instead of wasting time scouring the internet for a place to transfer, Lipscomb kept working on his craft in the cage. This year, that hard work is paying off.
The Vols also have a pitcher who can throw a baseball as fast as anyone in the world – and that's not an exaggeration. Tennessee's Ben Joyce has been clocked at 104 miles-per-hour. With a change-up that drops to almost 90 mph, Joyce has become one of the most dominant pitchers in college baseball.
Then, there's Vitello. He's never shy to engage with an umpire or opposing coach. Considering he looks like he just landed the starring role on a reboot of Magnum P.I., he's also become fan-favorite with female Vols fans.
The Vols have been in this position before. They've made strong runs to the College World Series. The most memorable was probably in 1995. That team finished 5th in the College World Series with a bevy of local talent that went on to have professional success, most notably Todd Helton and RA Dickey.
Tennessee's recent NCAA Tournament is proof that playing one's best at the right team is as important as being the best team. Therefore, things might not go perfectly in the College World Series. The Vols might not win it all. However, if they do, it would be quite a statement for Tennessee athletics.
Read More
Sports betting in Tennessee officially launched on November 1, 2020, and many of the largest sportsbooks are live and operating in the volunteer state. Tennessee is only one of a handful of SEC football states with legalized sports betting.