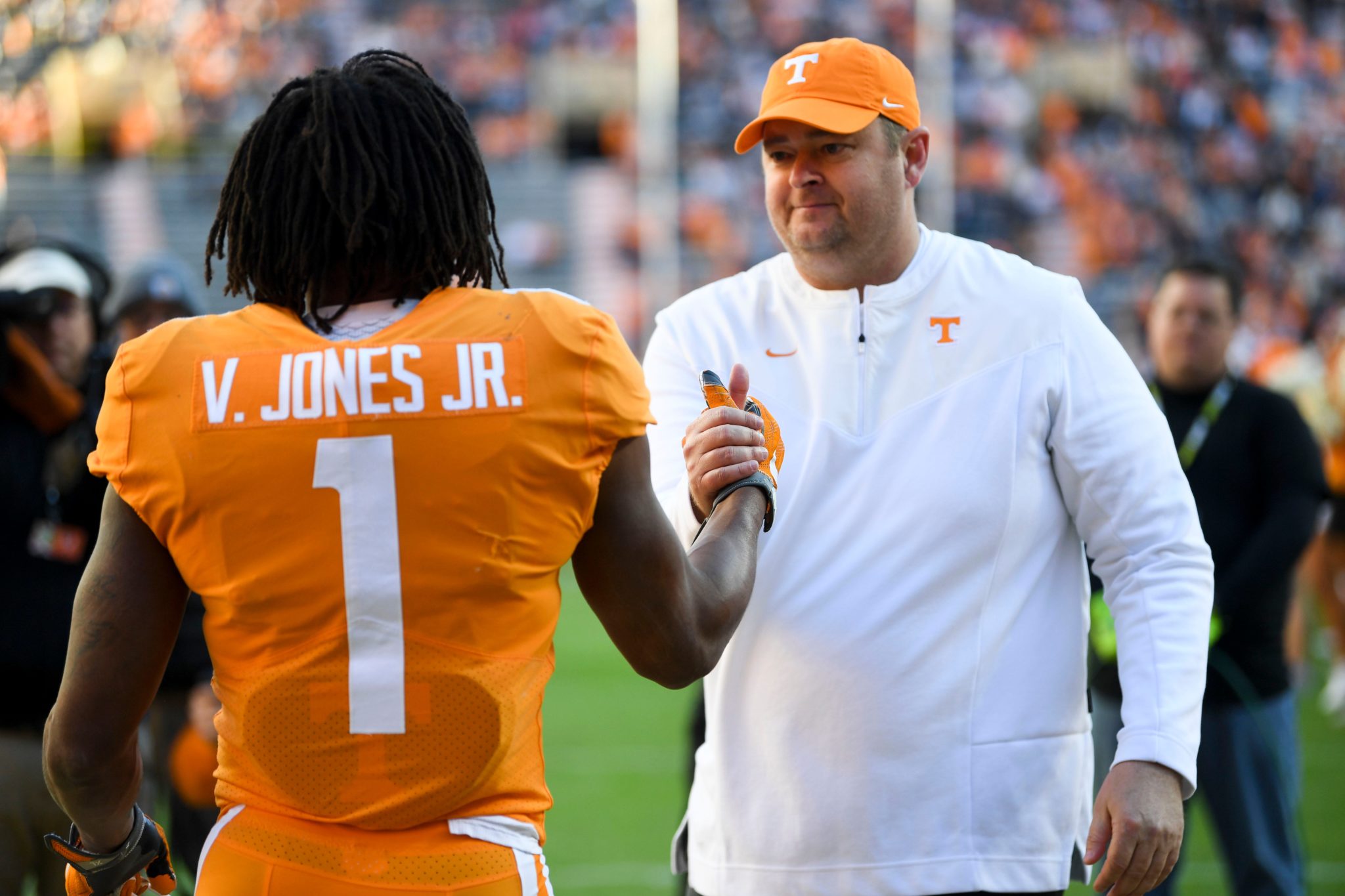 TENNESSEE
Would Josh Heupel dare leave Tennessee after 1 year?
From the moment news broke Sunday afternoon that Oklahoma head coach Lincoln Riley was taking the Southern Cal job, many Tennessee fans began to panic about the future of their head coach, Josh Heupel.
The reasoning made too much sense in large part because Heupel has major Oklahoma ties. Heupel played the final 2 years of his college career at Oklahoma. He was the Sooners' quarterback, leading them to the 2000 BCS national championship. Heupel was an All-American and placed 2nd in voting for the Heisman Trophy.
After his playing days were done, Heupel returned to Norman. From 2004-2014, Heupel spent all but 1 year on the OU coaching staff. He worked under Bob Stoops as a grad assistant, quarterbacks coach and co-offensive coordinator.
Today, Heupel is considered to be one of the top offensive coaches in the country. He has 4 years of experience as a head coach, compiling a 35-13 record. Heupel has spent a year in the SEC, where Oklahoma will be eventually be playing. Maybe even as soon as the 2022 season.
Due to his talents and his background, you'd think that Oklahoma AD Joe Castiglione has Heupel on a list of guys to consider to replace Riley.
As for whether Heupel would be interested in a homecoming … well, history tells us it's possible.
The most well-known example happened in 1958. Bear Bryant was a former Alabama player and assistant coach. He had success at Kentucky and Texas A&M, and would leave College Station to take the open job with the Crimson Tide. When asked why he made the move, Bryant reportedly said, "Momma called. And when Momma calls, you just have to come runnin'."
If you'd like a modern-day version of this scenario … well, Tennessee fans know better than any fan base what could happen.
In January 2010, Lane Kiffin had just finished his first season at Tennessee. The Vols went 7-6 in 2009, with wins over Georgia and South Carolina. They came within a blocked field goal of upsetting top-ranked Alabama. Vols fans were excited about the direction of the program.
Then … Momma came calling.
Kiffin had spent 6 years as an assistant coach at Southern Cal as part of those legendary Pete Carroll teams. When AD Mike Garrett came calling, Kiffin didn't hesitate.
Despite being in Knoxville for only 14 months, Kiffin was bolting for the sunshine of the West Coast. He left a burning Big Orange Country in his wake. What followed was more than a decade of bad decisions, bad luck and a lot of bad Tennessee football. Kiffin's midnight run started Tennessee on a dark road.
It feels like Tennessee is finally turning a corner with Heupel.
So … if Oklahoma calls … would Heupel follow Lane's lead and depart after only 1 season?
This is college football. This is Tennessee. Never say never.
But I'm very skeptical.
First of all, Heupel has, to the best of my knowledge, never come out publicly talking about how he covets the Oklahoma job. He doesn't talk very much about OU at all.
While at Tennessee, Kiffin gushed about Matt Leinart, Reggie Bush and USC football at seemingly every opportunity. Kiffin replaced pictures of Tennessee legends in the UT football complex with Southern Cal alums. USC was his dream job, and he never hid that fact.
If Heupel is indeed infatuated with the possibility of a Norman return, he has kept that hidden pretty well.
Also, there has reportedly been bad blood between Heupel and Stoops since Heupel's contract wasn't renewed following the 2014 season. Heupel was the fall guy after an 8-5 season. Stoops retired a couple of years ago, but is still thought of so highly at OU that he was named interim coach for their upcoming bowl game. Stoops will most certainly be consulted on who should be the next OU coach.
Relationships can be repaired with a phone call and certainly with a significant financial boost. Oklahoma won't be afraid to open the pocketbooks for the coach they want. And this is 1 of the top-10 jobs in the sport.
But much like Kiffin wasn't at the top of USC's list in 2010, Oklahoma will knock on a bunch of other doors, both in college and the pros, before they contact Heupel. The USC job was toxic due to an NCAA investigation. Castiglione won't have as much trouble as Garrett did finding someone to take the job.
I understand why many Tennessee fans are stressed out. They've been trained to fear the worst.
But for now, I just don't see enough that puts Heupel in charge at the University of Oklahoma in 2022.
Read More
Sports betting in Tennessee officially launched on November 1, 2020, and many of the largest sportsbooks are live and operating in the volunteer state. Tennessee is only one of a handful of SEC football states with legalized sports betting.