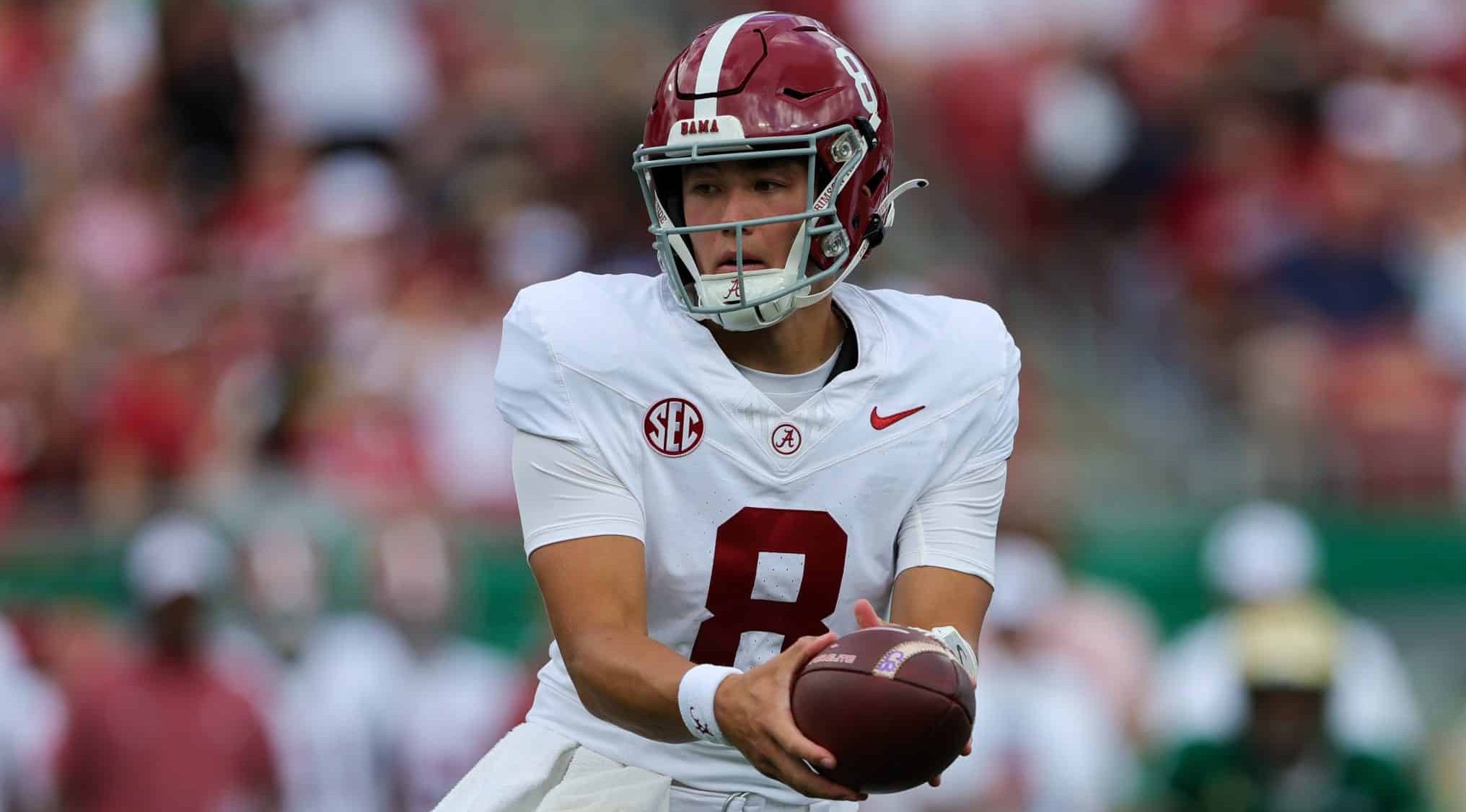 ALABAMA
3 takeaways from Alabama's ugly road win over South Florida
Alabama seems to still be asleep following Week 2's loss to the Texas Longhorns.
Nick Saban's squad looked rough, especially offensively, against the USF Bulls Saturday afternoon. Even a long break for a lightning delay didn't help quell Alabama's nerves early, with the Tide taking home a close and ugly 17-3 win.
For reference, USF lost to Western Kentucky 41-24 in Week 1.
But hey, a win is a win. Here are 3 takeaways from Alabama's win over the Bulls on Saturday.
QB Drama: Tyler Buchner struggles, Ty Simpson sees varying success
Tyler Buchner was… not the answer Saturday against the Bulls.
No, that was apparent very quickly. The Notre Dame transfer failed to lead any scoring drives and was benched in favor of Ty Simpson with 4 minutes remaining int he first half. He finished his day 5-14 for 34 passing yards.
And for what it's worth, the jury is still out on Simpson. He was given a short field and led the Tide to a field goal, at least getting the Tide on the board before the halftime break.
He finished Saturday completing 5 of his 9 passing attempts for 73 yards with a rushing touchdown. Combined, Simpson and Buchner combined to complete 10 of their 23 passes for 107 yards.
As for Jalen Milroe, it's unclear why he didn't see the field even once Saturday. He struggled against Texas, sure, but struggling against Texas is far different from struggling against USF.
Anyone wonder how he feels after being benched only for Alabama to put up this performance? He's still behind his guys, folks.
Alabama QB Jalen Milroe being the ultimate teammate after Ty Simpson leads Alabama on a scoring drive.

? via Tedddy G @BigTripTeddy

— Touchdown Alabama (@TDAlabamaMag) September 16, 2023
No more excuses, offensive line
Okay, Alabama. There are officially no more excuses for that offensive line play. Especially in the first half.
Alabama got pushed around some by both Middle Tennessee and especially Texas, but it was fair to chalk that up to being a little slow out of camp. Not anymore. This line could present some real problems for Alabama moving forward.
The stat line won't show this either, probably because of how heavily Alabama had to rely on the run game Saturday. The Tide rushed for 203 yards and a pair of touchdown, with an especially strong performance from Roydell Williams. The Tide averaged a solid 4.9 yards per carry.
But South Florida's line was all over Buchner and Simpson throughout Saturday's game. The Bulls totaled 5 sacks for a loss of 32 yards, something that just shouldn't happen against a G5 opponent.
One positive: Dallas Tuner, Deontae Lawson strong lead effort
This game was a disaster for Alabama, but any Tide fan can take solace in the way the Tide's LB corps played Saturday evening, specifically Dallas Turner and Deontae Lawson.
Turner had what may be the play of the game on defense for the Crimson Tide, forcing a fumble in USF territory to set up Ty Simpson with a short field. Simpson didn't finish in the end zone, but the importance of simply getting on the board after 26 minutes of bad football worked wonders.
Turner's forced fumble added to his impressive statline on Saturday. He finished with 7 tackles and 2.5 sacks. Deontae Lawson looked good as well, leading the way with 10 tackles, 1.5 tackles for loss and a sack.
Alabama's defense was far from perfect, but it was also far from the problem Saturday against the Bulls. The Tide held USF to 3 points, after all. The Tide forced 2 turnovers, both at major points in the game. Once to give the Tide their first score of the game and once against with an interception in their own end zone to keep USF from getting their hopes up.