Underdog Fantasy Georgia: Legal fantasy contests now available in the Peach State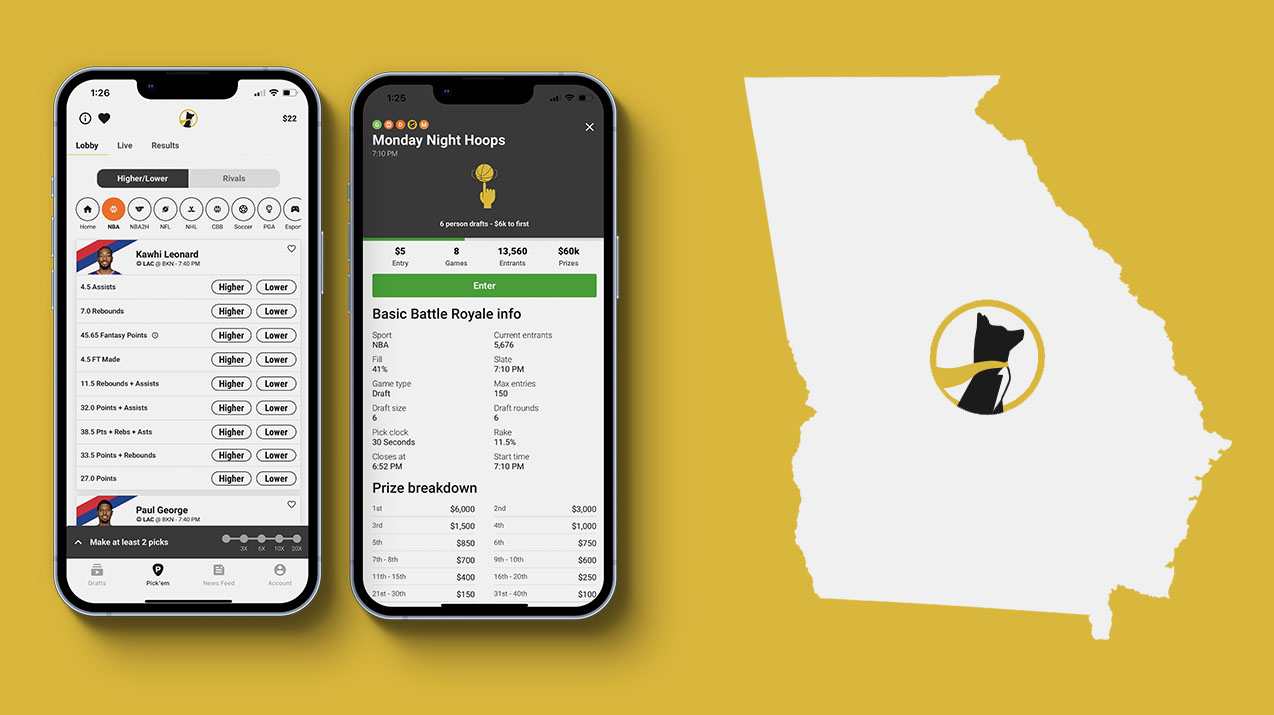 Daily fantasy sports (DFS) has become increasingly popular among avid sports fans over the last handful of years. It's a way you can win legitimate money online in myriad different ways. This includes daily drafts against other real sports fans, best ball contests, pick'em contests and so much more!
Sports betting isn't yet legal in Georgia, but Underdog Fantasy allows you to put real money on the line in fantasy contests involving your favorites from the sports world. You'll find out there are plenty of ways to get in on the action at Underdog Fantasy, whether it's individual pick'em contests for college or professional leagues or any number of other exciting contests. NFL, NBA, NHL, PGA and more; Underdog Fantasy can deliver.
This page will serve as an introduction to Underdog Fantasy Georgia. We'll even provide you an Underdog Fantasy promo code to get started, one that will provide you up to $100 of extra value when you sign up. How about that for a welcome bonus!?
Underdog Fantasy Overview
Underdog Fantasy is available in 41 states, including Georgia! The app is not available in CT, DE, HI, ID, IA, LA, MI, MT, NV, and ON (Canada).
Underdog Fantasy is a daily fantasy sports platform with an easy-to-use mobile app available to make playing convenient, efficient and fun. Investors like The Chainsmokers, Mark Cuban and Kevin Durant have backed Underdog Fantasy.
Underdog Fantasy is a legal, regulated and fun way to have money at stake in many sports markets where betting is not legal (such as Georgia, for now).
While you can play with real money, DFS is not considered sports betting. As you'll learn, there is a way to put your deeper knowledge of the game to the test!
Underdog Fantasy Georgia Promo Code: SDS
Anyone like free credit? Take advantage of our exclusive promo code "SDS" for a full deposit match of up to $100. All you have to do is sign up at Underdog and make your first deposit. From there, Underdog will match the deposit, so long as your initial stake is $100 or under.
Take a look at the helpful table below to learn more about what Underdog has to offer and what entering contests on their convenient app entails:
Underdog Fantasy Promo Code
SDS
Underdog Fantasy Sign-Up Link
Click here
Underdog Fantasy Offer
Deposit Match up to $100
Where is Underdog Legal?
All US States Except: CT, DE, HI, ID, IA, LA, MI, MT, NV
No Pick'em: AZ, CO, MD, MO, NH, NJ, OH, PA, TN, WA, WV
No College Pick'em (but can do other sports): AZ, AR, IN, ME, MD, MA, MS, NY, VT

Confused? Here are the SEC states where you can do college pick'em: AL, FL, GA, KY, SC, TX

Deposit Methods
PayPal, Credit Card (Visa, MasterCard, American Express, Discover)
Quick guide to get started:
Click here to signup at Underdog Fantasy — the link will automatically apply the SDS promo code to your account.
Make your first deposit, and enjoy 100% deposit match immediately up to $100.
Download the app to your mobile device, login, and start playing fantasy contests.
Why You Should Consider Playing Underdog Fantasy Contests
Let's face it, missing out on the opportunity to bet on sports in an illegal jurisdiction is a real drag. Underdog can bypass that, and is used as a strong substitute for many missing out on the fun. Underdog Fantasy lets you put real money on games across a variety of sports — from college football and basketball to the NBA, NFL, MLB, NHL, PGA, tennis, hockey and soccer. Big events like the World Cup, Super Bowl, March Madness? Underdog has you covered.
Georgia sports betting is not yet legal as of 2023 and could be under consideration for some time. Why should fans in other states be able to have all the fun? Underdog Fantasy Georgia helps make every play that much more intense for passionate fans. Makes sense, considering you have real money on the line with every passing pull-up jumper, slapshot, dropped third-down pass and more.
Georgia hosts sports teams with plenty of fans from outside the Peach State. Their brands are iconic in the South, and those living there know their impact in the sports world. Name a team, Underdog Fantasy allows safe, legal wagers on professional teams such as the Atlanta Falcons, Atlanta Braves, Atlanta Hawks and Atlanta United FC. Professional sports not your thing? Don't worry – Underdog Fantasy will allow any fans of the Georgia Bulldogs, Georgia Tech Yellow Jackets, Georgia State Panthers, Georgia Southern Eagles and Mercer Bears in on the fun as well.
You'll be able to see a more in-depth summary of the ways you can get in on the action at Underdog Fantasy soon, but perhaps one of the most underrated abilities you have at your disposal is to double down on your biggest rivals with pick'em contests. As a Braves fan myself, you'd better believe I'll be picking against some Mets players this upcoming season. Any Georgia fans in the house? Nobody could slow down the Bulldogs last year, might as well pick a couple "higher" options for Kirby Smart's squad in 2023, too.
Saying "it's a rush" is an understatement. Everything becomes that much more intense when you have money on the line. You can't go wrong picking the "higher" option on Trae Young right now, for example. As stated earlier, with college pick'em being available to play in Georgia, basically anything Georgia related could score you some big bucks.
As with all fantasy contests, your advantage often comes from the smaller players you don't normally lean on. With the daily fantasy drafts, you'll find yourself learning and appreciating those players that much more.
Is Underdog Fantasy legal in Georgia?
You bet! While online sports betting via sportsbooks is not allowed in the Peach State, Underdog Fantasy is legal in Georgia, for both professional and college action!
I do not reside in Georgia, but I knew the pain of living in a jurisdiction where sports betting was not legal until it was recently legalized. Simply put, for those who enjoy the rush, it was frustrating. For those who live in Georgia with friends from states with legalized sports betting, being able to talk shop is a huge plus.
Competing against other people in Daily Drafts is my go-to, and many others would report similarly. I enjoy picking NBA players in Battle Royale Daily Fantasy Drafts and watching along on League Pass while my players rack up points. I've always been a college over pros guy myself, but drafting players with real money on the line has me locked in – a regular-season game between the Atlanta Hawks and Minnesota Timberwolves (that Anthony Edwards guy went to Georgia, after all) is like Game 7 of the NBA Finals! Atlanta will make it there one day…
Ready to get in on the action? Let's take a look at what types of contests you can find on the Underdog platform.
Games and Contests available on Underdog Fantasy Georgia
Battle Royale Daily Fantasy Draft
The Battle Royale format has some unique qualities that make it more exciting than your standard fantasy contest with your friends in the basement. Also, hence the name, you're not drafting for a whole season!
You will participate in a snake draft against a group of anywhere from 4-12 players, often depending on the sport. For the Super Bowl, one of my drafts had 4 participants while NBA action will often feature more, just based on the amount of talent that is playing that day. What's important to remember is that you won't just be competing against the group you are drafting against when you first enter the studio. You're competing against every user in every group for that given period of time. So, for example, in an NBA Battle Royale lobby of 9,000 entries or so, around 1,500 players will have Nikola Jokic, Steph Curry or LeBron James on their squad. The fun starts in the later rounds, where you can truly put your knowledge of the game to the test! Maybe someone will mess up and forget to select Doncic. One thing to know is that finding value is key!
My first Battle Royale draft was an NBA Tuesday night slate. I entered a snake draft in the "Shootaround Tuesday" contest. It cost $5 to enter. My crew of Russell Westbrook, Jonas Valanciunas, DeAndre Ayton, Jaren Jackson Jr., Wendell Carter and Ja Morant ended up winning $10 (thanks, Ja)! And remember, that was my first time entering a draft. I could have won even more if I had not accidentally selected Carter over Demar DeRozan. For your sake, I hope you run into an opponent mess-up like that in your upcoming drafts!
Though I only drafted against 5 other users in a 6-person draft, I was competing in a contest that featured just under 10,000 players. As games tipped off, I was able to follow along live as the players I drafted played games across the country. Keep in mind, sometimes the role players can win you the day in these types of contests. Utah's Walker Kessler proved that point in one of my drafts a few weeks ago!
I entered a pair of contests for the Super Bowl, too. Some are more expensive with thinner contestant pools, while some have a low entry fee like the one I mentioned above. It made the Big Game that much more enjoyable, especially when I made a net gain instead of a loss. My crew of Patrick Mahomes, Isiah Pacheco, Skyy Moore and Jake Elliot served me well!
While I won $25, the overall winner of the contest took home a ho-hum $21,000 on a $5 entry fee. I don't win every time, but I'm perfectly content making $5-10 every night rather than playing big. Just make sure you're being strategic! More on those ways to play a little later.
Tips for your first Battle Royale draft:
Point scoring and understanding how it works is uber-important. Make sure to familiarize yourself with the system of each contest you enter. Take NBA fantasy drafts, for instance. Each point scored is worth only 1 point. Each rebound is 1.2 points. Each assist is 1.5 points. But steals and blocks are worth 3 points each. Matchups help, too. If a team is poor defensively, I'll make sure to go with the volume scorer to drop a 50-bomb.
Go with a very small entry fee for your first draft, so you don't risk much money on your first go-around. Think around $5 and use it as a learning experience. I made a profit my first time, but that's not always a guarantee!
The draft goes quick, with most draft clocks hovering around 30 seconds to make a selection. With 6 players and a 30-second clock, things can get hectic! For that reason, make sure to strategize. Get a feel for who you want and finalize your strategy before the draft begins. Putting those extra seconds of thought can often pay off in the end.
Pay close attention to injuries! Because you're only picking for a night's action and not an entire season, picking a player that is injured essentially guarantees a loss, or at least a loss of the big prize. I prefer to stay away from any player that has even an inkling of a chance to miss that night's game when selecting for the NBA. Even if they're probable, it likely isn't worth the trouble unless we're talking about Nikola Jokic, Luka Doncic, etc.
Regular Daily Fantasy Drafts
Underdog Fantasy also offers a number of more standard daily fantasy drafts where you compete against just a handful of people. This allows you to favor pool size over potential earnings vs. an entire crowd of players. Head-to-head NBA drafts are a good place to start. While you can win $6,000 on a $5 entry in Battle Royale, a head-to-head draft gives you the chance to double your entry money. So, if it's a $25 entry, you can win something like $45 if you can beat out one other person or a few more for more added interest.
I participated in some head-to-head NBA contests to get a feel of the Underdog system a while back. In these contests, I went back and forth with my opponent in drafting 6 NBA players for the night's action. Each of us picked 6 NBA players. Like Battle Royale, it takes only a couple minutes.
There are a lot of positives to head-to-head drafts, but also some negatives to be aware of. For one, things can get slightly repetitive. For example, with just you and one other person, you're usually selecting the best of the best and just kind of hoping they have a stronger night than your opponent's guys. There's very little strategy involved as far as the individual players are involved, the strategy instead comes from those players' opponents for the night. So say Atlanta is playing the Rockets while Dallas is visiting the Milwaukee to face the Bucks. I'll take Trae Young's matchup over Luka's that night. With Battle Royale contests, your knowledge of the game in the later rounds where the pool becomes thinner is a real game changer.
With that said, it's still super fun to have some stakes involved in the nightly action and have a better chance of taking home a payload. After all, NBA games are happening every night, as are baseball games during the spring and summer months. As mentioned earlier, you can take your gameplay to the next level by layering in some knowledge and data around the weakest defensive teams, which teams might get cooked regularly by a dynamic scoring guard, etc. This also might help you beef up your rebounding and assist stats and give your star player more of a chance to have a historic night. Maybe Trae Young is guarding a turnover machine or Jaren Jackson Jr. is up against a team with poor paint presence. Either of those would yield some smart picks.
All in all, these contests are incredibly simple, super easy to get started with, and definitely a great way to dip your toes in the water of daily fantasy sports.
Underdog Pick'em Contests
Similar to prop bets, pick'em contests are a fan-favorite when it comes to Underdog Fantasy Georgia. You can throw some money on over/under contests each night, especially when Young, A.J. Terrell, Ronald Acuña Jr. or any number of other pro sports stars who play in Georgia (or literally anywhere else) take the field or court. The entire process is very similar to prop bets on sports betting sites, but at Underdog you have to pick at least 1 player from each team in a given matchup. So in the Super Bowl, if you made a selection for Patrick Mahomes, it wouldn't have been a bad idea to add a prop of Jalen Hurts higher than .5 rushing touchdowns.
There are two types of pick'em contests that are available on Underdog Fantasy Georgia. Higher/lower pick'ems  and Rivals. Regardless of the type, you have to combine at least 2 picks and can go up to as many as 5. The more you combine, the higher the multiplier or potential payout, but the more you combine, the higher chance you walk away with nothing, too. Be strategic and look for a favorable line!
Here are a couple examples of recent higher/lower bets — one for Super Bowl LVII and one for a night of SEC men's college hoops: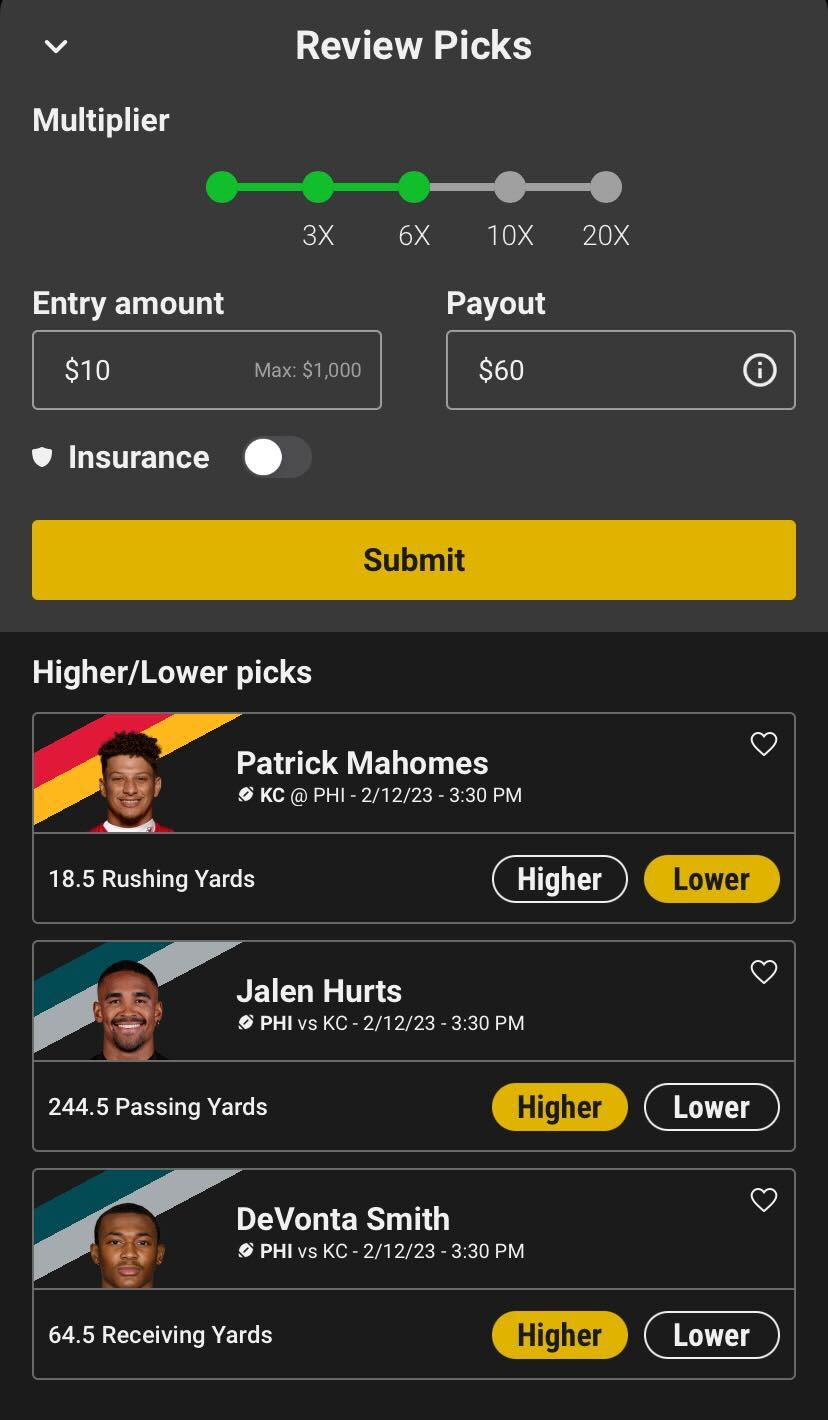 Higher/Lower
Higher/Lower pick'em contests are fan favorites for a reason. They're similar to player prop bets you can find elsewhere in the sports betting space, with just a few differences. You have to have at least 2 higher/lower picks to make the bet legitimate and those picks can't be from the same team. This is to prevent you from picking the tandem of Mahomes and Kelce to find the end zone multiple times, the same way you can't pick Kyrie Irving and Luke Doncic with the Mavericks if you have only 2 wagers.
If you like what you see from a pair of higher/lower pick'em, you'll have to add a third from the opposing team. Don't worry, there are plenty of options to choose from for most higher profile leagues such as NFL, NBA and so on.
Speaking of, NFL and NBA games are scored live, so you're able to follow along with your picks on the app. College basketball and college football aren't scored live yet, though things can change with each passing update!
Rivals
In Rivals, you make a pick between two players around a specific stat category with a "spread" applied to one to even the odds.
Let's say you are picking between former Sacramento Kings star Tyrese Haliburton and the man he was traded for, current Kings star Domantas Sabonis. If you bet points+rebounds+assists totals and you chose Sabonis at -9, you're betting that the Kings' big man will have at least 9 more points+rebounds+assists than Haliburton. Willing to risk money on that?
Multipliers
How much can you win? Here are how the multipliers work on the Underdog Pick'em contests:
Two picks: 3x
Three picks: 6x
Four picks: 10x
Five picks: 20x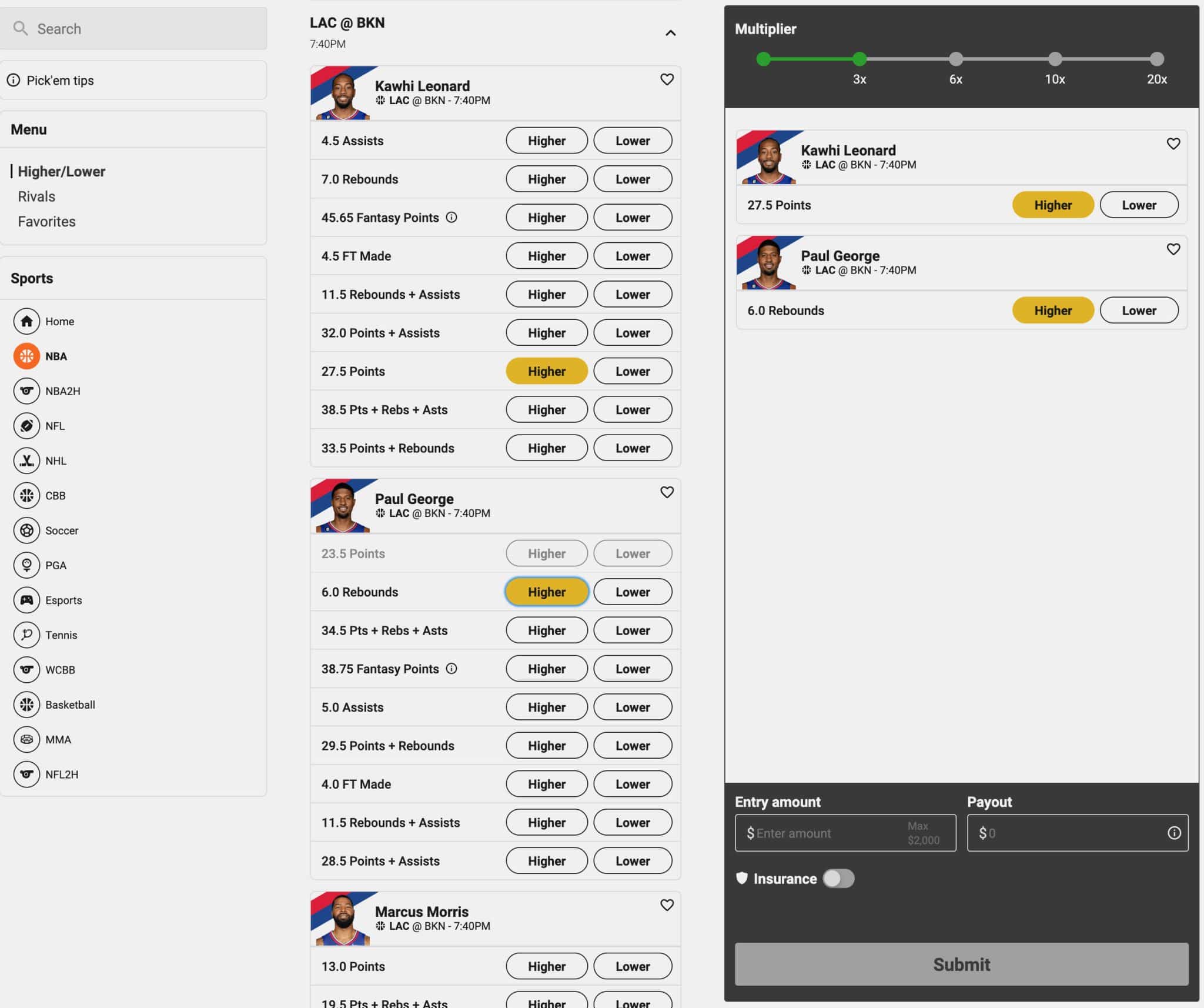 You're free to bet as many as you see fit. It makes sense to pick the "higher" option and cheer for higher points and higher scores. After all, life is too short to bet the under. That is, unless you're playing against Georgia's defense and need a total yards lower to hit.
Underdog Fantasy deposits and withdrawal options
Alright, you've made a profit. Time to take out your money! Underdog Fantasy has a few different options to withdraw your money, though it may seem limited at first. On the flip side, making deposits to get started with Underdog Fantasy Georgia is easy!
There are a few different ways to make deposits on Underdog. You can use Visa, MasterCard, American Express and Discover cards to add money to your Underdog account, which it will prompt you to do before entering any drafts or making any pick'em selections.
Options for withdrawal are limited; PayPal and Interchecks as the 2 main options. Withdrawals are always free on Underdog, so you can take out your winnings at any time without hassle. Remember to use promo code "SDS" when you sign up!
Withdrawals are initiated almost instantly and I've always received the money in my PayPal account within 24 to 36 hours. Interchecks will arrive in 5 business days or so.
Relevant Georgia teams for Underdog Fantasy
You can pick players from all of your favorite Georgia teams on Underdog fantasy contests. And there's a lot to choose from!
Here's a list of only some of the teams and schools in Georgia that can be found on Underdog:
Atlanta Falcons (NFL)
Atlanta Hawks (NBA)
Atlanta Braves (MLB)
Atlanta United FC(MLS)
Georgia Bulldogs (CFB and CBB)
Georgia Tech Yellow Jackets (CFB and CBB)
Georgia Southern Eagles (CFB and CBB)
Georgia State Bulldogs (CFB and CBB)
Kennesaw State Owls (CBB)
Mercer Bears (CBB)
You never know what opportunities are going to pop up on Underdog! Even sports like women's college basketball, golf (especially big in Georgia), tennis, international soccer and Esports have sections on the app.
Underdog Fantasy customer support
The Underdog team is very helpful when you have questions. I had an issue in one of the pick'em contests I entered. I watched as one of my players was held out of the game due to an unforeseen injury. I messaged the Underdog support team on Twitter and they got back to me in a timely fashion. They were very pleasant to deal with, too!
The customer support services also include email and phone lines. The group of Underdog support members is trustworthy, helpful and quick to respond. It makes using their convenient app even easier.
Playing Underdog Fantasy Georgia
Georgia is lucky enough to have the ability to experience the full range of what Underdog Fantasy has to offer.  College football and basketball don't have daily drafts — they stick to pick'em contests in most jurisdictions. NFL, MLB and NBA do. However, not every state has access to college access for Underdog Fantasy. Georgia does!
Some sports are scored live (NBA, NFL, etc.), but some aren't (college sports, World Cup, etc.). It's easy to remember your bets and keep them in mind as you watch live. Online box scores are available any number of places, so it's always fun to see how your players fare third party. Buy into it and everything becomes that much more intense!
And most importantly? Underdog Fantasy is legal in Georgia, unlike conventional sports betting! You can play alongside your friends in other states and get in on the action for big games every week.
Don't let those friends have all the fun! Put some money on the line and try to hit it big starting today!
Click on this promo code to start betting today:
Register your account today at Underdog and take advantage of the full deposit match up to $100.
We do not target any individuals under the age of 21. We support responsible gambling. If you feel like you're losing control over your gambling experience, call 1-800-GAMBLER (NJ, PA, WV), 1-800-9-WITH-IT (IN), 1-800-BETS-OFF (IA), 1-888- 532-3500(Virginia) 1-800-522-4700 (NV, TN), 1-800-522-4700 (CO, TN), 1-855-2CALLGA (IL), 1-800-270-7117 (MI).
About Saturday Down South | Ethics and Editorial Standards | Privacy Policy | Terms and Conditions | Do Not Sell My Personal Information