Apps Like PrizePicks: The 3 Best Alternatives Available Now
PrizePicks is a large daily fantasy operator that helped bring real money over/under-like predictions to the masses. PrizePicks isn't alone, however, and a number of DFS apps and operators have launched with similar functionality. Some are excellent. Some not so much. Our team has spent hundreds of hours obsessing over the various elements of PrizePicks and all of the apps like PrizePicks. We rate the apps against each other, considering things like gameplay, app experience, deposit and withdrawal methods and payouts and multipliers. We'll also tell you which app you should download and sign up for if you're looking for the best alternative to PrizePicks.
Want a simple answer? If you want an app like PrizePicks to go play right now, our top recommendation will be Underdog Fantasy. You can click here to go get a $100 deposit match. You'll be up and running within minutes. Our next best recommendation is Sleeper Picks. It's also excellent. Click here to get a $100 deposit match at Sleeper. If you want detailed analysis breaking down how these apps compare, we invite you to keep reading…
An Overview of PrizePicks Alternatives & How They Compare
The below table will give you a good starting point for finding apps like PrizePicks and understanding the differences across game play modes, app quality, minimum wager size and more.
App & Interface
Great app, simple, easy for new users
Great app, great branding, picks are easy to navigate
Very stable app, can be intimidating at first with a more "power user" like interface
Well built app with a simple and clean interface
Picks Types & Modes
Power Play: Sets of 2-4 picks. Must get all right. Payouts of 3x to 10x.
Flex Play: Sets of 3-6 picks where you don't have to get all of them right. Wider ranger of payouts based on outcomes.
Pick'Em: Sets of 2-5 picks. Must get all right. Payouts of 3x to 20x.
Insured Picks: Sets of 3-5 picks. Can miss one and still earn money. Payouts of 1x to 10x.
Every pick has dynamic and variable multipliers. A over/under on rushing yards might be 1.4x while a touchdowns over/under might be 3x. Total payout/multipliers are determined based on specific combinations of picks.
Boom Favorites: Sets of 2-5 picks for "safer" players with slightly discounted stat lines at lower payouts ranging from 1.3x to 3x.
Boom Toss-Ups: Sets of 2-5 picks similar to normal game play at places like PrizePicks and Underdog with payouts ranging from 3x to 20x.
Boom Longshots: The biggest payouts of all the operators where you make 2-3 more challenging picks with payouts of 10x or 40x.
Minimum Bet Amount
$5
$1
$1
$1
Welcome Offer & Bonus
$100 Deposit Match
$100 Deposit Match
Looking for more detail? We've got you covered. You can navigate below and find our detailed analysis comparing the other DFS apps with PrizePicks. For example, you can get a detailed analysis of how PrizePicks compares to Underdog Fantasy, Sleeper and Boom Fantasy. Our experience is your best asset in helping you find the best DFS app for you to enjoy.
Our Daily DFS Picks
| Game | Player | Higher / Lower |
| --- | --- | --- |
| BOS vs. TB | T. Glasnow | Lower 7.5 Strikeouts |
| CLE vs. CIN | A. Abbott | Lower 5.0 Strikeouts |
| BAL vs. WSH | P. Corbin | Lower 3.5 Strikeouts |
For Wednesday, September 27, 2023, we're heading to Underdog for some MLB pitcher picks! Let's just say we don't think there will be a ton of strikeouts around baseball today. We like 3 pitchers to finish below their projected strikeout totals. Those pitchers are Tyler Glasnow of the Rays (lower than 7.5 strikeouts), Andrew Abbott of the Cincinnati Reds (lower than 5.0 strikeouts) and Patrick Corbin of the Washington Nationals (lower than 3.5 strikeouts).
What Makes PrizePicks… PrizePicks
PrizePicks users know the app as a platform where users can log in, see a variety of over/under predictions across all sports, use a simple interface to make their picks and selections and have some real money at stake. It's simple and fun.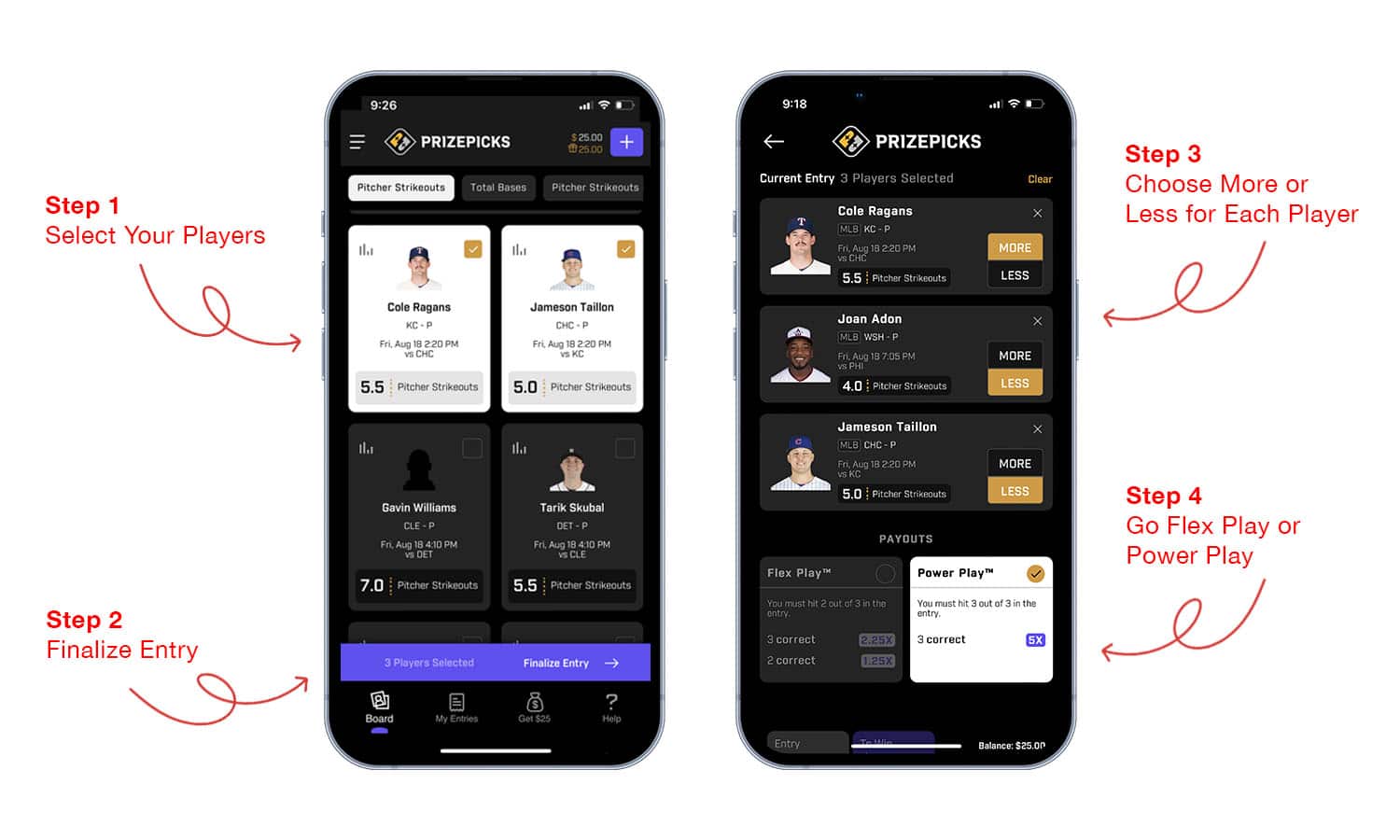 PrizePicks undoubtedly rose in popularity as a result of the sleek app interface and simplistic formula for engagement. Look at the above screenshots! I think even my elderly parents could figure this app out in no time.
Before we jump into some comparisons, let's briefly mention the payouts or multipliers. In the DFS world of picks, pick'ems, whatever, the payout ratios or multipliers are important to be aware of. Each operator has some nuance, and each operator labels them differently.
As you can see in the above screenshot, PrizePicks has two play methods: Flex Play or Power Play. The differences are pretty simple. In Power Play, you have to get all of the picks right, and you're rewarded with higher potential payouts. Flex Play lets you still win money if you don't get all of the picks right. As we consider other apps that are similar to PrizePicks, we'll compare the payouts across the board. It's an important part of considering the best app for you.
PrizePicks vs. Underdog Fantasy
Underdog is easily one of our favorite DFS apps on the market. Seriously. It's just a fantastic app. Go grab the latest Underdog Fantasy promo code to unlock a great welcome bonus. How does Underdog hold up against PrizePicks with respect to picks (called Pick'Em on Underdog)? Let's dive in.
Underdog vs. PrizePicks: App Interface & Usability
We're going to start with app usability. How easy is it to get around? Is it fun? Is the app snappy? Can you give me a whole host of options and picks to make without cluttering the interface? These are all important UX elements that are important to consider. We'll look at some screenshots to show you the key differences as you make the best decisions around what apps like PrizePicks you like best.
The Pick Selection Screen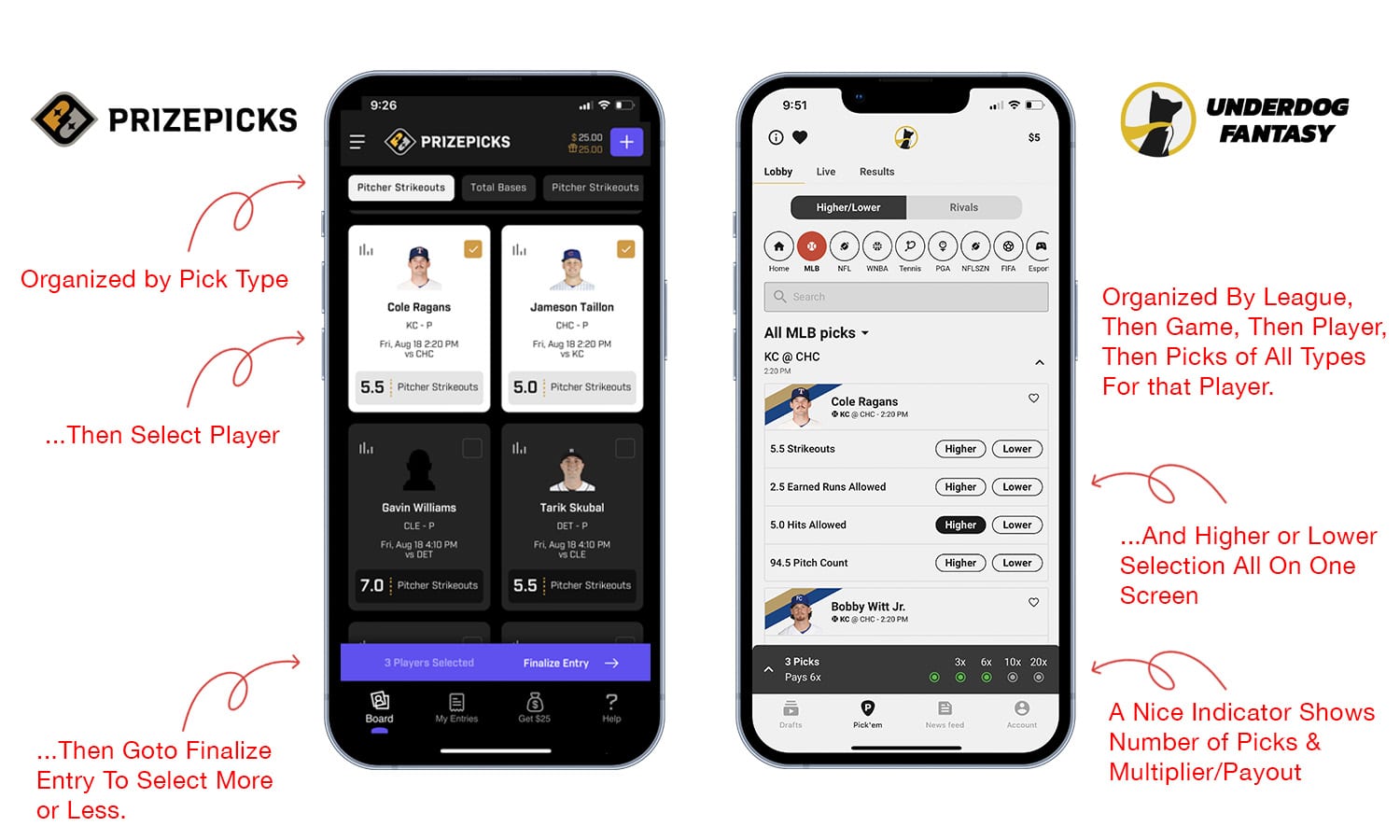 The interface here between Underdog and PrizePicks is actually quite different from one another. That's a good thing! Us consumers like choice, no?
After using these apps myself for a while, I think the PrizePicks interface is a bit cleaner with respect to pick selection. The squares interface lends itself naturally to a really nice and clean look. However, the Underdog interface is incredibly usable in the sense that it gets you quicker to a wider selection of picks. Underdog has a really efficient interface where you can see all the pick types under each player, for each game. Whereas, in PrizePicks, you have to select the different pick type at the top, and then find the player again.
So, perhaps, it comes down to the following question: Do you prefer to navigate by pick type or player? Do you fire up your DFS app and say to yourself, "I want to make some strikeout picks for today's starting pitchers." If so, PrizePicks interface lines up well for your mindset. Alternatively, if you say to yourself, "let's make some picks for Shohei Ohtani," then Underdog's player-centric interface is going to work really well.
The key here is that both apps are incredibly reliable, quick responding and snappy and very well designed and built. You really can't go wrong with either option.
Underdog vs. PrizePicks: Payout Ratios
Let's get down to brass tacks. Which app, Underdog or PrizePicks, has the better payout ratios? After all, you're making real money picks, so this is crucial! We've got this easy table for you to consider and compare the differing payout ratios or multiplers for Underdog vs. PrizePicks.
Regular Picks or Power Play
Terminology varies on these platforms, so let's be clear what we're talking about. Regular picks are just called picks on Underdog. On PrizePicks, straight forward picks is called Power Play. Whether it's the normal picks on Underdog or Power Play on PrizePicks, the key here is that these are the payout ratios available in the event that you nail all the picks. You have to hit all of them. If you make four picks, you must be right on all four, or you get zero.
Here are the payout ratios for both Underdog and PrizePicks for normal "picks" contests:
| | | |
| --- | --- | --- |
| 2 Picks | 3x | 3x |
| 3 Picks | 5x | 6x |
| 4 Picks | 10x | 10x |
| 5 Picks | not available | 20x |
| 6 Picks | not available | not available |
Insured Picks or Flex Play
Nothing's simple in life, so we have to talk about the other variation here. If you want a different type of game play, you can go with Insured Picks on Underdog or Flex Play on PrizePicks. This type of game play is for users who might want lower payout potential in exchange for the ability to not be completely right about all of their picks.
Underdog keeps this more simple than PrizePicks does. Underdog Insured Picks give you two payout ratios for each set of picks. One payout multiplier represents getting them all right, and one represents getting all but one right (getting 2 out of 3 right, or 3 out of 4 right). This is only available on three picks or more.
PrizePicks is more complex with more options. Good for users, but might be a bit confusing. Essentially, PrizePicks does more payout ratios for scenarios where you miss both one or two of your picks. If you make five picks, you'll get a payout if you get all 5 right, 4 of 5 right, and even 3 of 5 right! On Underdog, getting 3 of 5 right on an insured set of picks will yield you nothing.
Here are the payout ratios for insured picks on Underdog and Flex Play picks on PrizePicks:
2 Picks
not available
not available
3 Picks
2.25x (3 of 3 right)
1.25x (2 of 3 right)
3x (3 of 3 right)
1x (2 of 3 right)
4 Picks
5x (4 of 4 right)
1.5x (3 of 4 right)
6x (4 of 4 right)
1.5x (3 of 4 right)
5 Picks
10x (5 of 5 right)
2x (4 of 5 right)
.4x (3 of 5 right)
10x (5 of 5 right)
2.5x (4 of 5 right)
6 Picks
25x (6 of 6 right)
2x (5 of 6 right)
.4x (4 of 6 right)
not available
Underdog vs. PrizePicks: Deposits & Withdrawals
Both Underdog and PrizePicks offer good options for adding and withdrawing funds. PrizePicks is more limited in the credit cards it accepts. I was not able to deposit funds using American Express, which is what I use to add funds to Underdog. I went to my MasterCard and was told I can't do that either. Strange. I have to go find a Visa. That worked fine.
Both Underdog and PrizePicks have a playthrough requirement if you take advantage of a deposit match promotion or bonus. If you deposit $50 and receive an additional $50 as part of the bonus, you will have to play through the full $100 before you can withdraw any of it.
Withdrawals can be made via PayPal on both platforms. Underdog also allows withdrawals via the Interchecks platform, and PrizePicks allows withdrawals via electronic transfer to a bank account.
PrizePicks vs. Sleeper
Sleeper is best known for its fantasy football leagues. My friends and I migrated one of our season-long leagues over to the app back in 2021 and haven't looked back.
But Sleeper is also a big player in the world of pick'em contests and is getting bigger every week. The upcoming college football and NFL seasons promise to be exciting ones for Sleeper. Look out for special discounted entries and more every week! Be sure to check out the latest Sleeper Fantasy promo code available now.
Let's dive more into what we're here to talk about — Sleeper Picks and how it compares to PrizePicks:
PrizePicks vs. Sleeper: App Interface & Usability
While PrizePicks has a simple, user-friendly interface that is obvious from the get-go, Sleeper has a lot going on. It can look intimidating to new users. I know it certainly was for me when I first went to the picks page.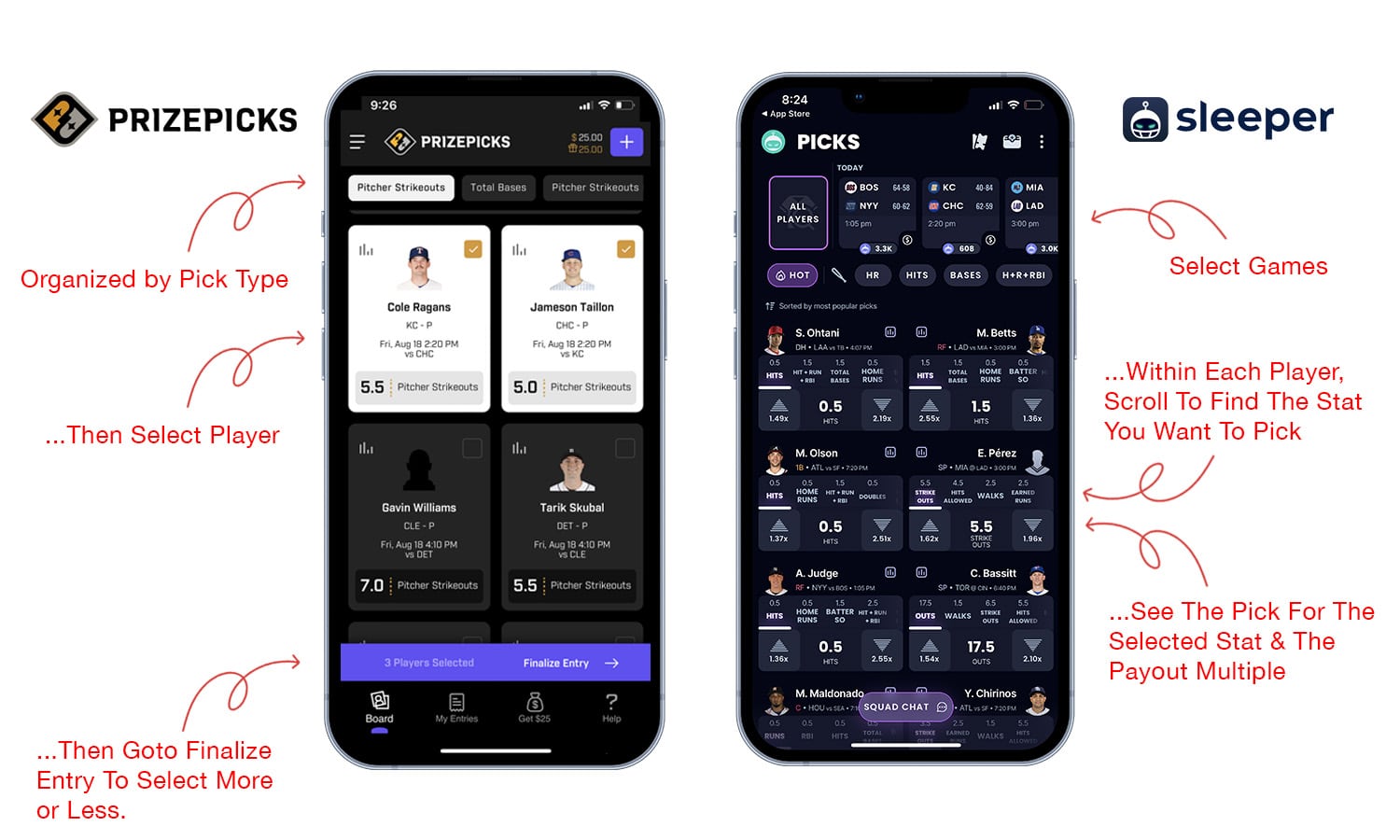 But Sleeper's UX is actually very smooth. Everything makes perfect sense when you see it. And it is ultimately pretty convenient to be able to see all possible picks for a given player on one screen.
I've never had a problem with Sleeper's layout. You pick your sport, pick your game and then scroll through countless player stats. It really lets you customize exactly what stats you want to pick and which games you want to target.
Sleeper vs. PrizePicks: Payout Ratios
Payout ratios and multipliers is an area where Sleeper stands apart from other DFS and picks apps. Sleeper uses a dynamic multiplier structure based on how likely a certain player is to accomplish a particular stat. In other words, there are no standard multipliers or payout ratios.
For example, if you want to pick that Ronald Acuña Jr. won't steal a base on a given night, that'll only get you a multiplier of around 1.29x or lower. Even though he steals a lot of bases, it's way more likely that he won't steal a base in a given game. Thus the lower multiplier.
If you want to bet on his teammate, Matt Olson, to hit a home run, though, that'll earn you a 3.16x multiplier. Again, that's because that event is way less likely to happen. A multiplier for Olson not to hit a home run is at 1.23x for the reason mentioned above with Acuña.
Sleeper doesn't offer Flex Play, either. On PrizePicks, you can protect your entries. Say you enter a 4-leg contest, but choose Flex Play. If you only get 3 of 4 picks right, you'll still win some money. The tradeoff is that if you select Flex Play and get all 4 picks right, you won't win as much as you would have if you'd done a Power Play.
You don't have the Flex Play option on Sleeper. You create your contest with the multiplier you want and then let it ride. You have to hit all of your picks in order to win money.
Sleeper vs. PrizePicks: Community and Chat Features
One of my favorite functions of Sleeper is its chat capabilities. Since it started as (and continues to be a great) fantasy football app, chatting with your league mates is a must.
Well, it turns out that's also a fun function to have available when you're making picks, too. A couple of my friends and I have a chat where we are able to share the contests we enter with each other. As long as none of the legs of the contest have begun, you are allowed to copy your friends' contests.
As you can see below, my friend probably wishes he didn't copy this contest entry of mine, but hey, can't win them all!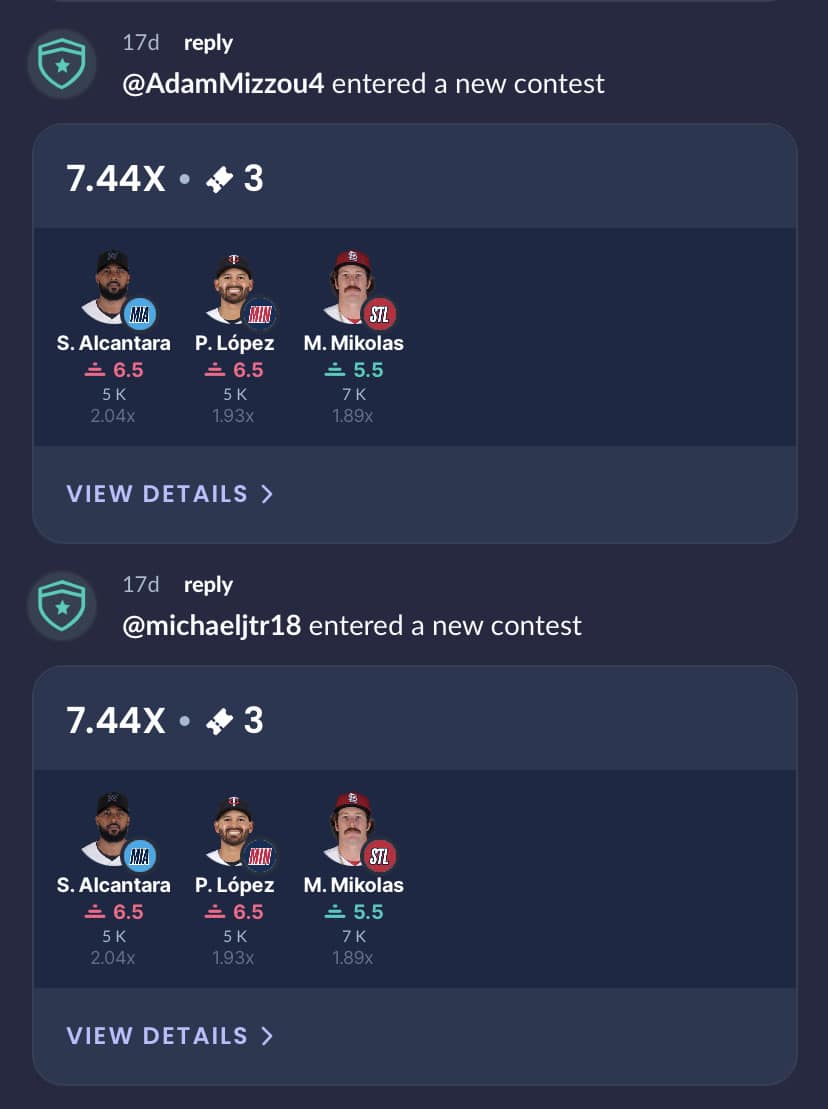 Sleeper also has a main chat channel where you can share your picks, ask for advice and chat with other DFS players on the Sleeper app. PrizePicks allows you to link to its discord channel, but it doesn't have the same in-app chat functions that Sleeper has.
Sleeper vs. PrizePicks: Entry Cancellation
Sleeper recently introduced a feature that allows users to cancel their pick'em entries within 5 minutes of submitting.
Why is that a good feature? Well, on PrizePicks, I recently ended up in a contest for way more money than I wanted. Why?
PrizePicks offered me a free 3-leg pick'em entry. Awesome, right?
I went into the MLB section and picked 3 pitchers' strikeout totals and hit submit. The app told me Spencer Strider's over/under had been changed from 8.0 strikeouts to 8.5 strikeouts. No problem. I liked him for at least 9 strikeouts anyway.
So I accepted that change and hit submit. Oops.
It turned out that 1 of the other 3 pitchers' strikeout totals had been taken off the board. So now my entry was a 2-leg contest instead of 3. As you'll remember from above, this free entry was specifically for a 3-leg contest. When I hit submit thinking I was entering a free contest, I was instead entering a $20 2-leg contest as that's the default number that shows up when you try to enter a pick'em contest on PrizePicks.
Needless to say, I was not happy. Even if it was technically a user error on my part, it still struck me the wrong way. If I had accidentally entered that contest on Sleeper, I would have been able to cancel it within the first 5 minutes.
All this is to say that Sleeper's no-sweat 5-minute cancellation policy isn't something you think about often, but when you need it, it's really nice to have around.
Sleeper vs. PrizePicks: Deposits & Withdrawals
The deposit and withdrawal methods for Sleeper and PrizePicks are fairly similar and both are pretty straightforward. When it comes to adding money via debit/credit cards, Sleeper allows deposits via Visa (with MasterCard coming soon). Google Pay is also listed as coming soon to Sleeper.
PrizePicks allows you to use Visa or Discover debit/credit cards to deposit. You can also use an online bank account from a few big-name banks. PayPal and Apple Pay can also be used to make deposits.
For withdrawals, Sleeper will either send the money back to your debit/credit card or to your online bank account. PrizePicks allows withdrawals via PayPal. You can also request your money to be sent to your online bank account.

Boom vs. PrizePicks
Boom Fantasy is a fun DFS app that offers users a couple of different experiences as compared to PrizePicks and other DFS apps. We'll detail them a bit more below, but suffice it to say here that Boom has some of the most intriguing payout structures in the DFS space.
Let's get into how Boom and PrizePicks compare and how they're different:
Boom vs. PrizePicks: App Interface & Usability
Boom is actually fairly similar to PrizePicks in terms of user interface. Both are easy to make sense of, with big blocks for each player and their stat lines.
Boom vs. PrizePicks: Payout Ratios
Boom's biggest selling point is its "Longshot" contests. That's what I love about the app and that's what many users enjoy playing. If you pick 3 longshot overs correctly, you earn 40x your contest entry fee. That's one of the best payouts you'll find in all of DFS!
But even if you're a DFS player who likes to play things safe, Boom has the perfect option for you. That option is called "Favorites." Pick 5 correct player stat lines that are slightly discounted and you can triple your money!
Here's a helpful look at how Boom's payout ratios compare to PrizePicks:
| | | Boom Favorites | Boom Toss-Ups | Boom Longshots |
| --- | --- | --- | --- | --- |
| 2 Picks | 3x | 1.3x | 3x | 10x |
| 3 Picks | 5x | 1.8x | 6x | 40x |
| 4 Picks | 10x | 2.2x | 10x | N/A |
| 5 Picks | N/A | 3x | 20x | N/A |
You'll notice that Boom's "Toss-Ups" category has the same payout structure as Underdog's. That's better than PrizePicks' system both in the 3 picks level and the 5 picks level. At 3 picks, you can earn 6x your entry fee, whereas PrizePicks only pays out at a 5x rate. Meanwhile, PrizePicks only allows a maximum of 4 picks per entry. Boom allows 5 when it comes to "Favorites" and "Toss-Ups."
As mentioned above, we here at Saturday Down South love the "Longshots" option on Boom. Playing for 40x your entry fee is exhilarating and unique among DFS apps. Making 3 correct picks seems so simple on the surface, yet we can count on one hand the number of times we've actually done it.
Still, that won't stop us from trying! Putting $2 down a night to try to win $80 is not a bad play, in our minds!
Boom vs. PrizePicks: Deposits and Withdrawals
Boom Fantasy allows users to deposit money into their accounts in a variety of ways — debit/credit cards (Visa, MasterCard and Discover) and PayPal. You can withdraw your winnings via PayPal transfer or a direct deposit into your bank account.
PrizePicks is more limited in ways you can deposit. We had to use Visa or Discover cards to make a deposit. Withdrawals can be made via PayPal or via a direct deposit to your bank account. Both sites are safe and secure and you should feel good about your information being in safe hands.
Both apps make withdrawals quick and painless. Mine have always been within a day of my request, which makes it convenient to keep playing!
We do not target any individuals under the age of 21. We support responsible gambling. If you feel like you're losing control over your gambling experience, call 1-800-GAMBLER (NJ, PA, WV), 1-800-9-WITH-IT (IN), 1-800-BETS-OFF (IA), 1-888- 532-3500(Virginia) 1-800-522-4700 (NV, TN), 1-800-522-4700 (CO, TN), 1-855-2CALLGA (IL), 1-800-270-7117 (MI).
About Saturday Down South | Ethics and Editorial Standards | Privacy Policy | Terms and Conditions | Do Not Sell My Personal Information