Thrive Fantasy Promo Code: May 2023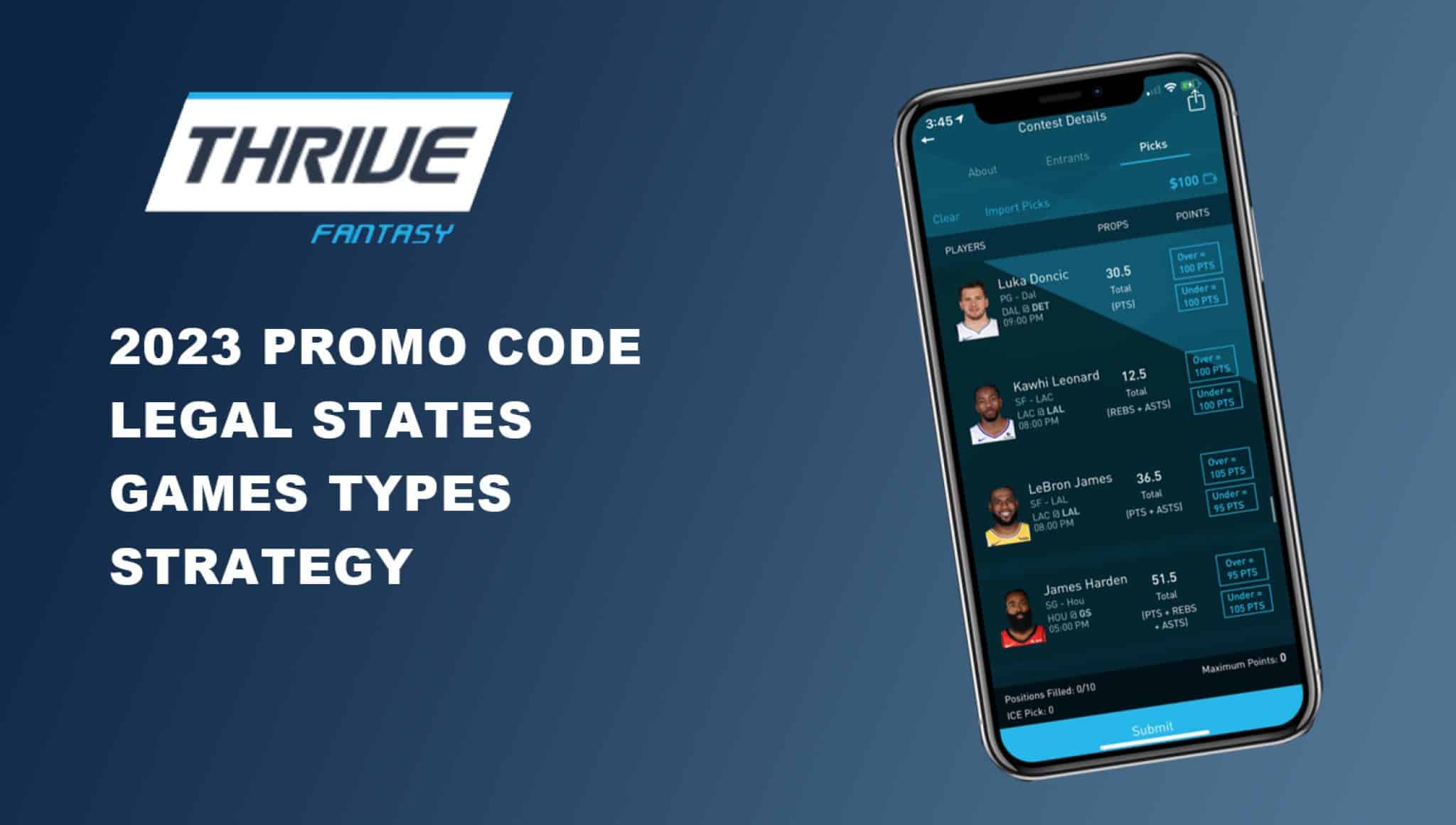 Thrive Fantasy Promo Code (Week of May 22, 2023)
The sports calendar is never boring, but now is an especially interesting time to be a fan. The NBA and NHL playoffs are getting down to the wire. The MLB season is more than a month in and the best teams are starting to separate from the rest of the pack. Meanwhile, PGA golf is chugging right along, having just crowned Brooks Koepka as a PGA Championship winner for the third time.
And, before we know it, it'll be time to get ready for the college football and NFL seasons! Sports fans who want to get in on the action can do so via daily fantasy sports (DFS). One of the best places to do that is over at Thrive Fantasy, where you can win real money on prop drafts and daily prop contests.
Whether you enjoy picking "more" or "less" for player props or enjoy competing against other users in draft-style prop contests, Thrive Fantasy is the place to be!
Create your account today and start competing in some of the best DFS contests out there in the daily fantasy space! Use our promo code SDSXL when you click this link to get a Thrive Fantasy bonus code that will match your initial deposit up to $250.
Thrive Fantasy Overview
Thrive is a daily fantasy sports platform where users can play a couple of different styles of prop contests. You can play against other users in a prop draft format or simply compete to win real money via house prop contests.
While Thrive Fantasy does not yet have college sports offerings, players can compete in contests involving NFL, NBA, MLB, NHL, PGA, cricket and Esports matchups.
On this page, we'll go through some keys to DFS today, the states where you can play Thrive Fantasy contests (33 U.S. states are currently available!) and look at a Thrive Fantasy promo code you can use to maximize the value when you sign up and start playing. It's one of the best welcome bonuses in the DFS space, too! This Thrive promo code is worth $250 of value, so you'll want to follow along carefully to what comes next.
Thrive Fantasy is a daily fantasy sports (DFS) platform with a mobile app available to make playing convenient.
While you can play with real money and win, daily fantasy sports (DFS) are not considered sports betting.
Thrive Fantasy is available in 33 states. The app is available in AK, AR, CA, CO, CT, FL, GA, IL, KS, KY, ME, MD, MA, MI, MN, NE, NH, NJ, NM, NY, NC, ND, OH, OK, OR, RI, SC, SD, TX, UT, WV, WI, and WY.
Thrive Fantasy is a legal and regulated, fun way to have money at stake in many sports markets where traditional sports betting is not currently legal.
Thrive Fantasy Promo Code: SDSXL
Our Thrive Fantasy promo code is one of the best you'll find! While many other DFS apps will only match your first-time deposit up to $100, Thrive Fantasy is giving you a full deposit match of up to $250 when you use promo code SDSXL.
Here's a helpful table of useful information to know before you sign up:
| | |
| --- | --- |
| Thrive Fantasy Promo Code | SDSXL |
| Thrive Fantasy Sign-Up Link | Click here |
| Thrive Fantasy Offer | Deposit Match up to $250 |
| Where is Thrive Fantasy Legal? | Alaska, Arkansas, California, Colorado, Connecticut, Florida, Georgia, Illinois, Kansas, Kentucky, Maine, Maryland, Massachusetts (21 minimum age), Michigan, Minnesota, Nebraska (19 minimum age), New Hampshire, New Jersey, New Mexico, New York, North Carolina, North Dakota, Ohio, Oklahoma, Oregon, Rhode Island, South Carolina, South Dakota, Texas, Utah, West Virginia, Wisconsin, and Wyoming. |
| Deposit Methods | PayPal, Credit Card (Visa, MasterCard, American Express, Discover) |
| | |
How to get started on Thrive:
Click here to sign up at Thrive Fantasy – that link will automatically apply the fantastic SDSXL promo code to your account.
Make your first deposit and take advantage of a 100% deposit match that will immediately give you up to $250 as a welcome bonus.
Download the Thrive Fantasy app to your mobile device, log in, and start playing daily fantasy contests.
Thrive Fantasy: Is It Legit?
While Thrive might not have the massive presence other DFS platforms like DraftKings and FanDuel have, it is absolutely legitimate. Users who sign up for the app should rest easy knowing their money is in good hands with a real business.
Thrive Fantasy was founded on Jan. 1, 2016, and is headquartered in New York. Its legal name is Props2Fantasy.com, Inc. The company was founded by Adam Weinstein and counts several venture capital firms among its investor group.
According to CrunchBase, Thrive Fantasy has raised $7.6 million in 4 rounds of funding — 3 seed rounds and a Series B fundraising round. Among the venture capital firms to invest in Thrive are Gaingels, Bullpen Capital and Andover Ventures.
The latest funding came from the Series B fundraising round, which took place on Nov. 2, 2022. That Series B fundraising round raised nearly $4 million for the company.
So is the Thrive Fantasy company legit? You can rest assured that it is!
Now let's discuss our own experience using Thrive Fantasy here at SDS.
The Thrive Fantasy app can be a little clunky at times. Visually, it is pretty rudimentary and it can be difficult to navigate from time to time.
Also, we'd love to see college sports offerings on Thrive (call us biased, but college football is our bread and butter, after all). But there's plenty to love about the Thrive app as well, so let's dive into some of the things we like in the next section.
Why We Love Thrive Fantasy at SDS
Let's start with the biggest reason — Thrive Fantasy has some of the biggest multipliers you'll find in the DFS world! While a 2-leg contest on some other DFS apps might only have a 3x multiplier, meaning you'd win $9 on a $3 contest, Thrive gives you a boost. A 2-leg contest entry worth $3 pays out $9.60 on Thrive Fantasy!
While it may not have college sports (yet), Thrive does allow players to enter contests featuring all of the major U.S. professional sports leagues — NFL, NBA, MLB and NHL. PGA Majors are always exciting when they come around on the sports calendar, so it's nice that Thrive offers contests and props on golf, too.
Whether you want to enter a $2 contest or a $200 contest, Thrive has plenty of options out there for you. Now that we've discussed all of that, let's dive into exactly what sort of contests you can expect to find on Thrive Fantasy, complete with helpful examples!
Games and Contests You Can Play on Thrive Fantasy
Thrive operates a bit differently than other DFS apps, particularly when it comes to the daily contests. Instead of drafting individual players and having them compete for stats that help your team rise up the leaderboard, you instead compete against other Thrive users by picking a series of props and trying to win as many as possible.
Traditional Contests
These are similar to daily drafts you'd find on other DFS apps, but with one important distinction. As you can see below via a Lakers-Nuggets NBA playoffs example, instead of picking players for your team, you pick a series of props: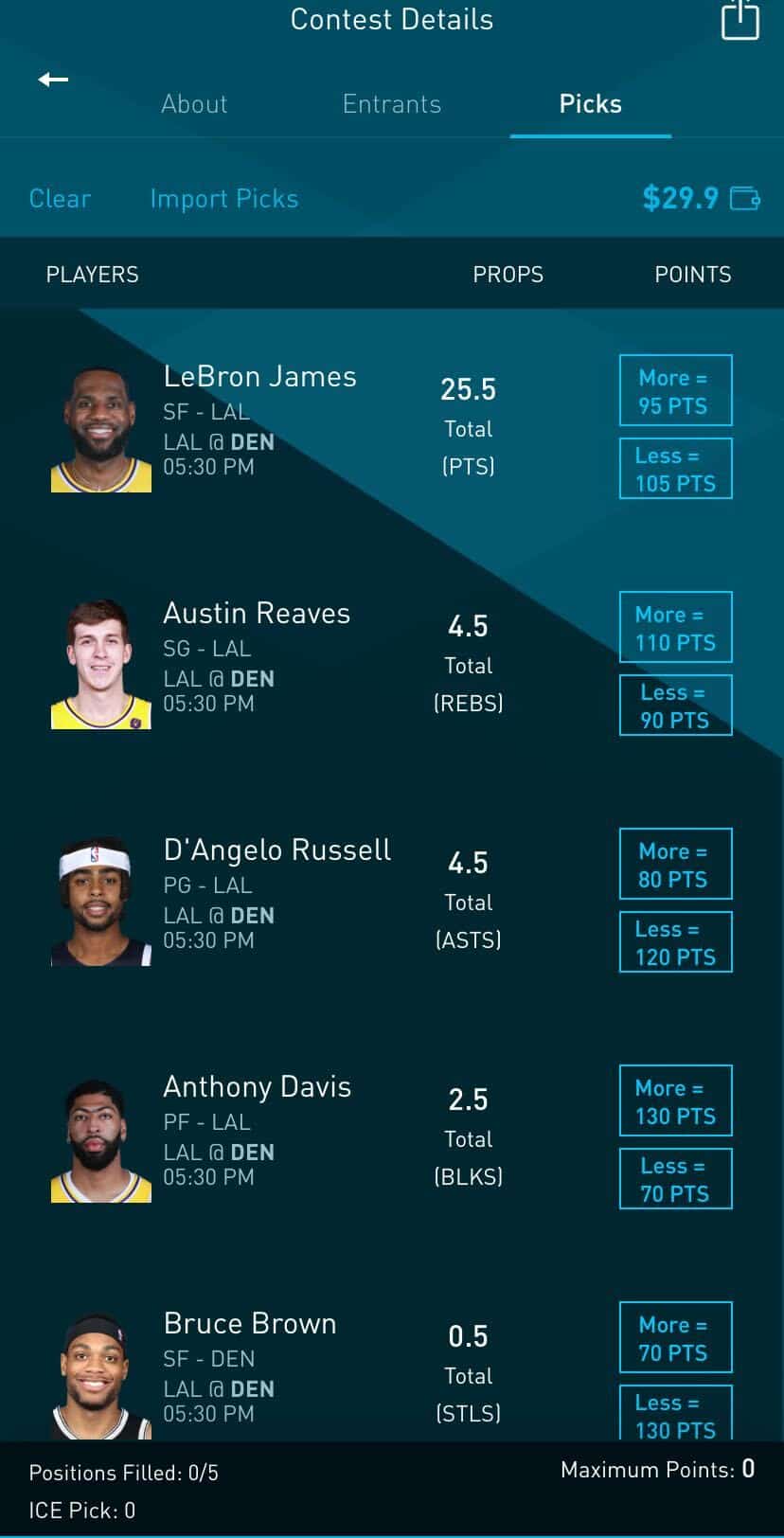 When you enter a contest like this, there are usually payouts for first and second place. Below, you can see a PGA contest in which I finished second, taking home a total of $7.50 on my $5 entry. I competed against 4 other users in this particular contest.
You can see where I ranked, how many points I earned and which props I picked that came through and which didn't: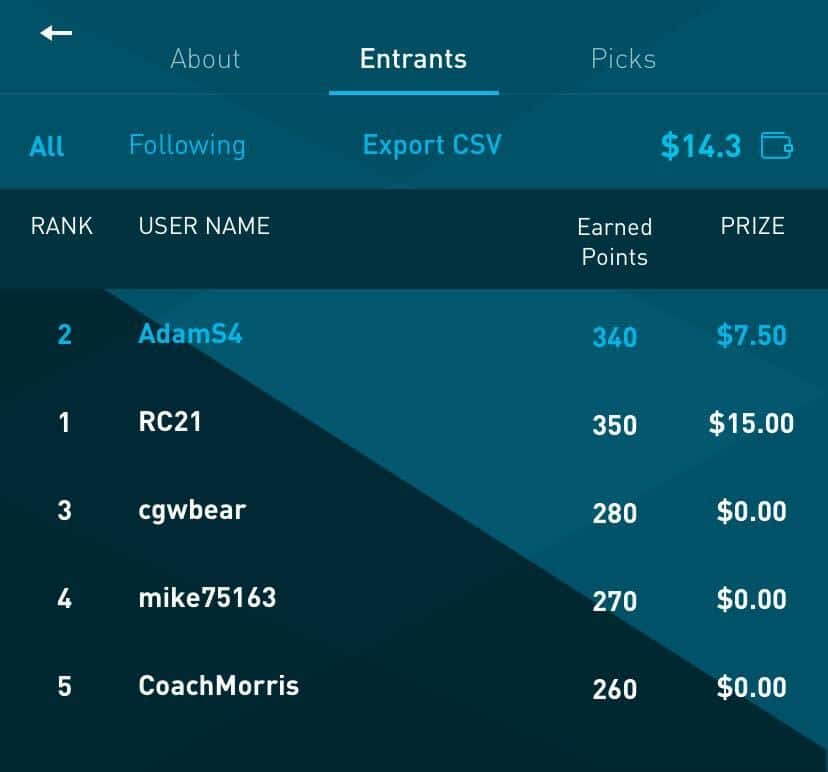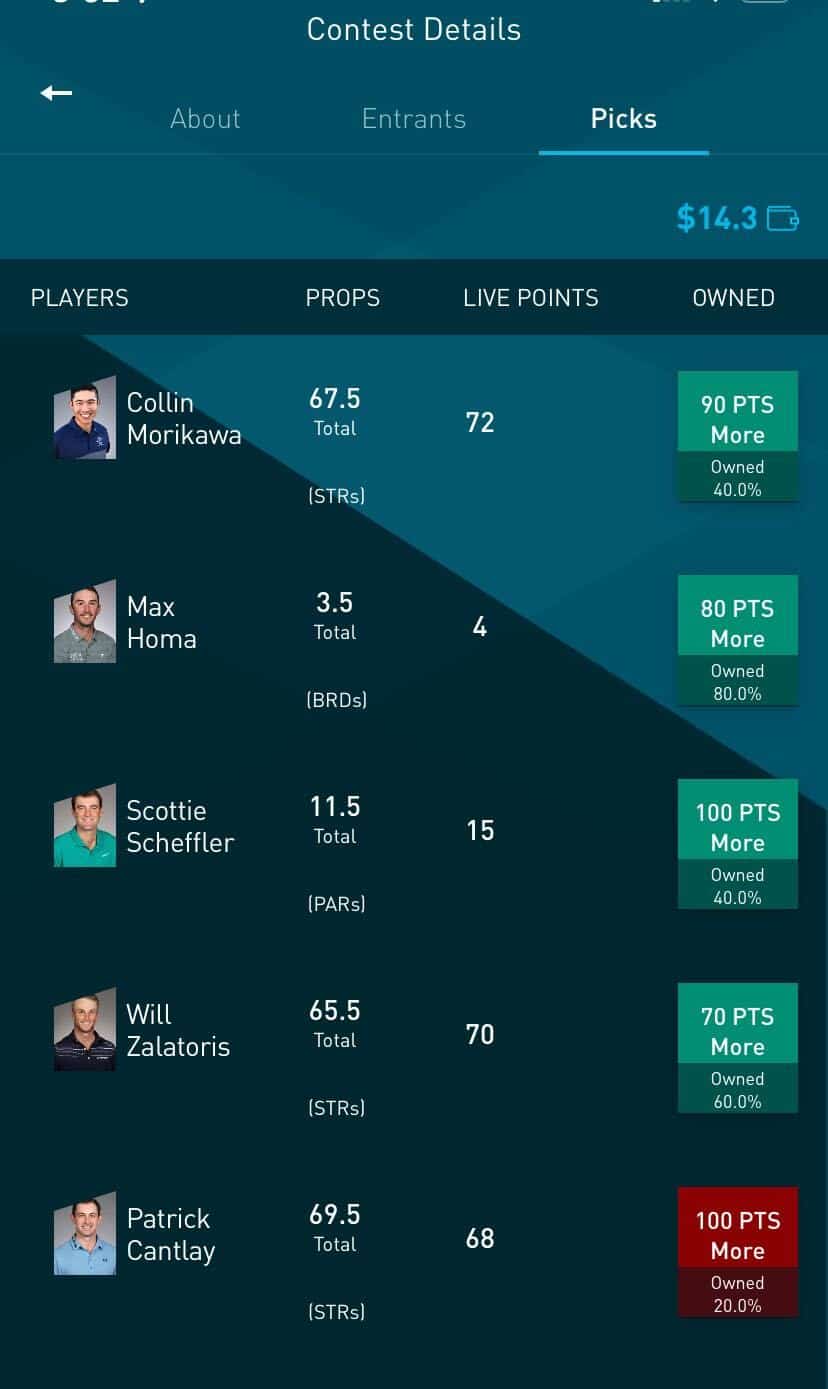 There are several options for these traditional contests. You can enter a "Heads Up" contest where it's you against 1 other player. Some contests feature 115 entries or more. Others are smaller, with 55 players. Others, like the one I finished in second place in above, have 5 users.
Many of these contests limit the number of entries you can have in them. Most put the cap at 2 or 3. Obviously, with "Heads Up" contests, you can only enter once.
So no matter what size of competition you're comfortable with, you'll find options galore on Thrive!
House Prop Contests
These are your more traditional over/under DFS prop contests. A line is set (for example, LeBron James more/less than 25.5 points in the contest above). Instead of competing against other users, though, you try to win money by correctly predicting 2 or more lines.
Here's a look at a couple of props contests I entered on a Monday night when there was regular-season baseball and playoff hockey on the menu: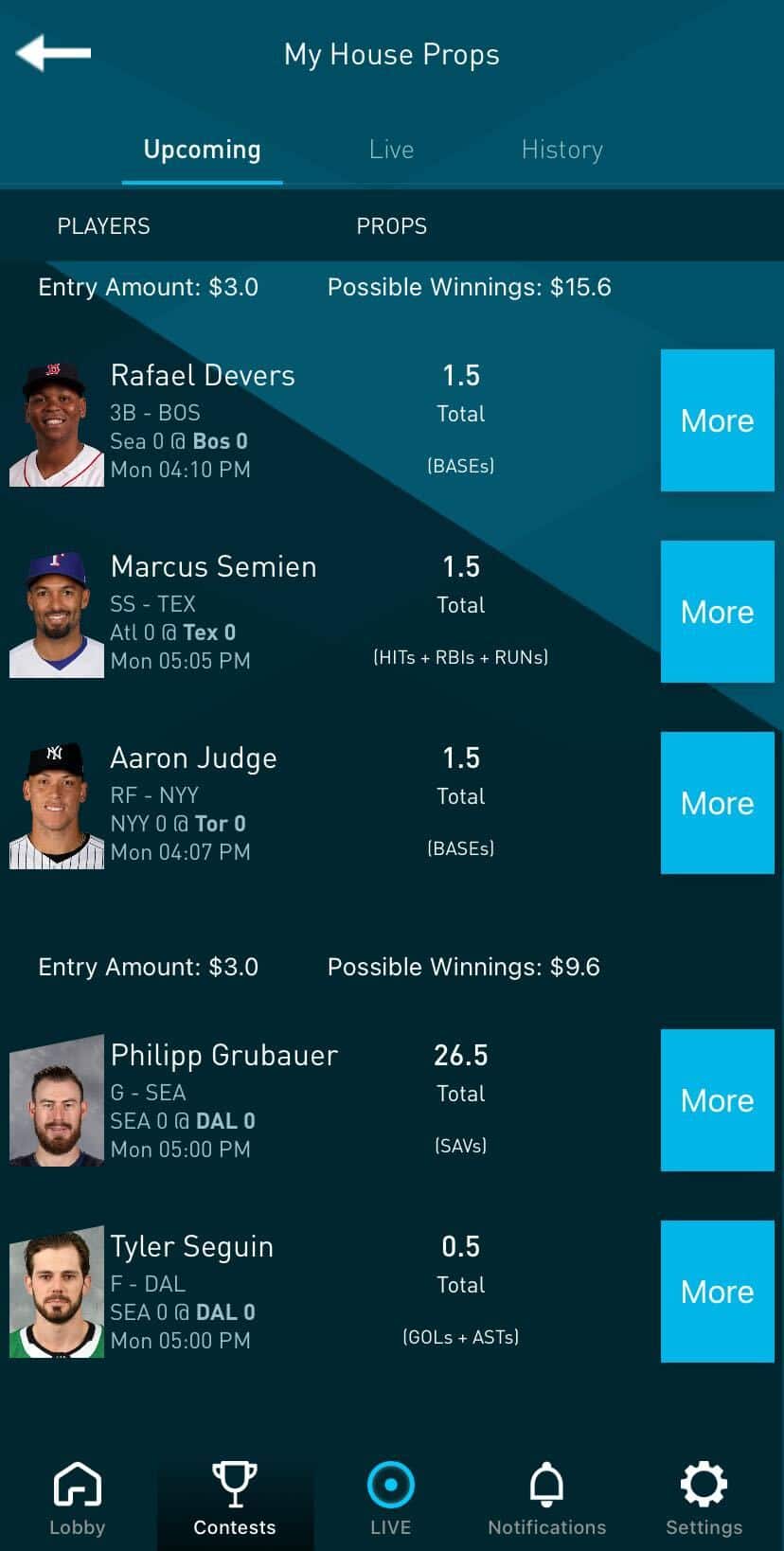 I enjoy NBA contests. You can see a contest I won below, picking Marcus Smart of the Boston Celtics to have more than 20.5 points+rebounds+assists against the Indiana Pacers. He finished with 23. I also predicted Indiana's Tyrese Haliburton to have more than 31.5 points+rebounds+assists. He finished with 37, earning me winnings of $16 on a $5 entry: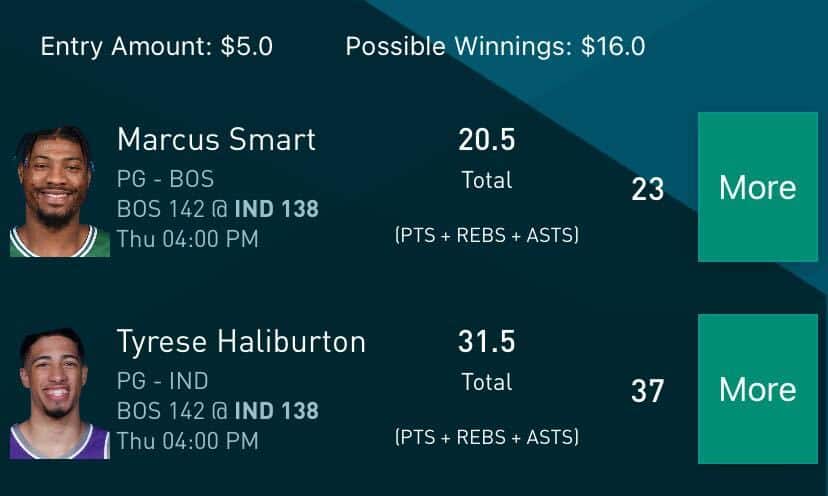 But be careful! Those who set the lines certainly know what they're doing, after all!
This contest came agonizingly close to winning, with Shai Gilgeous-Alexander missing his "more" total by 1 measly point or rebound or assist: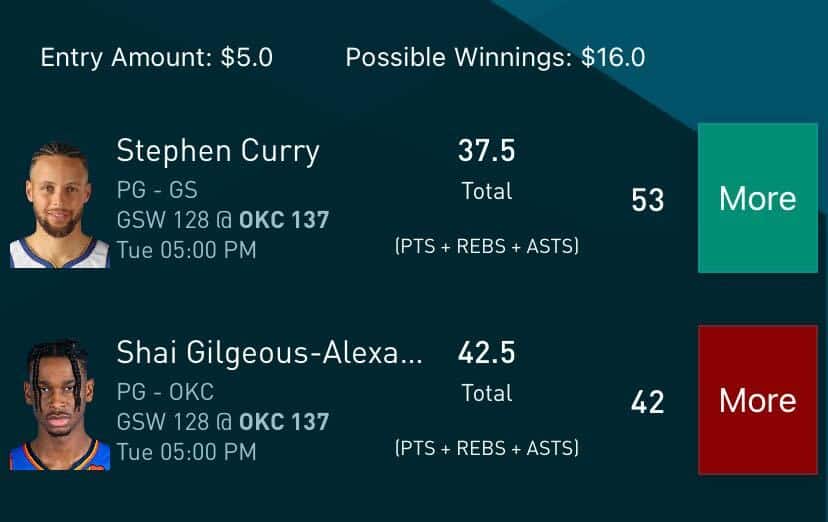 At least Steph Curry did his part! Still, you don't win if you only come close to being right, so that $5 entry was for naught.
You can string together more than 2 picks, too. For a Monday night slate of baseball games, I won $15.60 on a $3 entry for correctly picking 3 props. I had Rafael Devers of the Boston Red Sox and Aaron Judge of the New York Yankees each compiling more than 1.5 total bases. I also had Marcus Semien of the Texas Rangers finishing his game with more than 1.5 hits+RBI+runs: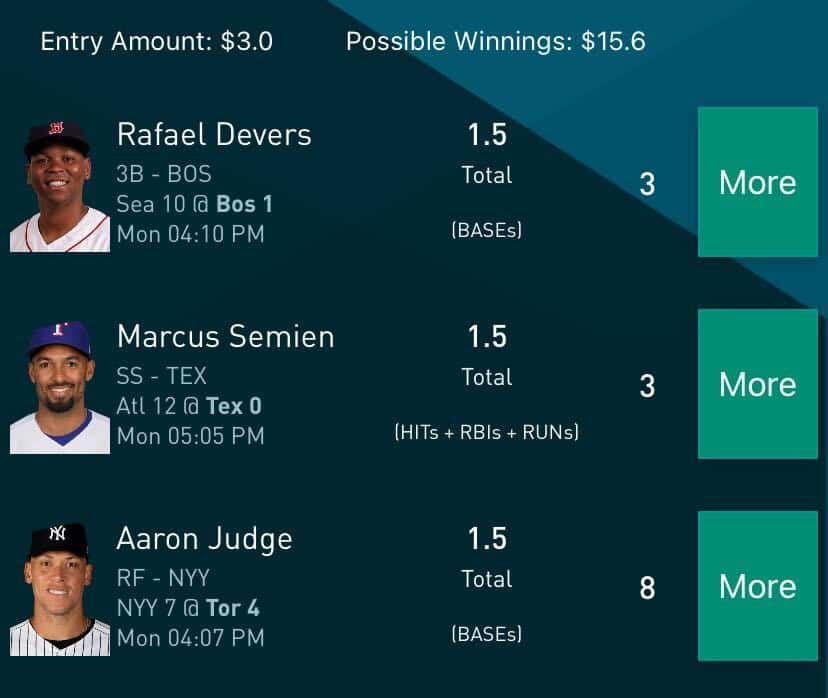 Picking the right props can be challenging, but seeing your picks light up green is a great feeling! You can get even more creative with your picks and try to increase your multiplier with 4- or 5-prop contests.
No matter what you enjoy, you'll find a contest to play on Thrive Fantasy! So how do you get money into your account? And what do you do when you win?
Thrive Fantasy Deposits and Withdrawals
Depositing money into your Thrive Fantasy account is simple and easy. You can use PayPal or several big-name credit cards, such as Visa, MasterCard, American Express and Discover.
But the more important part is withdrawing your potential winnings! When you're ready to withdraw funds, you can do so via your PayPal account. Your money should be available within a couple of days after you initiate the transfer process.
If you have any questions or concerns throughout the deposit or withdrawal process, you can always reach out to Thrive's helpful customer service team via email at admin@thrivefantasy.com or by calling toll free at 800-260-1935.
Where is Thrive Fantasy Legal?
Thrive Fantasy DFS contests are legal in most U.S. states. Currently, it is legal in 33 states. That means there are only 17 states where Thrive is not currently available.
The states where you can sign up for Thrive and play are: Alaska, Arkansas, California, Colorado, Connecticut, Florida, Georgia, Illinois, Kansas, Kentucky, Maine, Maryland, Massachusetts (21 minimum age), Michigan, Minnesota, Nebraska (19 minimum age), New Hampshire, New Jersey, New Mexico, New York, North Carolina, North Dakota, Ohio, Oklahoma, Oregon, Rhode Island, South Carolina, South Dakota, Texas, Utah, West Virginia, Wisconsin, and Wyoming.
The states where Thrive cannot currently be accessed are: Alabama, Arizona, Delaware, Hawaii, Idaho, Indiana, Iowa, Louisiana, Mississippi, Missouri, Montana, Nevada, Pennsylvania, Tennessee, Vermont, Virginia and Washington.
If you're located in the first group of states, you're in luck! You can download Thrive Fantasy and get started on your first contest today!
You must be at least 18 years old in order to participate in Thrive Fantasy contests, with a couple of exceptions. As noted in the list above, you must be 19 to play in Nebraska and 21 years of age to participate in Massachusetts.
Thrive Fantasy: Creating Your Account
Creating an account on Thrive Fantasy is very simple. First, either download the Thrive Fantasy app in the Apple ioS App Store on Apple phones or the Google Play Store on Android devices. You can also visit ThriveFantasy.com by clicking here and activating our Thrive Fantasy Promo Code. That code again is SDSXL.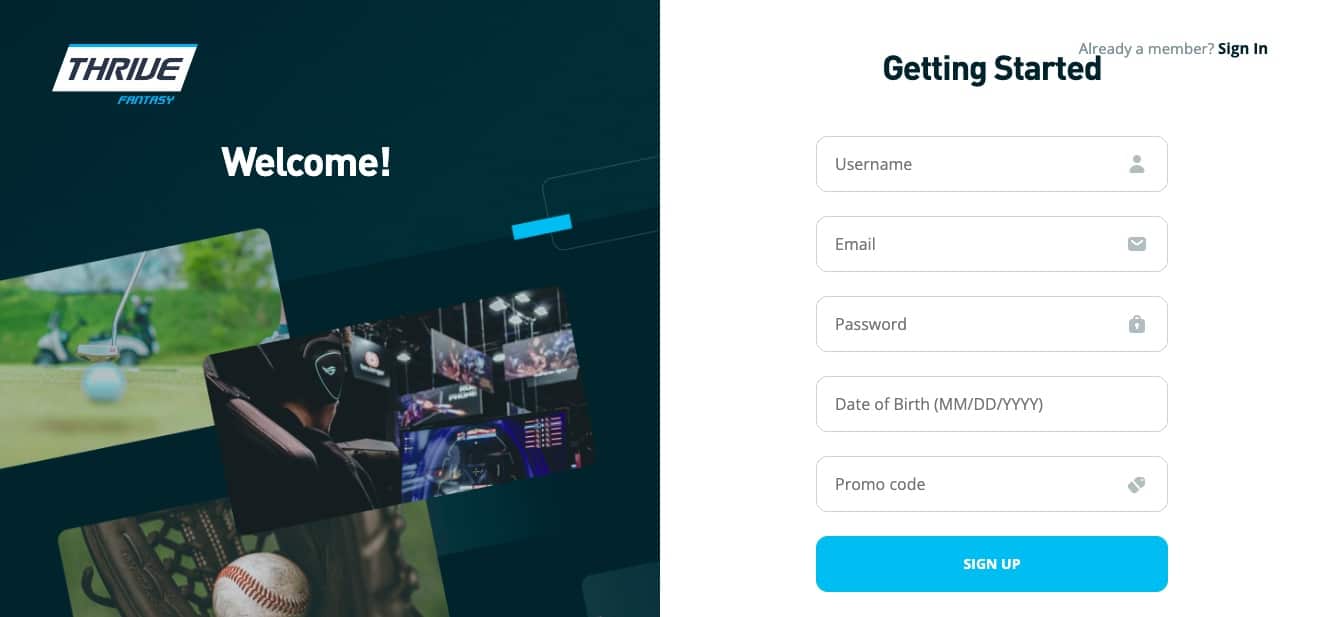 You'll need to create a unique username. You'll also have to enter your email address, create a password and provide your date of birth. There's also a box for you to enter promo code SDSXL in order to activate a bonus of up to $250 as a deposit match.
In order to start entering contests, you'll need to confirm your age and also verify that you're located in a state where DFS contests through Thrive Fantasy are legal. Once you do that, you'll be taken to a page where you can see all the available contests.
Then, it's as simple as picking your first props and entering your first contest!
Make sure to use Thrive Fantasy promo code SDSXL to lock in your great deposit match bonus!
We do not target any individuals under the age of 21. We support responsible gambling. If you feel like you're losing control over your gambling experience, call 1-800-GAMBLER (NJ, PA, WV), 1-800-9-WITH-IT (IN), 1-800-BETS-OFF (IA), 1-888- 532-3500(Virginia) 1-800-522-4700 (NV, TN), 1-800-522-4700 (CO, TN), 1-855-2CALLGA (IL), 1-800-270-7117 (MI).
About Saturday Down South | Ethics and Editorial Standards | Privacy Policy | Terms and Conditions | Do Not Sell My Personal Information