NBA DFS: Average draft position, best contests available and more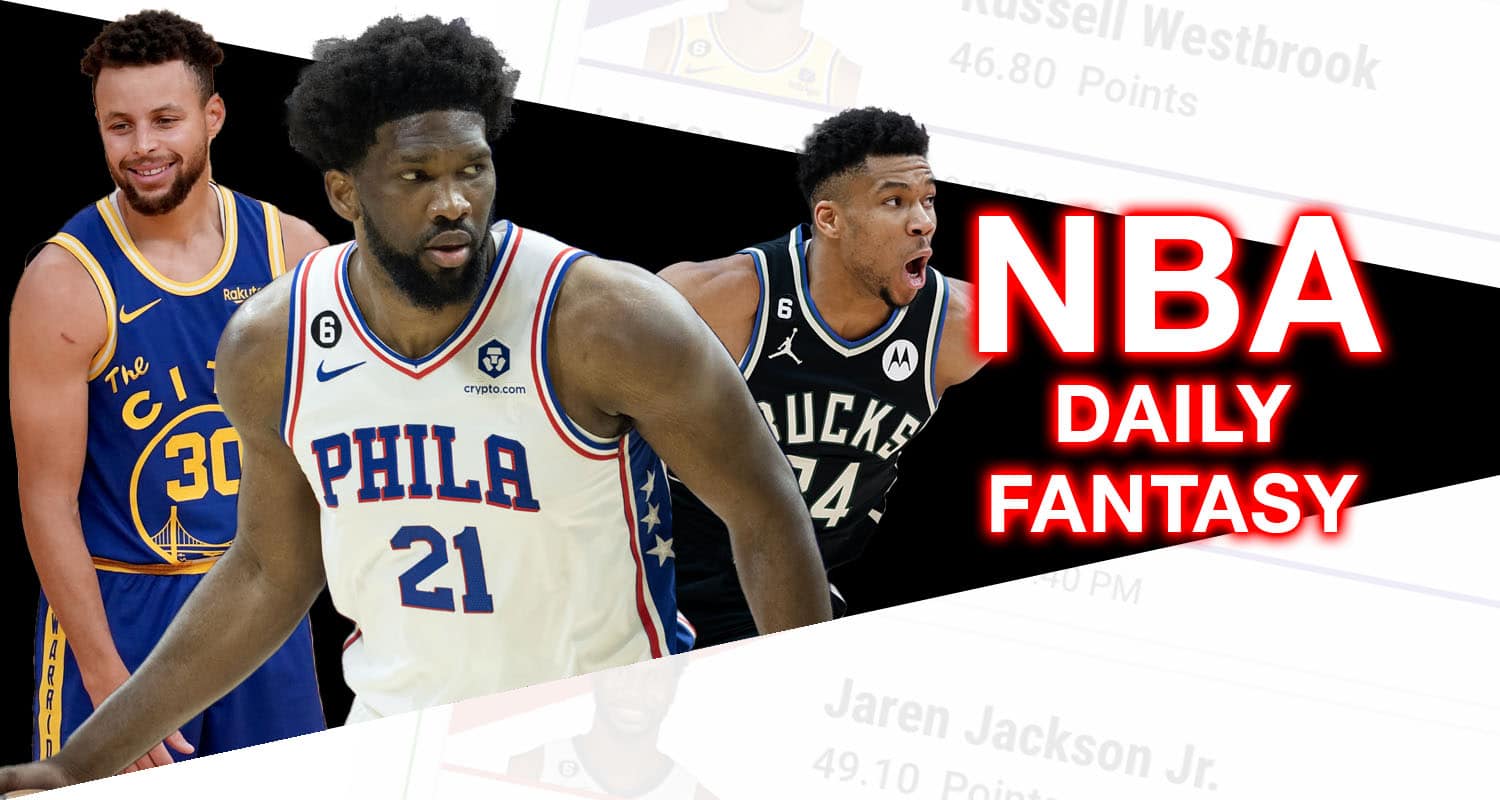 NBA DFS Contests Overview
Daily Fantasy Sports (DFS) are gaining popularity day by day. You've probably heard of sites such as Underdog Fantasy, Thrive or other mediums where you can take part in fun, easy to understand and potentially profitable fantasy games every single day. And perhaps no American professional sports league fits this model quite like playing NBA DFS does.
Want to get in on the fun? This article will serve as a primer for a few DFS sites (Underdog Fantasy and Thrive, to be specific), ways to play, how to win and more to introduce you to the world of DFS.
After a long regular season, NBA action is starting to really heat up. Playoff basketball is inching ever closer, so check out the links below to join in on the fun!
NBA DFS Average Draft Position (ADP): Week of March 20, 2023
DFS users are constantly looking for insights and data around average draft position (ADP) of NBA players to inform their draft strategy. When building your NBA DFS lineup, the top/first round choices are, in many ways, obvious. But landing value in subsequent picks and rounds can be the difference between finishing in the money and out of the money. Analyzing average draft position can help inform your approach by giving insights into where certain players are typically picked.
Check out the average draft positions (ADP) for Underdog NBA DFS contests below:
| PLAYER | TEAM | ADP |
| --- | --- | --- |
| Nikola Jokic | DEN | 1.2 |
| Giannis Antetokounmpo | MIL | 1.9 |
| Luka Doncic | DAL | 3.0 |
| Joel Embiid | PHI | 4.3 |
| Jayson Tatum | BOS | 5.2 |
| Kevin Durant | PHO | 6.4 |
| James Harden | PHI | 7.6 |
| Ja Morant | MEM | 8.0 |
| Karl-Anthony Towns | MIN | 9.5 |
| LeBron James | LAL | 10.1 |
| Trae Young | ATL | 11.1 |
| Steph Curry | GSW | 12.1 |
| LaMelo Ball | CHA | 13.7 |
| Damian Lillard | POR | 14.8 |
| Tyrese Haliburton | IND | 15.9 |
| Zion Williamson | NOP | 16.5 |
| Anthony Edwards | MIN | 18.0 |
| Devin Booker | PHO | 18.2 |
| Anthony Davis | LAL | 18.6 |
| Pascal Siakam | TOR | 20.5 |
| DeMar DeRozan | CHI | 20.9 |
| Domantas Sabonis | SAC | 21.0 |
| Dejounte Murray | ATL | 22.9 |
| Kawhi Leonard | LAC | 24.1 |
| Jaylen Brown | BOS | 25.4 |
Why We Love NBA DFS
Live in a state where sports betting is illegal? Tired of hearing your friends in other states talk shop while you sit idle? Just trying to switch things up? No matter what the reason, DFS can be an accommodating alternative to sports betting, a fun way to dip your toes into the world of fantasy and, of course, a way to win legitimate money by using your knowledge of the game in Daily Fantasy Drafts, Pick 'em contests, best-ball contests and more.
And the NBA seems to have been almost made for DFS fun. From October to June there is NBA action on TV every night, there are plenty of stars to choose from, but enough that you can demonstrate a legitimate knowledge of the game as well.
Perhaps unfortunately, I've been a Utah Jazz fan my whole life. The Jazz find cruel and unusual ways to dishearten their fanbase, but that doesn't mean I didn't have fun while watching them each night. Anyone who follows the NBA knows the Jazz recently went through a complete roster overhaul, selling Donovan Mitchell, Rudy Gobert, Bojan Bogdanovic and Mike Conley in the past year to add future picks, Lauri Markkanen, potential DROY Walker Kessler and more. Truth be told, I didn't know much about any of them before they came to Salt Lake City, but playing DFS every night has me locked into one of the more interesting young corps in the league.
You can follow your favorite players in higher/lower prop type contests, which can be a fan favorite for people who follow a specific team closely such as I. I've found it's hard to go wrong leaning on Markkanen recently, and Kessler has made me some money with points+assists+rebound type props, too. Heck, Donovan Mitchell over in Cleveland is setting the league on fire. I'd feel comfortable throwing a few bucks on him as well.
But it doesn't have to just be your favorite players. Ja Morant, Russell Westbrook and Jonas Valanciunas won me a daily fantasy contest in early February, all of which are on teams I do not follow. This was the same night LeBron James broke the NBA Scoring record, but Westbrook had a sneaky strong game as well that pushed my team over the edge.
Plus, seeing your outline light up green is considerably better than the red alternative. I'm fine not winning big every time!
Funny thing is, I didn't even mean to draft Wendell Carter. I meant to draft Demar DeRozan, who finished with around 35 points that night (I checked). Had I not fat-fingered the selection, I would have won even more. Cue the "sure, that's what they all say!" I've played nearly 100 rounds of daily fantasy at this point, and it's the only time I've selected the wrong player. At least I didn't lose money!
What NBA DFS looks like
Below are some screenshots from a variety of Underdog NBA DFS contests. Underdog brings a variety of contest types to the table. Everything from your typical daily fantasy contests for a slate of hoops on a weeknight, to best ball tournaments that span the entire season or the entire NBA playoffs or the pick'em contests where you can pick higher or lower for specific players and stats on a given night. Here are a few screenshots of what this looks like. We're big fans of playing NBA DFS on the Underdog platform.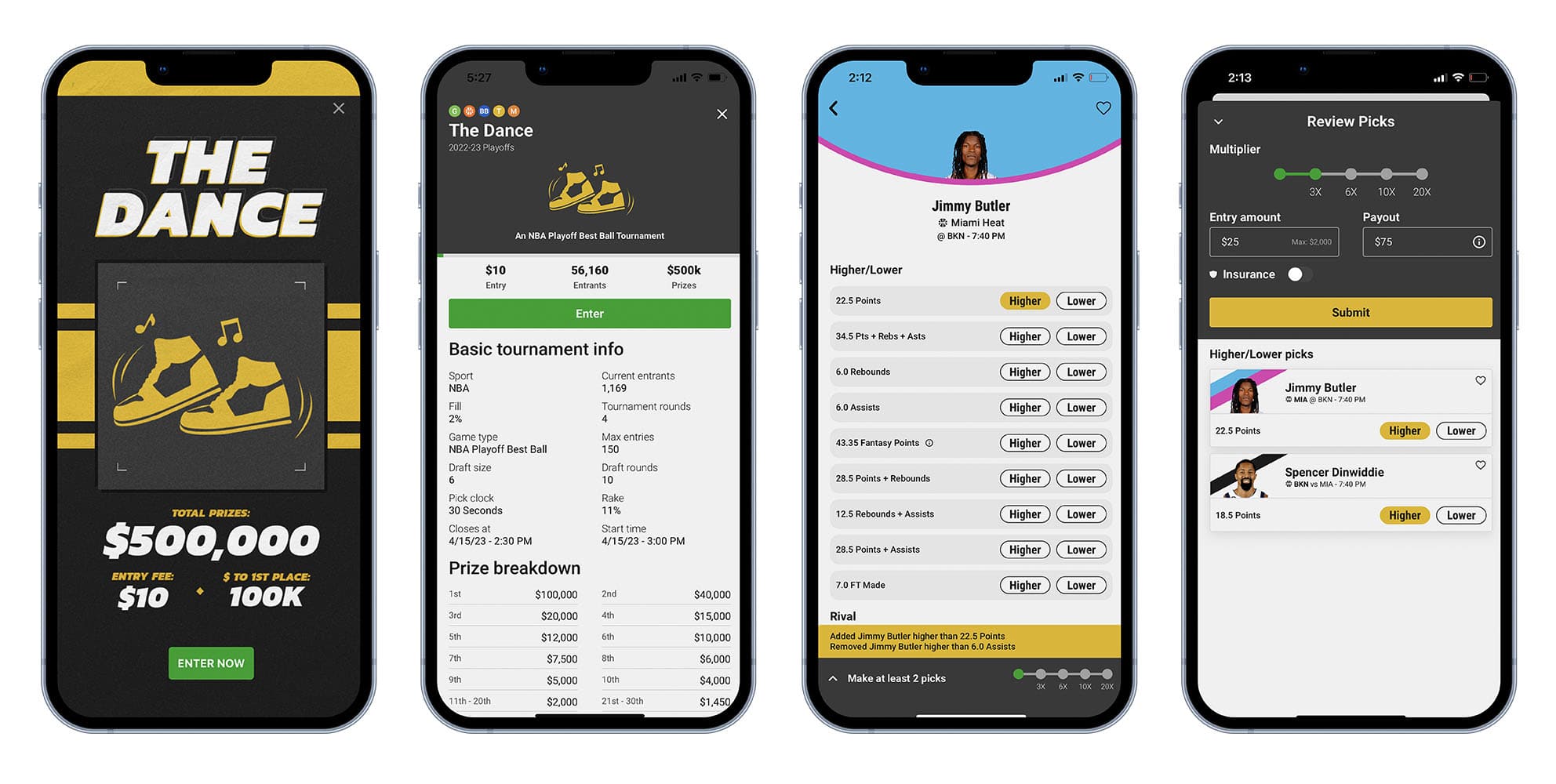 NBA DFS How to Play
There are plenty of ways to get in on the fun playing NBA DFS, both on Underdog Fantasy and Thrive Sports apps. This section will go over the different ways to play, including the options of prop-type contests (Thrive and Underdog), Daily Drafts, Best-ball contests and Rivals contests (Underdog).
Whether you're a seasoned vet in the DFS game or a beginner looking to explore the world of Daily Fantasy Sports, we're certain there's a way to play you'll enjoy. Let's dive in
NBA Prop Contests (Higher/Lower)
Anyone who has finalized a prop bet knows where this is going. It's almost the exact same concept – on DFS sites such as Underdog or Thrive you can choose between loads of player prop contests, choosing the "higher" or "lower." prompts. So for example, in the screenshot below you can see a higher/lower prompt for Anthony Edwards for Minnesota's game against Sacramento on Underdog Fantasy.
Here is a screenshot of what it looks like to build your higher and lower "slip" for a night of NBA action on Underdog: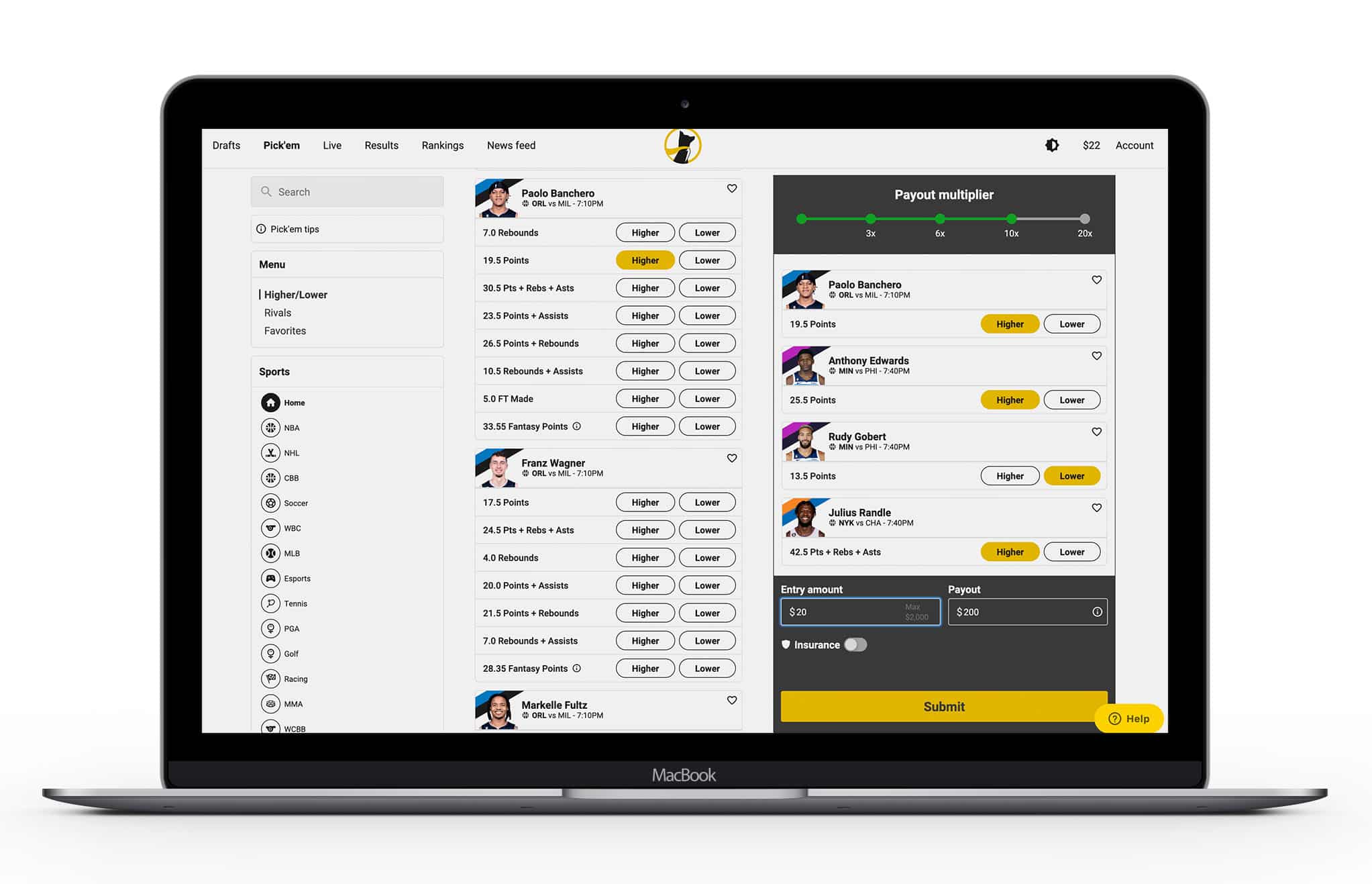 Think Edwards is good for at least 27 points in this scenario? Smash the "higher" option! Not quite sure? There are hundreds of higher/lower prompts per night, depending on that night's slate of games. We're sure you'll find at least one to your liking.
You'll notice at the bottom of the image it requires you to make at least 2 picks for an entry to be legitimate. You also would have to pick at least 1 player from a different team, so you can't team up on Rudy Gobert and Edwards in one night, for example, without adding a player from another team to the mix first.
NBA Daily Drafts
Daily Drafts are my go-to. You'll enter draft parties of around 4-6 and select a group of players as I did all the way at the top of the page in the Russell Westbrook screengrab. It's important to note that while you're drafting against just 5 other people, you'll be thrown into a pool of thousands! Usually finishing in the top 25% or so will net you winnings and the higher you place, the more money you earn!
Here is a screenshot of a daily fantasy contest for a night of NBA action on Underdog: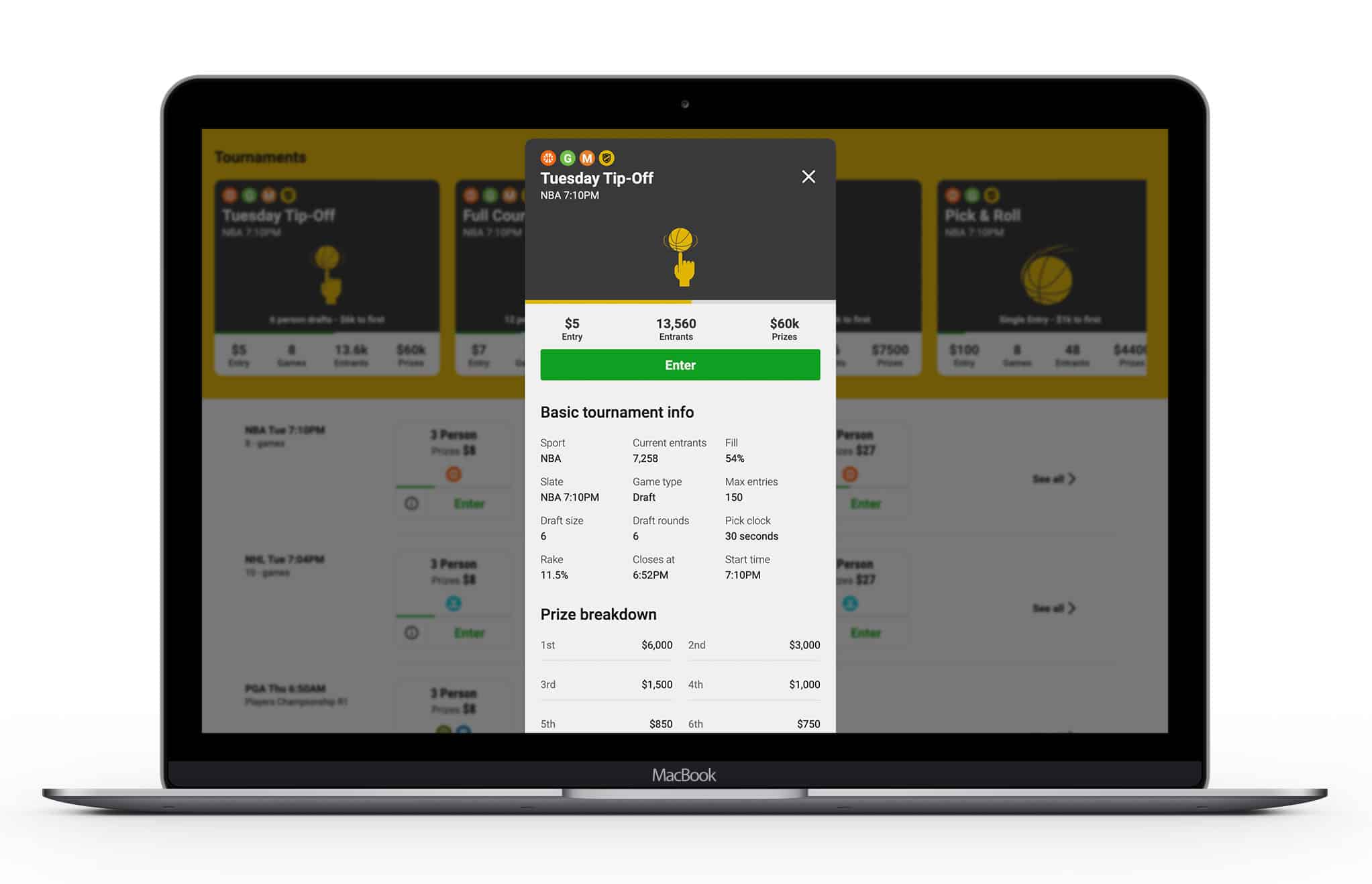 The later round are usually where you win these types of drafts. Think about it, in a pool of 10,000 participants, a little under 2,000 will have drafted LeBron James (or whichever other top player is in action that night). Because of this, the later rounds where the No. 3 option on any given team will be available, you can separate yourself from the pack by taking a bit of a risk. Of course, you can also draft safe and blend in with the rest of the pack!
Once you dip your feet in the water the strategy becomes clearer.
NBA Best-Ball Contests
Best-ball contests are for those who want more of a true fantasy type experience across the entirety of the season. You'll enter a 16-person draft, with roster spots including 6 starters: 2 guards, 2 wings, 1 big and a flex position. There are also 10 spots on the bench. It's important to note that Underdog (Thrive does not offer best ball) will automatically choose the 6 best players at that position, so you won't be setting any lineups. There's a reason it's called "Best-Ball," folks!
Here is a screenshot from Underdog for one of their NBA best ball contests: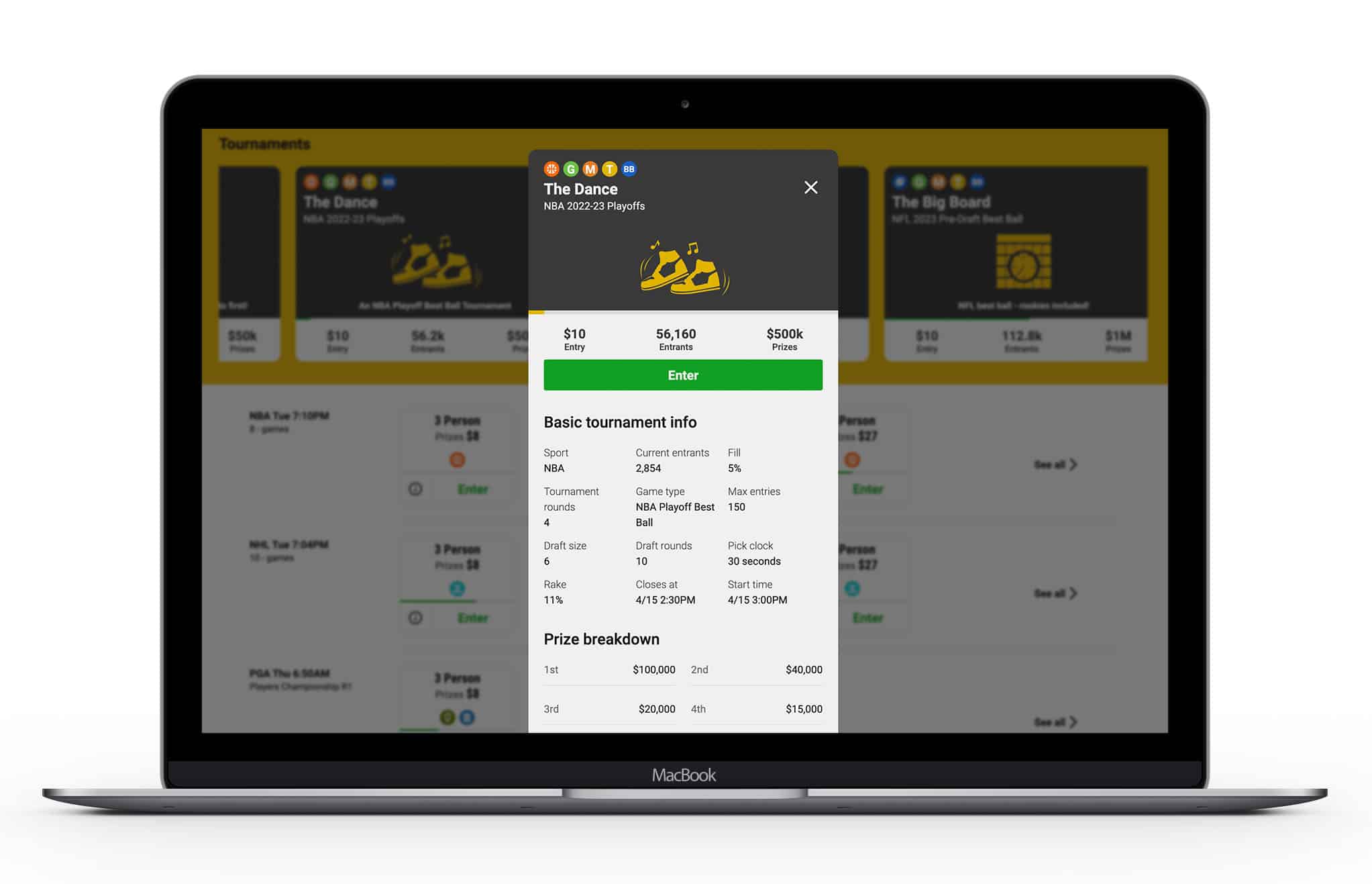 The NBA runs opening season best-ball tournaments and usually one for the NBA Playoffs as well. Keep an eye out!
NBA Rivals Contests
NBA Rivals is what it sounds like. You'll pick between 2 players pitted against each other in a night's action, such as Anthony Edwards vs. De'Aaron Fox, for example. Sometimes there are adjustments made, so pay close attention to that. Perhaps if you're picking between Edwards vs. Fox in total points, you'll have to predict whether Edwards will score 4 more points than Fox in order to win.
From there, it's essentially a test for you to pick who will score more points, grab more rebounds, etc. It's a great way to pit your favorite (or least-favorite) players against one another with real money on the line!
NBA DFS Strategy
Strategy is everything with DFS, especially in the NBA. it's important to understand how scoring works, especially for Underdog daily fantasy drafts. For example, each point scored is worth 1 point. Simple enough. However, each rebound is 1.2 points and each assist is 1.5 points. Steals and blocks are worth 3 points each. So a guy like Russell Westbrook who can fill up the stat sheet all over the place may be a better play in some instances than a pure scorer.
Pay attention to injuries, too. Make sure you're aware if a player is dealing with a slight injury, and also make sure to strategize based on your opponent. As an example, for Thrive prop contests you may want to study who your prop is playing. Are they a good defensive team, do they give up a lot of 3s, are they bad on the boards? How have they guarded players like "X" in the past?
It seems silly, but every point counts for both Thrive and Underdog, as well as any other DFS app or service you'll find out there.
Where to play NBA DFS
Because it is not considered sports betting, Daily Fantasy Sports are legal in most jurisdictions. It differs from site to site. Underdog Fantasy is legal in 41 U.S. states, all but CT, DE, HI, ID, IA, LA, MI, MT, NV, and ON (Canada). Thrive is slightly less available, but is still able to be accessed in 31 U.S. states. It is not available in AL, AZ, HI, ID, IN, IA, LA, ME, MS, MO, MT, NV, NH, NJ, NY, PA, TN, VT, VA, WA.
Some options are not allowed on some sites. For example, Underdog Fantasy does not allow pick'em (prop contests) in AZ, CO, MD, MO, NH, NJ, OH, PA, TN, WA, WV.
Underdog Fantasy Promo Code: SDS
Using our promo code "SDS" will unlock a full deposit match of up to $100 when you make your first deposit. That's a great welcome bonus! To claim your bonus money, all you need to do is sign up at Underdog and make the first deposit in your account. Underdog will match your money up to $100.
How does Underdog Fantasy work? Well, that's simple! Check out the table below to learn more about what Underdog is and what competing in NBA contests on the app entails:
Underdog Fantasy Promo Code
SDS
Underdog Fantasy Sign-Up Link
Click here
Underdog Fantasy Offer
Deposit Match up to $100
Where is Underdog Legal?
All US States Except: CT, DE, HI, ID, IA, LA, MI, MT, NV
No Pick'em: AZ, CO, MD, MO, NH, NJ, OH, PA, TN, WA, WV
No College Pick'em (but can do other sports): AZ, AR, IN, ME, MD, MA, MS, NY, VT

Confused? Here are the SEC states where you can do college pick'em: AL, FL, GA, KY, SC, TX

Deposit Methods
PayPal, Credit Card (Visa, MasterCard, American Express, Discover)
Underdog is one of the top fantasy apps around, and it is very convenient to use. There are contests every day across a variety of sports, but Underdog specifically has some of the best NBA contests of all the DFS apps.
Sign up today and get your welcome bonus before the march to the NBA Finals begins!
Thrive Promo Code: SDSXL
Thrive is another great way to get in on the NBA DFS action via prop contests and drafts. Using our promo code "SDSXL" will get you a welcome bonus matching your first deposit of up to $250. Not bad!
To claim that welcome bonus, all you have to do is sign up at Thrive and make your first deposit! Check out the helpful table below to find out where Thrive is legal in the U.S. and Canada:
| | |
| --- | --- |
| Thrive Fantasy Promo Code | SDSXL |
| Thrive Fantasy Sign-Up Link | Click here |
| Thrive Fantasy Offer | Deposit Match up to $250 |
| Where is Thrive Fantasy Legal? | Alaska, Arkansas, California, Colorado, Connecticut, Florida, Georgia, Illinois, Kansas, Kentucky, Maine, Maryland, Massachusetts (21 minimum age), Michigan, Minnesota, Nebraska (19 minimum age), New Hampshire, New Jersey, New Mexico, New York, North Carolina, North Dakota, Ohio, Oklahoma, Oregon, Rhode Island, South Carolina, South Dakota, Texas, Utah, West Virginia, Wisconsin, and Wyoming. |
| Deposit Methods | PayPal, Credit Card (Visa, MasterCard, American Express, Discover) |
| | |
Our Team
The Saturday Down South team has spent hundreds of hours analyzing and participating in the various daily fantasy apps, so that we can bring you expert advice and opinions on DFS NBA and DFS for other sports. Our DFS team is led by the following:
Adam has been on the editorial team at Saturday Down South for several years and has covered college football and fantasy sports. Adam loves playing daily fantasy involving a variety of sports including college football, college basketball, NFL, NBA, soccer and even PGA. With a long history of fantasy sports participation, Adam has recently become a major participant in daily fantasy pick'em contests. He appreciates when daily fantasy apps offer a great app experience with live scoring and accurate player cards.
Ethan Stone
Ethan joined the editorial team at Saturday Down South in 2022 and has covered college football, college basketball and fantasy sports. Ethan plays daily fantasy with a variety of sports including college football, college basketball, NFL, NBA and more. Ethan has recently become a big fan of daily fantasy best ball drafts. He appreciates when daily fantasy apps offer plenty of options and a variety of daily drafts.
We do not target any individuals under the age of 21. We support responsible gambling. If you feel like you're losing control over your gambling experience, call 1-800-GAMBLER (NJ, PA, WV), 1-800-9-WITH-IT (IN), 1-800-BETS-OFF (IA), 1-888- 532-3500(Virginia) 1-800-522-4700 (NV, TN), 1-800-522-4700 (CO, TN), 1-855-2CALLGA (IL), 1-800-270-7117 (MI).
About Saturday Down South | Ethics and Editorial Standards | Privacy Policy | Terms and Conditions | Do Not Sell My Personal Information