Sleeper Fantasy Promo Code: May 2023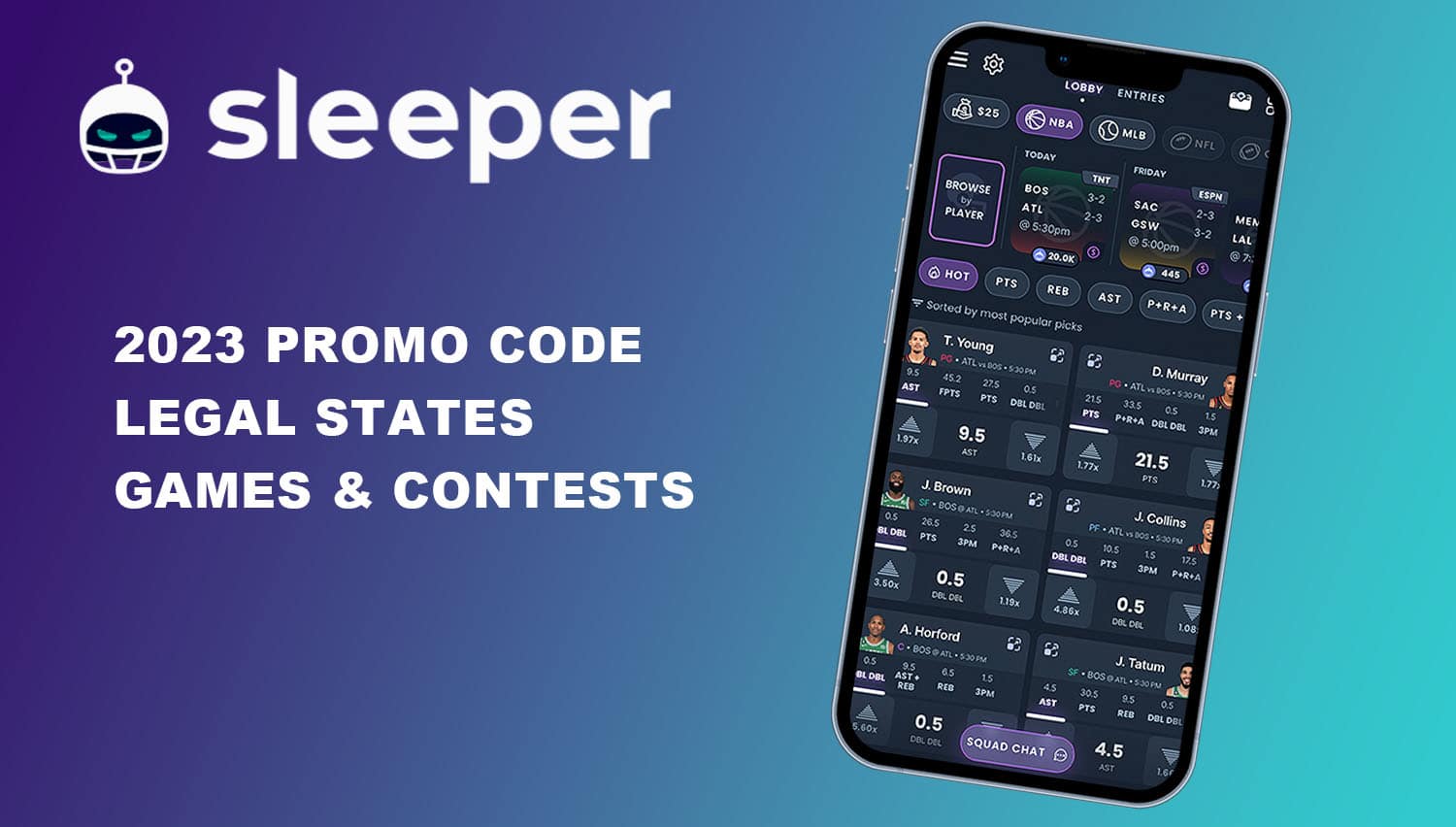 Live Sleeper Fantasy Promo Code (Week of May 22, 2023)
It's an exciting time in the world of sports. The MLB season is in full swing (pun intended), while the NHL and NBA playoffs are also drawing closer to the title round. Soon champions will be crowned both on the ice and on the court. Could the city of Miami end up hoisting 2 title trophies? Jimmy Butler is certainly having his say at the moment.
That means there are hundreds of contests available every single day on Sleeper Fantasy, where sports fans can get in on the action and win real money. Putting your money on playoff games (or even regular-season baseball games) makes every slapshot, jumper and at-bat even more intense!
Whether you enjoy pick'em contests or daily drafts, Sleeper DFS is the place to be! Daily Fantasy Sports (DFS) is getting more popular every year, and you can win big no matter what contests and what sports you like best.
NBA pick'em contests are some of the most popular offerings at Sleeper and are excellent reasons to sign up for Sleeper Fantasy's easy-to-use app. Create your account and then start entering contests and enjoying the ride alongside the Saturday Down South team. Click the link below to sign up and get a deposit match of up to $100 when you do:
Sleeper Fantasy Overview
Sleeper is a platform where you can participate in season-long fantasy sports leagues, but we're going to focus more on Sleeper's daily fantasy options on this page. Daily fantasy sports (DFS) have evolved over the years, and Sleeper is at the forefront of that change.
On this page, we'll go through what it means to play DFS today, what states and where you can play Sleeper Fantasy contests (25 U.S. states and Washington DC!) and look at a Sleeper Fantasy promo code you can use to maximize the value when you sign up and start playing. This Sleeper promo code is worth $100 of value, so you'll want to follow carefully here.
Sleeper Fantasy is a daily fantasy sports platform with an intuitive, easy-to-use mobile app available to make playing super easy.
While you can play with real money, daily fantasy sports (DFS) are not considered sports betting.
Sleeper Fantasy is available in 25 states. The app is available in AK, AR, CA, CO, FL, GA, IL, KS, KY, MA, MN, NE, NM, NC, ND, OK, OR, RI, SC, SD, TX, UT, VT, WI and WY, as well as Washington DC.
Sleeper Fantasy is a legal and regulated, fun way to have money at stake in many sports markets where traditional sports betting is not legal.
Sleeper Fantasy Promo Code: SOUTHXL
Using our exclusive promo code SOUTHXL will unlock the best sign-up offer that Sleeper has available — a full deposit match up to $100 worth of value.
All you have to do is sign up at Sleeper and make your first deposit. Sleeper will match the deposit money 100% up to $100.
Sleeper Fantasy Promo Code
SOUTHXL
Sleeper Fantasy Sign-Up Link
Click here
Sleeper Fantasy Offer
Deposit match up to $100
Where is Sleeper legal?
Sleeper picks contests are legal in 25 states: AK, AR, CA, CO, FL, GA, IL, KS, KY, MA, MN, NE, NM, NC, ND, OK, OR, RI, SC, SD, TX, UT, VT, WI and WY, as well as Washington DC.

Sleeper Daily Drafts are available in the states mentioned above, as well as Alabama, Maryland and West Virginia.

Deposit Methods
Debit or credit card, Apple Pay and instant bank transfer.
How to get started:
Click here to sign up at Sleeper Fantasy – the link will automatically apply the SOUTHXL promo code to your account.
Make your first deposit and take advantage of a 100% deposit match immediately up to $100.
Download the Sleeper app to your mobile device, log in, and start playing daily fantasy contests.
Is Sleeper Fantasy legit?
Some of the daily fantasy apps don't have the same name recognition as behemoths like DraftKings and FanDuel, so it can lead to questions about the legitimacy of the sites. Let us set the record straight.
Sleeper was founded in 2015 by Henry Leung, Ken Wang, Nan Wang and Weixi Yen. Its headquarters are located in the San Francisco Bay Area. According to CrunchBase, Sleeper (legal name Blitz Studios, Inc.) has raised $67.3 million through 2 rounds of seed funding and Series A, Series B and Series C funding rounds.
The company has received investments from venture capital firm Andreessen Horowitz and current and former NBA stars like Klay Thompson, Kevin Durant, Baron Davis and Shane Battier. Sleeper last did a funding round in September of 2021 (its Series C funding round).
So there you have the financial and business background of Sleeper. Next, let's discuss our own first-hand experience with Sleeper Fantasy.
We at SDS have been using Sleeper for a while now. It all started when a friend suggested moving a season-long fantasy football league to the Sleeper app. That's when we discovered that we could also play daily picks contests and do daily fantasy drafts. Over the last few months, we've been able to withdraw some winnings and we've deposited more money into our accounts.
While we'd love to see more sports added to Sleeper's offerings (golf, anyone?), the Sleeper Fantasy app is one of the best out there in the DFS space. It's easy to use and we really enjoy the chat function, connecting us to other users participating in over/under contests.
So, is Sleeper Fantasy legit? Absolutely, it is.
Why we love playing Sleeper Fantasy contests here at SDS
Sleeper may not have contests for the most sports, but the sports it does offer contests for are the big ones. And Sleeper goes for contest quality over quantity. Unlike some other daily fantasy sports apps, every contest is scored live on Sleeper Fantasy.
You can choose over/under contests for NFL, college football, NBA, college basketball and MLB games right now, giving fans year-round options when it comes to entering DFS drafts and contests.
You'll find options to compete for real money for every MLB, NBA and NFL game and a wide range of college sports matchups during the fall and winter. Plus, you can make picks live. So if you miss kickoff or tipoff, you can still get in on the action and pick over/under props throughout the game!
What kind of drafts and contests can you enter on Sleeper? Let's break down all that the Sleeper Fantasy app has to offer.
Games and contests you can play on Sleeper
Daily Fantasy Drafts
Daily fantasy drafts are an exciting way to make a set of games even more entertaining. Sure, you have your season-long fantasy leagues in play, but why not try to win some money on a week-to-week basis, too?
I entered a daily football draft back in Week 9 of the 2022 NFL season. It was a small entry fee, only $1. But I won the contest, earning $4 for my efforts!

All you have to do is draft your team and then you compete to beat your competitors. I came in first place among my 8-player draft pool. My team was made up of Jalen Hurts, Joe Mixon, Raheem Mostert, David Montgomery, Stefon Diggs, Terry McLaurin, Adam Thielen and Dallas Goedert. It was the week where Mixon scored 5 total touchdowns, which gave me a big boost!
You can enter daily fantasy drafts on the Sleeper app for NFL weekends at the moment. Other sports may be added in the future. In my draft, I won $4. Second place won $2 and $1 went to the third-place finisher. There are drafts you can enter with a wide range of entry fees.
There are more sports available on Sleeper picks contests, so let's dive into those now.
Sleeper Over/Under Contests
This is our favorite part of the Sleeper Fantasy app. We love playing daily over/under contests, stacking up picks to increase our potential winnings!
Where other DFS apps have a set multiplier system (2 picks is worth a 3X payout, 3 picks is a 6X payout, etc.), Sleeper Fantasy uses a dynamic multiplier system. You can see a couple of examples of that system in the screenshots below, which feature a pair of MLB contests and an NBA contest that I won: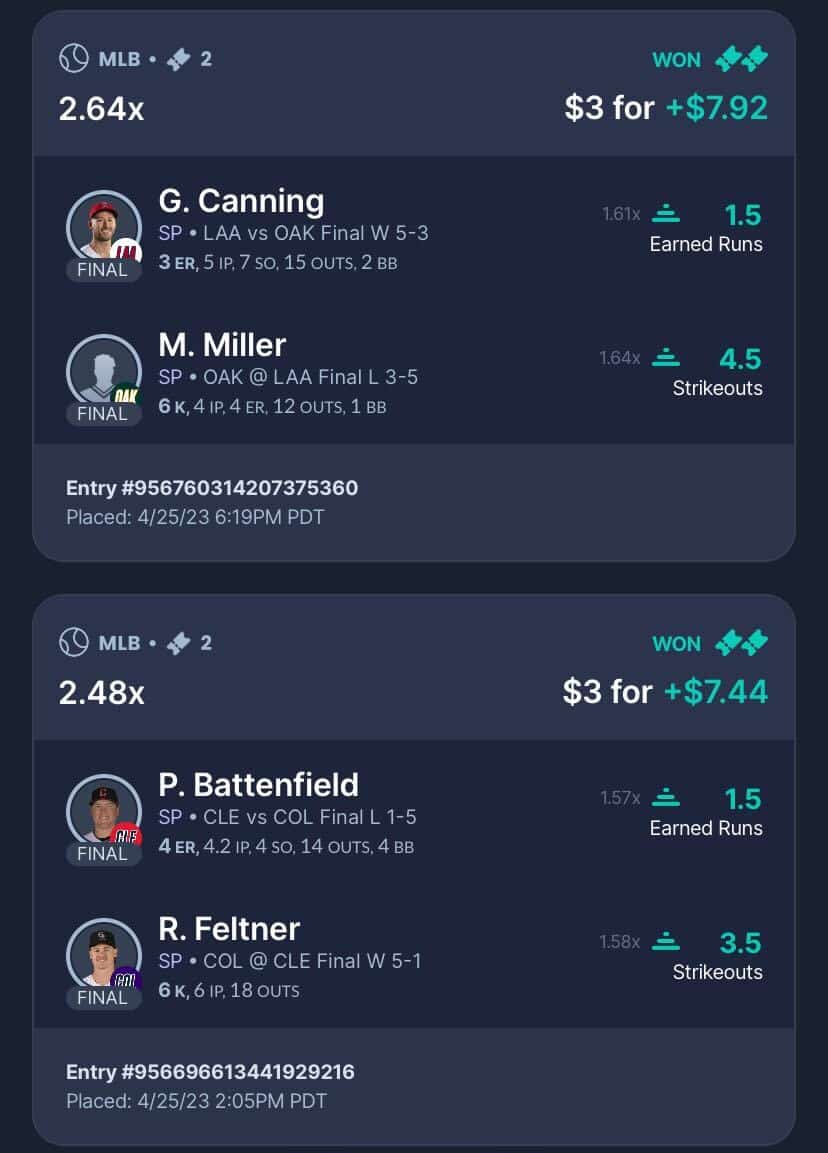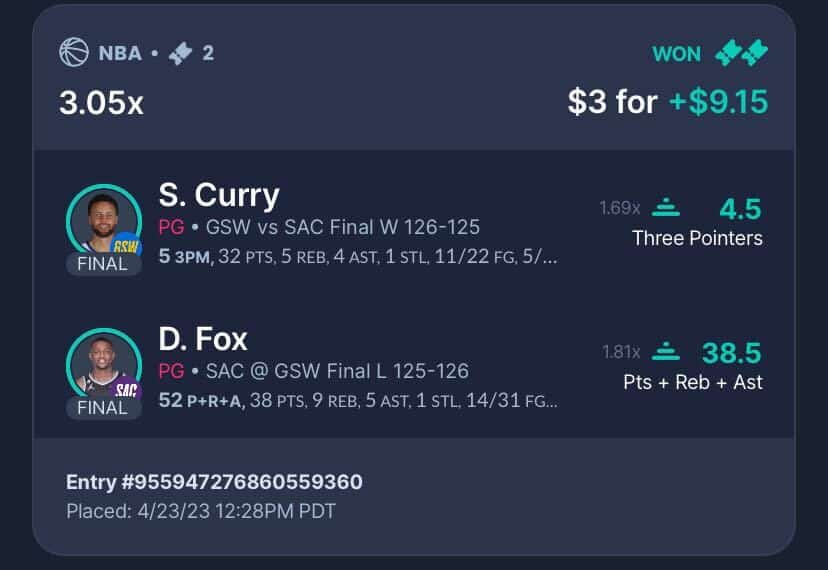 I played it safer on the MLB contests, opting for smaller multipliers in order to try to win money. On the NBA contest, the multiplier was over 3X, allowing me to triple my entry amount!
You'll feel the joy of seeing those circles turn green, signaling that you have won your contest. You'll be hanging on every play throughout the game, even if the score of the game itself isn't that close. Check out this contest below, where we missed out on a win by 1 measly point from Anthony Edwards: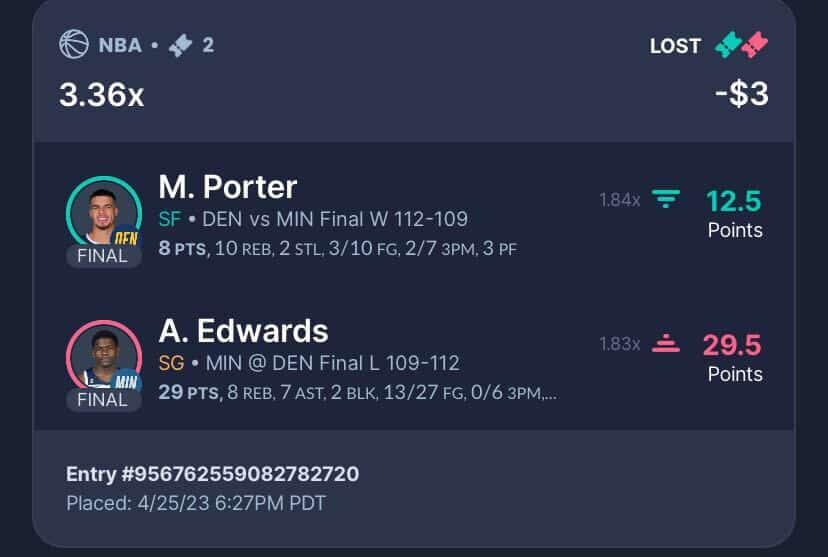 Hey, the folks who set the over/under totals know what they're doing, it seems!
Also, you'll want to keep an eye on the Sleeper Fantasy app daily, as they sometimes run promos on over/under lines. For example, in the contest below, all 2-time MVP Nikola Jokic of the Denver Nuggets had to do was score 1 point in a playoff game against the Minnesota Timberwolves for that leg of the contest to win. I paired Jokic's over (a no-brainer) with Steph Curry over 4.5 3-pointers made, and I won!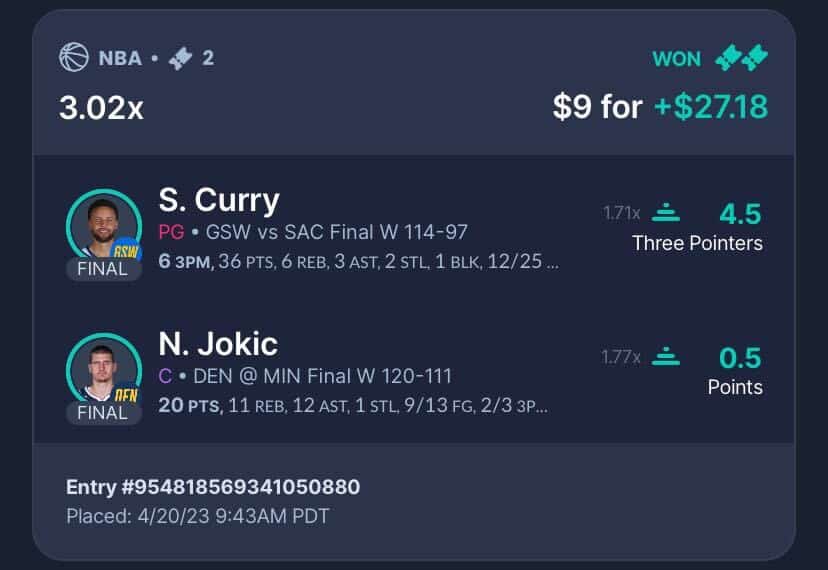 When there are special promos around big events, it makes it easier for users to win big, so you'll want to make sure you get in on those deals when they're available.
Sleeper Fantasy over/under contests are available for 5 sports currently — NFL, NBA, MLB, college football and college basketball. For college football and basketball, you'll find the heavy hitters from the SEC — your Alabamas, Georgias, USCs, etc. But there are also a variety of contests featuring mid-major and Group of 5 programs. No matter your team, you'll be able to find some picks contests to get in on!
If you want to get really creative with your contests, you can stack picks together up to a 100X multiplier. We've never won a contest with that big of a multiplier, but that won't stop us from trying!
Sleeper also offers live in-game contests. Let's say you picked Steph Curry's point total over and Jayson Tatum's point total over and both of them are struggling in the first half. You can enter a live in-game contest and try to score a win on a new competition if you are losing confidence in your original entry.
The Sleeper over/under picks section of the app is one of the best experiences for DFS players. It's easy and fun to use! And when you win, it couldn't be easier to get your money in your account.
Sleeper Fantasy withdrawals and payouts
Sleeper is quick and efficient when it comes to getting your money to you after you win. If you use a debit card to add funds to your Sleeper account, Sleeper can issue your winnings to you on that same card within 48 hours. That's the method I use, and it has never taken the full 48 hours for my money to land in my account.
You can also withdraw funds via an instant bank transfer if you have a bank account linked to your Sleeper profile. Both methods are quick and easy to use.
Where is Sleeper Fantasy legal?
Sleeper DFS picks contests are legal in the following 25 states: AK, AR, CA, CO, FL, GA, IL, KS, KY, MA, MN, NE, NM, NC, ND, OK, OR, RI, SC, SD, TX, UT, VT, WI and WY. Sleeper DFS picks contests are also available in Washington DC.
Sleeper Daily Draft contests are available in 28 U.S. states. Those states are: AL, AK, AR, CA, CO, FL, GA, IL, KS, KY, MD, MA, MN, NE, NM, NC, ND, OK, OR, RI, SC, SD, TX, UT, VT, WV, WI and WY. Sleeper Daily Draft contests are also legal in Washington DC.
Sleeper does not offer paid-entry contests in the following 22 states: AZ, CT, DE, HI, ID, IN, IA, LA, ME, MD, MI, MS, MO, MT, NV, NH, NJ, OH, PA, TN, VA and WA.
You must be at least 18 years of age to play Sleeper's paid-entry contests of skill, with 3 exceptions. You must be 19 years old in Alabama and Nebraska and you must be 21 years of age in Massachusetts.
Creating your account at Sleeper
Signing up for a Sleeper account is easy. Make sure you follow the links on our page (or click here) to lock in your Sleeper promo code and get a welcome bonus of up to $100. From there, it only takes a few minutes to create your account and get started: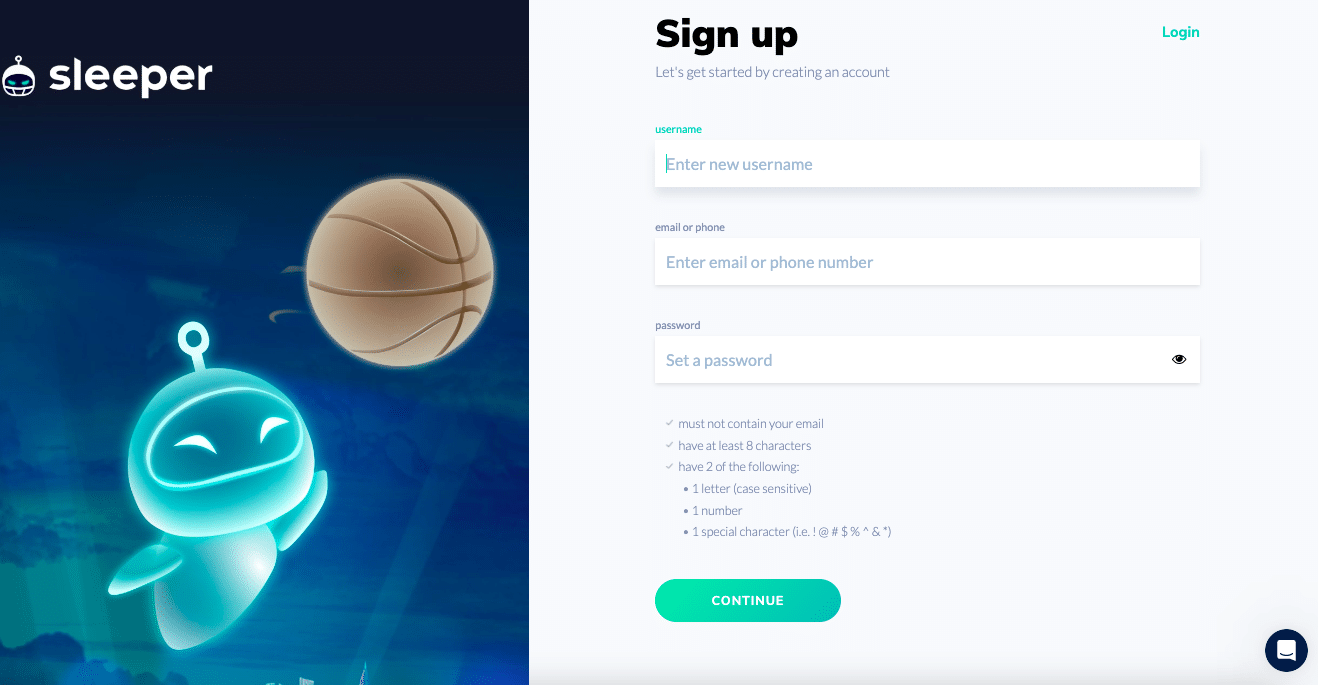 You'll need to come up with a unique username and then create a password. Sleeper will also ask for your email address or phone number to confirm your identity. Before you can enter picks contests or daily drafts, you'll have to confirm your age as well. Sleeper is a reliable daily fantasy operator, so you can rest assured knowing your personal information is safe and secure.
Make sure to use Sleeper promo code SOUTHXL when signing up to lock in your great deposit match bonus!
We do not target any individuals under the age of 21. We support responsible gambling. If you feel like you're losing control over your gambling experience, call 1-800-GAMBLER (NJ, PA, WV), 1-800-9-WITH-IT (IN), 1-800-BETS-OFF (IA), 1-888- 532-3500(Virginia) 1-800-522-4700 (NV, TN), 1-800-522-4700 (CO, TN), 1-855-2CALLGA (IL), 1-800-270-7117 (MI).
About Saturday Down South | Ethics and Editorial Standards | Privacy Policy | Terms and Conditions | Do Not Sell My Personal Information