Underdog Fantasy Best Ball Tournaments: Tips, Strategy and How They Work
Underdog Fantasy has often made headlines with its massive "Best Ball" tournaments in which fantasy players can compete in online fantasy contests that typically go through multiple rounds where thousands of participants compete for huge prize money. For example, at the start of the 2022 football season, Underdog rolled out a $10 million Best Ball contest. In this contest, over 450,000 entries battled for a first-place prize of $2 million. Not only do these contests draw in thousands of participants to the Underdog Fantasy platform, but because of the size of the prize money, Underdog also gets some great press further increasing the brand awareness of this new company.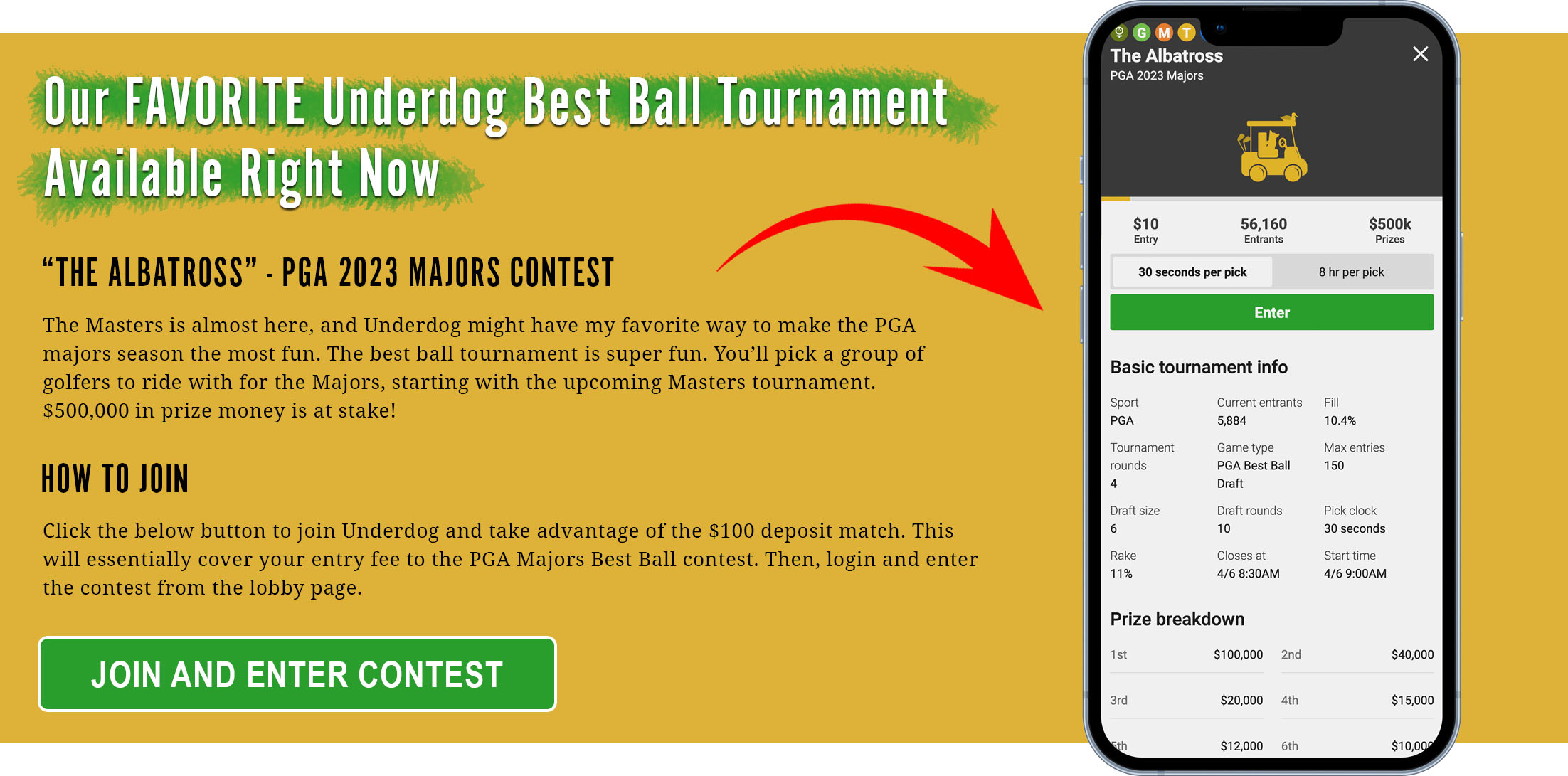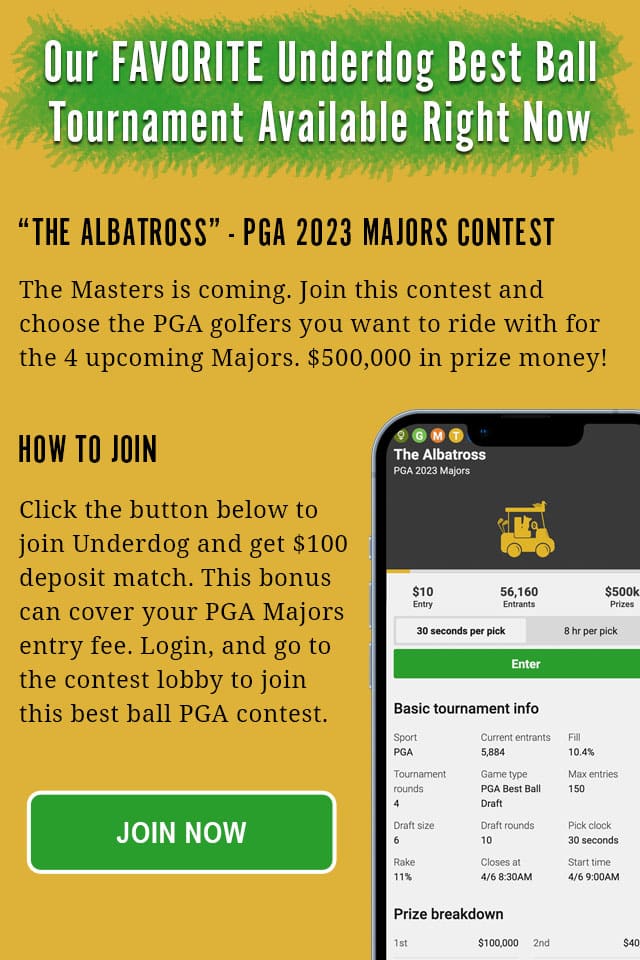 Register your account today at Underdog and take advantage of the 100% deposit match up to $100
What are the best Underdog best ball contests available now?
It's actually an awesome time if you love best ball contests, because where we fall in the sports calendar means we have a bunch of incredible options to choose from. Here are the best best ball contests available now on Underdog:
The PGA Majors best ball contests – There are actually multiple contests with varying entry fees, but the overall idea is the same. Pick your group of PGA golfers you want to ride with through the four majors of the PGA Tour season. Each major is a round where the field will get narrowed, starting with the upcoming The Masters. This is a super fun way to make the golf season even more enjoyable.
The NBA Finals best ball contests – Again there are multiple options here with different entry fees. We all know that the NBA regular season leaves something to be deserved, but the NBA Playoffs are generally pretty exciting. With these best ball contests, you can pick your NBA roster and then each round of the playoffs will equate to a qualifying round in the best ball tournament, culminating with a championship round during the NBA Finals. Make sure you draft some players you think will actually make the NBA Finals!
The MLB best ball contests – As usual, multiple options for entry fees here. You can get your MLB roster set for the entire MLB season and participate through qualifying rounds during parts of the season. The MLB season is long. Why not join a best ball tournament and make it more interesting?
The NFL best ball contests – NFL? In March, April and May? Yep. Underdog already has out some huge NFL best ball contests where you can start registering and getting ready for next NFL football season. These contests tend to be the biggest contests on the Underdog platform, so I highly encourage you to get in and start making your picks!
How does Underdog Best Ball work?
An Underdog Best Ball tournament works as follows: Players build a fantasy roster through a snake draft. After the draft, the rosters are set (no trades, waiver pick ups, etc.). Underdog selects the highest scoring players each week automatically, so users do not have to set lineups or do any maintenance after the draft occurs. Winners are determined by cumulative point scoring over time, rather than weekly head-to-head matchups. Typically there are multiple rounds to get through in the large best ball contests where the winners of the final round are eligible for the largest prizes available. Prize pool and rules can vary for each specific best ball contest.
Underdog Best Ball tips
The first tip here is to use an Underdog promo code when signing up so that you can double your bank roll right away. This will give you more entries for the next best ball tournament.
Use our exclusive promo code of SDS to get a 100% deposit match on your first deposit up to $100. So, if you sign up, deposit $100, you'll have $200 right away to use for Underdog Best Ball entries.
What other tips? Generally speaking, you want to take a high risk / high reward approach. The prize money is top heavy, you have to play to win. Plus, Underdog will auto-optimize your lineup. You aren't rewarded for consistency. You need guys who are capable of scoring huge points even if they might be a dud in other weeks or rounds.
While this might mean you don't hold exactly to average draft position metrics when you're drafting, you also need to be careful. Guys who aren't drafted high aren't drafted high for a reason. Finding value in later rounds with guys who can overachieve in certain situations can be difficult, but is often what can lead to the difference between landing in the money or out of the money.
What sports have Best Ball tournaments?
Underdog best ball tournaments are often built around the NFL season. After all, NFL is King. But Underdog has a history of some great best ball style tournaments for MLB, NHL and NBA as well.
For example, Underdog rolled out its NBA Small Ball Tournament where users participated and competed through four rounds of play built around chunks of the NBA regular season.
Similarly, Underdog's "The Bunt" Tournament was an MLB Best Ball Tournament where players competed through four rounds in similar fashion through chunks of the MLB regular season. Very fun!
Can you play Underdog Best Ball contests?
Underdog Fantasy is available in all U.S. states except CT, DE, HI, ID, IA, LA MI, MT and NV. If you're in one of the states where Underdog Fantasy is available, you can participate in the daily fantasy drafts including the Best Ball contests. There are further restrictions in some states around the pick'em contests that Underdog offers, but these are different types of contests from Best Ball tournaments.
We do not target any individuals under the age of 21. We support responsible gambling. If you feel like you're losing control over your gambling experience, call 1-800-GAMBLER (NJ, PA, WV), 1-800-9-WITH-IT (IN), 1-800-BETS-OFF (IA), 1-888- 532-3500(Virginia) 1-800-522-4700 (NV, TN), 1-800-522-4700 (CO, TN), 1-855-2CALLGA (IL), 1-800-270-7117 (MI).
About Saturday Down South | Ethics and Editorial Standards | Privacy Policy | Terms and Conditions | Do Not Sell My Personal Information