Underdog Fantasy California: Legal fantasy contests available now in the Golden State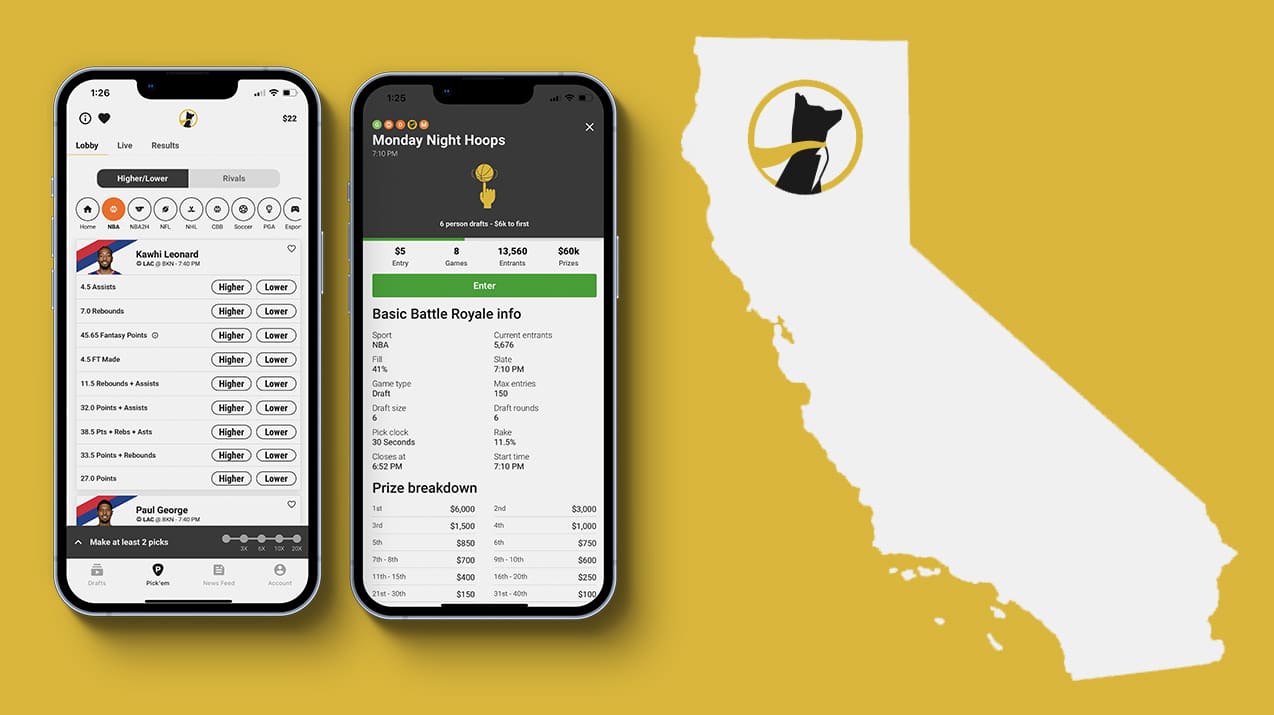 Daily fantasy sports (DFS) has become increasingly popular in recent years. It's a way to bet real money online as part of fun draft, pick 'em, best ball contests and more.
Though sports betting isn't legal in California, Underdog Fantasy allows you to put real money on the line in fantasy contests involved your favorite players and teams. Whether it's as part of a draft or individual pick 'em contests, there are a number of fun ways to get in on the action at Underdog.
On this page, we'll take a look at Underdog Fantasy California and provide a promo code to get started. You'll want to pay attention to the promo code, as it'll provide up to $100 of extra value via a welcome bonus when you sign up.
Underdog Fantasy Overview
Underdog Fantasy is a daily fantasy sports platform with an easy-to-use mobile app available to make playing super convenient. Investors like Mark Cuban, Adam Schefter, The Chainsmokers and Kevin Durant have backed Underdog Fantasy.
While you can play with real money, DFS is not considered sports betting.
Underdog Fantasy is available in 41 states, including California. The app is not available in CT, DE, HI, ID, IA, LA, MI, MT, NV, and ON (Canada).
Underdog Fantasy is a legal and regulated fun way to have money at stake in many sports markets where betting is not legal.
Underdog Fantasy California Promo Code: SDS
Using our exclusive promo code "SDS" will unlock a full deposit match of up to $100. Not a bad welcome bonus! All you have to do is sign up at Underdog and make your first deposit. Underdog will match the deposit money up to $100.
How does Underdog Fantasy California work? Check out this helpful table to learn more about what Underdog is and what betting on the app entails:
Underdog Fantasy Promo Code
SDS
Underdog Fantasy Sign-Up Link
Click here
Underdog Fantasy Offer
Deposit Match up to $100
Where is Underdog Legal?
All US States Except: CT, DE, HI, ID, IA, LA, MI, MT, NV
No Pick'em: AZ, CO, MD, MO, NH, NJ, OH, PA, TN, WA, WV
No College Pick'em (but can do other sports): AZ, AR, IN, ME, MD, MA, MS, NY, VT

Confused? Here are the SEC states where you can do college pick'em: AL, FL, GA, KY, SC, TX

Deposit Methods
PayPal, Credit Card (Visa, MasterCard, American Express, Discover)
How to get started:
Click here to signup at Underdog Fantasy California – the link will automatically apply the SDS promo code to your account.
Make your first deposit, and enjoy 100% deposit match immediately up to $100.
Download the app to your mobile device, login, and start playing fantasy contests.
Why we love Underdog
Even in markets where sports betting isn't legal, Underdog Fantasy lets you put real money on games in a variety of sports — from college football and basketball to MLB to NBA to NFL to MMA to golf, tennis, hockey and soccer, everything is fair game over at Underdog Fantasy California.
California has not yet legalized sports betting, but why should fans in other states be able to have all the fun? Underdog Fantasy California helps make every shot, pass, punch, at-bat and putt even more intense for fans. You can win real money with every contest!
California is loaded with pro and college sports teams, and Underdog has you covered every step of the way. Whether you're betting on the Los Angeles Lakers, Los Angeles Clippers, Sacramento Kings, Golden State Warriors, San Francisco 49ers, Los Angeles Rams, Los Angeles Chargers, San Francisco Giants, Oakland A's, San Diego Padres, Los Angeles Dodgers, Los Angeles Angels, San Jose Sharks, Los Angeles Kings or any number of college teams (including Stanford, Cal, Saint Mary's, San Diego State, USC and UCLA), you can do so on Underdog Fantasy California.
Oh and you can also bet against players on your least favorite teams. Celtics coming to LA to play the Lakers? Bet the over on LeBron James and hammer the under on Jayson Tatum. Suns visiting Golden State? Take the over on Klay Thompson and bet that he'll be able to hold Devin Booker in check.
Every shot is more intense when you have your money on the line. I love betting the "higher" option on Paolo Banchero, as it seems he always comes through. I also had a great deal of success this past college football season betting on Caleb Williams at USC.
You'll start to love players you never gave a second thought to before when you get in on the action at Underdog.
Is Underdog Fantasy legal in California?
Yes. While traditional online sports betting is not allowed in California, Underdog Fantasy is legal in the state.
As a California resident myself, being able to discuss betting with my friends who live in states where online sports betting is legal has been fun. I'm also able to put real money on the line with my player over/under picks each day.
Additionally, I'm able to compete alongside other people in daily drafts. I enjoy picking NBA players in Battle Royale Daily Fantasy Drafts and watching along on League Pass while my players rack up points.
Speaking of drafts and over/under picks, let's take a look at what you can find on Underdog Fantasy California.
The Types of Games and Contests on Underdog
Battle Royale Daily Fantasy Draft
Underdog offers fairly standard Daily Fantasy offerings where users can quickly draft a fantasy lineup and compete against other users during a day of football or a night of NBA action.
The Battle Royale format has some important qualities that make it fun and more exciting than a standard fantasy contest. When you enter the Battle Royale contest, you will participate in a snake draft against a group of other users, usually anywhere from 6 to 12 users. But, you won't just compete against the group you are drafting against. You're competing against every user in every group for that given period of time.
My first Battle Royale draft was an NBA Friday night slate. I entered a snake draft in the "Full Court Friday" contest. It cost $5 to enter. I ended up winning $7 (thank you, Cade Cunningham).
Though I only drafted against 5 other users, I was competing in a contest that featured nearly 10,000 other players. As games tipped off, I was able to follow along live as the players I drafted played games across the country (thankfully, I had invested in NBA League Pass to keep up with the Boston Celtics and the Golden State Warriors, my 2 favorite teams).
While I won $7, the overall winner of the contest took home a cool $10,000. The most I've ever won in a daily draft is $20, but hey, I can dream big, right?
Tips for your first Battle Royale draft:
Make sure you understand the point scoring. For example, each point scored is worth only 1 point. Each rebound is 1.2 points. Each assist is 1.5 points. But steals and blocks are worth 3 points each. A lot of value there!
The draft goes quick! When it starts, it moves quick and you might struggle to keep up. Get a feel for who you want before it begins.
Go with a very small entry fee for your first draft, so you don't risk much money on your first go-around. Use it as a learning experience.
Regular Daily Fantasy Drafts
Where Battle Royale drafts are daily fantasy drafts where you compete against a much larger group of individuals for the chance at higher dollar amounts, Underdog Fantasy also offers a number of more standard daily fantasy drafts where you compete against just a handful of people. In fact, I did a number of head-to-head NBA drafts. A head-to-head draft gives you the chance to basically double your entry money (minus approximately 10% rake). So, if it's a $25 entry, you can win something like $45 if you win. If you lose, you get nothing.
To get to know the Underdog regular fantasy draft, I participated in some head-to-head NBA contests. In these contests, I went back and forth with my opponent in drafting 6 NBA players for the night's action. Each of us picked 6 NBA players. It takes only a couple minutes.
As I played a few of these contests, the only thing that gets a little repetitive is the fact that you're kind of selecting the same players over and over. Think about it… with only 2 teams with six players each, that's 12 players. So, essentially every contest involves teams that have a mix of mostly the same players: Luka Doncic, LeBron James, Giannis Antetokounmpo, Jayson Tatum, Steph Curry, etc. Depending on who has the better night a bit randomly, that will determine the winner. Because you never go beyond an obvious group of top NBA players, you don't really have a chance to demonstrate any deeper knowledge. In football, you have more variance with the output of top players and can lean more into the matchups, so it can be more intriguing to seek out sleepers in NFL drafts. One bonus for NBA and MLB drafts? There's action almost every night, so you don't have to wait until the weekend!
With that said, it's still super fun to have some stakes involved in the nightly action. You can likely take your gameplay to the next level by layering in some knowledge and data around the weakest defensive teams, which teams might get cooked regularly by a dynamic scoring guard, etc. And consider the teams that rebound really poorly. This might help you beef up your rebounding stats.
All in all, these contests are incredibly simple, super easy to get started with, and definitely a great way to dip your toes in the water of daily fantasy sports.
Important Note:
As I was getting used to the Underdog platform, I entered a daily fantasy NBA draft. I sat there for a minute and nobody entered the contest. So I left, and joined another. Nobody entered for a minute, and so I left again, and shut the app off. A few minutes later, I got a notification from Underdog that my draft was about to start!
It's important to note that, once you enter, you're in, even if you leave. So I completed the first draft. Then I got another notification saying my second draft was about to start! If you remember, I entered two drafts and left both. Without realizing it, I had committed to two NBA drafts for the same day. Be aware that if you enter the contest, you're in, even if you exit the app.
Underdog Pick'em Contests
This is my personal favorite when it comes to Underdog Fantasy California. I love putting some money on over/under bets each night, especially when Steph Curry, LeBron James, Deebo Samuel, Justin Herbert, Mike Trout or any number of other pro sports stars who play in California (or literally anywhere else) play. These bets are similar to prop bets on other sports betting sites, but at Underdog, you have to pick at least 1 player from each team.
There are two types of pick'em contests on Underdog Fantasy. Higher/lower pick'ems (which resemble over/under player prop bets in sports betting) and Rivals. Regardless of the type, you have to combine at least two picks and as many as five. The more you combine, the higher the multiplier or potential payout.
Here are a couple of my recent higher/lower bets — one for Super Bowl LVII and one for a night of SEC men's college basketball: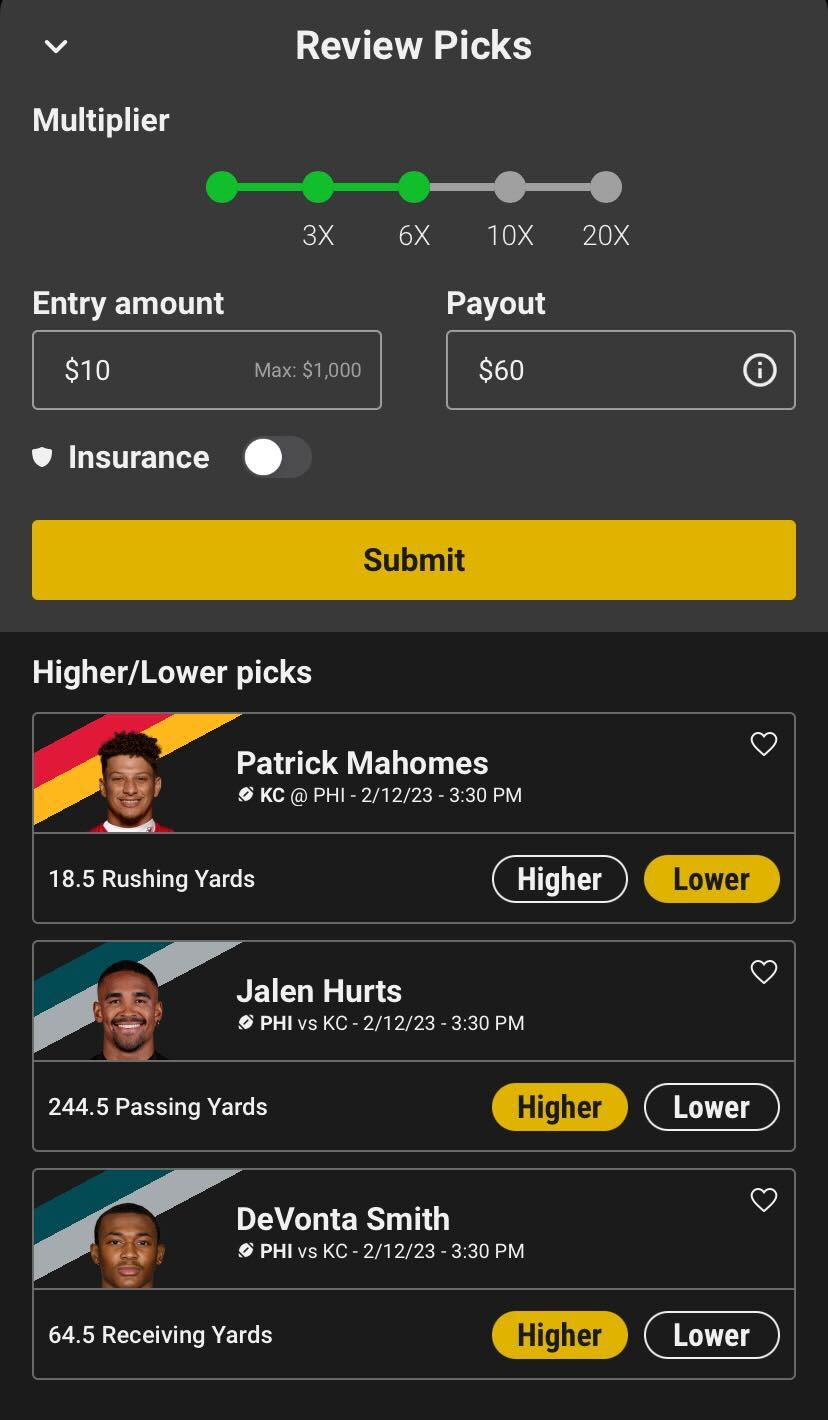 Higher/Lower
Higher/Lower pick'em contests are my favorites to enter. They're similar to player prop bets you can find elsewhere in the sports betting space, with a couple of differences. First, to make a bet legitimate, you have to have at least 2 higher/lower picks. And those picks can't be from the same team.
You can pick teammates, as I did with Jalen Hurts and DeVonta Smith in the above Super Bowl contest, but I also had to pick Patrick Mahomes to make things legitimate on Underdog Fantasy California.
NFL and NBA games are scored live, as are many other sports, so you're able to follow along with your picks on the app. College basketball and college football aren't scored live yet, but perhaps that will be coming soon!
Rivals
In Rivals picks, you make a pick between two players around a specific stat category with a "spread" applied to one of them to even out the odds a bit. In the screenshot below, you can see you are picking between former Sacramento Kings star Tyrese Haliburton and the man he was traded for, current Kings star Domantas Sabonis. If you bet points+rebounds+assists totals and you chose Sabonis, you're betting that the Kings' big man will have at least 9 more points+rebounds+assists than Haliburton.
Multipliers
How much can you win? Here are how the multipliers work on the Underdog Pick'em contests:
Two picks: 3x
Three picks: 6x
Four picks: 10x
Five picks: 20x
Curious what this looks like? Here are some screenshots on picking higher/lowers on Underdog across NFL, NBA, MLB and even college football.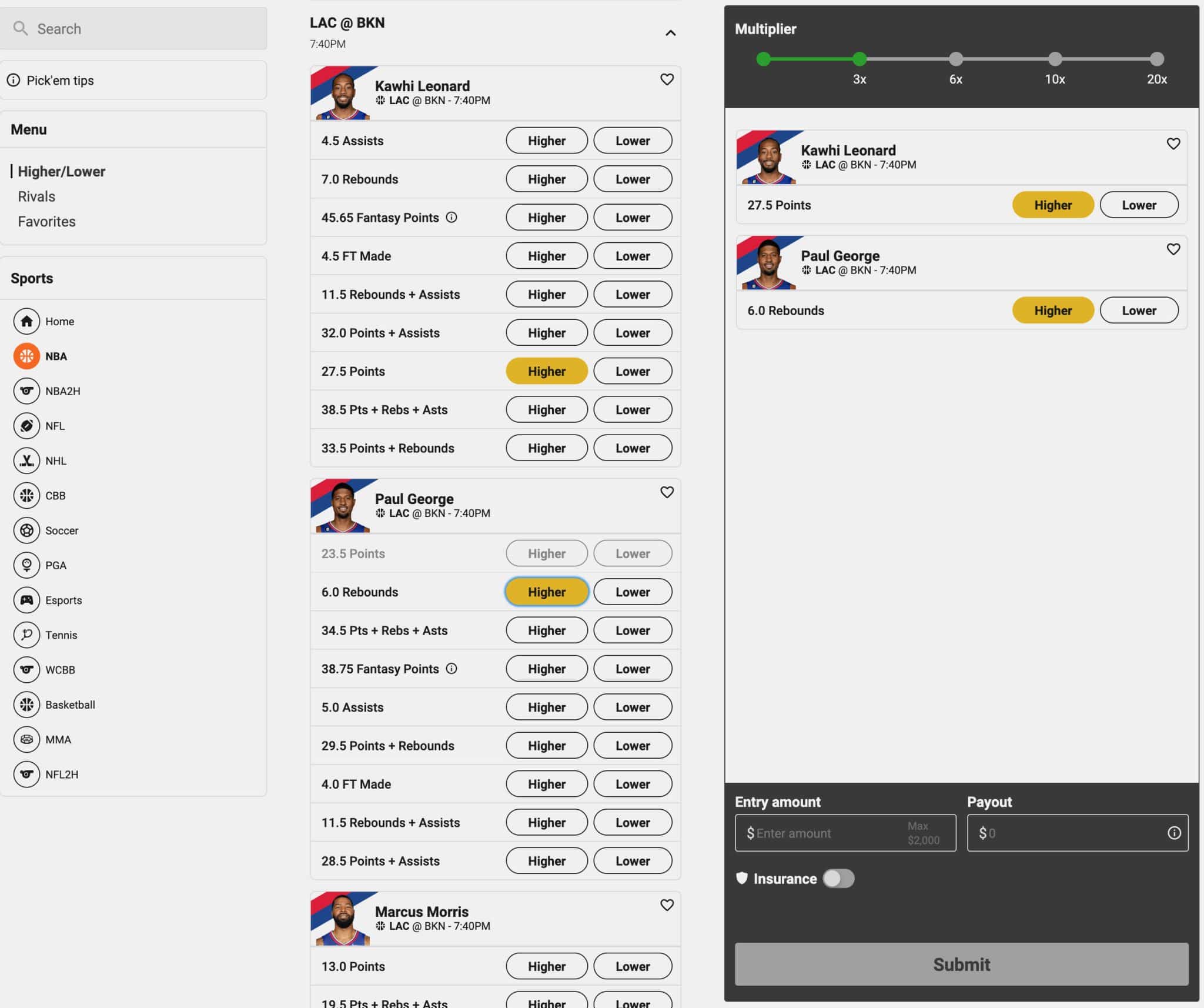 Make as many picks as you like. I personally like to find the "higher" options that I perceive as having some value. To me, it's more fun to root for players to exceed their total rather than rooting for them to come up short. But all bets are off when you're picking against a hated rival!
Underdog Fantasy deposits and withdrawals
There are a few different ways to make deposits on Underdog. You can connect your PayPal account or use Visa, MasterCard, American Express and Discover cards to add money to your Underdog account.
Options for withdrawal are more limited, with PayPal and Interchecks as the 2 main options. The good news? Withdrawals are always free on Underdog, so you can take out your winnings at any time without hassle. Remember to use promo code "SDS" when you sign up!
I've hit a couple of big bets and taken out some money via PayPal. Withdrawals are initiated almost instantly and I've always received the money in my PayPal account within 24 to 36 hours.
Underdog Fantasy customer support
The Underdog team is very helpful. I had a question about one of the pick 'em contests I entered and watched as one of my players was held out of the game due to an unforeseen injury. I messaged the Underdog support team on Twitter and they responded quickly and helpfully.
The customer support services at Underdog also include email and phone lines. The group is trustworthy, helpful and quick to respond. It makes using the convenient app even easier.
Relevant teams for Underdog Fantasy California
You can pick players from all of your favorite California teams on Underdog fantasy contests.
Here's a list of only some of the teams and schools in California that can be found on Underdog:
Los Angeles Lakers (NBA)
Los Angeles Clippers (NBA)
Golden State Warriors (NBA)
Sacramento Kings (NBA)
Los Angeles Dodgers (MLB)
Los Angeles Angels (MLB)
Oakland A's (MLB)
San Francisco Giants (MLB)
San Diego Padres (MLB)
Los Angeles Rams (NFL)
Los Angeles Chargers (NFL)
San Francisco 49ers (NFL)
Los Angeles Kings (NHL)
San Jose Sharks (NHL)
USC Trojans (CFB and CBB)
UCLA Bruins (CFB and CBB)
Cal Bears (CFB and CBB)
Stanford Cardinal (CFB and CBB)
San Diego State (CFB and CBB)
Fresno State (CFB and CBB)
Saint Mary's (CBB)
There are even more colleges that can be found in pick 'em contests. You never know what opportunities are going to pop up on Underdog! Even sports like golf, tennis, international soccer and Esports have sections on the app.
Playing Underdog Fantasy California
When it comes to daily drafts, some sports have them and some sports don't. College football and basketball don't have daily drafts. NFL, MLB and NBA do. Some sports are scored live (like NFL and NBA). Others aren't (once again, college football and basketball). When I was betting on the World Cup this past summer, it also wasn't scored live.
But it's easy to remember your bets and keep them in mind as you watch live. Online box scores are available any number of places, so it's always fun to see how your players fare.
And most importantly? Underdog Fantasy is legal in California! You can bet alongside your friends in other states and get in on the action for big games every week.
Don't let your friends in a select group of states have all the fun. Put some money on the line and try to hit it big starting today!
Click on this promo code to start betting today:
Register your account today at Underdog and take advantage of the full deposit match up to $100.
We do not target any individuals under the age of 21. We support responsible gambling. If you feel like you're losing control over your gambling experience, call 1-800-GAMBLER (NJ, PA, WV), 1-800-9-WITH-IT (IN), 1-800-BETS-OFF (IA), 1-888- 532-3500(Virginia) 1-800-522-4700 (NV, TN), 1-800-522-4700 (CO, TN), 1-855-2CALLGA (IL), 1-800-270-7117 (MI).
About Saturday Down South | Ethics and Editorial Standards | Privacy Policy | Terms and Conditions | Do Not Sell My Personal Information