MLB DFS: Average draft position, best contests available, how to play and more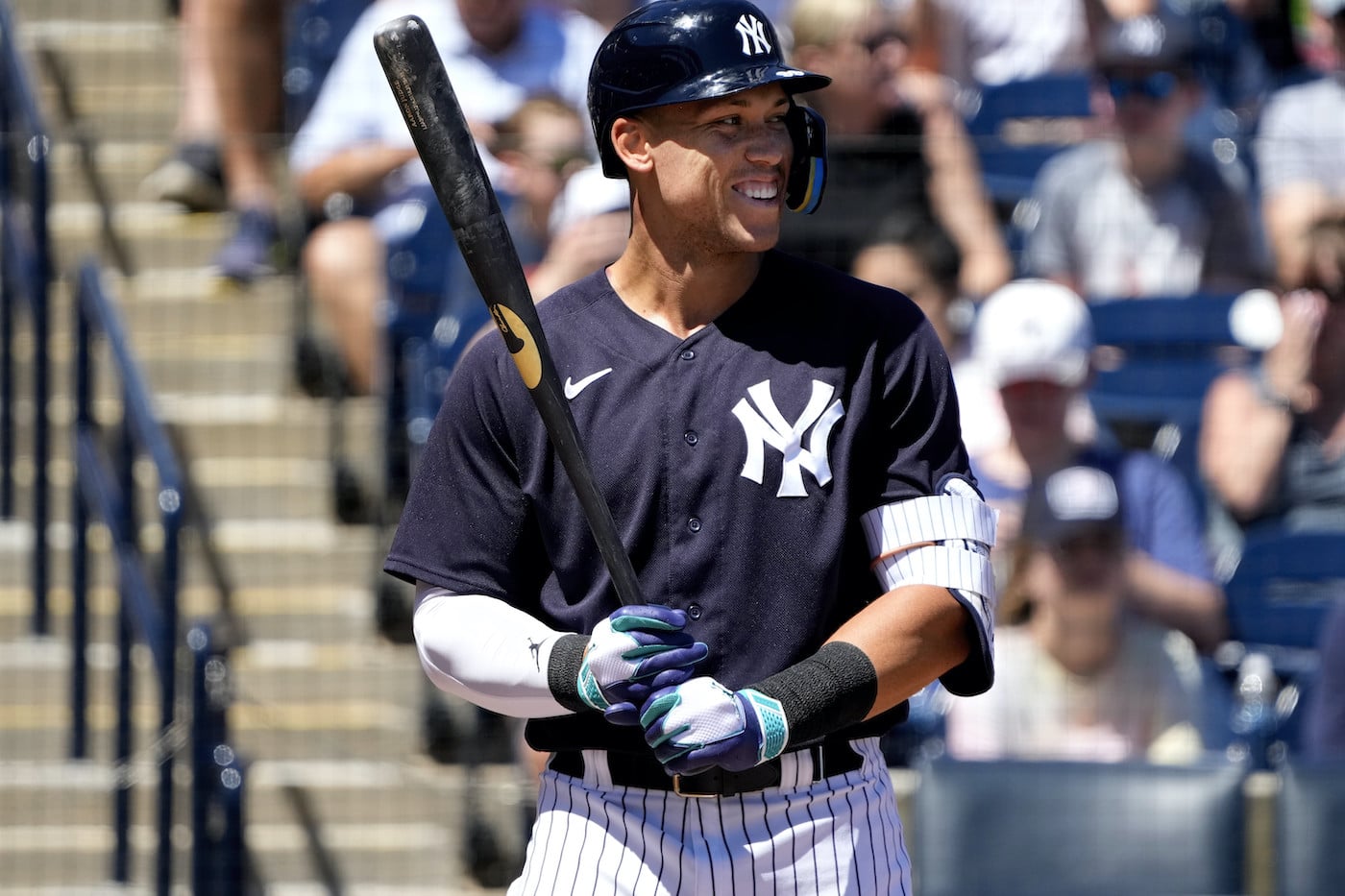 MLB DFS Contests Overview
Daily Fantasy Sports (DFS) are rising in popularity by the day, with over 30 million players per year. With countless options, such as Underdog Fantasy, Sleeper Fantasy, Thrive and many more, there are several ways to get into the DFS scene.
DFS users will enjoy their experience, no matter if they're an MLB, NBA, NFL, NHL or college sports type of person. And with Major League Baseball guaranteeing your favorite team at least 162 games a year, there are plenty of opportunities to draft a squad and make some money playing MLB DFS contests!
The long sprint to October's postseason excitement has started. MLB's Opening Day was on March 30, so check out the links below to join in on the MLB DFS fun!
MLB DFS Average Draft Position (ADP): Week of May 29, 2023
This is a section you'll want to pay attention to. Average Draft Position (ADP) is an important thing to understand before diving into the world of MLB DFS. For instance, Aaron Judge is going to be the first player off the board in pretty much every draft, followed by any combination of Mike Trout, Ronald Acuña, Juan Soto, Shohei Otani, etc. Of course, you'd love to get these players at lower spots in your draft, but as long as you do research ahead of time you are in good shape.
Check out the average draft positions (ADP) for Underdog MLB DFS contests below:
| PLAYER | TEAM | ADP |
| --- | --- | --- |
| Aaron Judge | NYY | 1.20 |
| Juan Soto | SDP | 2.40 |
| Ronald Acuña Jr. | ATL | 2.90 |
| Julio Rodriguez | SEA | 5.50 |
| Yordan Alvarez | HOU | 7.00 |
| Mookie Betts | LAD | 8.10 |
| Jose Ramirez | CLE | 8.50 |
| Kyle Tucker | HOU | 10.90 |
| Vladimir Guerrero Jr. | TOR | 11.00 |
| Trea Turner | PHI | 11.10 |
Why We Love MLB DFS
MLB DFS is growing in popularity because of its availability, and that's exactly why I love getting in on the fun during the long regular season. From late March to October there are games on every single night. More games, more drafts, more contests and better potential earnings, right?
I'll be the first to admit MLB is not my go-to league for watching games, but that has changed now that I can put real money on the line. If you're in a similar boat, playing MLB DFS is a great way to make every pitch matter more. If you're the type trying to get into baseball but find the whole thing daunting, DFS is a perfect way to better learn the game, its players and the overall atmosphere of the league. Not to mention you can win real money by using your knowledge of the game in DFS drafts, pick'em contests, best-ball contests and more.
Fun ones to get in on before Opening Day are any of the preseason best-ball contests available, specifically on Underdog Fantasy. I recently entered a $5 lobby called "The Warmup" that consisted of a 20-round draft that took around 45 minutes. It's your standard fantasy draft, but you don't have to go through the hassle of changing your lineup every week! I'd like to think I drafted a pretty strong group of players, too!
Drafts not necessarily your thing? Thrive and Underdog both have you covered with higher/lower prop contests. You can pick from dozens to hundreds of props depending on the slate that night. Feeling like Brandon Woodruff can eclipse 6 strikeouts? Smash that higher option. Feel like a Phillies player like newly acquired shortstop Trea Turner will have an off night? Take the lower on his total bases option. Not to mention, you can live bet your favorite team and follow along in the action for twice the fun.
I'm an Atlanta Braves guy myself. I'm very excited to see what Michael Harris can do under his new contract. I also firmly believe Dansby Swanson can make an impact in Chicago with the Cubs. You'd better believe I'll be placing some higher/lower picks on the two of them this season.
What MLB DFS looks like
Below are some screenshots from a variety of MLB DFS contests via Underdog Fantasy. Underdog brings so much to the table — everything from your typical daily fantasy contests for a weekday slate of games, to best-ball tournaments that span the entire season or the entire MLB playoffs in October. You can also find pick'em contests, similar to prop bets.
Here are a few screenshots of what this looks like. We're big fans of playing NBA DFS on the Underdog platform. But with spring training and the World Baseball Classic winding down, we're eager to get in on the MLB regular-season action, too: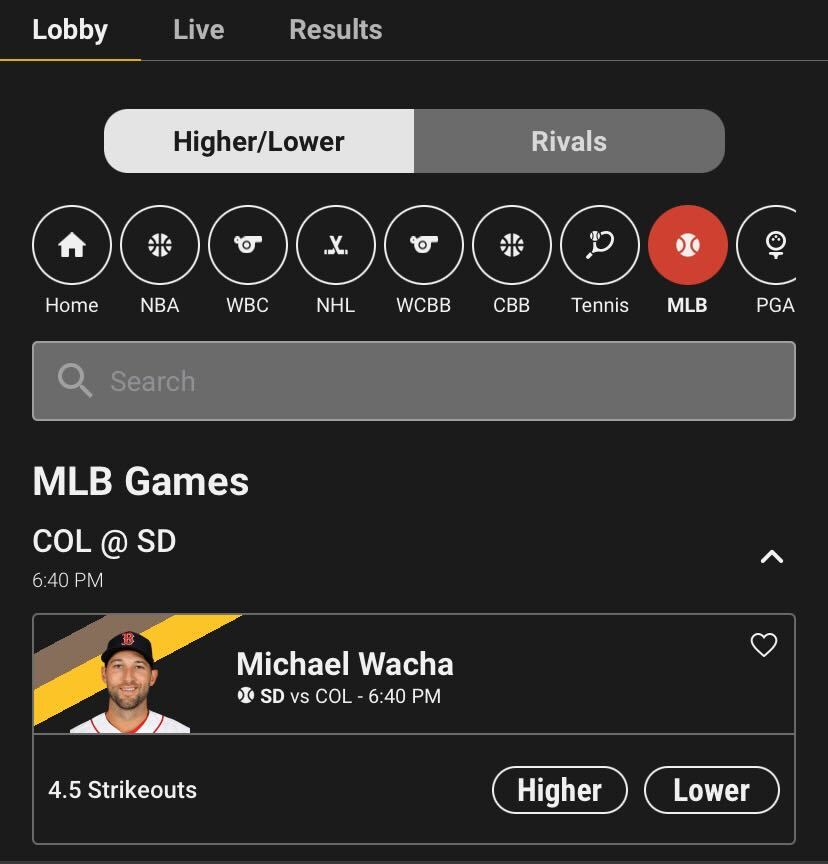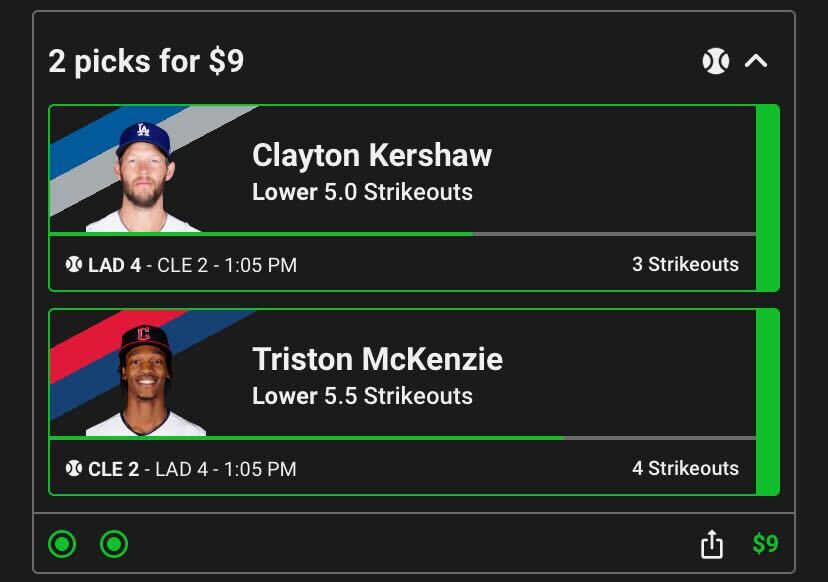 How To Play MLB DFS
Thrive and Underdog offer plenty of different ways to get in on the fun of DFS. Thrive and Underdog offer easy-to-play player prop contests, while Underdog also offers contests such as daily fantasy games, season-long best-ball tournaments and rivals contests, where you pit 2 players head-to-head.
Not sure what any of that means? We have you covered. Check out the sections below to see a closer look at each option available, as well as a view into how the various ways to play are applicable to Major League Baseball.
Let's dive in.
MLB DFS Prop Contests (Higher/Lower)
If you've ever placed a bet on sports before you likely know what prop bets are. Essentially, there is a line that Thrive and Underdog create that you will weigh certain players against. The line could be over/under (or as Underdog calls it, higher/lower) 5 strikeouts for Blake Snell or higher/lower 2.5 hits for Juan Soto.
Here's a screenshot that shows you what this looks like for a MLB slate of spring games. This is a winning contest featuring spring training strikeout totals: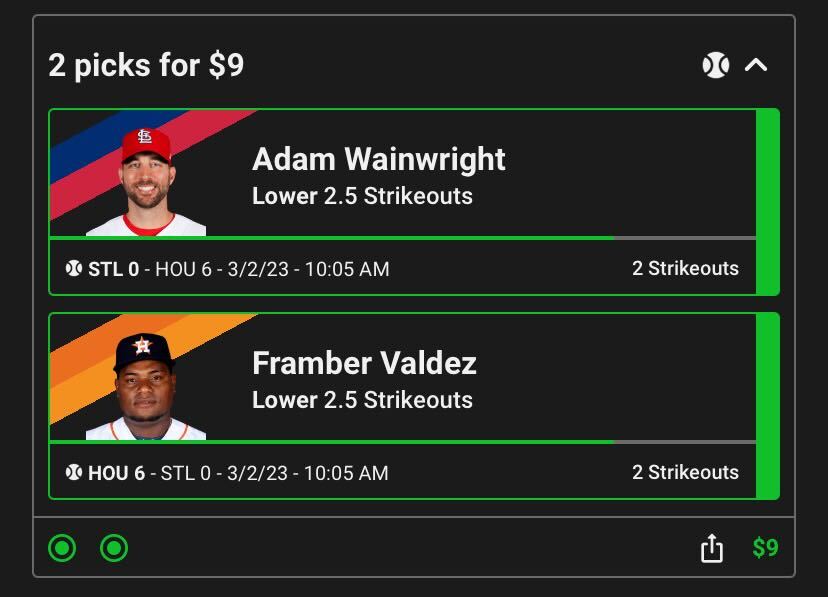 Next, we have a losing contest, where 1 pitcher (Jack Flaherty of the St. Louis Cardinals) didn't hit the "higher" option on his strikeout total for a spring training game: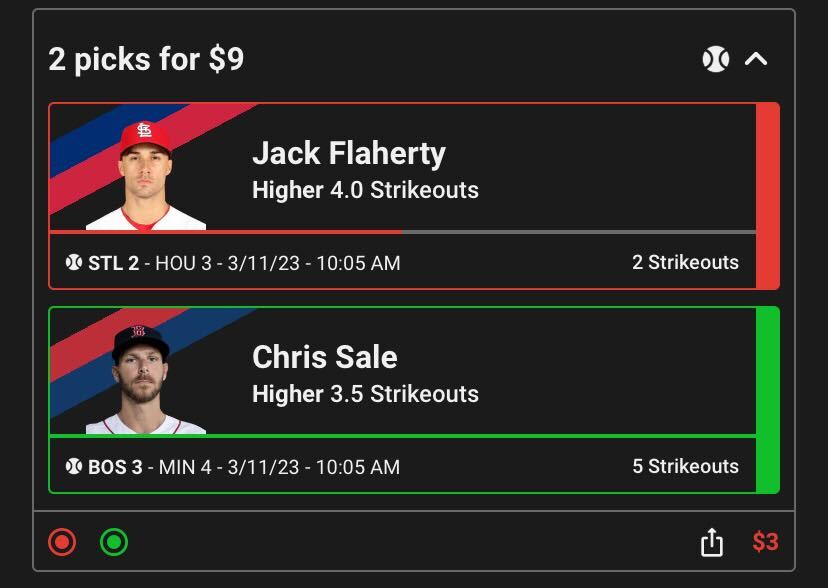 Even though Chris Sale did strike out the required number of batters, the contest was a loss because Flaherty came up short.
If a player hits his higher/lower line exactly, that part of the contest is voided. Here's an example of a contest that was a draw, as Dylan Cease of the Chicago White Sox recorded exactly 4 strikeouts, giving me my $3 contest entry fee back: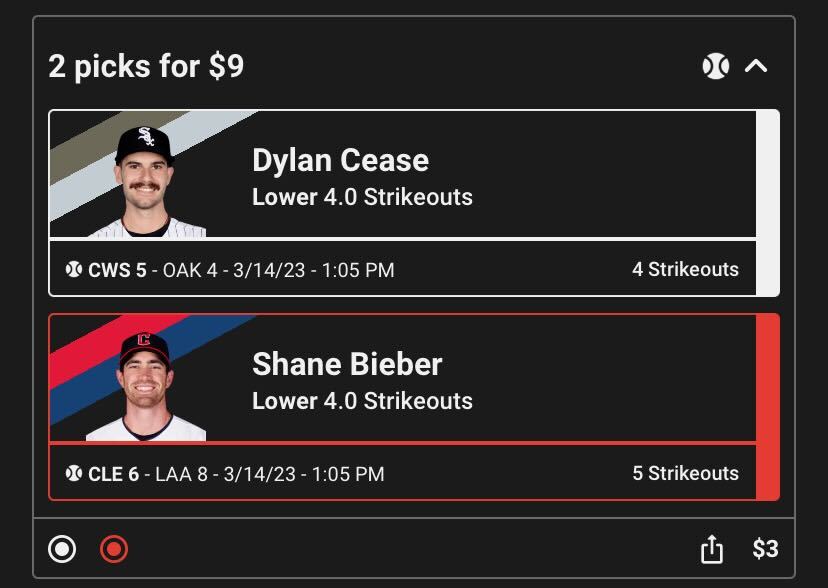 You'll notice you are required to make at least 2 picks for an entry to be legitimate on Underdog. You also have to pick from at least 2 separate teams, so you can't team up on Gerrit Cole and Aaron Judge on the same night, etc. If the Yankees were playing the Braves, you'd have to put something on Spencer Strider, Ronald Acuña or 1 of the other Braves players, too.
MLB Daily Drafts
Daily drafts are my go-to when it comes to MLB DFS. You can enter a number of drafts with a number of different pool sizes, rounds, etc. Something that's important to remember is that you may be thrown into pools of 5 other players drafting, but you'll be matched up against upwards of 5,000 other players for the contest! The goal is for your squad to meet a certain percentile to earn cash. The better your team does, the more you win!
MLB action begins in late-March. Once the season begins, you'll be able to get in on the daily-draft action. And with a game every night, there are plenty of opportunities to get your feet wet.
MLB Best-Ball Contests
Now is the time to enter some best-ball drafts! There are $3, $5, $25 and even a $250 pool you can enter before the season starts. Each yields a proportionate cash prize for the winner and the upper percentiles. For example, the $250 pool has a cash prize of $100,000 with a smaller participant group.
Best-ball contests are the closest thing Underdog (Thrive does not do best-ball) offers to a full-season fantasy baseball experience. You'll draft an entire squad of pitchers, infielders and outfielders. Drafts usually take some time, but they're super easy to understand and a lot of fun once you get the hang of it. Best of all, it's completely hands off. The best players are automatically put in the game each week on a roster consisting of 3 pitchers, 3 infielders, 3 outfielders and 1 flex player. Ten more players who don't perform so well will sit the bench each week.
One Underdog best-ball MLB DFS contest that is very popular is "The Dinger." For a $10 entry fee, you can compete against 56,160 other players for a share of $500,000. First place wins $100,000. Not bad for a season of work!
Here's a look at some of the featured MLB best-ball contests on Underdog: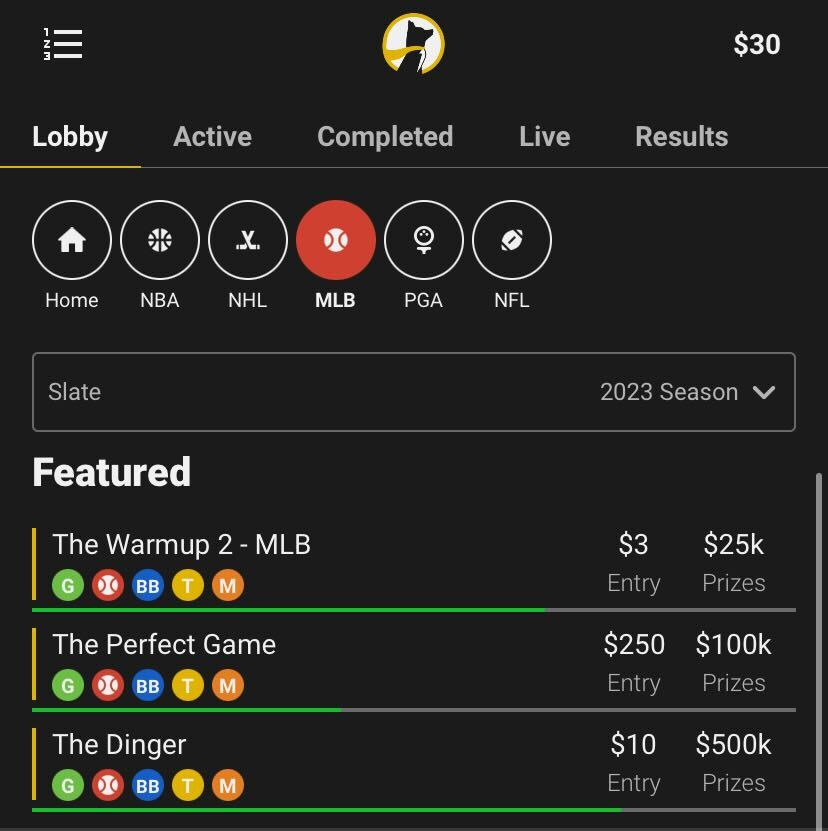 MLB Rivals contests
MLB rivals take the term pitcher's duel to a whole new level. It's Jacob deGrom vs. Gerrit Cole, straight up: who will have more strikeouts, allow less hits, etc.? You have the option of picking which player will outperform the other. It's that simple!
You can root for you favorite players or root against your team's rival. Why not make the Subway Series that much more interesting!?
MLB DFS strategy
The biggest mistake you can make with MLB DFS, in my opinion, is failing to understand the scoring, roster and idiosyncrasies of the Daily Fantasy system, especially for Underdog best-ball and daily fantasy contests. Higher/lower is less about strategy and more about picking the lines that favor you most. When drafting a group of players, winning your pool can come down to just one pick.
For Underdog Fantasy drafts, scoring for hitters is the same across both best-ball and daily contests. A single is worth 3 points, a double is worth 6 points, a triple is 8 points and a home run is 10 points. Walks and hit-by-pitches are worth 3 points. RBI and runs are 2 points and a stolen base earns you 4 points.
For pitchers, it varies from best-ball to daily contests. The points system for best-ball contests: Wins and quality starts are worth 5 points, strikeouts and innings pitched are 3 points and each earned run is -3 points.
And here's the point system for pitchers in daily contests: Wins and quality starts are worth 2 points, strikeouts are 2 points, innings pitched are 1 point each and each earned run is -1 point.
Where to play MLB DFS
Daily Fantasy Sports are legal in most jurisdictions, though it differs from state to state. Underdog Fantasy is legal in 41 U.S. states: all but CT, DE, HI, ID, IA, LA, MI, MT, NV, and ON (Canada). Thrive is slightly less available, but is still able to be accessed in 31 U.S. states. It is not available in AL, AZ, HI, ID, IN, IA, LA, ME, MS, MO, MT, NV, NH, NJ, NY, PA, TN, VT, VA, WA.
Some options are not allowed on some sites. For example, Underdog Fantasy does not allow pick'em (prop contests) in AZ, CO, MD, MO, NH, NJ, OH, PA, TN, WA, WV.
Underdog Fantasy Promo Code: SDS
Using our promo code "SDS" will unlock a full deposit match of up to $100 when you make your first deposit. That's a great welcome bonus! To claim your MLB DFS bonus money, all you need to do is sign up at Underdog and make the first deposit in your account. Underdog will match your money up to $100.
How does Underdog Fantasy work? Well, that's simple! Check out the table below to learn more about what Underdog is and what competing in MLB contests on the app entails:
| Underdog Fantasy Promo Code | SDS |
| --- | --- |
| 📱 Underdog Fantasy Sign-Up Link | 📱 Underdog Promo Code Link |
| 💰 Underdog Fantasy Promo Offer | 💰 Deposit Match up to $100 |
| ✅ Where is Underdog Fantasy Legal? | ✅ All US States Except: CT, DE, HI, ID, IA, LA, MI, MT, NV |
| ✅ Where is Underdog Fantasy Pick'em Legal? | ✅ All US States Except: AZ, CO, MD, MO, NH, NJ, OH, PA, TN, WA, WV |
| ✅ Where is Underdog Fantasy Best Ball Legal? | ✅ All US States Except: AZ, AR, IN, ME, MD, MA, MS, NY, VT |
| 💵 Underdog Fantasy Deposit Methods | 💵 PayPal & Debit/Credit Card (Visa, MasterCard, American Express, Discover) |
| | |
Underdog is one of the top fantasy apps around, and it is very convenient to use. There are contests every day across a variety of sports, but Underdog specifically has some of the best MLB contests of all the DFS apps.
Sign up quickly! Opening Day is March 30, so make sure to get in on the fun from the very beginning. It's a marathon, after all — not a sprint.
Thrive Promo Code: SDSXL
Want another way to get in on the action as spring training comes to a close? Thrive has you covered. Using our promo code "SDSXL" will get you a welcome bonus matching your first deposit of up to $250. And believe us, that can go a long way.
To claim that welcome bonus, all you have to do is sign up at Thrive and make your first deposit! Check out the helpful table below to find out where Thrive is legal in the U.S. and Canada:
| | |
| --- | --- |
| Thrive Fantasy Promo Code | SDSXL |
| Thrive Fantasy Sign-Up Link | Click here |
| Thrive Fantasy Offer | Deposit Match up to $250 |
| Where is Thrive Fantasy Legal? | Alaska, Arkansas, California, Colorado, Connecticut, Florida, Georgia, Illinois, Kansas, Kentucky, Maine, Maryland, Massachusetts (21 minimum age), Michigan, Minnesota, Nebraska (19 minimum age), New Hampshire, New Jersey, New Mexico, New York, North Carolina, North Dakota, Ohio, Oklahoma, Oregon, Rhode Island, South Carolina, South Dakota, Texas, Utah, West Virginia, Wisconsin, and Wyoming. |
| Deposit Methods | PayPal, Credit Card (Visa, MasterCard, American Express, Discover) |
| | |
FAQs
How to build a MLB DFS lineup?
To build a MLB DFS lineup, research players' recent performance, matchup, and ballpark factors. Look for value plays with low ownership percentages and select a mix of high-ceiling and high-floor players. Consider stacking players from the same team and allocate salary effectively to stay within the salary cap.
How to win MLB DFS?
Our top tip to win in MLB fantasy, is to focus on identifying players that are likely to outperform their salary expectations in any given gameweek. Try to spot the favourable matchups in advance, to pick out your highest value targets!
How to stack in MLB fantasy?
To stack in MLB fantasy, you just need to pick out any team you think have a favourable matchup, or scout their recent performances to see if you think their team is on the rise. Pick out your top players from that team, and align them in your DFS lineup!
Our Team
The Saturday Down South team has spent hundreds of hours analyzing and participating in the various daily fantasy apps and contests, so that we can bring you expert advice and opinions on MLB DFS and DFS for other sports. Our daily fantasy team is led by the following:
Adam has been on the editorial team at Saturday Down South for several years and has covered college football and fantasy sports. Adam loves playing daily fantasy involving a variety of sports including college football, college basketball, NFL, NBA, soccer and even PGA. With a long history of fantasy sports participation, Adam has recently become a major participant in daily fantasy pick'em contests. He appreciates when daily fantasy apps offer a great app experience with live scoring and accurate player cards.
Ethan Stone
Ethan joined the editorial team at Saturday Down South in 2022 and has covered college football, college basketball and fantasy sports. Ethan plays daily fantasy with a variety of sports including college football, college basketball, NFL, NBA and more. Ethan has recently become a big fan of daily fantasy best ball drafts. He appreciates when daily fantasy apps offer plenty of options and a variety of daily drafts.
We do not target any individuals under the age of 21. We support responsible gambling. If you feel like you're losing control over your gambling experience, call 1-800-GAMBLER (NJ, PA, WV), 1-800-9-WITH-IT (IN), 1-800-BETS-OFF (IA), 1-888- 532-3500(Virginia) 1-800-522-4700 (NV, TN), 1-800-522-4700 (CO, TN), 1-855-2CALLGA (IL), 1-800-270-7117 (MI).
About Saturday Down South | Ethics and Editorial Standards | Privacy Policy | Terms and Conditions | Do Not Sell My Personal Information