Underdog Fantasy Pick'em Contests: How to Play and How to Win
Underdog Fantasy Overview and Quick Facts
Daily fantasy sports (DFS) is a wildly popular way to participate in sports fandom and add a "little extra" to your game watching experience. Underdog Fantasy has a number of contests available where you can win real money making picks around your favorite teams and players while you watch sports. Before we dive into Underdog Fantasy pick'em contests, let's cover the quick facts about the Underdog platform.
Underdog Fantasy is a daily fantasy sports platform with a convenient and user-friendly mobile app available to make playing intuitive and fun. Investors like Mark Cuban, The Chainsmokers and Kevin Durant have backed Underdog Fantasy.
While you can play with real money, DFS is not considered sports betting.
Underdog Fantasy is available in 41 states across the country. It is not available in CT, DE, HI, ID, IA, LA, MI, MT, NV, and ON (Canada).
Underdog Fantasy is a legal, regulated and super-fun way to have money at stake in many sports markets where betting is not legal.
Underdog Fantasy Promo Code: SDS
Using our promo code "SDS" will unlock a full deposit match of up to $100. That's a pretty solid welcome bonus! All you have to do to claim your free money is sign up at Underdog and make your first deposit. Underdog will match your first deposit money up to $100.
How does Underdog Fantasy work? Check out this helpful table to learn more about what Underdog is and what competing on the app entails:
Underdog Fantasy Promo Code
SDS
Underdog Fantasy Sign-Up Link
Click here
Underdog Fantasy Offer
Deposit Match up to $100
Where is Underdog Legal?
All US States Except: CT, DE, HI, ID, IA, LA, MI, MT, NV
No Pick'em: AZ, CO, MD, MO, NH, NJ, OH, PA, TN, WA, WV
No College Pick'em (but can do other sports): AZ, AR, IN, ME, MD, MA, MS, NY, VT

Confused? Here are the SEC states where you can do college pick'em: AL, FL, GA, KY, SC, TX

Deposit Methods
PayPal, Credit Card (Visa, MasterCard, American Express, Discover)
How to get started:
Click here to sign up at Underdog Fantasy — the link will automatically apply our exclusive SDS promo code to your account.
Make your first deposit, and enjoy the 100% deposit match up to $100. It'll be immediately available in your account.
Download the app to your mobile device, log in, and start playing daily fantasy contests.
Now… on to The Underdog pick'em contests.
What are Underdog Fantasy Pick'em Contests?
If you're familiar with betting on sports prop bets, it'll make understanding pick'em contests super easy (though, previous sports betting experience is not necessary). In it's simplest form, pick'em contests involve making a pick on a higher or lower stat for a particular player. For example, do you think Pat Mahomes will throw for more than 2.5 touchdowns in his next game? or less? Now string together another pick (or up to 5), and you're in business.
Here are some screenshots of some NBA pick'em contest screens. You'll see the higher/lower options for a Jimmy Butler game as well as a Spencer Dinwiddie, then the combined "slip" showing the picks you've made and how much money you wish to use as your entry fee (as well as the potential money you can win).
Underdog Fantasy pick'em rules
The most important thing to understand about Underdog Fantasy pick'em contests is that you need to pick at least 1 player from 2 different teams to make it legitimate. But if you're picking higher/lower totals for a Georgia-Alabama game and can't stomach the idea of picking a Crimson Tide player as an avid supporter of the Bulldogs, you can look at the rest of the college football slate.
For example, you can pick a Georgia player's higher/lower total and then also pick a Mizzou-South Carolina or Texas A&M-Arkansas higher/lower total to legitimize your contest.
The important thing to remember is that you have to have multiple teams involved in every contest to make it acceptable. Then you can sit back and watch as your players move ever closer to their higher/lower total as the game progresses.
It can be very nerve-wracking, but it's also fun when you have money on a "higher" option and your player completes the pass or makes the putt or scores the goal or knocks down the bucket that puts them over that total!
Important note: If a player gets injured during a game and can't finish, you won't get your money back. That's part of the risk. But if a player you've put money on is a late scratch and can't play, you will have your contest adjusted. For example, if you put money on a 3-way parlay that involves Patrick Mahomes, Jalen Hurts and AJ Brown and, right before kickoff, Brown pulls his hamstring and can't play, your contest will automatically adjust to a 2-way parlay between Mahomes and Hurts.
If you put money on a 2-way contest between Hurts and Mahomes and Mahomes can't play, you'll get your money back, as your contest will be voided. You can play with complete confidence that Underdog will make sure every player you pick actually participates in a contest!
Underdog Fantasy pick'em strategy
There's no right or wrong way to play Underdog Fantasy pick'em contests. Make the picks you feel most comfortable with for any given game or event.
But there are a couple of strategies I use to make playing pick'em contests even more fun for me.
First and foremost, I look to the superstars. In college basketball, star players often dominate in big games. Purdue big man Zach Edey going against Trayce Jackson-Davis and the Indiana Hoosiers? I took the "higher" options for both players' points+rebounds+assists totals and watched as that decision paid off (literally).
Luka Dončić and the Dallas Mavericks going against Steph Curry and the Golden State Warriors? Well, you can predict that both of those stars will be geared up to play well against one another. I'm a Boston Celtics fan, so I like to pick Jayson Tatum's "higher" option for points+rebounds+assists in almost every game the Celtics play.
It just seems that stars take it to another level when they play against one another. Jayson Tatum and Jalen Brunson going head-to-head in a Celtics-Knicks rivalry game? Easy $9 victory with plenty of room to spare: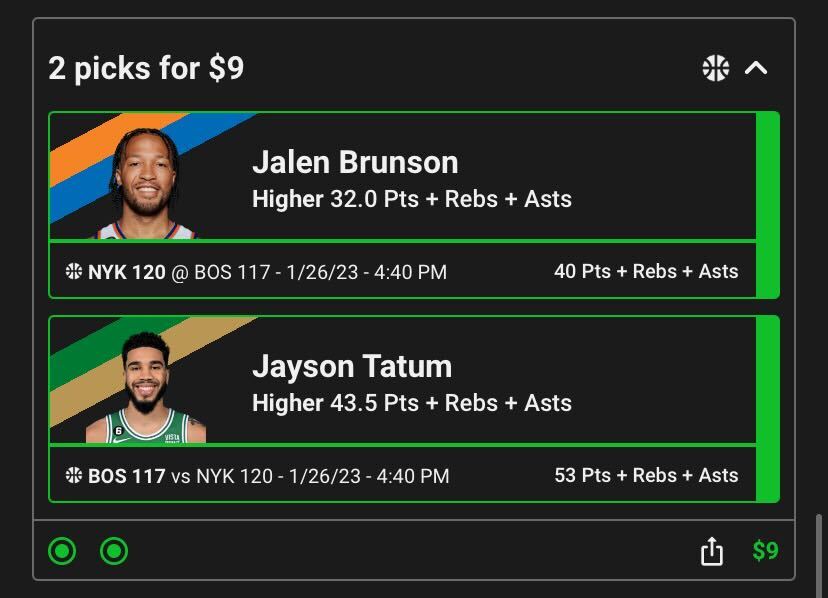 Damian Lillard and the Portland Trail Blazers taking on Dejounte Murray and the Atlanta Hawks in a late-night West Coast game? I may not have been awake for that whole game, but hey, it's always nice to wake up and see all that green: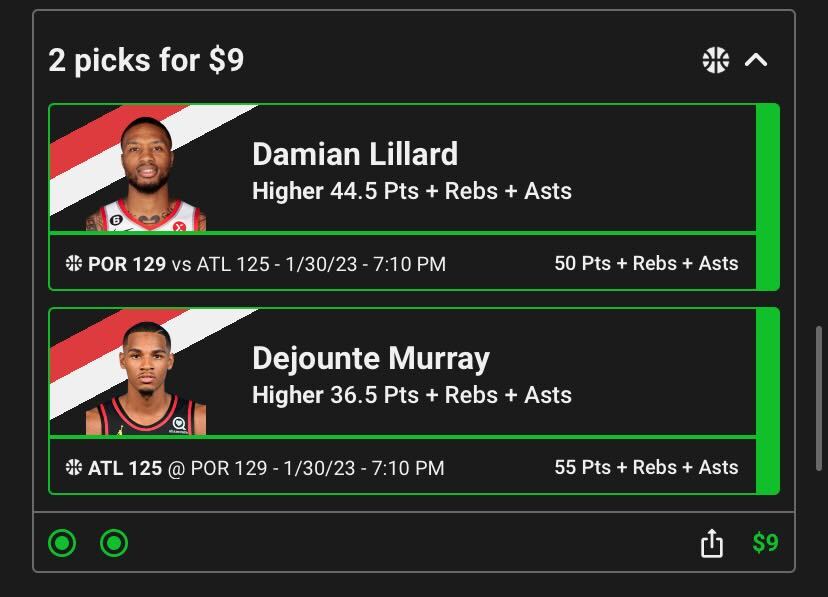 During the World Cup in Qatar, I'd put money down the night before on the games that kicked off at 4 a.m. my time and then go to sleep. It was like Christmas morning every time I woke up and saw I'd won: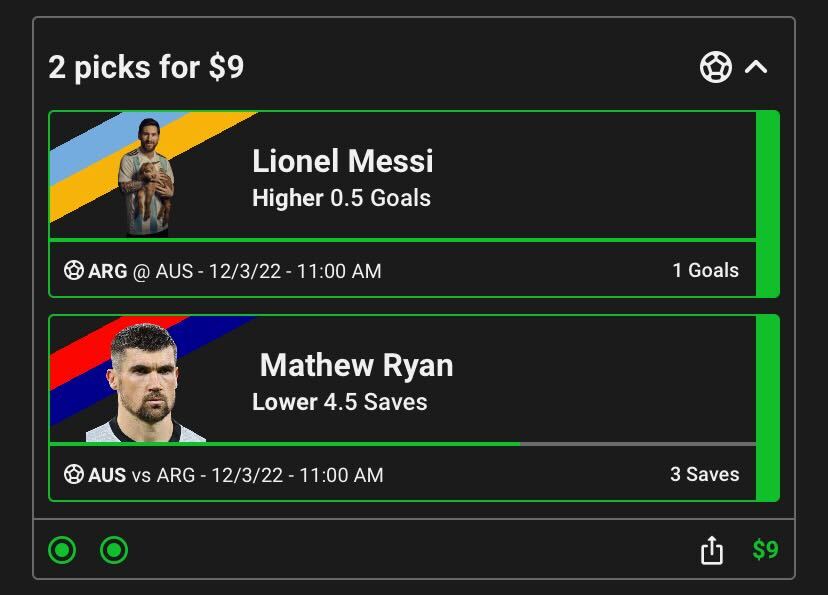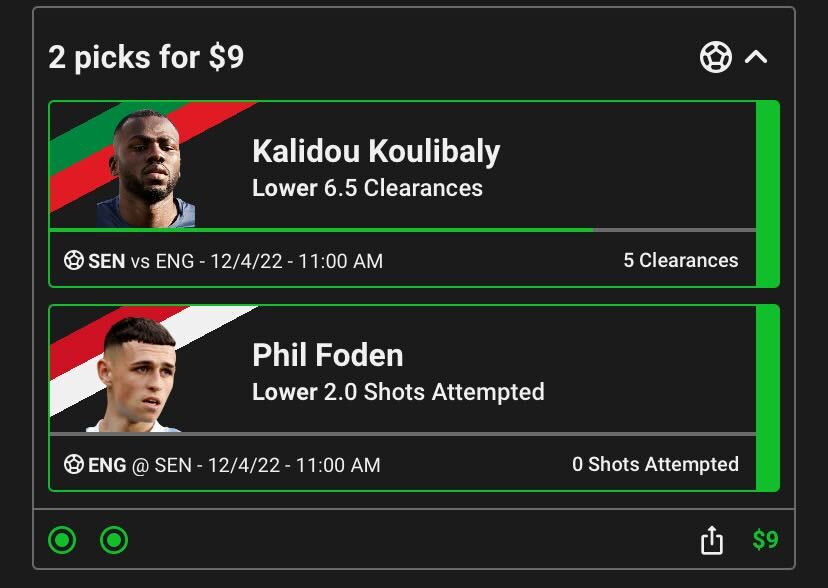 Of course, you don't always win. The folks who set the higher/lower totals know what they're doing, so be prepared for some excruciating losses. This one was particularly tough for me, as Julius Randle was fouled with only a few seconds left. He'd have gone to the line needing to make both free throws and I'd cash out with a $12 victory.
But the Miami Heat challenged the foul and it was overturned. No free throws. Game over. Ouch: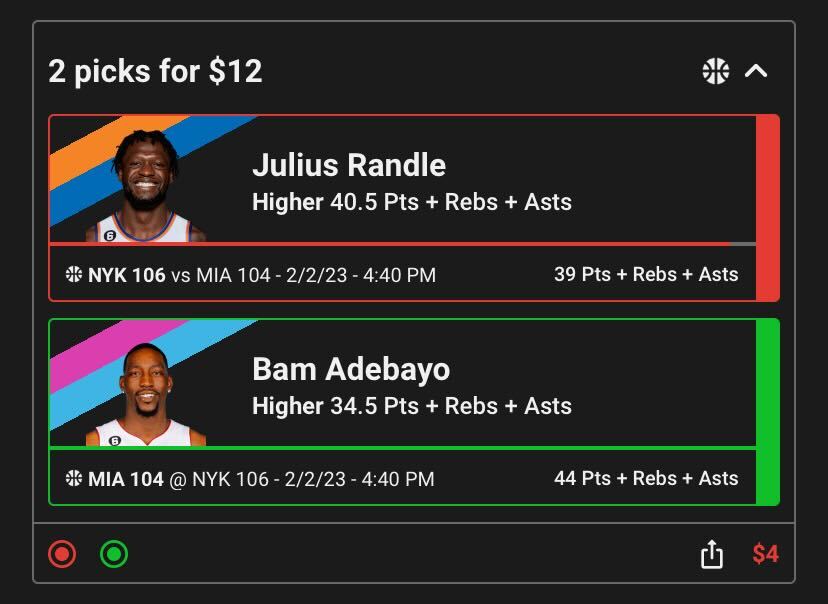 Still, you can be sure I have never been more invested in a replay review that didn't involve one of my favorite teams. I was irate when the refs ruled that Randle wasn't fouled and thus wouldn't get any free throws. It was the right call, but I wasn't about to admit that at the time. It's much more fun to be irrationally angry at the officials in a game I probably wouldn't have been watching if I didn't have money on the line.
Hey, you win some and you lose some.
Also, you'll notice I really like picking "higher" options in NBA games. It works out pretty well for me! But you can craft your own strategies once you get a feel for the app and which players you have better luck putting money on.
As you can see above, I'm pretty conservative when it comes to how many players I pick. Yes, you can make your payout bigger by choosing more players, but I find 2-player contests are dramatic enough for me in most situations.
But if you're more daring than I am, here's the multiplier system on Underdog Fantasy:
Two picks: 3x
Three picks: 6x
Four picks: 10x
Five picks: 20x
Curious what this looks like? Here what a 4-leg parlay (that didn't end up being a winner) looks like on Underdog Fantasy: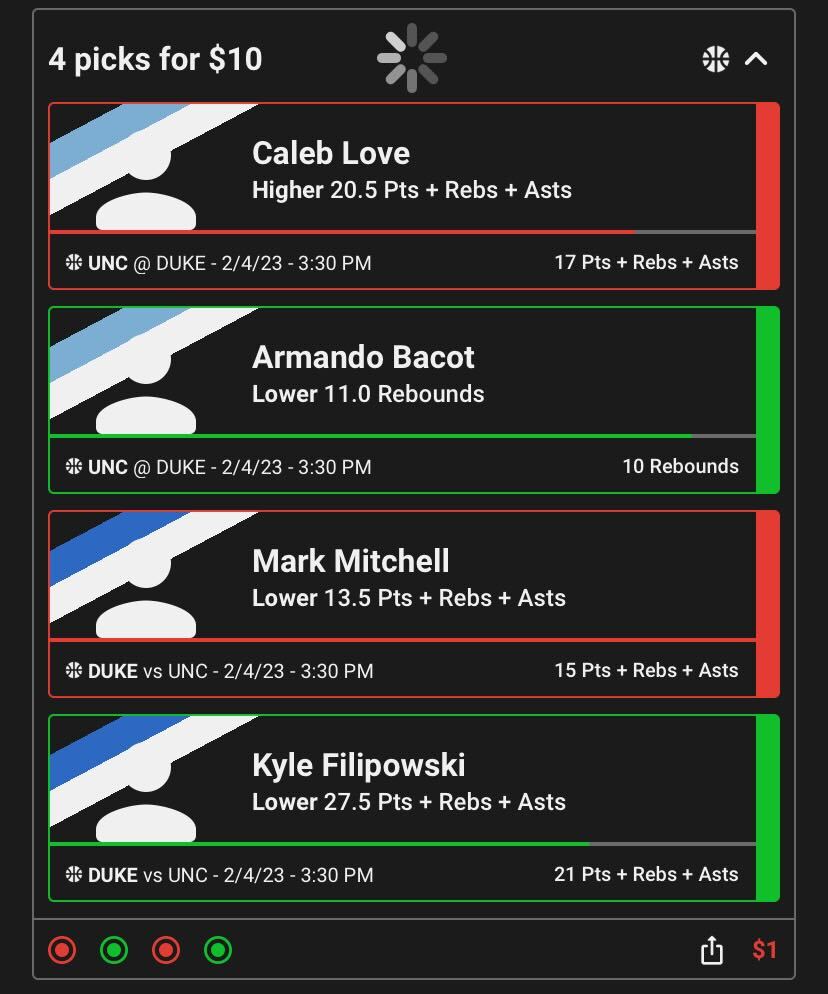 Why I like choosing the "higher" option
To me, it's always more fun to root for a player to have success (unless that player is on the opposing team). I also never want to root for an injury, so picking the "lower" option isn't as appealing to me. That doesn't mean I never pick lower options. Sometimes the higher/lower line is simply set too high for my taste.
But on 50/50 lines, where I could see it going either way, I'd rather root for a player to score points or run for a certain number of yards or score a goal than root against it. And, as I mentioned above, watching the contest turn green when your player goes over their total is deeply satisfying!
Underdog Pick'em Contests Advanced Strategy
So I've explained how I usually approach Underdog pick'em contests and the strategies I employ. What else is out there? Anything more advanced? Sure!
Determining Number of Picks to Make
From a statistical standpoint, is there advantage to a certain number of picks? That's a good question.
To begin answering, we start with the multiplier or payout of each option. If you recall, the corresponding multiplier or payout for each option is as follows:
Two picks: 3x
Three picks: 6x
Four picks: 10x
Five picks: 20x
From here, we can analyze how often we would have to win to break even assuming continuous pick'em contest participation. If our payout is 3x, for example, we have to win 1/3 of the time to break even. Here are the win percentages needed for break even:
Two picks: Need to win 33.3% of the time
Three picks: Need to win 16.7% of the time
Four picks: Need to win 10% of the time
Five picks: Need to win 5% of the time
Wow, we only need to win 5% of the time to break even for five-pick entries? That sounds fantastic, let's roll! Not so fast.
Time to get a little advanced here. When looking at multiple-leg bets (which pick'ems are), we need to understand odds and how it translates to implied probability a bit.
First, we need to understand how individual odds translate to parlay (or multi-leg) odds. For this exercise, we're going to assume a standard -110 odds on each leg of our pick'em. -110 odds is the equivalent in decimal form to 1.91. To get the multi-leg odds, you multiple 1.91 the number of times you have legs in your pick'em or parlay.
We don't need to show you the math for every option here, but we'll show it for two picks: 1.91 x 1.91 = 3.6481. Then subtract 1. 3.6481 – 1 = 2.6481, or +265. +265 comes with an implied probability of 27.4%.
Here are the odds and implied probability for each option:
Two picks: +265 (27.4% implied probability)
Three picks: +597 (14.35% implied probability)
Four picks: +1228 (7.53% implied probability)
Five picks: +2435 (3.94% implied probability)
OK, so you've won your first contest on Underdog. Heck, maybe you even hit it big with a 5-pick, 20x-payout parlay! How do you withdraw your money?
Underdog Fantasy deposits and withdrawals
There are several different ways to deposit money on Underdog. You can connect your PayPal account or use Visa, MasterCard, American Express and Discover cards to add money to your Underdog Fantasy account.
Options for withdrawing money are more limited, with PayPal and Interchecks as the 2 main options. The good news? Withdrawals are always free on Underdog, so you can take out your winnings at any time without any hassle whatsoever. Remember to use our exclusive Underdog Fantasy promo code "SDS" when you sign up!
I've had a couple of hot streaks that have seen my account total rise and have taken out some money via PayPal. Withdrawals are initiated almost instantly and I've always received my winnings in my PayPal account within 24 to 36 hours. It's easy and quick — a no-hassle way to both deposit and withdraw money.
Underdog Fantasy customer support
The Underdog team is incredibly helpful. I once had a question about one of the pick'em contests I entered and watched as one of my players was held out of the game due to an unforeseen injury (we discussed this very topic above). I messaged the Underdog support team on Twitter and received a quick and helpful response.
The customer support service at Underdog also includes email and phone lines. The Underdog group is trustworthy, helpful and quick to respond. It makes using the convenient app even easier knowing you have that support behind you.
Where is Underdog Fantasy legal in the United States?
Underdog Fantasy is perfectly legal in nearly every state in America, including large non-sports-betting states like California, Texas, Georgia, Alabama and Florida. The app is not available in the following U.S. states: CT, DE, HI, ID, IA, LA, MI, MT, NV. North of the border, the app is not available in Ontario, Canada. The Underdog Fantasy promo code SDS is available in all of these legal states and provides a nice welcome bonus to new users.
There are some additional restrictions depending on the state you're in. For example, Underdog pick'em contests are not allowed in the following states: AZ, CO, MD, MO, NH, NJ, OH, PA, TN, WA, WV.
How to create an Underdog Fantasy account
Creating an account is as simple as downloading an app on your phone and entering your email. You then create a password, connect payment methods and you're off and running!
Make sure you enter Underdog promo code "SDS" when prompted to take advantage of our deposit match bonus!
You'll create a username, confirm your date of birth and your email address and then, within a couple of minutes, you'll be able to enter your first Underdog pick'em contest. It's a very easy-to-use app with convenient features such as live scoring for some sports and occasional player boosts to make winning even easier.
Then you can also explore other contests offered on Underdog, including Rivals, daily drafts, best-ball contests and much more! There are any number of ways to enjoy using the app on a daily basis.
Click on this promo code to start enjoying Underdog Fantasy today:
Register your account today at Underdog Fantasy and take advantage of the full deposit match up to $100.
We do not target any individuals under the age of 21. We support responsible gambling. If you feel like you're losing control over your gambling experience, call 1-800-GAMBLER (NJ, PA, WV), 1-800-9-WITH-IT (IN), 1-800-BETS-OFF (IA), 1-888- 532-3500(Virginia) 1-800-522-4700 (NV, TN), 1-800-522-4700 (CO, TN), 1-855-2CALLGA (IL), 1-800-270-7117 (MI).
About Saturday Down South | Ethics and Editorial Standards | Privacy Policy | Terms and Conditions | Do Not Sell My Personal Information