NHL DFS: How to play, average draft position, contests available and more
NHL Daily Fantasy Sports (DFS) offers a fun alternative to sports betting for those who either don't have access for legality reasons pertaining to the state they live in, or those just looking for a new, fun way to lock in for all 3 periods.
Sites such as Underdog Fantasy, Sleeper Fantasy and Thrive Fantasy are growing in popularity each and every day for that exact reason. In this article, we'll detail some of what DFS has to offer for prospective players, including: how to play, ways to play, top players and their average draft position (ADP) and so much more.
These apps are easy to use and offer plenty of ways to get in on the fun. Join using the links below to get in on the action just ahead of the Stanley Cup Final!
NHL DFS Average Draft Position (ADP): Week of May 22, 2023
Think of this section as one NHL fans can check back on to reference average draft positions for Underdog Fantasy contests. In other words, it's where you can reference whether or not you are getting a good deal drafting a certain player over another.
Obviously, the NHL playoffs are winding down as we enter June. Only Vegas, Dallas, Florida and Carolina remain, which means those are the guys you'll want to focus on if you play on referencing through the end of the season.
Keep in mind the top players such as Matthew Tkachuk, Mark Stone and Sebastian Aho are almost always going to go 1st or 2nd. Very often you'll find that your later-round picks will score you the win, especially in a game with as little scoring as hockey. We'll get into the specifics of scoring and how it works a little further down on this page.
Check out the average draft positions (ADP) for the entire 2022-23 season on Underdog NHL DFS contests below:
| PLAYER | TEAM | ADP |
| --- | --- | --- |
| Connor McDavid | EDM | 1.0 |
| Leon Draisaitl | EDM | 2.5 |
| Auston Matthews | TOR | 2.5 |
| Nathan MacKinnon | COL | 5.5 |
| Kirill Kaprizov | MIN | 5.5 |
| Igor Shesterkin | NYR | 6.5 |
| Cale Makar | COL | 7.0 |
| Andrei Vasilevskiy | TB | 7.0 |
| Nikita Kucherov | TB | 9.0 |
| Mikko Rantanen | COL | 10.5 |
| Alex Ovechkin | WSH | 11.5 |
| Victor Hedman | TB | 12.0 |
| Matthew Tkachuk | FLA | 14.0 |
| Roman Josi | NSH | 16.0 |
| Aleksander Barkov Jr. | FLA | 16.0 |
| Mitch Marner | TOR | 16.0 |
| Jonathan Huberdeau | CGY | 17.5 |
| Adam Fox | NYR | 18.0 |
| Steven Stamkos | TB | 19.5 |
| Jacob Markstrom | CGY | 23.0 |
| Ilya Sorokin | NYI | 23.0 |
| Sidney Crosby | PIT | 23.5 |
| Mika Zibanejad | NYR | 24.0 |
| JT Miller | VAN | 24.5 |
| Kyle Connor | WPG | 25.5 |
Why We Love NHL DFS
I'm of the firm opinion that the NHL, and hockey in general, is vastly underrated. I used to live in Tennessee and got caught up in the Nashville Predators' Stanley Cup run in 2017. I was immediately hooked, remain a massive Preds fan today and I'm starting to understand the game more and more with the passing of each season.
It's hard to stress this enough for those unfamiliar with the game, and particularly those who wish to understand the game better: there is a lot going on — way more than you realize at face value. The complexity of shift changes, the importance of power plays and so on make hockey a fun game to watch, but it's fairly overwhelming for someone wanting to truly dive into the world of the NHL.
Utilizing NHL DFS contests is a fantastic route to take if mastering a knowledge of the players and player hierarchy is your goal. By taking part in drafts, you figure out quite quickly who the major players, teams and shifts in the league are (and aren't).
For those who have followed hockey for years, playing NHL DFS is just as exciting. As I said, I've been following hockey for about 6 years now and would consider myself a pretty knowledgeable guy about the current state of the game. For instance, I know the future of the Predators organization is looking fairly good! I also know Matthew Tkachuk and the Florida Panthers are a ton of fun and seem to have the best shot at winning the Stanley Cup in June.
Speaking of the Panthers, Florida nearly carried me to a win in a recent 3-person draft I entered. Instead, Panthers star Aleksander Barkov left the game in the first period. Sam Reinhart scored the lone goal of the evening, but because my top player was out my team lost by 3 points.
Here's a look at what the results page will show upon completion of a draft.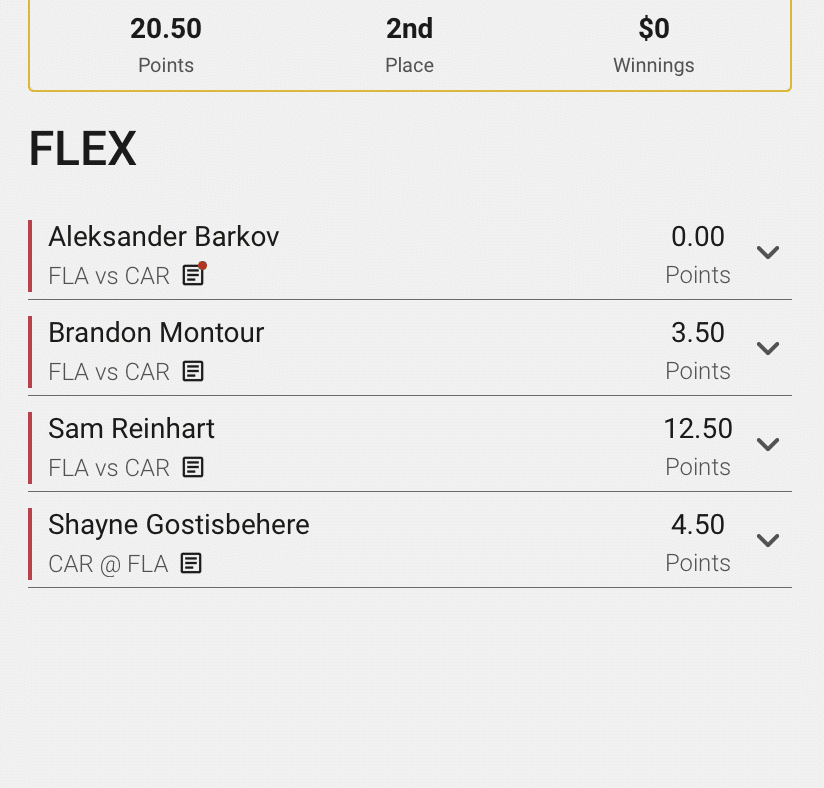 Barkov's injury was bad luck for me, but I've been on the other side of things too. I had drafted Leon Draisaitl the night of his 4-goal game against Vegas. The Oilers found a way to lose that game anyway, but I won a cool 8 bucks. Thanks, Leon!
Hockey can be unpredictable like that, but that's what makes the drafting process that much better.
NHL DFS How to Play
NHL DFS on Underdog, Sleeper or Thrive features a few separate ways to play that anyone can pick up easily. The best part is that, by taking part in fantasy drafts or utilizing some fun pick'em contests (similar to props), anyone can win real money so long as they understand they how to play and which mode suits them best.
In this section, we'll go over just that. Let's get to it!
Daily Contests
Daily Fantasy Drafts are the most popular way to play at Underdog, and there are even a few different ways to do this. For instance, a day before an NHL playoff game there are $2, $3, $5, $10, $15, $25, and even $100 drafts available. Obviously, the more money it takes to enter a draft, the more money you can win. However, the more money you can win almost always means there will be more players to beat out for a top prize.
During the season when there are plenty of games to pick from on a specific night there will be contests with large pools of participants. It's important to note that while you're drafting against just 5 other people, you'll be thrown into a pool of thousands! Usually finishing in the top 25% or so will net you winnings and the higher you place, the more money you earn!
Best Ball Tournaments
Best-ball contests are for those who want more of a true fantasy type experience across the entirety of the season. You'll enter a 16-person draft, with roster spots including 6 starters: 2 wings, 1 goalie, 1 center, 1 defenseman and a flex position. There are also 10 spots on the bench.
It's important to note that Underdog (Thrive and Sleeper do not offer best ball) will automatically choose the 6 best players at that position following your draft, so you won't be setting any lineups across the season. There's a reason it's called "Best-Ball," folks!
For obvious reasons, best-ball is not available for the NHL on Underdog quite yet, but be sure to check back around September prior to the NHL's October start date for the 2023-24 season!
Pick'Em (Prop Contests)
Thrive, Sleeper and Underdog both offer prop contests in certain jurisdictions, and they are very easy to understand but have some distinct characteristics that set them apart from what you may find on a typical sportsbook.
How it works is simple. You'll navigate Thrive, Sleeper or Underdog to the props section (labeled Pick'Em on Underdog) where you can find any number of props provided by the site. In the below screenshot, you can see a few examples to pick from a playoff game between the Hurricanes and Panthers.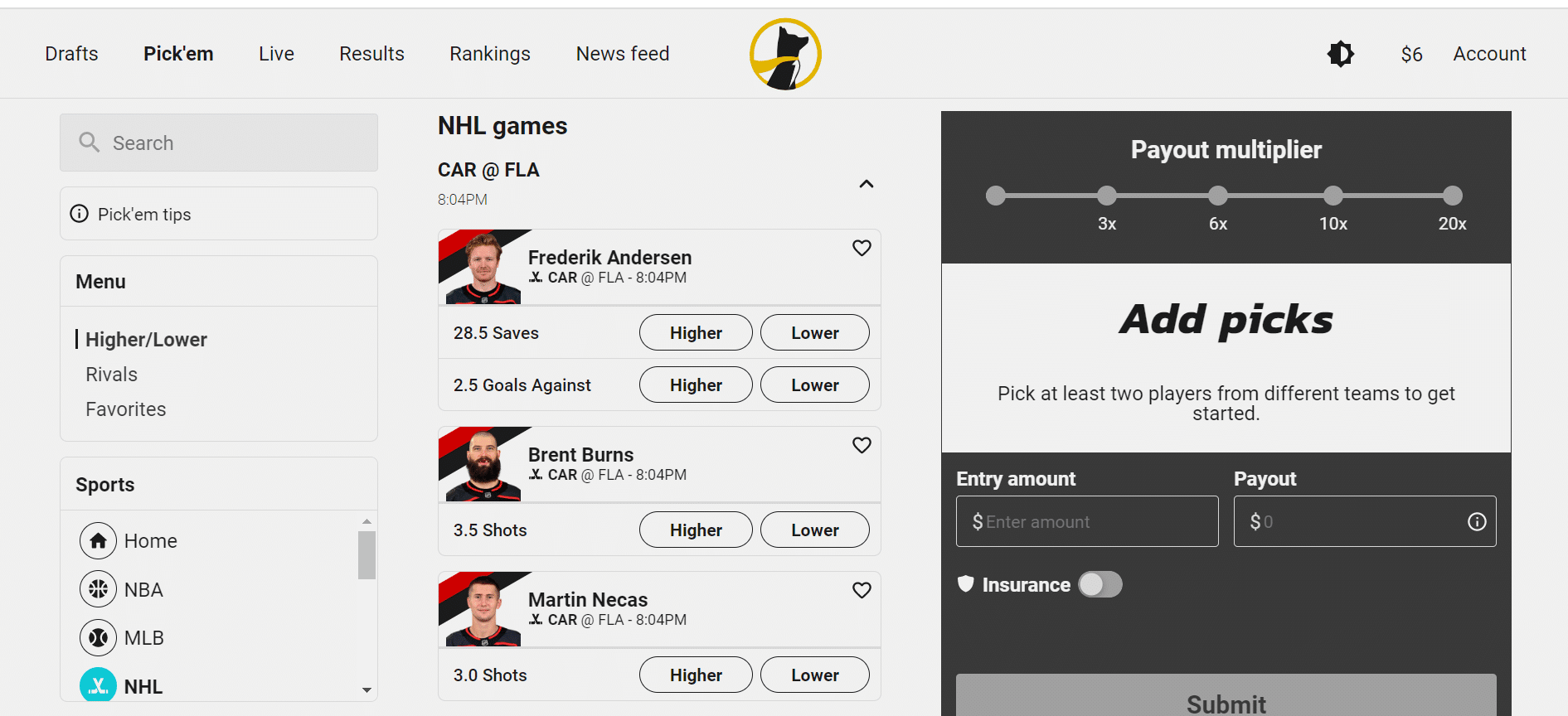 From there, all you have to do is find your favorite prop and start adding them together to increase your multipliers!
You'll notice to the right of the image it requires you to make at least 2 picks for an entry to be legitimate. You also would have to pick at least 1 player from a different team, so you can't team up on Brent Burns and Martin Necas alone on the same night without adding at least 1 player from another team to the mix first.
Here's a look at a contest I won during the earlier rounds of the playoffs. Surprise, surprise, Connor McDavid was involved: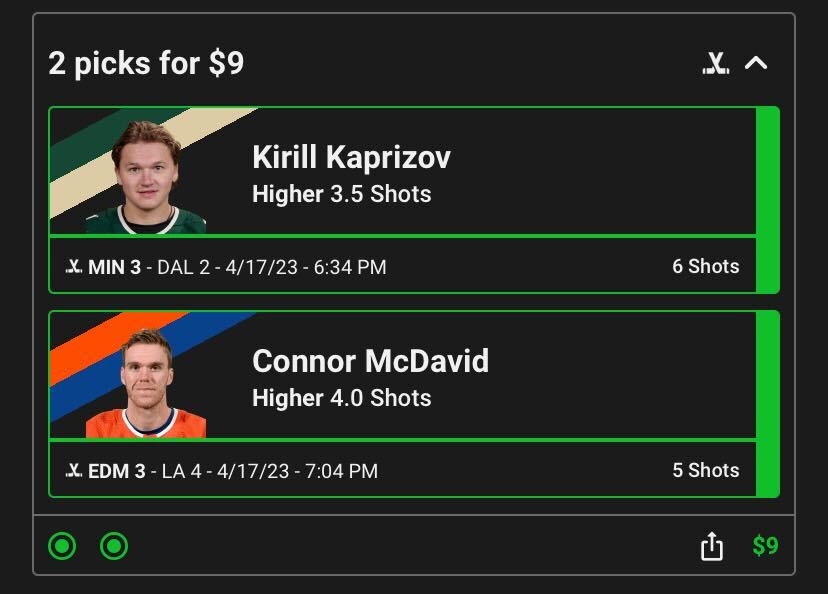 Here's a contest that didn't work out so well. But hey, that's the way things go sometimes!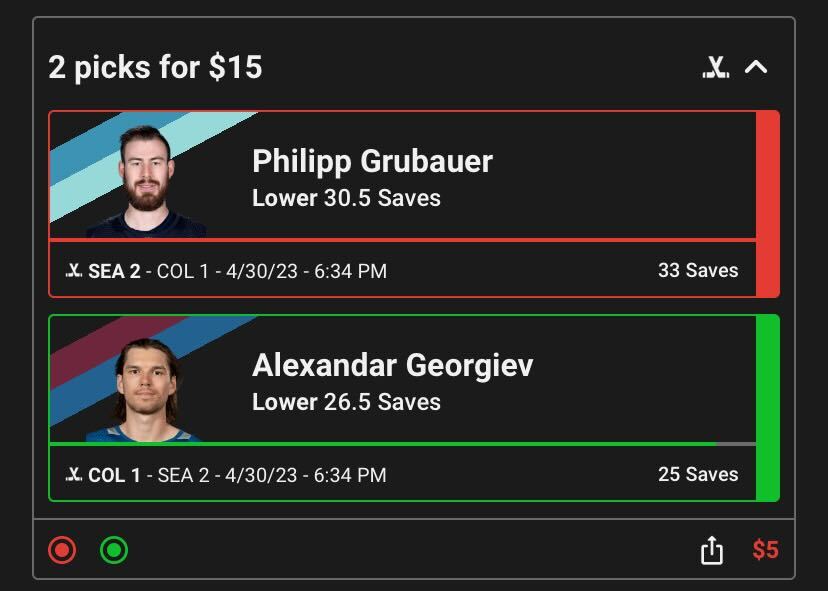 It's also important to understand how the multiplier works. How much can you win? Here are how the multipliers work on the Underdog Pick'em contests:
Two picks: 3x
Three picks: 6x
Four picks: 10x
Five picks: 20x
NHL DFS Strategy and Scoring System
As with every contest, you'll want to be aware of some tips, tricks and overall strategies to take advantage of when getting started. We'll also take a look at the scoring system for Underdog fantasy in the below section!
Scoring system for NHL Underdog Fantasy
Scoring is simple for the NHL. Below, you'll find a simple guide on how it works for skaters:
Goal: 6 points
Assist: 4 points
Power Play point: 0.5 points
Shot: 1 point
Block: 1 point
Hit: 0.5 points
And here is how scoring works for goalies:
Win: 6 points
Save: 0.6 points
Goal against: -3 points
NHL DFS strategy
Now that you know how the scoring works, let's look at some more things to keep in mind. For one, it's important to note that if a goalie is scratched from the lineup, it counts as a push on the site. This is because teams sometimes will lean on playing 2 goalies in a game or at least have 2 on the roster for a specific circumstance.
Understanding each team's strengths and weaknesses is a very important part of winning Underdog contests. If a skater you are considering drafting is playing a bad defensive team, it's probably a worthwhile move and vice versa.
Penalties are uber-important to consider as well. For instance, the Edmonton Oilers' power play in 2023 was among the best the sport has ever seen, so it may not be a great idea to select a goalie for a team opposing McDavid and Draisaitl during the season.
With each passing game, you'll find your knowledge of the game increasing rapidly. Before you know it, it'll be second nature!
Where to play NHL DFS
Because it is not considered sports betting, Daily Fantasy Sports are legal in most jurisdictions. It differs from site to site. Underdog Fantasy is legal in 41 U.S. states, all but CT, DE, HI, ID, IA, LA, MI, MT, NV, and ON (Canada). Thrive is slightly less available, but is still able to be accessed in 31 U.S. states. It is not available in AL, AZ, HI, ID, IN, IA, LA, ME, MS, MO, MT, NV, NH, NJ, NY, PA, TN, VT, VA, WA. Sleeper is available in 25 U.S. states, which we'll break down below.
Some options are not allowed on some sites. For example, Underdog Fantasy does not allow pick'em (prop contests) in AZ, CO, MD, MO, NH, NJ, OH, PA, TN, WA, WV.
Underdog Fantasy Promo Code: SDS
Using our promo code "SDS" will unlock a full deposit match of up to $100 when you make your first deposit. That's a great welcome bonus! To claim your bonus money, all you need to do is sign up at Underdog and make the first deposit in your account. Underdog will match your money up to $100.
How does Underdog Fantasy work? Well, that's simple! Check out the table below to learn more about what Underdog is and what competing in NHL contests on the app entails:
| Underdog Fantasy Promo Code | SDS |
| --- | --- |
| 📱 Underdog Fantasy Sign-Up Link | 📱 Underdog Promo Code Link |
| 💰 Underdog Fantasy Promo Offer | 💰 Deposit Match up to $100 |
| ✅ Where is Underdog Fantasy Legal? | ✅ All US States Except: CT, DE, HI, ID, IA, LA, MI, MT, NV |
| ✅ Where is Underdog Fantasy Pick'em Legal? | ✅ All US States Except: AZ, CO, MD, MO, NH, NJ, OH, PA, TN, WA, WV |
| ✅ Where is Underdog Fantasy Best Ball Legal? | ✅ All US States Except: AZ, AR, IN, ME, MD, MA, MS, NY, VT |
| 💵 Underdog Fantasy Deposit Methods | 💵 PayPal & Debit/Credit Card (Visa, MasterCard, American Express, Discover) |
| | |
Underdog is one of the top fantasy apps around, and it is very convenient to use. There are contests every day across a variety of sports, but Underdog specifically has some of the best NHL contests of all the DFS apps.
Sign up today and get your welcome bonus before the march to the fight for Lord Stanley's Cup begins!
Thrive Promo Code: SDSXL
Thrive is another great way to get in on the NHL DFS action via prop contests and drafts. Using our promo code "SDSXL" will get you a welcome bonus matching your first deposit of up to $250. Not bad!
To claim that welcome bonus, all you have to do is sign up at Thrive and make your first deposit! Check out the helpful table below to find out where Thrive is legal in the U.S. and Canada:
| | |
| --- | --- |
| Thrive Fantasy Promo Code | SDSXL |
| Thrive Fantasy Sign-Up Link | Click here |
| Thrive Fantasy Offer | Deposit Match up to $250 |
| Where is Thrive Fantasy Legal? | Alaska, Arkansas, California, Colorado, Connecticut, Florida, Georgia, Illinois, Kansas, Kentucky, Maine, Maryland, Massachusetts (21 minimum age), Michigan, Minnesota, Nebraska (19 minimum age), New Hampshire, New Jersey, New Mexico, New York, North Carolina, North Dakota, Ohio, Oklahoma, Oregon, Rhode Island, South Carolina, South Dakota, Texas, Utah, West Virginia, Wisconsin, and Wyoming. |
| Deposit Methods | PayPal, Credit Card (Visa, MasterCard, American Express, Discover) |
| | |
Sleeper Promo Code: SOUTHXL
Sleeper Fantasy just recently added NHL contests to its offerings, joining NFL, MLB, NBA, NCAAF and NCAAB on the app.
Sleeper is available in 25 U.S. states (detailed in the table below). If you sign up at Sleeper today and use Sleeper promo code SOUTHXL, you'll receive a first-time deposit match of up to $100:
Sleeper Fantasy Promo Code
SOUTHXL
Sleeper Fantasy Sign-Up Link
Click here
Sleeper Fantasy Offer
Deposit match up to $100
Where is Sleeper legal?
Sleeper picks contests are legal in 25 states: AK, AR, CA, CO, FL, GA, IL, KS, KY, MA, MN, NE, NM, NC, ND, OK, OR, RI, SC, SD, TX, UT, VT, WI and WY, as well as Washington DC.

Sleeper Daily Drafts are available in the states mentioned above, as well as Alabama, Maryland and West Virginia.

Deposit Methods
Debit or credit card, Apple Pay and instant bank transfer.
Our Team
The Saturday Down South team has spent hundreds of hours analyzing and participating in the various daily fantasy apps, so that we can bring you expert advice and opinions on DFS NHL and DFS for other sports. Our DFS team is led by the following:
Adam has been on the editorial team at Saturday Down South for several years and has covered college football and fantasy sports. Adam loves playing daily fantasy involving a variety of sports including college football, college basketball, NFL, NBA, soccer and even PGA. With a long history of fantasy sports participation, Adam has recently become a major participant in daily fantasy pick'em contests. He appreciates when daily fantasy apps offer a great app experience with live scoring and accurate player cards.
Ethan joined the editorial team at Saturday Down South in 2022 and has covered college football, college basketball and fantasy sports. Ethan plays daily fantasy with a variety of sports including college football, college basketball, NFL, NBA and more. Ethan has recently become a big fan of daily fantasy best ball drafts. He appreciates when daily fantasy apps offer plenty of options and a variety of daily drafts.
We do not target any individuals under the age of 21. We support responsible gambling. If you feel like you're losing control over your gambling experience, call 1-800-GAMBLER (NJ, PA, WV), 1-800-9-WITH-IT (IN), 1-800-BETS-OFF (IA), 1-888- 532-3500(Virginia) 1-800-522-4700 (NV, TN), 1-800-522-4700 (CO, TN), 1-855-2CALLGA (IL), 1-800-270-7117 (MI).
About Saturday Down South | Ethics and Editorial Standards | Privacy Policy | Terms and Conditions | Do Not Sell My Personal Information