NFL DFS: Top picks, strategies and average draft position
NFL DFS Contests Overview
NFL DFS contests are quickly rising in popularity. For fans in states without legalized sports gambling (and even for fans in states with it), daily fantasy sports are a great way to get in on the action for packed Sunday NFL slates. More than 30 million people play DFS contests every year.
There are several great options out there for DFS players, including Underdog Fantasy, Sleeper Fantasy, Thrive and more! There are plenty of ways to get in on the fun every week during the NFL season.
The long journey from the preseason to the Super Bowl begins in just a few short months. Make sure you check out the links below to take advantage of some excellent promo codes and get in on the NFL DFS excitement!
NFL DFS Average Draft Position (ADP): Week of May 29, 2023
This is a section you'll definitely want to note and save. Average Draft Position (ADP) is an important thing to understand before getting involved in NFL DFS. For example, while Patrick Mahomes and Josh Allen (and Joe Burrow and Jalen Hurts and some other elite quarterbacks) might be some of the most important players in the game, they don't rank very highly in average draft position.
That's because the difference between an elite receiver and a mediocre receiver is often much bigger than the gap between elite quarterbacks and the next tier of players at that position. Still, there's value to be had in identifying which players are undervalued and making sure they end up on your squad in daily drafts!
Check out the average draft positions (ADP) for Underdog NFL DFS contests below:
| PLAYER | TEAM | ADP | POSITION |
| --- | --- | --- | --- |
| Justin Jefferson | MIN | 1.2 | WR1 |
| Ja'Marr Chase | CIN | 2.5 | WR2 |
| Christian McCaffrey | SF | 2.9 | RB1 |
| Travis Kelce | KC | 5.0 | TE1 |
| Tyreek Hill | MIA | 5.2 | WR3 |
| Cooper Kupp | LAR | 6.0 | WR4 |
| Bijan Robinson | ATL | 6.8 | RB2 |
| Stefon Diggs | BUF | 8.2 | WR5 |
| AJ Brown | PHL | 9.4 | WR6 |
| Jonathan Taylor | IND | 11.0 | RB3 |
| Davante Adams | LV | 11.4 | WR7 |
| Austin Ekeler | LAC | 12.2 | RB4 |
| CeeDee Lamb | DAL | 13.0 | WR8 |
| Garrett Wilson | NYJ | 14.2 | WR9 |
| Saquon Barkley | NYG | 15.4 | RB5 |
| Amon-Ra St. Brown | DET | 16.1 | WR10 |
| Josh Allen | BUF | 17.9 | QB1 |
| Patrick Mahomes | KC | 18.8 | QB2 |
| Jalen Hurts | PHL | 19.0 | QB3 |
| Jaylen Waddle | MIA | 19.1 | WR11 |
| Nick Chubb | CLE | 21.3 | RB6 |
| Chris Olave | NO | 22.3 | WR12 |
| Tony Pollard | DAL | 23.0 | RB7 |
| DeVonta Smith | PHL | 24.5 | WR13 |
| Tee Higgins | CIN | 25.5 | WR14 |
Why We Love NFL DFS
It's the NFL. It's the biggest sport in the United States. Millions of people from coast to coast (and in Alaska and Hawaii) are glued to their TVs every Sunday (and Thursday and Monday) in the fall watching football.
From the first round of games kicking off at 1 p.m. ET to the afternoon window of 4:30 p.m. ET kickoffs to Sunday Night Football in the evening, there are plenty of great games on every weekend throughout the fall. What better way to add even more excitement to those weekends than by entering DFS pick'em contests, DFS daily drafts and more to try to win some real money?
Even if you're a fan of a team that isn't expected to be a Super Bowl contender this year (like my Green Bay Packers, unfortunately), having the chance to win money each weekend makes each game even more fun to watch. Heck, I'll sit through an Arizona Cardinals game if I have to!
With NFL DFS games, you have a wide variety of options. We'll break down the types of contests available in the next section, but there are daily drafts, pick'em contests, best-ball tournaments and much, much more!
Let's dive into some of the options out there in the NFL DFS market, shall we?
NFL DFS: How to Play
There are several ways to get in on the action during the NFL season when it comes to the major DFS apps. You can do pick'em contests, daily drafts or season-long best-ball contests.
In this section, we'll break down exactly how to play each of those games and provide examples of contests we've entered over the past year or so.
Daily Drafts
Daily drafts are like your normal fantasy football league drafts, but you only keep your team for 1 week! You draft players and compete against a pool of other people (or against 1 other person in a head-to-head contest) with prize pools of varying sizes.
There are so many options to choose from. Below, you can see a big contest on Underdog, which featured thousands of players and $225,000 in prizes. I managed to win $12 on a contest with a $5 entry fee.
My team consisted of QB Jalen Hurts, WRs Davante Adams and Justin Jefferson, RBs David Montgomery and Aaron Jones and TE Gerald Everett.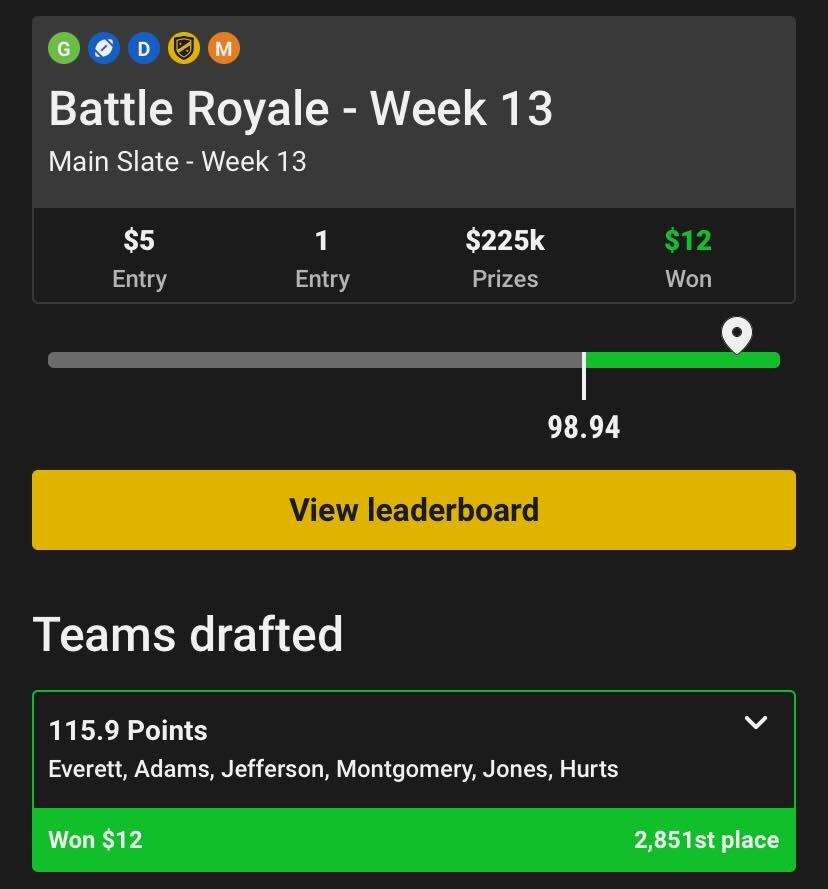 This was a Week 9 contest I entered on Sleeper. It was only a $1 entry fee and I took home first place, earning $4 for my efforts:

I also had Jalen Hurts as my quarterback in the Sleeper contest. Seems I do pretty well when I draft the former Alabama and Oklahoma star, apparently!
Daily drafts are scored live, so you can follow along during games and see how your squad is faring in the big group or in smaller competitions. It's a fun way to add even more excitement to a full weekend of NFL football!
Pick'em Contests
These are similar to props that you'd find at online sportsbooks, but you have to string 2 or more correct picks together to win money. The good news is that the more picks you make, the higher the multiplier becomes and the more money you can win!
Here's a look at a pick'em contest I won during the NFL playoffs, betting on both Joe Burrow and Josh Allen to go under their projected passing totals: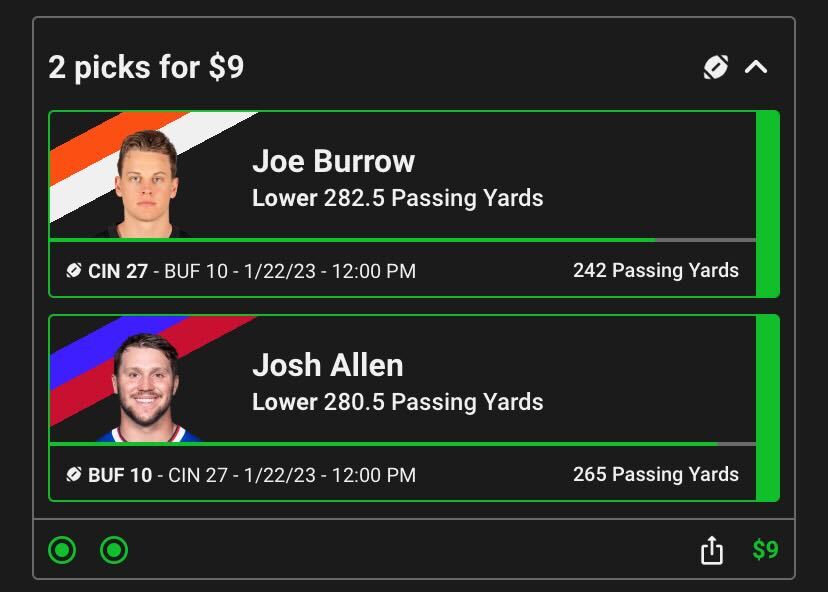 You'll also want to keep an eye out for promotions from apps like Underdog and Sleeper. For the Super Bowl, all Philadelphia Eagles QB Jalen Hurts had to do was account for 1 total yard of offense for me to win that portion of my contest. Talk about a no-brainer!
Fortunately for me, Kansas City Chiefs RB Isiah Pacheco also lived up to his end of the deal and I won money on the promotion: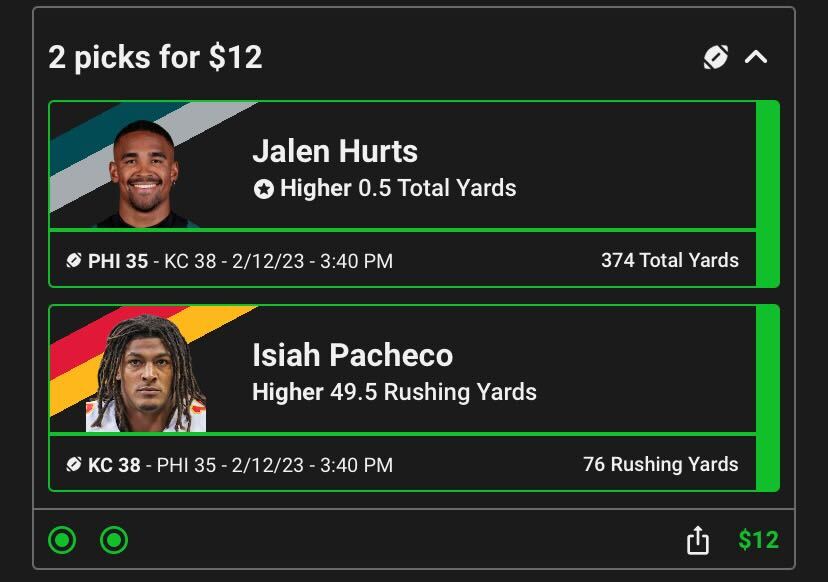 If your first-half contests aren't going very well, you can also enter contests at halftime. Check out this second-half entry that I nailed during the Super Bowl:
It's not all fun and games, though. Sometimes you lose contests in excruciatingly close fashion. The Chiefs were in a close game in the playoffs against the Bengals! Why couldn't Pacheco get a couple more carries?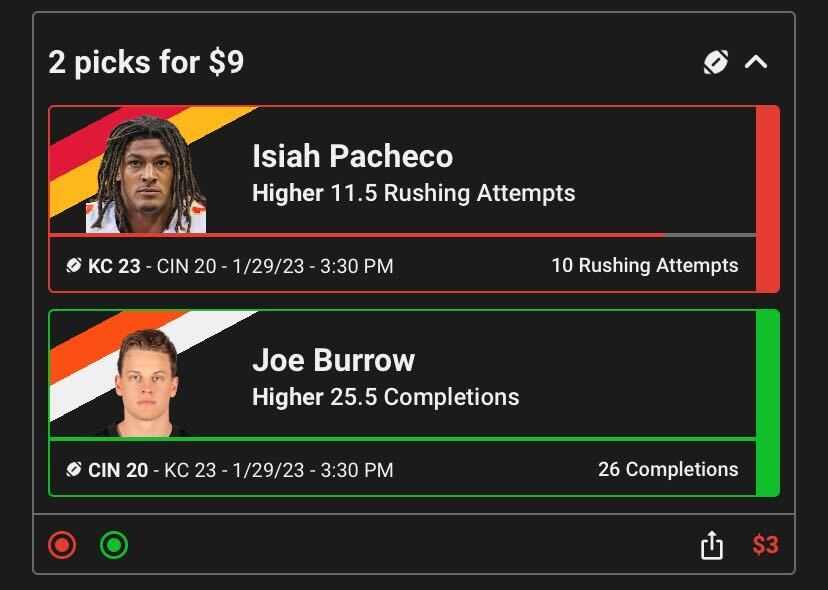 Sometimes you're not even close, though. Jeff Wilson let me down in a big way here, falling way short of his projected rushing yards one week after he had a great game: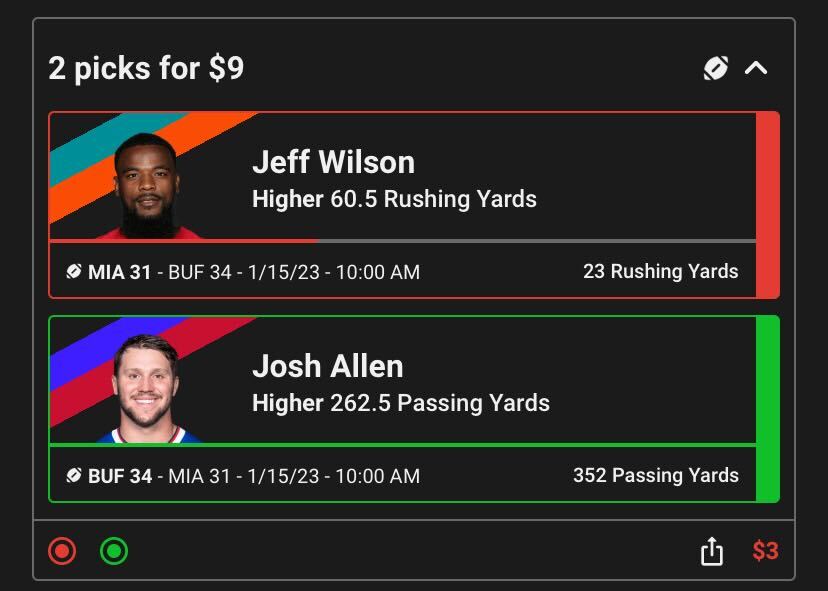 But entering a pick'em contest or 2 for big games certainly makes things interesting. You're hanging on every pass attempt, every carry and every touchdown even more than normal!
Best-ball Contests
Best-ball contests are available on Underdog and are somewhat similar to normal season-long fantasy football leagues. The major difference? You don't have to set a lineup every week. You draft your team and Underdog automatically puts your top scorers into your lineup every weekend during the season!
The prize pools are also probably much higher than your normal fantasy league. This year, Underdog is offering its Best Ball Mania IV competition. The prize pool is a whopping $15 million, with the first-place finisher taking home a cool $3 million.
You draft against 11 other people, but then you are put into a competition against more than 675,000 other users to try to win a share of the prize!
There are 4 rounds in the tournament, with Round 1 lasting through Weeks 1-14 of the NFL season. Round 2 takes place in Week 15. Round 3 is in Week 16 and Round 4 (the final round) is in Week 17 among a pool of 441 players. If you make it to Round 4, you'll win at least $1,000!
Ready to get started on Best Ball Mania IV? Click this link for more information.
NFL DFS Strategy
When you're doing a daily draft, you might think it's a great idea to take a quarterback with your first pick. After all, quarterback is arguably the most-important position in sports. Plus, the game's biggest stars — think of your Patrick Mahomes, Josh Allen, Jalen Hurts, Joe Burrow, Justin Herbert and Trevor Lawrence types — play the quarterback position.
But when it comes to daily DFS drafts, picking a quarterback isn't always the best option with your first-round selection. Why? It comes down to position scarcity. There have never been more high-scoring quarterbacks in the NFL than there are right now. It's a golden age for the quarterback position. Thus, in a 6-team draft on a normal NFL Sunday, you're almost guaranteed to get 1 of the 6 elite quarterbacks listed above.
Wide receivers, running backs and tight ends are a different story. With multiple WRs and RBs contributing to your score in daily drafts, you want to make sure you pounce on the top guys early. There aren't many Justin Jeffersons and Ja'Marr Chases out there. Tight end is perhaps the thinnest position in the NFL right now. Behind Travis Kelce, things drop off in a hurry.
Thus, it makes sense to stock up on receivers, backs and tight ends early, leaving the quarterback position for later. Let your opponents reach for Mahomes if they want. You'll potentially get similar production from a guy like Joe Burrow every week.
As far as pick'em contests go, you want to look at each team's metrics, obviously. If a team has a great defensive rating against the pass, you might want to pick the opposing quarterback's under total on passing yards, for example. That's all pretty obvious stuff.
Something that also might seem obvious but is sometimes forgotten is to check the weather for the games. Chicago, for example, is an outdoor stadium in a cold-weather city that doesn't always get the best reviews when it comes to field quality. Same with Pittsburgh.
In late-season games in less-than-ideal outdoor conditions in cold-weather cities, considering the overs for running backs might be a good strategy, for instance.
The more you play, you'll come up with your own trends and strategies, which makes DFS contests even more fun!
Where to Play NFL DFS contests
Daily fantasy sports are legal in most U.S. states. Underdog Fantasy leads the way, as it operates in 41 states. Thrive Fantasy is live in 33 states and Sleeper Fantasy offers users the option to play DFS contests in 25 states.
Here's a breakdown of where we play DFS contests and some information about each site/app:
Underdog Fantasy Promo Code: SDS
Using our promo code "SDS" will unlock a full first-time deposit match of up to $100 immediately when you sign up. That's a strong welcome bonus! To claim your bonus money, all you need to do is sign up at Underdog and make a deposit in your account. Underdog will then match your money up to $100.
How does Underdog Fantasy work, you ask? Well, that's pretty simple! Check out the table below to learn more about what Underdog Fantasy is and what competing in NFL contests on the app entails:
| Underdog Fantasy Promo Code | SDS |
| --- | --- |
| 📱 Underdog Fantasy Sign-Up Link | 📱 Underdog Promo Code Link |
| 💰 Underdog Fantasy Promo Offer | 💰 Deposit Match up to $100 |
| ✅ Where is Underdog Fantasy Legal? | ✅ All US States Except: CT, DE, HI, ID, IA, LA, MI, MT, NV |
| ✅ Where is Underdog Fantasy Pick'em Legal? | ✅ All US States Except: AZ, CO, MD, MO, NH, NJ, OH, PA, TN, WA, WV |
| ✅ Where is Underdog Fantasy Best Ball Legal? | ✅ All US States Except: AZ, AR, IN, ME, MD, MA, MS, NY, VT |
| 💵 Underdog Fantasy Deposit Methods | 💵 PayPal & Debit/Credit Card (Visa, MasterCard, American Express, Discover) |
| | |
With the NFL season quickly approaching, you'll want to get in on the action today. You can sign up for best-ball contests (including one with a $15 million prize pool) from now until Week 1!
Sleeper Fantasy Promo Code: SOUTHXL
In addition to offering season-long fantasy football leagues, Sleeper also has daily NFL drafts during the season and offers numerous over/under contests for users. Sleeper's logo is very football-forward, and that's what they do best.
Sleeper is online and available in 25 U.S. states (detailed in the helpful table below). If you sign up at Sleeper Fantasy today and use our Sleeper promo code SOUTHXL, you'll receive a first-time deposit match of up to $100:
Sleeper Fantasy Promo Code
SOUTHXL
Sleeper Fantasy Sign-Up Link
Click here
Sleeper Fantasy Offer
Deposit match up to $100
Where is Sleeper legal?
Sleeper picks contests are legal in 25 states: AK, AR, CA, CO, FL, GA, IL, KS, KY, MA, MN, NE, NM, NC, ND, OK, OR, RI, SC, SD, TX, UT, VT, WI and WY, as well as Washington DC.

Sleeper Daily Drafts are available in the states mentioned above, as well as Alabama, Maryland and West Virginia.

Deposit Methods
Debit or credit card, Apple Pay and instant bank transfer.
Thrive Fantasy Promo Code: SDSXL
Want another way to get in on the action as the preseason quickly approaches? Thrive has you covered in that regard. Using our excellent promo code "SDSXL" will get you a welcome bonus matching your first deposit of up to $250. And believe us, that can go a long way when you're entering house prop contests or daily prop drafts.
To claim that welcome bonus worth up to $250, all you have to do is sign up at Thrive and make your first deposit! Check out the helpful table below to find out where Thrive is legal in the U.S.:
| | |
| --- | --- |
| Thrive Fantasy Promo Code | SDSXL |
| Thrive Fantasy Sign-Up Link | Click here |
| Thrive Fantasy Offer | Deposit Match up to $250 |
| Where is Thrive Fantasy Legal? | Alaska, Arkansas, California, Colorado, Connecticut, Florida, Georgia, Illinois, Kansas, Kentucky, Maine, Maryland, Massachusetts (21 minimum age), Michigan, Minnesota, Nebraska (19 minimum age), New Hampshire, New Jersey, New Mexico, New York, North Carolina, North Dakota, Ohio, Oklahoma, Oregon, Rhode Island, South Carolina, South Dakota, Texas, Utah, West Virginia, Wisconsin, and Wyoming. |
| Deposit Methods | PayPal, Credit Card (Visa, MasterCard, American Express, Discover) |
| | |
Our Team
The Saturday Down South team has spent hundreds of hours analyzing and participating in the various daily fantasy apps and contests, so that we can bring you expert advice and opinions on MLB DFS and DFS for other sports. Our daily fantasy team is led by the following:
Adam has been on the editorial team at Saturday Down South for several years and has covered college football and fantasy sports. Adam loves playing daily fantasy involving a variety of sports including college football, college basketball, NFL, NBA, soccer and even PGA. With a long history of fantasy sports participation, Adam has recently become a major participant in daily fantasy pick'em contests. He appreciates when daily fantasy apps offer a great app experience with live scoring and accurate player cards.
Ethan joined the editorial team at Saturday Down South in 2022 and has covered college football, college basketball and fantasy sports. Ethan plays daily fantasy with a variety of sports including college football, college basketball, NFL, NBA and more. Ethan has recently become a big fan of daily fantasy best ball drafts. He appreciates when daily fantasy apps offer plenty of options and a variety of daily drafts.
We do not target any individuals under the age of 21. We support responsible gambling. If you feel like you're losing control over your gambling experience, call 1-800-GAMBLER (NJ, PA, WV), 1-800-9-WITH-IT (IN), 1-800-BETS-OFF (IA), 1-888- 532-3500(Virginia) 1-800-522-4700 (NV, TN), 1-800-522-4700 (CO, TN), 1-855-2CALLGA (IL), 1-800-270-7117 (MI).
About Saturday Down South | Ethics and Editorial Standards | Privacy Policy | Terms and Conditions | Do Not Sell My Personal Information