NBA
Underdog Fantasy NBA Playoffs Best-Ball Contests: How to enter and compete for up to $500K in total prizes
Underdog Fantasy NBA Playoffs Best-Ball Contests are great ways for fans of professional basketball to put real money on the line with a chance to win big ahead of the league's playoff season.
The NBA playoffs begin in April, and there are several teams with legitimate NBA Finals aspirations.
Best-ball contests are part of a number of NBA DFS options on Underdog, so be sure to get in on the action!
Use promo code "SOUTH" when you sign up for Underdog and you'll receive up to $100 in matching funds as a welcome bonus!
What are best-ball fantasy contests? Let's dive into exactly what these fun, playoff-long Underdog contests entail.
Underdog Fantasy Best-Ball Contests
Underdog features several options for those looking to play best-ball contests for the NBA playoffs this year.
The 2 biggest contests are The Dance and The Warmup. The Dance features a $10 entry fee and $500K in total prizes. The Warmup only costs $3 to enter, with $25K in prizes up for grabs.
There are also numerous options for $3, $5, $10, $25 and $100 drafts that feature smaller pools of competitors.
Since The Dance is the most popular contest on Underdog's slate of NBA offerings, let's break it down for you:
The Dance
The Dance is an Underdog Fantasy NBA best-ball contest for the NBA playoffs that features a $10 entry fee and $500,000 in total prizes. It's perhaps the biggest, most-popular Underdog NBA best-ball contest on the app, so we'll highlight it in-depth for you.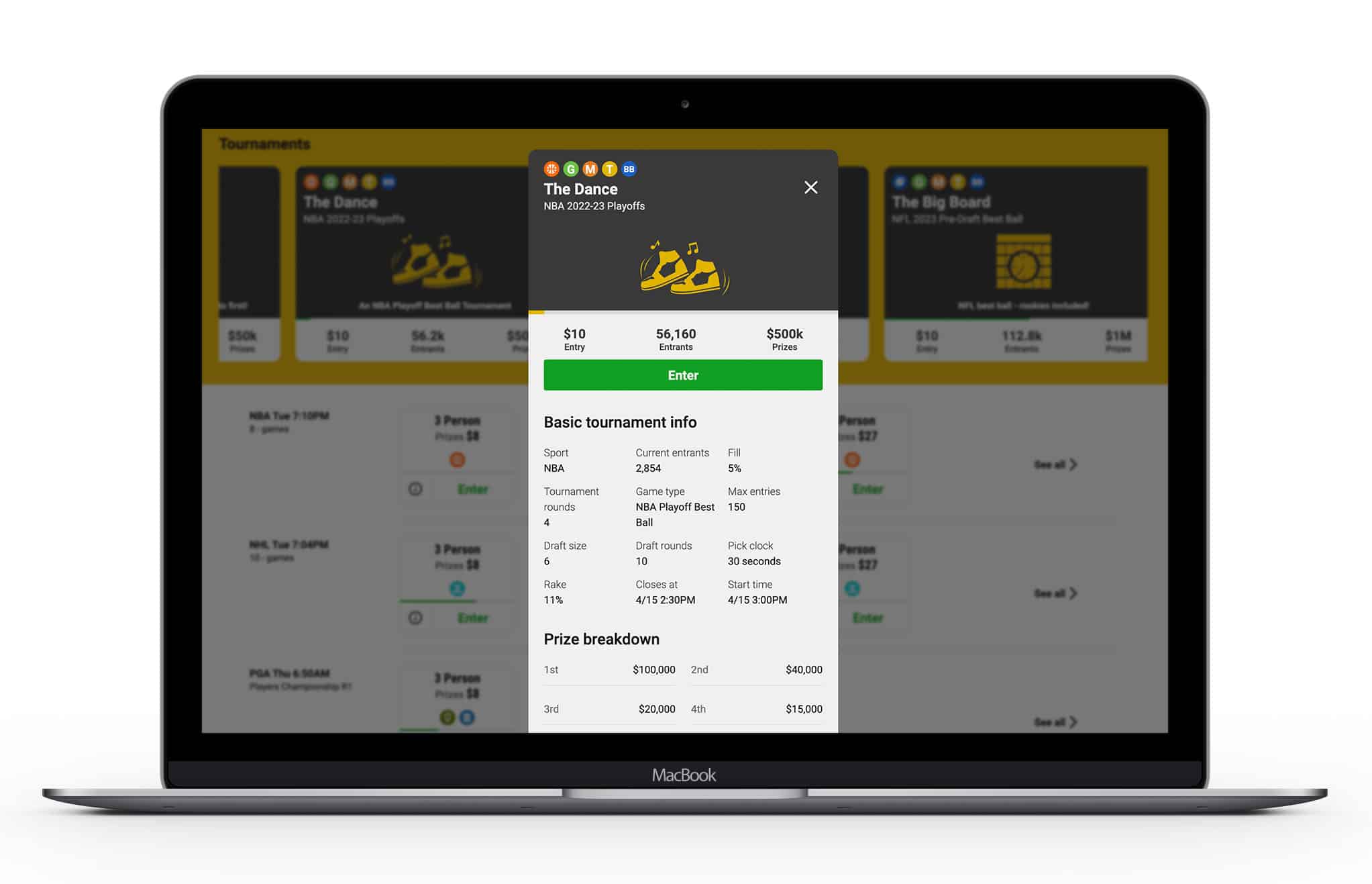 You'll draft against 5 other users to select your 10-player team, but then you'll compete against every other player (50,000+ of them) in the tournament for prize money. You get 30 seconds per pick in the draft, so things move rather quickly!
You pick 10 players in your draft. Then, for each round, those players will rack up points, all the way to the NBA Finals. You don't need to do any roster management. All you need to do is make sure you pick the players you think will last the longest and post the most stats en route to the title!
Think the Boston Celtics are going all the way? Maybe Jayson Tatum should be your No. 1 pick. Think the Dallas Mavericks are overrated? Maybe you should stay away from Luka Doncic and Kyrie Irving despite their ability to pack the stat sheet.
Show off your knowledge and win real money!
More than 9,000 entrants will win money, so let's take a look at the payout structure.
The Dance winnings: 
There are $500,000 in total prizes up for grabs in The Dance contest. Here's a prize breakdown for the event:
1st place: $100,000
2nd place: $40,000
3rd place: $20,000
4th place: $15,000
5th place: $12,000
6th place: $10,000
7th place: $7,500
8th place: $6,000
9th place: $5,000
10th place: $4,000
11-20th place: $2,000
21-30th place: $1,450
31-50th place: $749
51-100th place: $400
101-174th place: $200
175-260th place: $120
261-390th place: $80
391-780th place: $60
781-1,560th place: $50
1,561-2,340th place: $25
2,341-4,680th place: $20
4,681-9,360th place: $10
Yes, if you finish in the top 9,360 scorers in the tournament, you'll at least make $10. That's at least getting your entry fee back! The top 4,680 scorers will at least double their money in the contest.
The Dance event has a maximum of 56,160 entries. Once the contest is full, you can no longer enter to play. So be sure to get your entries in soon before the NBA playoffs start in April!
NOTE: The play-in tournament is not included in The Dance contest. Only the 4 rounds of the actual NBA postseason will be scored for the contest.
There are plenty of other best-ball contests on Underdog, too, so don't limit yourself to just The Dance! There are contests with smaller entry fees, larger entry fees, fewer players, etc. There's something for every NBA fan.
So, how are these contests scored? Let's take a look at the scoring system:
Underdog Fantasy Best-Ball Scoring
Here's a breakdown of how you earn points in each NBA best-ball contest for the 2023 playoffs:
Point: 1.0 points
Rebound: 1.2 points
Assist: 1.2 points
Steal: 3.0 points
Block: 3.0 points
Turnover: -1.0 points
As you can see, you can both earn and lose points based on how the players you select perform. With the way the scoring system is set up, steals and blocks are especially entertaining, as you have the best chance to quickly rack up the points with them.
How to enter an Underdog NBA Best-Ball Contest
Go to the Underdog Fantasy app in your phone (or visit the site on your computer). When you get to the main "drafts" page, select the NBA icon.
Then, you'll see a box where you can select your slate of contests. Choose the "2022-23 NBA Playoffs" option and you'll be taken to a list of all of Underdog's best-ball options: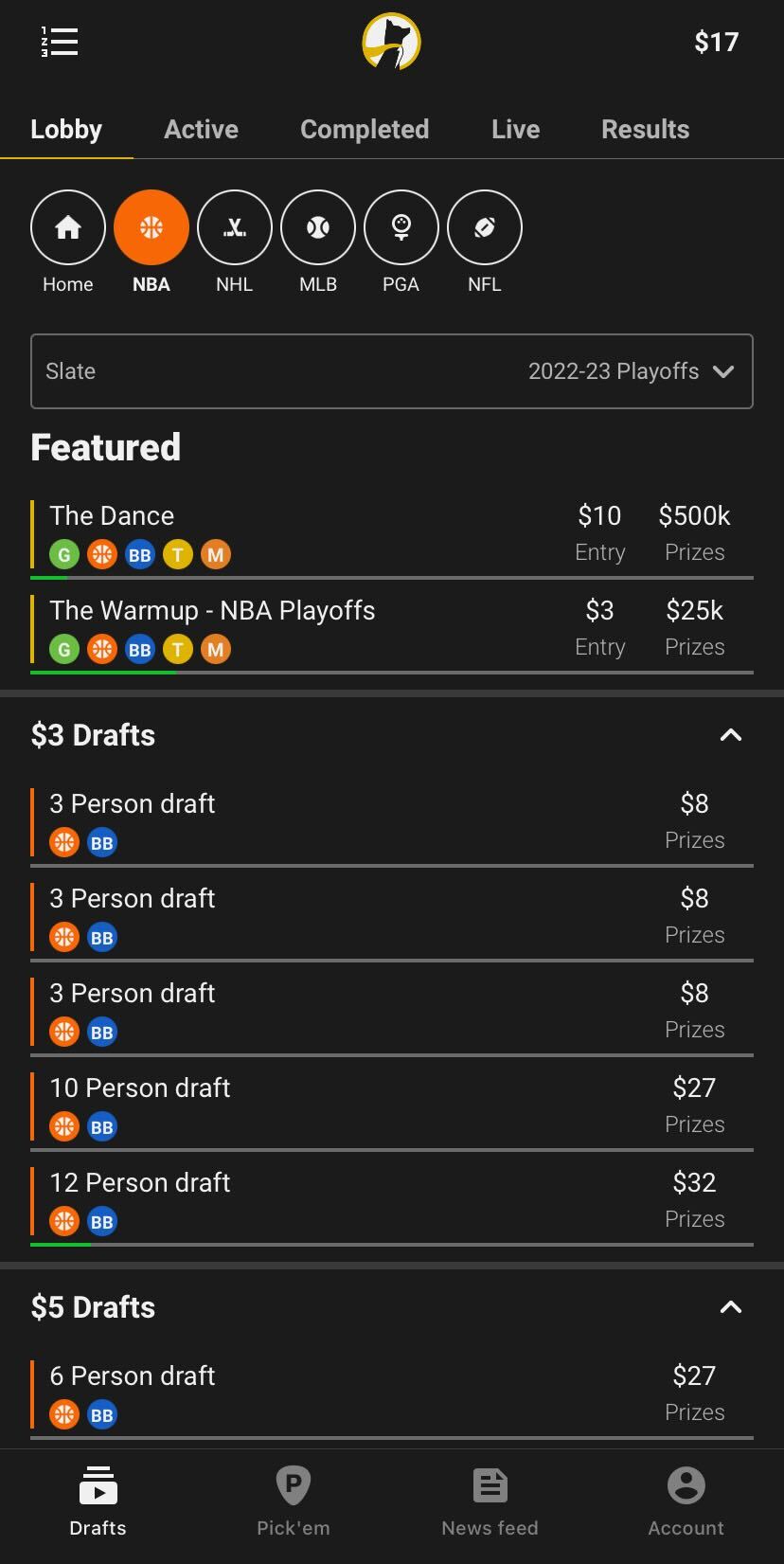 Choose which contest you want to enter and then you'll be able to start drafting your favorite players! The NBA playoffs are sure to feature superstars like Nikola Jokic, Giannis Antetokounmpo, Jayson Tatum, Joel Embiid, Kawhi Leonard, and many more!
Interested in other NBA DFS offerings? Learn more about NBA DFS here!
Ready to get started? Remember to use promo code "SOUTH" to get a welcome bonus matching your first deposit up to $100! Click below to get in on the NBA playoff action!