ALABAMA
Advanced stats show Jalen Hurts still struggling to complete the deep ball
Alabama QB Jalen Hurts is having a dynamic season, but he still has room to improve his game for the Crimson Tide.
Through six games, Hurts has thrown for 870 yards and 7 TDs while connecting on 63.1% of his passes without an interception. His dual-threat ability has been on full display with 517 rushing yards and 5 TDs.
The rushing attack continues to be the focal point for the Crimson Tide, but there is no denying that Hurts is a large reason the Tide remain incredibly efficient. Hurts has three games with at least 100 yards rushing and passing while posting a passing efficiency rating of 149.7.
Hurts has improved as a passer in many areas, but the CFB Film Room tweeted out a graphic that shows the deep throw remains a problem for the sophomore. Here is a look at that graphic: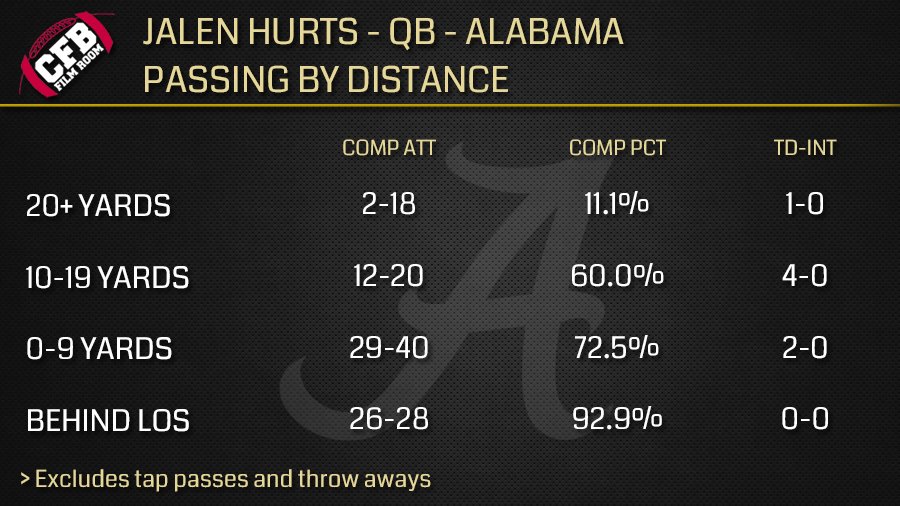 Hurts can definitely improve on his deep throws, but he will remain to be the key for the offense. He currently leads Alabama in rushing attempts (69) and rushing yards (517), and CFB Film Room also credits Hurts with more missed tackles than any Alabama RB on rushing attempts:
Jalen Hurts has forced more missed tackles on rushing attempts than any of the Alabama RBs

— CFB Film Room (@CFBFilmRoom) October 11, 2017