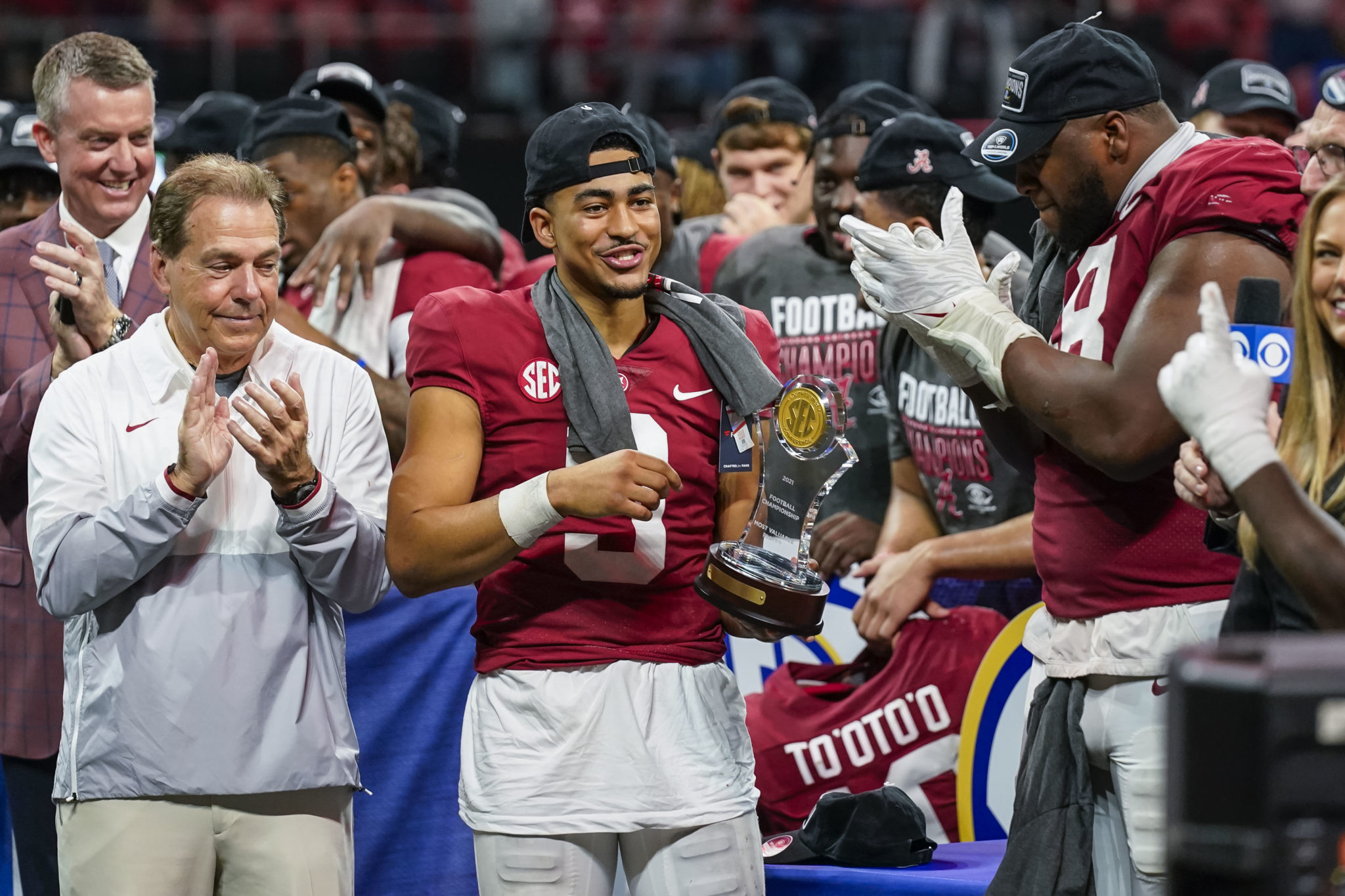 ALABAMA
Alabama vs. Cincinnati: Final thoughts (and a prediction) for Cotton Bowl semifinal
No one would have ever dreamed that Cincinnati would be in the College Football Playoff when the 4-team tournament was introduced in 2014. Yet, here they are. Alabama better be ready.
Based on name alone, one would think the Crimson Tide would roll over the Bearcats on Friday in their Cotton Bowl semifinal and play for a national championship. However, that won't quite be enough. Cincinnati has proven to be a very good football team with plenty of reason to think they can challenge Alabama and, perhaps, pull off the upset. Please, no gasping.
Not to foreshadow my prediction, but most think Alabama will beat Cincinnati. I'm not here to rock the boat. It's hard to argue against Alabama considering its experience in big games, the toughness the Tide displayed after the Texas A&M loss to win the rest of their games and the way they dominated Georgia 41-24 in the SEC Championship Game. If you recall, Georgia was supposed to win that game.
Everyone thinks the Bearcats are the underdogs — except for Alabama. Thanks to some prodding by Bama head coach Nick Saban, Crimson Tide players have publicly played the underdog role leading up to the game despite being a 13.5-point favorite. Alabama players have even said they feel disrespected despite being the top-ranked team in the nation. If any coach other than Saban tried to position his team in an underdog role this week, they'd be wholeheartedly laughed at. Saban manages to get away with it and, more importantly, gets his players to believe in their us-against-the-world mentality.
Saban's teams have been outplayed in big games, but they've rarely shown up flat. Saban's gamesmanship is part of the reason. More often than not, he gets his players to believe whatever they need to in order to play their best. No matter what Saban thinks, here are some factors as to how the game will unfold Friday.
The game will be close — for a half
If you don't have respect for what Cincinnati has done, then I fear you find little joy in life. The College Football Playoff Committee did everything possible to keep them out of the Playoff. A million things had to happen. Including but not limited to: Ohio State had to lose twice, including a loss to Michigan for the first time in nearly a decade, and Notre Dame had to lose a coach. If there was a reasonable way to leave the Bearcats out, the college football world was fine with that.
This game will be close early for couple of reasons. First, Cincinnati can score. Yes, I know it's the American Athletic Conference, but the Bearcats led that league in scoring offense with 39.2 points per game. Second, the Bearcats led the AAC with 16.1 points per game allowed. The competition must be taken into account, but leading any league in both categories is pretty impressive.
If you still want to besmirch Cincinnati's right to be in the College Football Playoff because of its conference, feel free to do so. However, the Bearcats also beat Notre Dame 24-13 in South Bend, Ind. The Fighting Irish finished No. 5 in the College Football Playoff Committee's poll. Cincy also beat Houston 35-20 in the AAC Championship Game. Houston finished the season ranked 20th in the final College Football Playoff poll and just beat Auburn in a bowl game … in Alabama. For the record, Alabama was 3-1 against teams that finished in the Top 25 of the final CFP poll.
Cincinnati won't be afraid
Give Cincinnati coach Luke Fickell all the credit: He has convinced his team and his program that they deserve to be in the College Football Playoff for the past 2 seasons. Cincinnati won't be swayed by the magnitude of the game or playing one of the most dominant teams in sports history. Alabama is better, but they'll have to prove it. The Crimson Tide can't just show up and win despite what some Bama fans might have you believe.
Cincinnati has recent proof that they can play well against SEC opponents. The Bearcats led Georgia throughout the Peach Bowl last season before succumbing late in the 4th quarter. That wasn't a perfect Bulldog team, but Bama isn't perfect either. Its offensive line has struggled mightily at times this season. Alabama also has injury concerns at receiver and, especially, at tailback. Simply showing up in crimson won't win the game for Bama.
Alabama will find an answer for John Metchie III
Anyone who has followed Alabama this season knows Metchie was a key player to the Crimson Tide's success. Metchie had a great field presence that allowed him to create key first downs when Alabama was most in need. Now, the Crimson Tide will have to do without the ultimate possession receiver in college football because he's out with a knee injury. Unfortunately for Metchie, his absence makes Alabama's offense more intriguing. Will Saban turn to receiver Slade Bolden or another backup receiver for relief? Will they utilize the tight end position more with some passes to Cameron Latu?
Alabama could also alter its attack completely and lean more on the running game. Saban could do one or all of the above and he's not afraid to try any of those options. That will be interesting to watch.
Will Anderson Jr. will make (at least) 3 game-altering plays
Christmas morning is fun for kids. Wrapping paper and ribbons fly around as presents are exchanged. It's fun for all. The actual work of putting the Lego set together takes place shortly thereafter. That's what Alabama's coaching staff has been doing with Anderson since winning the SEC Championship game earlier this month. Finding the perfect place to use him.
It's important to remember that Anderson is just a true sophomore. He's still finding his way and his coaches are still finding the best way to utilize him. Thanks to the layoff between the SEC Championship Game and the College Football Playoff, Alabama has more time to be creative with Anderson. You can bet they'll take advantage of that. Anderson has played a traditional defensive end position with his hand on the ground. He has also played a traditional linebacker position. He has even dropped into coverage.
How will Alabama's coaches use him Friday? You can bet there will be some wrinkles. Expect Anderson to have at least 3 tackles for a loss against the Bearcats. A strip-sack wouldn't be very surprising either.
Bryce Young is simply too good to lose
It's still hard to fathom that this is Young's first season as a starting quarterback in college football. His poise already has NFL scouts salivating. For Cincinnati to pull off a massive upset, the Bearcats would need Alabama to make some big mistakes, i.e. turnovers. As great as Cincinnati's secondary is — and it features a projected first-round draft pick in Sauce Gardner and the Jim Thorpe Award winner in Coby Bryant — that doesn't seem likely with Young. Bama's Heisman Trophy winner has only thrown 4 interceptions all season.
Young also has a good grip on the football. That has been well tested. There have been countless times in which it would have been understandable for Young to fumble given how bad his offensive line played in pass protection and how long Young tries to keep plays alive. Yet fumbling hasn't been a problem.
And a prediction … Alabama 42, Cincinnati 21
Cincinnati deserves enormous credit for getting to this point and I know they almost beat Georgia is the Peach Bowl last season. However, the Bearcats will face a much more talented team with everything to play for than they did to cap the 2020 season. Cincinnati being in the Playoff is good for college football, but college football won't be good to them on Friday.