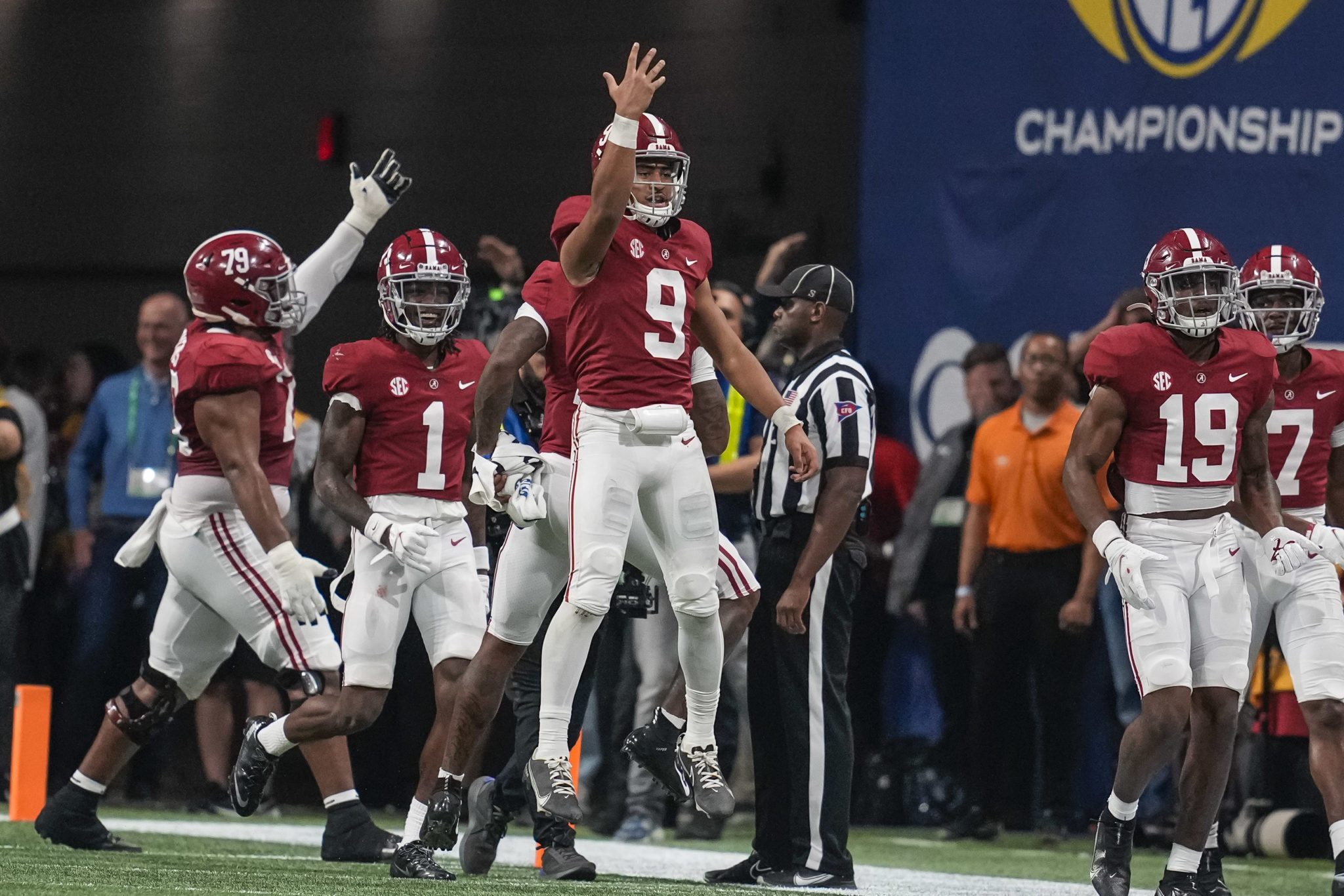 ALABAMA
Bryce Young just won the SEC title, the Heisman Trophy ... There's only 1 thing left
Alabama quarterback Bryce Young had to play like a Heisman Trophy winner to win his first SEC Championship as a starter. No problem.
Except for a bit of a blah beginning to the SEC Championship Game, Young did everything imaginable to help upset Georgia 41-24 and win an SEC title on Saturday. It was a rare upset for Alabama — just because they haven't had the opportunity. The Crimson Tide had been a favorite in 92 consecutive games before playing Georgia, which was a 6.5-point favorite. Georgia was seemingly deemed the conference champion by many before the final SEC game of the season was even played. That turned out to be a bit premature and not to Young's liking.
Young was the most significant reason — by far — that Alabama survived, hung around, surged to the lead then eventually won easily to give coach Nick Saban his 8th SEC Championship at Alabama. Saban also won 2 SEC titles as the head coach at LSU.
Some thought Bama could still make the College Football Playoff if they lost a close game to Georgia. Set that debate aside. Bama will certainly be a part of college football's final four teams left to compete for the national championship when the field is announced on Sunday. The Tide might be the No. 1 seed.
It seems like eons ago, but the SEC Championship Game began as if it would play out like most predicted. Georgia led 10-0 with a historically great defense. It looked like a low-scoring affair was in the making. Then, Bama asked Young to at least keep them in the game when Georgia looked like the better team. No problem.
Young did more than survive. He dominated. The sophomore completed a 67-yard pass for a touchdown to receiver Jameson Williams. Young then completed a 13-yard touchdown pass to receiver John Metchie III. Young led Bama to another drive that resulted in a field goal. Young ran for an 11-yard touchdown. Young threw another touchdown pass to Williams that covered 55 yards.
If you blinked, you might have missed one of Young's phenomenal plays in the offensive explosion that covered most of the second and third quarter. There were almost too many great plays to keep track of. Aside from the scores mentioned, Young had a no-look pitch to running back Brian Robinson Jr. that was nothing short of sensational. Young even recovered his own fumble after one of his rare mistakes. Suddenly, Alabama led 31-17. It was up to Young to hold onto the lead by not making a mistake when Bama had the lead. No problem.
Young's offensive line deserves much of the credit for the quick, dominant comeback and subsequent ability to turn the game into a lopsided contest. Young's receivers deserve much of the credit for taking advantage of Georgia's one weakness — its secondary. Alabama's defense deserves credit for sewing up the victory by stymying the Bulldogs' offense in the second half and even adding a score of its own on an interception by defensive back Jordan Battle that he returned for a touchdown.
No offense to any of those players, but no one deserves more credit than Young. His determination to shock many and surprise most was obvious whether you were an Alabama coach, a fan in the stands or just happened to walk past a television that was tuned into the game. It didn't take a big sample size of Young's performance to realize that he was the most dominant player on the field Saturday.
Football coaches will tell you that there's no such thing as "quarterback matchups" since they don't actually play against each other. That didn't seem like the case Saturday. Young was obviously more comfortable on the big stage than Georgia quarterback Stetson Bennett, who had never been put in a position in which he had to lead his team back from a deficit and win it in the fourth quarter. Young did that last week in the Iron Bowl against Auburn. No problem.
Young finished 26-for-44 for 421 yards, 3 touchdowns and no interceptions. He also ran the ball 3 times for 40 yards and a touchdown. However, those statistics don't fully describe his impact. Young's deft ability to throw the ball away kept his suspect offensive line from making a game-changing mistake. His ability to fully take advantage of his talented duo of receivers was evident with every well-placed throw. Alabama's receivers didn't just catch passes. They caught pinpoint passes in stride so they could turn upfield.
If Young didn't secure the Heisman Trophy against Auburn last week and with his play earlier this season, he locked up the award against Georgia on Saturday. Forget the talk that there's a lack of strong competition for the award even though that was the case. Until Saturday, anyway. Young proved he is worthy to win the Heisman Trophy in any season with the way he closed things out in Bama's past 2 games.
It's tough to say that Alabama's win against Georgia was one of the most impressive victories by Saban, who is now 10-1 in SEC Championship Games. Saban has so many spectacular victories that they tend to get lost.
This win, however, should stand out.
Alabama just wasn't Alabama for much of the season. They lost to Texas A&M, had a close call against an LSU team in transition and another close call against an under-manned Auburn team.
The consensus was Alabama wasn't very good and this was just Georgia's year. It certainly seemed that way. Saban wouldn't buy it. Instead, he turned a young, inexperienced offense into a championship-worthy crew — against a defense many compared to Saban's 2011 crew.
Saban's decision to go against his previous mindset and reinvent his offensive philosophy in 2016 was a big reason Alabama was able to upset the old-school Bulldogs on Saturday.
The elders among us may think that college football is a bit too offensive because of the rules in place, but that's just the way things are. Saban was dealt that hand years ago. He tried to fight it but eventually conceded that old-school football was just old-fashioned. Saban cashed in on that decision again Saturday. Saban proved that it's better to have a great offense than a great defense. There's no denying it.
In some ways, Saban won Saturday's game with his preparation to evolve into a hurry-up, pass-often offense over 5 years ago. Saban knew he had to be ahead of the game and the coaches, like Georgia coach Kirby Smart, that were trying to catch him. No problem.
Bottom line: Thanks to Bryce Young, Alabama looked like recent Alabama on Saturday night. And that's a scary thought to the 3 teams still in their way for a national championship.