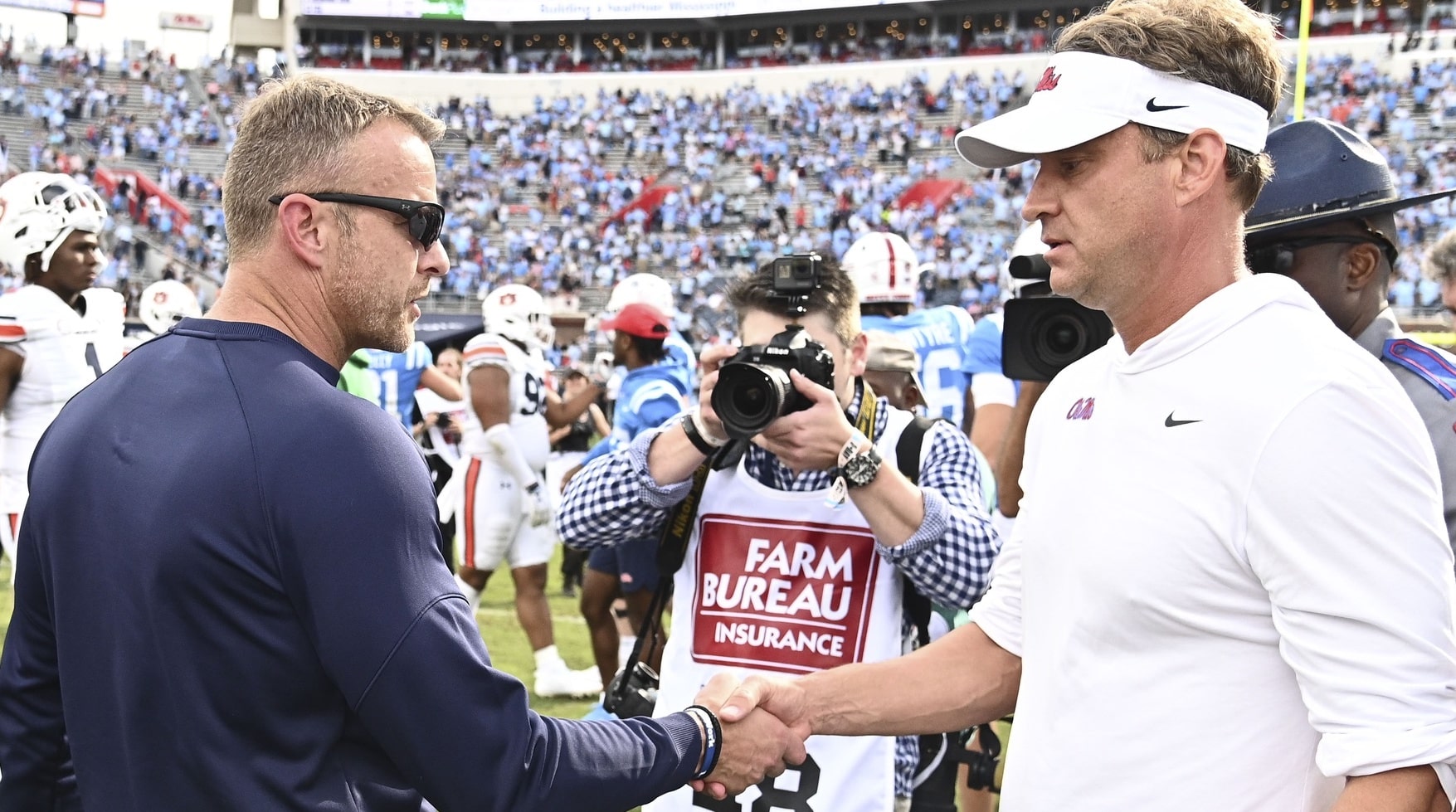 AUBURN
Bryan Harsin couldn't figure it out, so Auburn, go all in for the guy who did: Lane Kiffin
Make no mistake, Auburn did what had to be done.
On the surface, some might say that firing Bryan Harsin before he hit November of Year 2 was premature and that he needed more time to build the program. Some might say that "Auburn's gonna Auburn" despite the fact that Harsin's predecessor spent 8 seasons on The Plains, and while Gene Chizik was fired 2 years after winning a national championship, Tommy Tuberville navigated "JetGate" and spent a decade at Auburn.
Make no mistake, Harsin's firing was the byproduct of him not figuring it out.
He couldn't figure out how to stop the bleeding. Harsin's tenure closed with him losing 9 of his final 10 games against Power 5 competition, with the lone win only coming because an All-American kicker shanked a 26-yarder at the end of regulation and a running back fumbled a walk-off touchdown into the end zone. Harsin's team allowed 303 rushing yards per game in the month of October, which was the worst in America by 25 yards per game.
But wait, there's more!
Remember when Auburn led MSU 28-3 with 2 minutes left in the first half last year? To that point, he was +24 against Power 5 competition. Since then, though? The Tigers were -133 against Power 5 teams.
Hiring a new athletic director (MSU's John Cohen) and immediately agreeing to pay Harsin a $15.5 million buyout was Auburn trying to cut its losses. By the way, the Tigers are developing a knack for the whole "cutting their losses" thing:
Between Gus Malzahn and Bryan Harsin, Auburn will have paid around $37 million to buy out two head coaches since 2020 (not including staff).

Harsin had nearly the exact same buyout clause as Malzahn. He'll be owed around $15.5m, 50% within 30 days, no offset from another job.

— Chris Vannini (@ChrisVannini) October 31, 2022
So now what? Should Auburn just take the cheap way out and hope to catch lightning in a bottle? I'd argue there are good cases of that (Sam Pittman) and bad cases of that (Chad Morris) for teams up to their eyeballs in buyout money owed.
But the move is clear — go get the guy who did figure it out.
Lane Kiffin.
As in, the guy who watched his career go up in smoke at his dream job, only to spend the past decade rebuilding his reputation as one of the sport's best offensive minds. As in, the guy who inherited an Ole Miss program that dealt with sanctions from the Hugh Freeze era and took all but 2 years to lead it to its best regular season in school history. As in, the guy who lost both coordinators and had 30 new players on his roster coming off that historic season … and then led the program to its best start in 60 years.
Go get that guy, Auburn.
And for what it's worth, I'm not saying that Kiffin is interested (more on that in a minute). He certainly isn't living paycheck to paycheck, especially not after he signed a deal worth $7.25 million annually, beginning this year.
But there's a card Auburn can play that Ole Miss can't, at least from a financial standpoint. In the state of Mississippi, contracts cannot be longer than 4 years in length (though extensions can essentially make it a continuing 4-year deal). In other words, you won't see Ole Miss give Kiffin a Jimbo Fisher/Brian Kelly/Kirby Smart-like deal for 10 years that's in the $100 million range. Would Auburn even be willing to make such an offer? Or would it perhaps be a bit scared off after the way things have played out with Fisher in College Station, where there's still $86 million guaranteed on the table.
One thing we do know is that Kiffin ain't Fisher. You see, Kiffin can figure out when he doesn't have an NFL-ready quarterback and he can adjust his scheme to become the No. 1 non-service rushing academy in America. It's Kiffin who looks like he's about to have his 3rd consecutive Top 25 offense at Ole Miss, while Auburn's No. 25 offense in 2017 was its lone such finish in the Playoff era.
We know that Kiffin can recruit far and wide in the Southeast, which was something that Harsin couldn't figure out. How much of that was related to the offseason coup and how much of that was because he spent 21 of his past 25 years in Boise, well, take your pick. Not only could Kiffin instantly upgrade Auburn's recruiting at the high school ranks — which will also have the benefit of the new $92 million facility — the appropriately nicknamed "Portal King" would instantly provide a much-needed boost there, as well.
#PortalKing ????? pic.twitter.com/WJjrNdd3uu

— Lane Kiffin (@Lane_Kiffin) January 31, 2022
We know why this would make sense for Auburn. Would Kiffin even entertain this? Or would he tell agent Jimmy Sexton, "thanks, but no thanks."
This is all about which path can get him to a national title. Does he feel that Ole Miss can do that? We don't know. We do know that Auburn had 3 coaches reach either an undefeated season or a national championship berth in the 21st century alone while Ole Miss has never played in an SEC Championship.
And in terms of fan support to help fuel a national championship, how does Kiffin feel Auburn and Ole Miss compare? Kiffin expressed frustration earlier in the year with all the empty seats at home games after halftime.
"Regardless of what you come out to before the game or at a halftime, when you come back out and you run out of the tunnel and it looks like a high school game played in a college stadium, you can't let that affect you," Kiffin said, per 247Sports. "There's psychology to that, obviously. There's a home-field advantage for a reason. And when it goes the other way, you kind of have that feeling are we still really playing in a game here? The players have to fight that. We use that as a learning lesson for our guys."
It's fair to mention that Auburn hasn't exactly had full stadiums from start to finish, though that was in the midst of multi-score home losses to the likes of Penn State and Arkansas. Kiffin saw Jordan-Hare at its peak last year when 87,000 fans watched Auburn hand Ole Miss 1 of its 2 regular-season losses … which was followed by the Tigers losing 10 of their next 12 games against FBS competition to close out the Harsin era.
Meanwhile, Kiffin is 18-3 in the regular season since the start of 2021. That trails only Alabama and Georgia among SEC teams. Nationally, Michigan and Ohio State are the only other Power 5 teams with a better record during that stretch. Maybe that suggests Kiffin is content to ride things out at Ole Miss, and that he believes if he can continue to upgrade the talent incoming talent level that he could take that next step and become an annual Playoff contender.
Again, we don't know. All we know is that Auburn has a vacancy. Considering the changing landscape of the conference (with Oklahoma and Texas joining in 2-3 years) and the sport as a whole (NIL now and possibly pay-for-play later), there's never been more incentive to win. If you don't have a coach who understands that, you better find one who does.
Harsin didn't have the plan to succeed. He couldn't figure out that depth on the defensive line is paramount in the SEC and it's hard to hear "we've gotta tackle better" after the transfer portal was a 1-way street out of The Plains. Harsin didn't see a problem that, heading into a make-or-break season, his quarterback options were TJ Finley, Zach Calzada and Robby Ashford. But above all else, Harsin couldn't make in-game adjustments to stop Auburn from getting outscored 173-59 in the second half during his last 10 games against Power 5 competition.
If Cohen and the Auburn decision-makers are smart, Kiffin is the guy. They'll get out of his way and let him bring Auburn back to national relevance.
That should be easy to figure out.