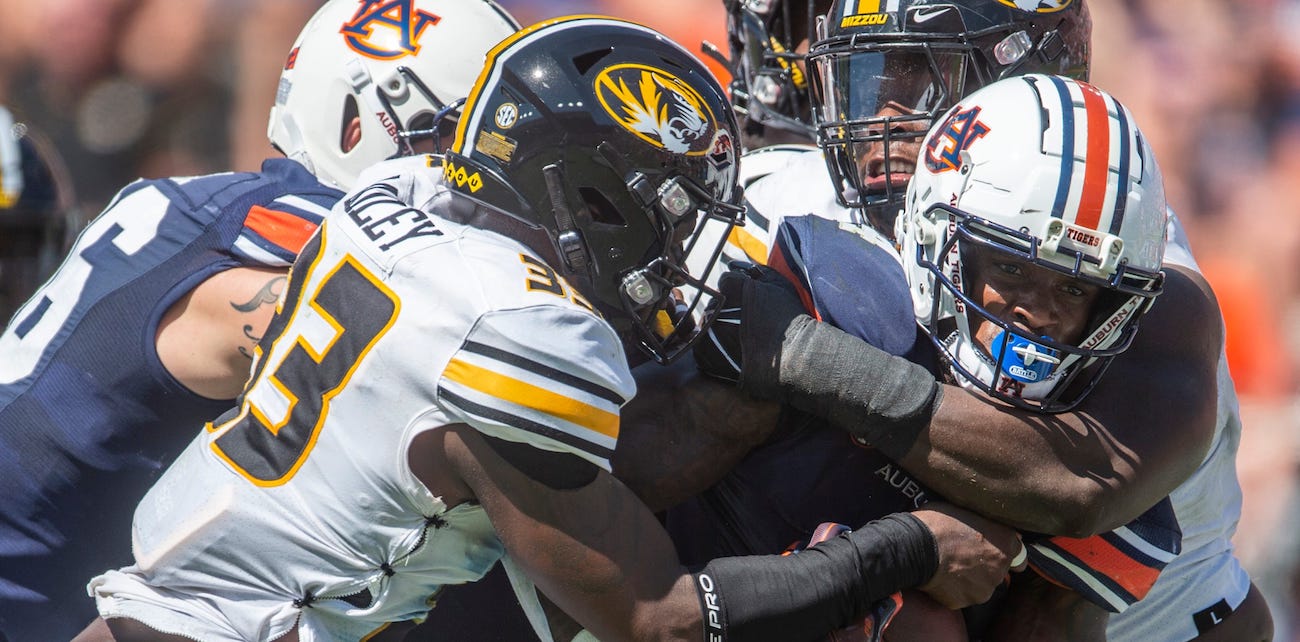 AUBURN
Rapid Reaction: Somehow, Auburn holds off Mizzou for wild OT win
A win's a win, right?
That's what Auburn had to be thinking after escaping with a 17-14 victory in overtime Saturday over Missouri.
Neither team played well and both botched late-game chances, but Auburn made one more play when it mattered most.
Auburn had a chance to go ahead in the final minutes, but Bryan Harsin decided against trying to kick a field goal on 4th-and-1 from Mizzou's 29-yard line. Tank Bigsby was swarmed behind the line of scrimmage for a loss and turnover on downs. Auburn fans no doubt will question that decision.
Mizzou took over and quickly drove into Auburn territory.
Brady Cook then hit Dominic Lovett for a 39-yard completion to set up 1st-and-goal. Rather than try to score a touchdown, Mizzou played it safe, ultimately setting up a potential game-winning field goal from Harrison Mevis, aka, the Thicker Kicker.
Except … Mevis missed a 26-yard field goal as time expired, pushing the kick wide right. That was Mevis' first miss from inside 29 yards.
Auburn got the ball first in overtime, and Anders Carlson made a 39-yard field goal for a 17-14 advantage. It was his 2nd attempt. His first badly missed, but Mizzou jumped offsides.
Mizzou then appeared to score the game-winning TD on Nathaniel Peat's long run, but it was ruled a fumble in the end zone, which Auburn recovered. A lengthy review confirmed the fumble and set off a wild celebration.
Auburn imposed its will on the very 1st drive of the game, grinding out 59 yards in 14 plays, all on the ground, to take a 7-0 lead. Twice the Tigers converted on 4th-down plays and reached the end zone on Ashford's 11-yard run.
Missouri dug itself into a 14-0 hole with an interception on the ensuing drive. Derick Hall came up with Auburn's 1st pick of the season, leading to a short field.
Auburn head coach Bryan Harsin dialed up 16 consecutive running plays to start the game before back up quarterback Robby Ashford completed 2 straight passes, and then Tank Bigsby bulled his way into the end zone from 3 yards out on his 10th rush of the game with 2:55 still left in the 1st quarter. Bigsby carried just 9 times total last week in the loss to Penn State.
But Missouri got back in the game by stuffing the Auburn run game in the 2nd quarter, holding the home team to 6 yards on 9 carries.
Missouri cut Auburn's lead in half with an impressive 9-play, 54-yard drive to start the 2nd quarter. It began with a 33-yard pass play from Brady Cook to Mookie Cooper that was reduced to a 17-yard gain after a block in the back penalty was enforced. Undeterred, the drive continued on the ground for all but 1 play. Cody Schrader got Mizzou on the scoreboard with a 9-yard run.
It was all tied up at 14-14 in the final minute of the 1st half when Cook capped another impressive 11-play, 79-yard drive by scoring from 1 yard out on a 4th-down sneak.
Auburn had a chance to take the lead at halftime, but Anders Carlson missed twice on field goal attempts of 50 and 45 yards. He got a do-over after the first miss, with no time left on the clock, because of an off-sides penalty.