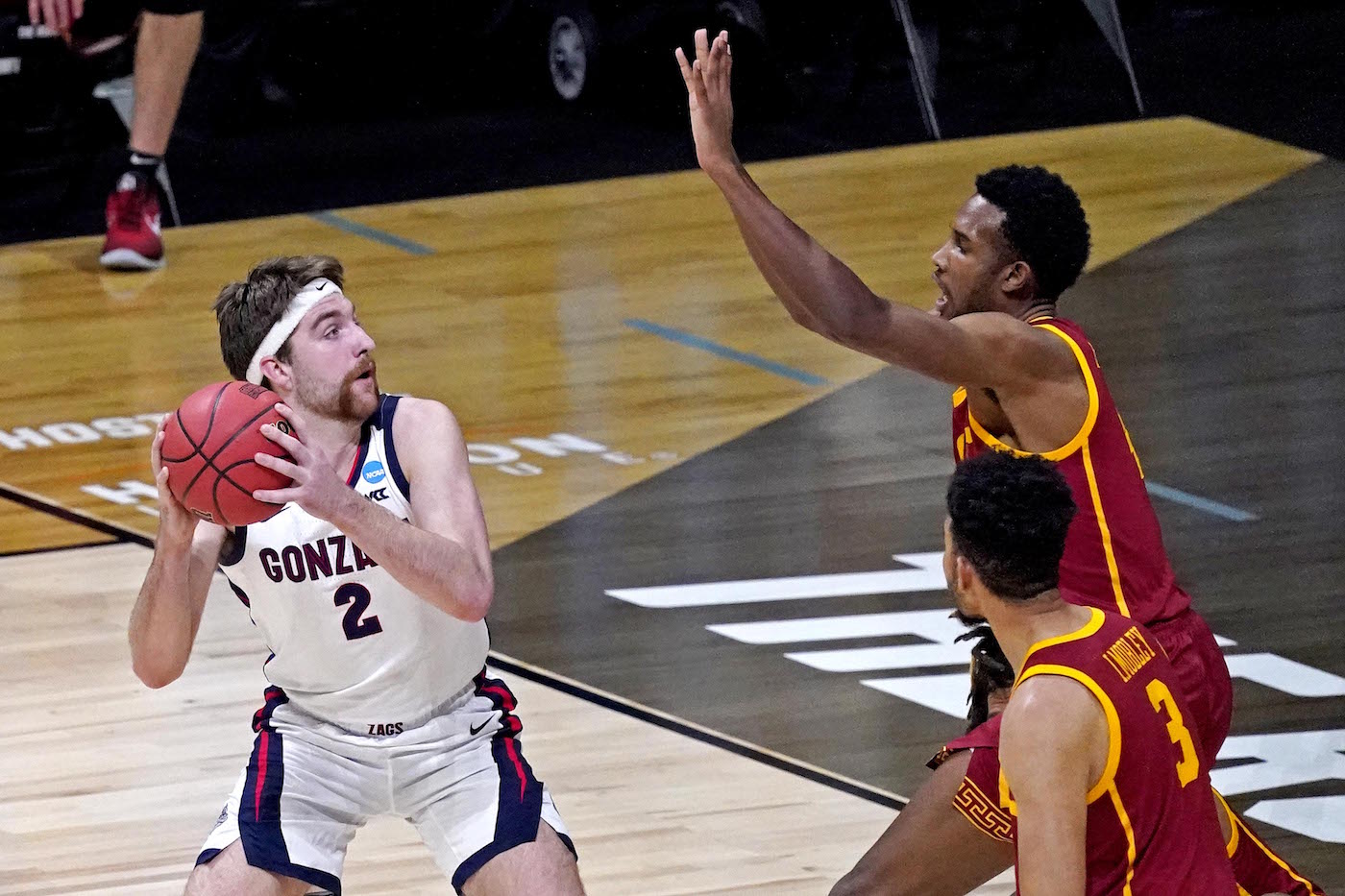 COLLEGE BASKETBALL
1 number that each Final Four team must hit in order to win
Happy Final Four day, everyone!
We have 2 very intriguing matchups today. First, we'll get 1-seed Baylor against 2-seed Houston at 5:14 p.m. Eastern time. Then, in the nightcap, 1-seed Gonzaga and 11-seed UCLA will square off at 8:34 p.m. ET. Both games will be on CBS.
So, who will win and advance to Monday's national championship game? Well, there are some key numbers that should help tell the story.
Let's dive into 1 important number each team must hit in order to win on Saturday night:
Gonzaga: 39
I have to preface this section by saying I don't have any faith in UCLA pulling off the upset tonight. I think Gonzaga rolls to an easy win. But considering my track record so far this tournament (a tournament in which I picked Illinois to win it all), my advice isn't to be trusted.
But, if UCLA is going to have any chance to win, it will have to limit the damage done by Gonzaga's Big 3 of Corey Kispert, Drew Timme and Jalen Suggs.
Gonzaga has played 30 games this season, winning all of them. Jalen Suggs missed 2 of those games. In the 28 other games, Timme, Suggs and Kispert have all played. Only twice has that trio of stars been held under 40 points — against Pepperdine during WCC play and against Norfolk State in Round 1 of the NCAA Tournament.
In both of those games, Timme, Kispert and Suggs combined for 39 points exactly.
Again, I don't think Gonzaga can be stopped. But, if the Bruins are going to have a chance, holding that trio to a season low of 38 points or fewer seems like a good start. If even 2 of them have big offensive games, the Bruins less-than-stellar offense will be in trouble.
If Gonzaga's offense continues to be a buzzsaw behind those 3 stars, though, UCLA's Cinderella run is going to come to a blowout end.
Baylor: 10
Houston has a stout defense. In 4 games this tournament, the Cougars have allowed 58, 60, 46 and 61 points. That's … well, that's pretty darn good.
Also, the Cougars haven't allowed a team to hit more than 7 3-pointers in any of their 4 tournament games. But, they haven't played a team like Baylor.
The Bears averaged 9.9 made 3s in 2020-21, good for 15th in the nation. They made those 3s at a 41.1% clip, which led the nation. So, if they can get hot from beyond the arc, it could be a long night for Houston.
Baylor is coming off a win against Arkansas in which it made 8 of its 15 3-pointers. If Houston can't hold the Bears well under 50% from deep, there's no chance at all the Cougars will advance.
Houston: 14.4
That's how many offensive rebounds the Cougars have averaged this season, good for third in the nation. They grabbed 19 in the win over Oregon State in the Elite 8, and they needed every single one of them.
Baylor plays really good defense, so if Houston is going to get past the Bears today, it will need to crash the offensive boards. Getting second- and third-chance points against Baylor will keep the Cougars close.
The Cougars had 16 offensive boards against Cleveland State in Round 1. They had 16 more against Rutgers in Round 2. They only grabbed 11 against Syracuse in the Sweet 16, but that was a factor of Syracuse's zone defense.
Get to 15 offensive rebounds and they'll have a chance to beat the Bears. Lose the battle on the boards, and they won't have a prayer against this elite Baylor squad.
UCLA: 70
Gonzaga has only been held under 80 points 3 times this season (twice by Saint Mary's and once by Pacific). The Bulldogs have yet to be held under 70 points.
The Bruins, on the other hand, have held 3 opponents under 70 points in this tournament, including 2 under 50 points. Michigan only managed 49 points against UCLA and Abilene Christian only put up 47.
During the regular season, UCLA held 15 opponents to 70 points or fewer. If the Bruins can turn this into an ugly game, maybe they'll have a chance to do what no team has done so far this season and hand Gonzaga a loss.
I don't think UCLA can do it, but if the Bruins hold the Bulldogs under 70 points, they'll at least have a chance. That's easier said than done, though, when you're going up against guys like Jalen Suggs, Corey Kispert and Drew Timme.