DraftKings Rocket: How to Play, Full Review, Strategy
DraftKings Rocket is the hit online casino game within the DraftKings Online Casino. You can access the DraftKings Rocket game from within the DraftKings Sportsbook app or the stand-alone DraftKings Casino app.
DraftKings casino and the Rocket game is available in the following states: New Jersey, Pennsylvania, West Virginia, Michigan, West Virginia and Connecticut.
New users to DraftKings online casino can take advantage of 100% deposit match up to $2,000. Plus, you'll get $50 in site credit that you can play with. Click here to get started.
What is DraftKings Rocket?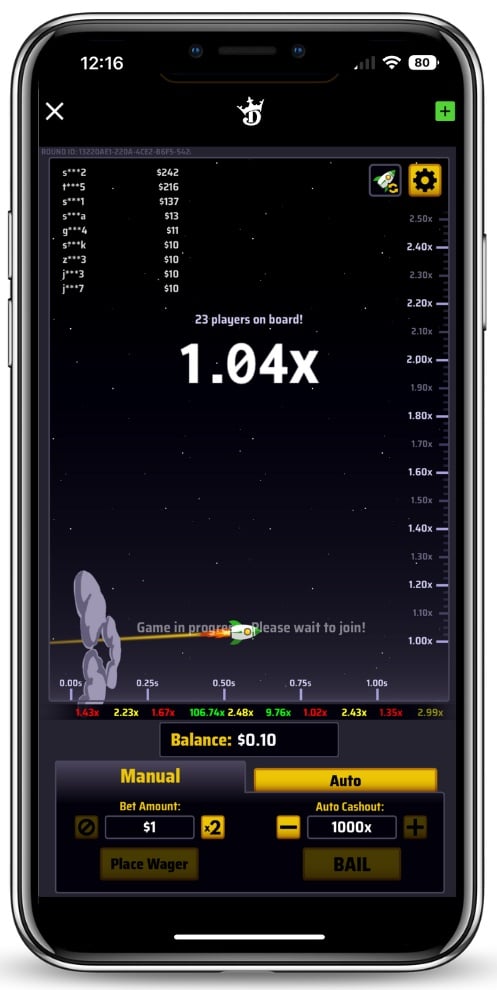 The DraftKings Rocket game was developed completely in-house at DraftKings, and is a pillar of DraftKings differentiation strategy from other online casino operators. Exclusive games are one of the key ways iGaming operators are able to differentiate between eachother since many featured online casino apps rely on third-party games that are available on many apps. Both DraftKings and companies such as Penn / Barstool have invested heavily in their own internal game studios and in-house game development to be able to offer unique offerings to their casino game players.
Rocket is perhaps the most successful game developed internally by any major online casino operator at this point. The game has received plenty of praise by users and players, and DraftKings was eager to show the success and popularity of the Rocket casino game during its 2021 Q3 earnings presentation. According to DraftKings, Rocket set a record for gross revenue by an internally developed game when it launched in New Jersey.
Group Playing
While many would argue Rocket is a fun game to play just for your own enjoyment, part of the fun is indeed that Rocket has a group dynamic as part of the game. During gameplay, you see the number of other users on-board the rocket with you. You also see when each one bails out and how much of multiplier and payout each gets as a result of bailing out. And, sometimes, when the rocket goes quite high and generates some insanely high multipliers, you can see those brave users that hang on much longer than you were willing to hang on. It's fun to root for these bold users aiming for super high payouts.
How does Rocket work?
The game play is very simple and that's part of why it's so fun (and addictive?). Here is how it works:
Before the rocket takes off, you can determine the amount you want to bet. As low as $1.
The rocket will take off, and then players must exit the rocket before it explodes.
The longer you stay on the rocket, the multiplier and payout continue to increase. Where you bail out will determine the multiplier you lock-in and determine your payout.
If the rocket explodes before you bail, you lose. On occasion, the rocket explodes before takeoff and everyone loses.
Note that DraftKings gives you two betting options on Rocket: Manual or Auto. The manual method is as exactly explained above. You must manually take two actions per rocket: the initial bet, and then the bail out.
You can also choose auto mode where you can set the following parameters: bet amount, auto cashout, and total bets. As an example, you can set the game to bet on the next 10 rocket launches at $5 per launch and to bail each time at a 2x multiplier. You can also set this to stop on a certain amount of profit or a certain amount of loss. If you're new to Rocket, I would recommend starting with manual mode so that you can get a proper feel for the game mechanics. Then, as you start to get more comfortable, you can switch over to auto mode.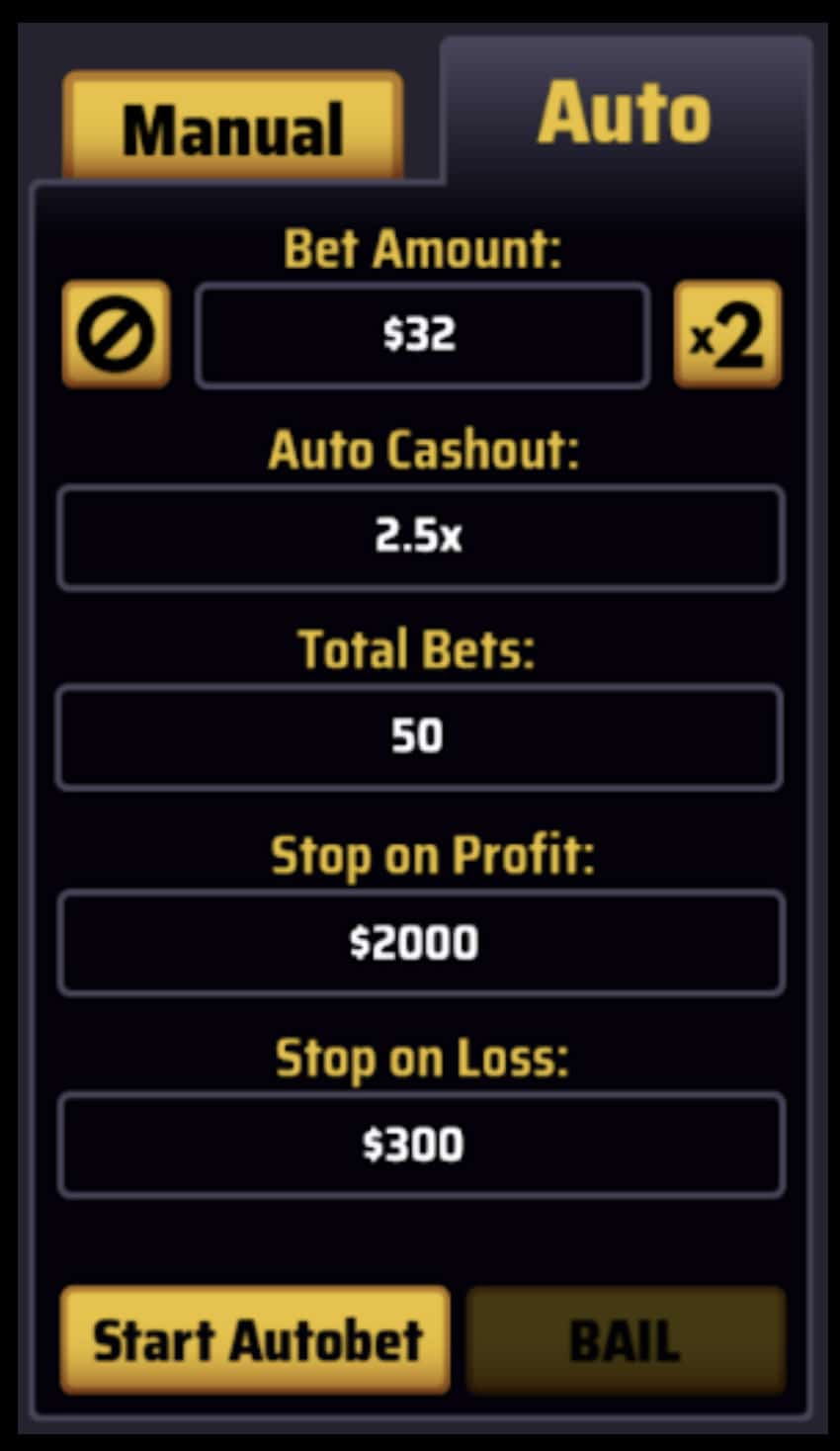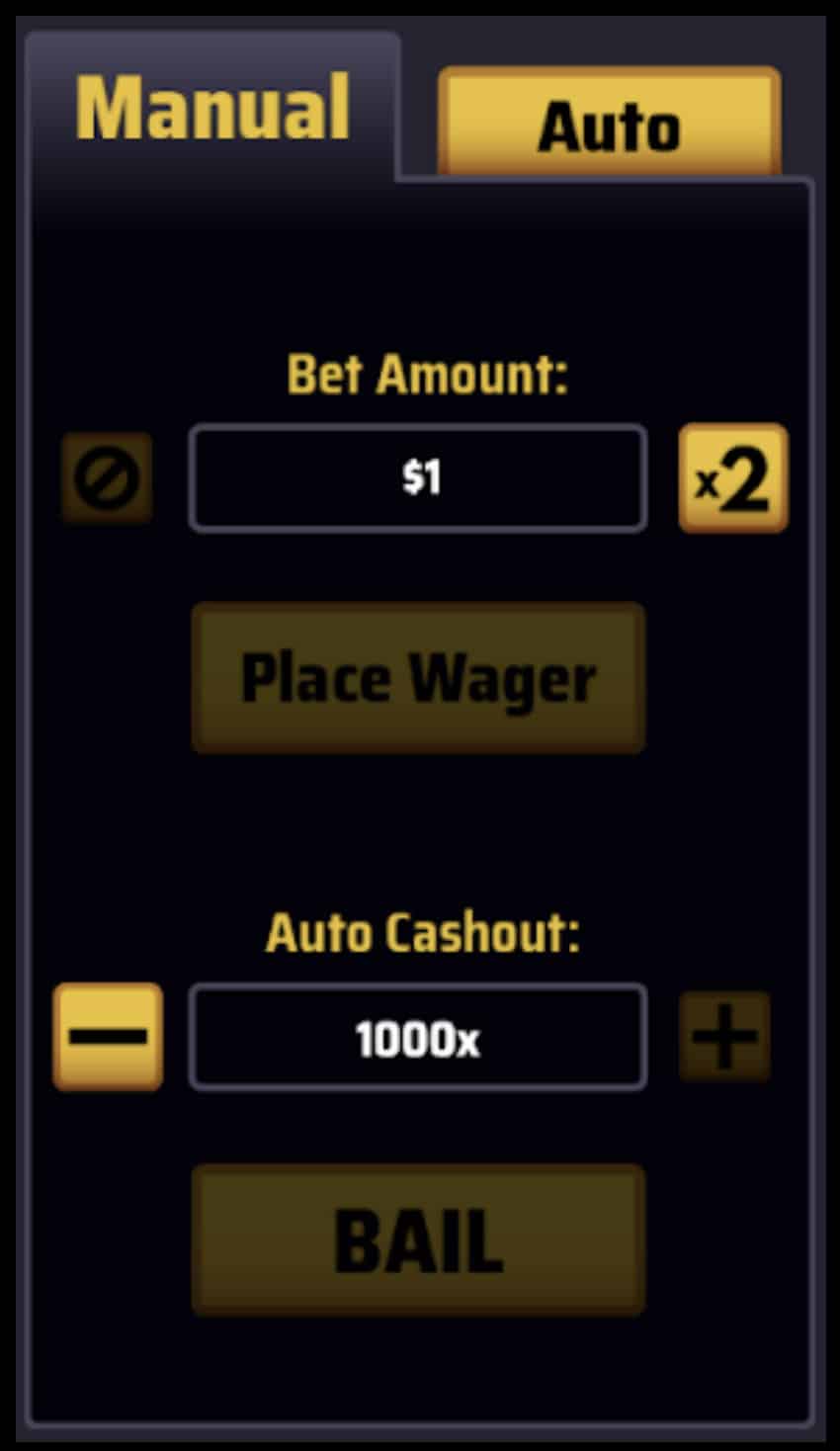 When going into auto mode, start simple with just a few bets, so you can get the feel for how multiple runs will work automatically set through the auto mode parameters. As you get comfortable, you can start to implement some DraftKings Rocket strategies using the auto mode. More on this in the next section.
DraftKings Rocket Strategy
Understanding how Rocket works will inform the strategy you use. First, it's important to note that Rocket is a game based on probability. There is no perfect way to play the game. Moreover, over the long haul, if you play enough, the overall outcome will converge and match the designed house edge of the game which is assumed to be 3%. So, if you bet the same amount, consistently over time, you will likely lose 3% of your money. In theory. Because the game is based on probability, it also means that future results have nothing to do with previous results. Each rocket launch is an independent event.
Low multiplier strategies
The low multiplier Rocket strategy involves repeated bets at the same bet amount, at a very low multiplier. This could be something like 1.20x or even as small as 1.01x. The challenge with this strategy is that typically within a decent enough sample size, you will get at least one explosion prior to take-off. This means that if you're betting $1 every time at a super low multiplier, let's say 1.01x, all it takes is a single pre-takeoff explosion to negate the winnings of a large number of low multiple wins.
Some Rocket users use this strategy to get as close to even as possible, risking the least amount of capital, to leverage some sort of promotion that DraftKings is offering for Rocket. For instance, if you get $1 in casino credit for every $25 played in Rocket, you may try to do a low multiplier strategy here. The goal might be to essentially break even on the risk/reward of the actual game play, and just gain the promotional benefit of $1 in casino benefit for every $25. Whatever strategy you assume, you will want to factor that in. Does the promotional benefit outweigh the house edge? It's a key question.
Ready to start playing Rocket? New users to DraftKings online casino can take advantage of 100% deposit match up to $2,000. Plus, you'll get $50 in site credit that you can play with. Click here to get started.
Why Rocket is so important to DraftKings
In-house game development
Rocket proves that DraftKings can develop hit games in-house. The success is a major event for DraftKings as it rolls out its casino strategy across the U.S. When the game launched in New Jersey, Rocket set a record for gross revenue for DraftKings in-house games during its launch month.
Online casino is incredibly important to the sportsbook operators long-term strategy as converting sports betting users into casino users is key to profitability for these companies. Lifetime value of casino players is much higher than just sports bettors. And the operators are eager to develop attractive exclusive offerings that help convert and retain casino players on their platforms. While companies like Barstool leverage their Barstool personalities and intellectual property through games such as Pardon My Take Slots and One Bite Slots, DraftKings doesn't have similar personalities or I.P. But DraftKings has Rocket, and Rocket is at the core of the DK strategy to pull in casino users.
ExitBet technology
"Rocket is the point of departure, not the destination." -DraftKings website.
The success of Rocket doesn't just end with the game itself. Rocket showcases a new type of technology that DraftKings has developed, which they call ExitBet. What is ExitBet? ExitBet refers to the fact that, when playing Rocket, the user doesn't hit a button to place a bet or spin a wheel. That's just the starting point. The user needs to act again when they need to bail out of the rocket. With this type of gameplay, the user remains active rather than traditional slots games where the player is passive once the game/spin starts.
DraftKings is clearly excited about this type of gameplay and the resulting success of Rocket. As they state on their website, they plan to roll out more games using ExitBet technology.
While Rocket is still a game completely based on chance similar to other slot games, the video-game like interface plus the secondary-bailout action which makes users feel like there is an element of skill involved make this game a very unique offering. The video-game like game play, the super simple structure and the feel that the users may "be good at it" makes Rocket an enormous success for DraftKings, and we can expect to see similar gameplay in more offerings in the future.
We do not target any individuals under the age of 21. We support responsible gambling. If you feel like you're losing control over your gambling experience, call 1-800-GAMBLER (NJ, PA, WV), 1-800-9-WITH-IT (IN), 1-800-BETS-OFF (IA), 1-888- 532-3500(Virginia) 1-800-522-4700 (NV, TN), 1-800-522-4700 (CO, TN), 1-855-2CALLGA (IL), 1-800-270-7117 (MI).
About Saturday Down South | Ethics and Editorial Standards | Privacy Policy | Terms and Conditions | Do Not Sell My Personal Information