FLORIDA
Film study reveals the occasional good, the bad and the scary in Gators' QB situation
This has been a rather remarkable decade for the Florida Gators. They've gone 56-34 over that period with three head coaches; they've won three SEC East division titles, and they haven't had good quarterback play in any of those seasons save, arguably, for a nice six-game stretch with Will Grier in 2015 before he was suspended.
The Gators essentially haven't had a good quarterback since Tim Tebow graduated and it has very effectively hamstrung an otherwise talented football team. The depth and quality of the team is particularly evident in the 2017 Gators, who were hit off the bat with the suspension of nine players, including star RB Jordan Scarlett and WR Antonio Callaway. That hasn't really slowed the team, with other young skill players stepping into the void. UF's problem is still at QB and it nearly led to an awful defeat to Kentucky on Saturday.
Feleipe Franks, overmatched field general
Kentucky had a very multiple plan on defense for handling the Gators and their versatile offensive personnel. The challenge against the Gators, as unchallenging as it might often appear to be, is in their ability to create leverage up front with their tight ends. That creates complications for teams that struggle to match up outside with athletes like Brandon Powell or Tyrie Cleveland.
The Wildcats played multiple fronts with their 3-4 defensive personnel, disguised blitzes well, and looked to keep the Gators from leveraging their balanced skill personnel. For the first 2-plus quarters, the battles between the Florida offense and Kentucky defense were basically just trading shots on good, predetermined calls.
Like many other freshman QBs, when Franks was well set up on a play call he executed good throws to make the most of the situation. Here's an example of a very well-thrown screen that led WR Kadarius Toney into open grass.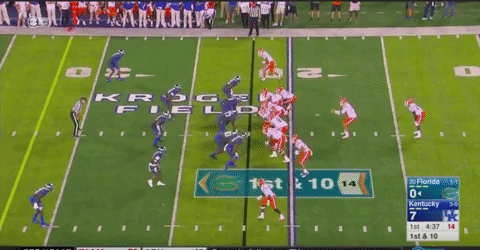 Florida also capitalized early on a wildcat run for Toney and a TD pass to Cleveland when Kentucky failed to cover him in an unbalanced formation on fourth and 3.
But when Franks had to do some of the mental work on the field himself, such as recognizing fronts and blitzes to help set blocking schemes …
… or making good progressions after the snap on disguised coverages …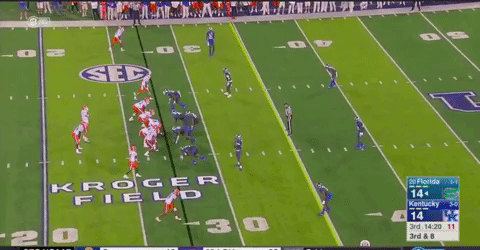 … the Gators got bogged down in an unfamiliar swamp. The Gators have various motions and checks in their offense to create easier coverage reads or time to throw. But time and again the Wildcats communicated and worked together on the field to get into the best situations.
The Gators were lucky that neither of these two plays went worse for them or they could have been in a much deeper hole when coach Jim McElwain finally made a change.
In comes the coach's son
There's a reason the Gators fought so hard to get Notre Dame grad transfer Malik Zaire in this season and why they chose Franks as the starter despite essentially returning a starting QB in Luke Del Rio, whom McElwain announced Monday would start Saturday.
Del Rio's 64.3 completion percentage against Kentucky was his second-best in seven games at UF.
The son of Oakland Raiders head coach Jack Del Rio, Luke has been around football his entire life. He's a near mortal lock to end up coaching once he graduates and he has years of training and exposure to complex, pro-style offenses under his belt. It's just that he's physically limited as a (not really) 6-foot-1, 210-pound signalcaller without a good deal of arm strength or athleticism.
The Gators didn't need a big arm or another athlete on the field though, they needed someone that could help coordinate the other great athletes to match up with the Wildcats' defensive machinations. Luke Del Rio was just the man for the job — well, he was the best available.
The Del Rio takeover got off to an inauspicious start when he tried to beat a middle of the field safety with a dig route, an unlikely achievement even if he had an NFL arm, before the Gator offense settled down. From there they focused on running the football and leaning on the veteran QB to help get the motions and formations right, or make the right checks against Kentucky's responses. His winning touchdown pass to an uncovered receiver on third and 1 was the prime example.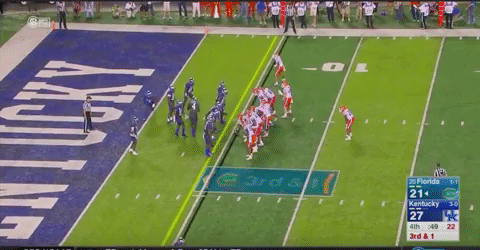 Beyond that, Del Rio made a handful of plays that Franks probably could have made. But the freshman was starting to unravel and couldn't be trusted to reliably pick up the free money.
Del Rio converted a 4th-and-2 with a checkdown to the running back: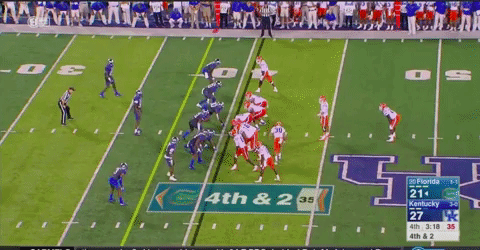 On this 3rd-and-8 call Florida is counting on Kentucky doubling the slant route with its backside linebacker, making the quick flat route an easy completion.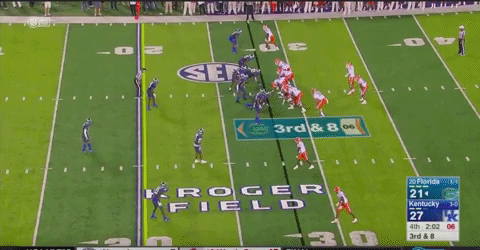 From there the Gators are just counting on tight end DeAndre Goolsby to make something happen in space. This was the design on fourth and 2 as well but they didn't get the coverage they expected and Del Rio had to ad lib a little bit.
None of these plays are remotely extraordinary, they're simply a matter of a quarterback who can keep the machine rolling and avoid giving away free advantages or negative plays because of confusion.
Someday the Gators will again have a talented field general at QB who can manage the offense and also make some plays with his arm or athleticism. In the meantime, they have enough infrastructure to allow a savvy walk-on to get the job done.